Elsa Martini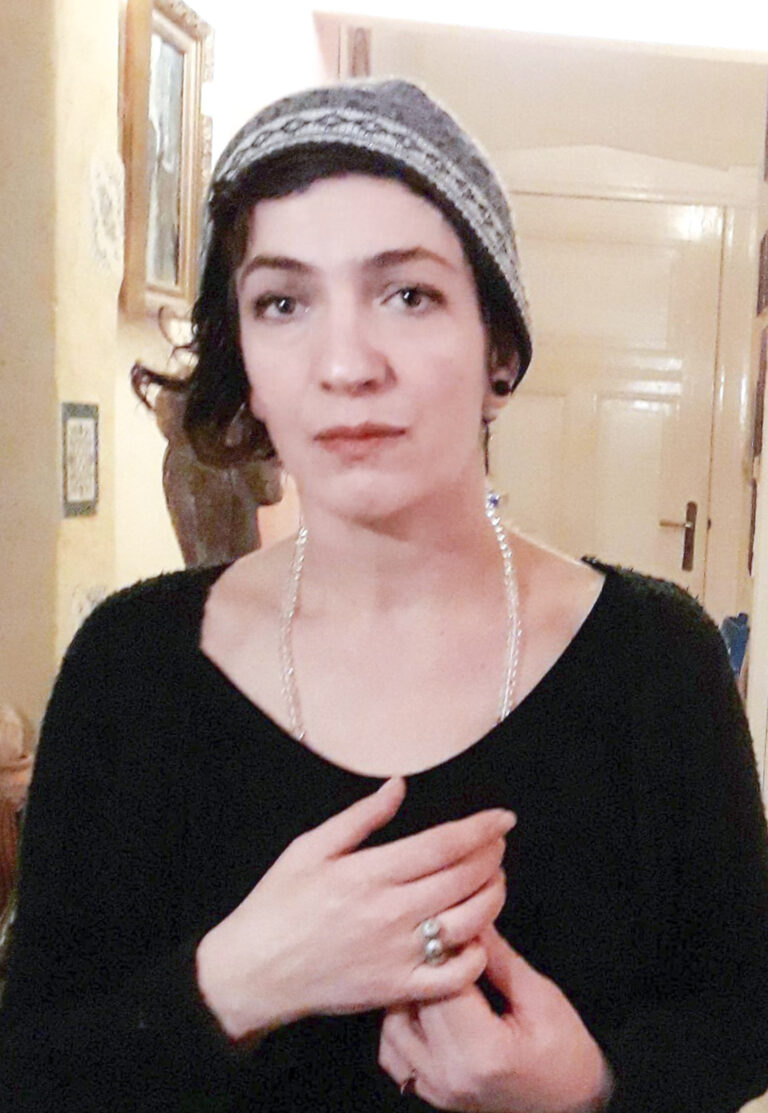 – born in 1971 in Peshkopi. Lives and works in Vienna. Martini is a conceptual artist, her practice develops between painting and multimedia, site-specific and performance. She graduated from the Academy of Arts in Tirana in 1996 in the painting class of Edi Hila and also holds a Master's Degree from the University of Applied Arts in Vienna, in 2012. She attended the course on Cultural Management at the Institut für Kulturkonzepte in Vienna.
I am thankful to my family for sending me to art school. For me, it was not an option of whether to make art or not. Making art is intrinsic within me. I grew up in a communist country and I feel that parts of that past keep reappearing in my works. The tremendous changes, the way I perceived the socio-political environment, the utopia that crumbled in 1990, the realization of how limited everything was, resurfaces in my work as a perception of void, chaos, and overall as a poetry of limitation.
I studied art from a very young age and went on to study art at high school at 14, graduating from the Art Academy of Tirana aged 24. I have mastered different techniques and mediums, but they don't mean much to me. I can't define myself by the medium I use. The mediums defer but the language stays the same. Often, the mediums of photography and video have similarities with my paintings. Different mediums and skills are like tools that help me find the best way to express myself in my work. I have acquired so many academic skills to the point that I consciously sometimes chose to work from a naive approach, in order to free my practice from conventions.
I see my work as conceptual and I have developed a complex artistic practice over the decades, seeking an approach to broaden the horizons of my work, which moves between painting and multimedia, site-specific1 and performance2. My work deals with tensions between the individual, examining the complexities of social phenomena and the environment; it examines and reflects on personal behavior and social trauma, questioning borders3, space, the environment, and exploring gender issues.
In my opinion, art is not about understanding, it's about experiencing. An important aspect of art making is the pleasure that it gives me. The best thing I can do for myself is to have time to make art. It makes me happy. It is a kind of meditation. It completes me.
Living as an artist helped me navigate the complex but wonderful landscape of my mind. When making art, thought stops, that dull veil of words that covers our experience of nature like a heavy blanket finally lifts. At that moment my senses become sharper and non-judgemental and everything seems so vivid.
For me art develops at the core of subjectivity. My art practice is a channel through which I can communicate with myself and with others and as such, is not controlled by my conscience.
Until now being an artist has been a solitary experience for me. I have faced difficulties, but I have also enjoyed it.
I am an artist, a woman and a mother. I have become aware of the fact that there are many different sides to every being. Being a mother has certainly influenced the meaning of being an artist. I was waiting to become a mother even before finishing my studies. I did not have a plan, but it was an urge driven by unconscious desire and strong maternal longing. Faced with this situation, I began to question the irresponsibility and arbitrariness of the decision to give birth to another life. The social changes of the 90s and the unrest of 1997, made Albania a dangerous place. Many families were forced to flee the country, especially to protect their children. Next to the beauty and power of life that children bring with them, their safety and vulnerability concerns me all the same. The subject of children has accompanied my work for a long time, and my children and those of my siblings have been part of the children's series like Precious Stones (2010)4 or Sleeping transcendence(2007)5. In my paintings, children are depicted as lonely, lost, dramatic, to reflect my anxiety, which is a contrast to their bright and spontaneous nature.
One of the aspects my work deals with is gender issues. I have treated gender discourses in different works, such as in performance and action paintings.
In the performance at Teatro Nuovo, Mescomi Faqjet (2003)6 in Naples in 2003, I was dressed as a man and my performance partner wore my dress. Or Transit-Trans (2005)7, a documentary photo series about control and care centers for bi-gender prostitutes in Stip, Macedonia. These works are an attempt to recognise the feminine qualities that are as much a part of us as the masculine and vice versa. While traveling to India and getting acquainted with Hinduism, and Buddhism, I came across Vishuddha chakra, and the bi-gender form of Shiva with a male right side and a female left side. This form of Shiva reminds us that none of us are exclusively male or female. Nature is exuberant in its diversity and avoids such absolute divisions.
I continuously looked for new possibilities and terrains for my practice to develop further. Traveling therefore, has become an important part of my artistic life. Especially when I traveled as an artist in residency, I enjoyed having a lot of time for myself and my work. Foreign cultures fascinate me. I have traveled to Haiti, Morocco, Korea, Georgia, India etc. and there I had the opportunity to deepen my knowledge of other cultures different from my own. Those travels have had an impact on my work. At various times, I have noted the ingenuity of these influences, like in the series Things that will bite you (2012)8.
I have a studio based practice but my research and inspiration comes from focusing on phenomena and things that impress me wherever I am. I observe, take notes and engage with what interests me for a long time. Therefore I usually work with series that develop over a long period of time. For example, in the Dreams (2011)9 series, the skills acquired from academia disturb the ephemeral nature of the dreams. There was a period when they became intense. Emotions often accompanied me throughout the day, making it difficult to assess which reality was more important: the one with eyes open or the one in sleep. In order to understand them better, in addition to taking notes and reading about the psychology of dreams, I started to paint them. Over time, not only was it the best way to get rid of them, but I began to find and understand the connections to myths and archetypes.
My works are not directly feminist but the subjects of my works are dominated by or related to the female figure. I never liked direct activism. On the other hand, I remember my life in Albania as a continuous struggle with endless problems. I focused on helping and solving things the best I could, by being an active artist. I believe that working with the problem at its core, on the ground, according to the principle of the snowball effect, works much better than demonstrative activism.
Some of my works are made collaboratively and I couldn't have realized them on my own. An example is the video performance Executing Love at the National Gallery in Tirana. Or the performance The Red Shoes (2005)10 in collaboration with Cumulus, a French street theater company. These collaborations often open up new possibilities for experimentation especially with other mediums.
At the moment, I'm working on Happiness of the Others (2020-ongoing)11 a project on stories from personal archives, including the series about my childhood in the social-communist era, where I'm concentrating on the schematic family photographs.
Statement written by the artist in collaboration with Adela Demetja (2022).
1Image: Elsa Martini, Was beautiful nothing hurt, 2019, Site specific installation, Bangla Biennale, India, Courtesy of the artist.
2Image: Elsa Martini, Red Shoes, 2005, Performance with street theater company Cumulus, Parc de la Villette, Paris, Courtesy of the artist.
3Image: Elsa Martini, Executing Love, 2005, Performance in collaboration with Herbert Stöger, 3 min duration, National Gallery of Arts Tirana, Courtesy of the artist.

4Image: Elsa Martini, Precious  Stones,  2010, Mixed media on canvas, 100 x 80 cm, Courtesy of the artist.
5Image: Elsa Martini, Sleeping transcendence, 2007, C-Print on fotographic papier, 150 x 100 cm, Courtesy of the artist.
6Image: Elsa Martini, Mescomi Faqjet, 2003, Performance and Action painting, 15 min duration, Nuovo Teatro Nuovo, Courtesy of the artist.
7Image: Elsa Martini, Transit-Trans, 2005, C print 70 x 50, Stip Macedonia, Courtesy of the artist.
8Image: Elsa Martini, Things that will bite you, Haiti 2012, Acrylic, spray-paint, markers on canvas 70 x 50 cm, Courtesy of the artist.
9Image: Elsa Martini, Dream series, Cappadocia 2011, Acrylic on canvas, 35x35cm, Courtesy of the artist.
10Image: Elsa Martini, Red Shoes, 2005, Performance with street theater company Cumulus, Parc de la Villette, Paris, Courtesy of the artist.
11Image: Elsa Martini, Happiness of the Others 3, 2020, Mixed media on canvas, 32 x 25cm , Courtesy of the artist.
– lindur në vitin 1971 në Peshkopi. Jeton dhe punon në Vjenë. Martini është një artiste konceptuale. Praktika e saj zhvillohet midis pikturës dhe multimedias, site-specific dhe performancës. Ajo u diplomua në Akademinë e Arteve në Tiranë në vitin 1996 në klasën e pikturës së Edi Hilës dhe gjithashtu diplomoi në master në Universitetin e Arteve të Aplikuara në Vjenë, në vitin 2012. Ka ndjekur kursin për Menaxhim Kulturor në Institut für Kulturkonzepte në Vjenë.
Familjes i jam mirënjohëse që më drejtoi në shkollën e artit. Për mua, nuk ka qenë zgjedhje për t'u marrë ose jo me art. Arti është i përbrendshëm; ka qenë gjithmonë brenda meje. Jam rritur në një vend komunist dhe ndjej se pjesë të asaj periudhe vazhdojnë të rishfaqen në veprat e mia. Ndryshimet tronditëse, mënyra se si e perceptoja mjedisin socio-politik, utopia e shkërmoqur në 1991, vetëdijësimi sesa e cunguar ishte gjithçka, të gjitha rishfaqen në punën time si një perceptim i zbrazëtirës, kaosit dhe në tërësi si një poezi e angështisë.
Që në moshë të hershme kam studiuar për art, kam ndjekur shkollën e mesme artistike në moshën 14-vjeçare dhe kam mbaruar Akademinë e Arteve në Tiranë në moshën 24-vjeçare. Zotëroj teknika dhe mediume të ndryshme, mirëpo nuk është se i mbaj afër zemrës. Nuk mund ta përkufizoj veten për nga mediumi që përdor. Mediumet variojnë, mirëpo gjuha mbetet e njëjtë. Shpesh, punimet që bëj me fotografi dhe video kanë ngjashmëri me pikturat e mia. Mediumet dhe aftësitë e ndryshme më janë si mjete që më ndihmojnë të gjej mënyrën më të mirë për t'u shprehur në punën time. Kam përvetësuar aq shumë aftësi akademike sa ndonjëherë me vetëdije zgjedh të punoj me një qasje naive, në mënyrë që ta çliroj praktikën nga konvencionet.
Punën time e vlerësoj si konceptuale dhe përgjatë dekadave kam zhvilluar një praktikë komplekse artistike, në kërkim të një qasjeje që m'i zgjeron horizontet e praktikës sime, e cila lëviz midis pikturës dhe multimedias, veprave për një ambient të posaçëm1 dhe performancës2. Punimet e mia trajtojnë tensionet midis individit dhe kompleksitetit të fenomeneve shoqërore dhe mjediseve; shqyrtojnë dhe reflekton mbi sjelljen personale dhe traumat sociale, duke pyetësuar kufinjtë3, hapësirat, mjediset dhe çështjet gjinore.
Për bindjen time, arti nuk ka të bëjë me të kuptuarit, por me të përjetuarit. Një aspekt i rëndësishëm i krijimeve artistike është kënaqësia që më japin. Gjëja më e mirë që mund të bëj për veten time është të kem kohë të bëj art. Kështu lumturohem. E kam si një lloj meditimi. Kështu përmbushem.
Jeta si artiste më ka ndihmuar të sodis peizazhin kompleks e të mrekullueshëm të mendjes sime. Kur bën art, të menduarit verbal ndalet; ajo perde e shurdhër fjalësh që ta mbulon përvojën e natyrës si një perde e rëndë mënjanet. Në atë moment shqisat më bëhen më të mprehta, më jogjykuese dhe gjithçka më shfaqet kaq e gjallë.
Për mua arti zhvillohet në thelbin e subjektivitetit. Praktika ime artistike është një kanal përmes të cilit mund të komunikoj me veten dhe me të tjerët dhe si i tillë nuk kontrollohet nga ndërgjegja ime.
Deri më tani, të qenit artiste ka qenë një përvojë vetmitare për mua. Jam përballur me vështirësi, por që më kanë ngazëllyer po ashtu.
Jam artiste, grua dhe nënë. Jam vetëdijësuar se çdo qenie njerëzore përmban shumë përmasa të ndryshme. Të qenit nënë sigurisht që ma ka ndikuar domethënien e të qenit artiste. Kam pritur të bëhem nënë edhe pa mbaruar studimet. Nuk ishte plan, por një shtysë që mbarte një dëshirë të pavetëdijshme dhe një përmallim të fortë amnor. Përballë kësaj situate, fillova të vë në dyshim papërgjegjshmërinë dhe arbitraritetin e vendimit për të lindur një jetë tjetër. Ndryshimet sociale të viteve '90 dhe trazirat e 1997-s, e bënë Shqipërinë të rrezikshme. Shumë familje u detyruan të largoheshin nga vendi, veçanërisht për të mbrojtur fëmijët e tyre. Krahas bukurisë dhe vitalitetit jetësor që fëmijët mbartin me vete, më shqetëson po aq fort edhe siguria dhe brishtësia e tyre. Tema e fëmijëve ka qenë e pranishme për shumë kohë në punimet e mia. Fëmijët e mi, bashkë me ata të vëllezërve e motrave të mia, kanë qenë pjesë e serive për fëmijë si Gurët e Çmuar (2008)4 ose Transcendenca e Fjetur (2007)5. Në pikturat e mia, fëmijët shfaqen si të vetmuar, të humbur, dramatikë, si pasqyrime të ankthit tim, i cili është në kontrast me natyrën e tyre të çiltër dhe spontane.
Ndër aspektet e trajtuara në punën time janë edhe çështjet gjinore. Diskurset gjinore i kam trajtuar në vepra të ndryshme, përmes performancës dhe pikturës performative.
Në performancën, Mescomi Faqjet (2003)6, në Teatro Nuovo të Napoli në vitin 2003, isha veshur si burrë teksa partneri i performancës kishte veshur fustanin tim. Ose rasti i Transit-Trans (2005)7, një seri fotografike dokumentuese e qendrave të kontrollit dhe përkujdesjes për prostitutat bi-gjinore në Shtip të Maqedonisë. Këto vepra mëtojnë të shpërfaqin cilësitë femërore që janë pjesë e jona po aq sa ato mashkullore dhe anasjelltas. Teksa udhëtoja për në Indi dhe u njoha me hinduizmin dhe budizmin, hasa çakrën Vishuddha dhe formën bi-gjinore të Shiva-s me anën e djathtë mashkullore dhe anën e majtë femërore. Kjo formë e Shiva-s na përmend se asnjë prej nesh nuk është ekskluzivisht mashkull apo femër. Natyra është e bollshme në diversitetin e saj dhe i shmang ndarjet e tilla absolute.
Jam vazhdimisht në kërkim të mundësive dhe terreneve të reja për zhvillimin e mëtejshëm të praktikës time. Prandaj udhëtimet janë bërë pjesë e rëndësishme e jetës sime artistike. Sidomos kur udhëtoja si artiste në rezidenca, më gazmendte koha e gjatë që kisha për veten dhe krijimet e mia. Kulturat e huaja më magjepsin. Kam udhëtuar në Haiti, Marok, Kore, Gjeorgji, Indi, etj, ku kam patur mundësinë të thellohem në njohjen e kulturave kaq të ndryshme nga e imja. Këto udhëtime kanë pasur efektin e tyre mbi punën time. Në periudha të ndryshme, kam vënë re mprehtësinë e këtyre ndikimeve, si në serinë Gjërat që do t'ju kafshojnë (2012)8.
Praktikën e kam të përqëndruar në studio, mirëpo hulumtimin dhe frymëzimin e përftoj nga fokusimi në fenomenet dhe gjërat që më bëjnë përshtypje kudo ku jam. Vëzhgoj, mbaj shënime dhe angazhohem për një kohë të gjatë me çka më ngjall mbresa. Prandaj zakonisht punoj me seri që zhvillohen për një periudhë të gjatë kohore. Për shembull, në serinë Ëndrrat (2011)9, aftësitë akademike të përftuara cimbisin natyrën kalimtare të ëndrrave. Ka qenë një periudhë kur ato u bënë intensive. Emocionet shpesh më kanë shoqëruar përgjatë gjithë ditës, duke ma vështirësuar vlerësimin se cili realitet ishte më i rëndësishëm: ai sy-çelë apo ai në gjumë. Për t'i kuptuar më mirë, krahas shënimeve dhe leximeve mbi psikologjinë e ëndrrave, fillova t'i pikturoja. Me kalimin e kohës, jo vetëm që kjo doli mënyra më e mirë për t'i hequr qafe, por fillova të gjeja dhe kuptoja ndërlidhjet e tyre me mitet dhe arketipet.
Punimet e mia nuk janë drejtpërdrejt feministe, por subjektet e veprave të mia dominohen ose ndërlidhen me figurën femërore. Asnjëherë nuk më ka pëlqyer aktivizmi i drejtpërdrejtë. Nga ana tjetër, jetën time në Shqipëri e kujtoj si një luftë të vazhdueshme me probleme të pafundme. Jam fokusuar te ndihma dhe zgjidhja e problematikave me sa fuqi kam patur, duke qenë artiste aktive. Besoj se të punosh me problemin në thelbin e tij, në terren, sipas parimit të efektit ortek, funksionon shumë më mirë sesa aktivizmi demonstrues.
Disa nga punimet e mia janë bërë në bashkëpunime, pa të cilat nuk do të kisha mundur t'i realizoja si vepra. Një shembull është performanca video Ekzekutimi i dashurisë në Galerinë Kombëtare në Tiranë. Ose shfaqja Këpucët e Kuqe (2005)10 në bashkëpunim me Cumulus, një kompani franceze e teatrit të rrugës. Bashkëpunime të tilla shpesh hapin mundësi të reja për eksperimentime, veçanërisht me mediume të tjera.
Aktualisht, po punoj në Lumturia e të tjerve (2020-në vazhdim)11 një projekt me histori nga arkivat personale, duke përfshirë edhe seritë për fëmijërinë time në periudhën socio-komuniste, ku po përqendrohem te fotografitë skematike të familjes.
Tekst i shkruar nga artistja në bashkëpunim me Adela Demetja (2022).
1Imazh: Elsa Martini, Ishte bukur asgjë nuk më lëndoj, 2019, Instalacion, Bangla Biennale, Indi, Kortezi e artistes.
2Imazh: Elsa Martini, Këpucë të kuqe, 2005, Performancë me kompaninë teatrale lëvizëse Cumulus, Parc de la Villette, Paris, Kortezi e artistes.
3Imazh: Elsa Martini, Ekzekutimi i Dashurisë, 2005, Performancë në bashkëpunim me Herbert Stöger, 3 min kohëzgjatje, Galeria Kombëtare e Arteve Tiranë, Kortezi e artistes.
4Imazh: Elsa Martini, Gurët e Çmuar, 2010, Mixed media në kanavacë, 100 x 80 cm, Kortezi e artistes.
5Imazh: Elsa Martini, Transcendenca e Fjetur, 2007, Print në letër fotografike, 150 x 100 cm, Kortezi e artistes.
6Imazh: Elsa Martini, Mescomi Faqjet, 2003, Performancë dhe pikturim  15 min kohëzgjatje, Nuovo Teatro Nuovo, Kortezi e artistes.
7Imazh: Elsa Martini, Transit-Trans, 2005, C print 70 x 50, Stip Macedonia, Kortezi e artistes.
8Imazh: Elsa Martini, Gjërat që do t'ju kafshojnë, Haiti 2012, Akrilik, bojë spray, tush në kanavacë, 70 x 50 cm, Kortezi e artistes.
9Imazh: Elsa Martini, Seria Ëndrrat, Cappadocia 2011, Akrilik në kanavacë, 35x35cm, Kortezi e artistes.
10Imazh: Elsa Martini, Këpucët e Kuqe, 2005, Performancë me kompaninë teatrale lëvizëse Cumulus, Parc de la Villette, Paris, Kortezi e artistes.
11Imazh: Elsa Martini, Lumturia e të tjerve 3, 2020, Mixed media në kanavacë, 32x 25cm, Kortezi e artistes.