Zake Prelvukaj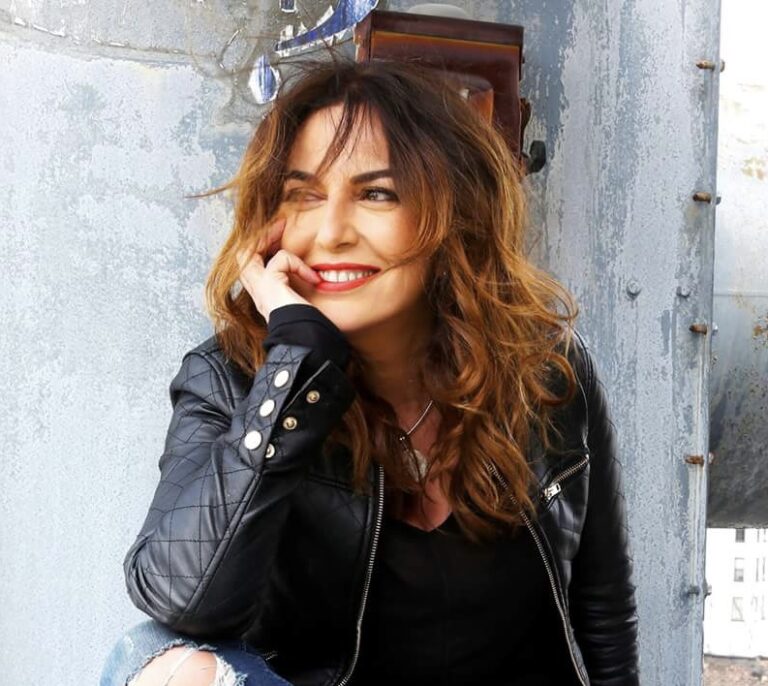 — born in 1961 in Martinaj of Plavë Gusia — is a Pristina-based multi-disciplinary artist and painting professor. Prelvukaj has exhibited her work in numerous national and international galleries, among them the National Museum of Women in the Arts in Washington, D.C., NW Gallery in Cambridge, and the National Gallery of Kosovo. She has produced murals, mosaics, and public art, as well as hosted exhibitions and discussions through the arts foundation The New Balkan. She has lectured at faculties and cultural institutions in different countries, notably her talk at the Museum of Peace in Diksmuide. In 2010, she became a full professor of painting at the Faculty of Arts at the University of Prishtina. She lives and works in Pristina.
I grew up in a family of drawing, singing, and painting, where there was mess and art. As children, we absorb and stratify visual language and keep within ourselves. Over time, it surfaces in our artistic work. I work in art because everything that is related to art has always provoked and impressed me. I was a child when my brother was in the Peja High School of Art. The books he possessed, writings, and artworks he made are imprinted in my mind as pictures. Although I was a child, when I would close my eyes, I always saw myself in his chair, whichhe created. In a way, my brother was also my professor, he taught me to paint very early on. I grew up with a library of art and general culture and was passionate about film and literature.
In my fortune or misfortune, I graduated in 1991 from the Faculty of Arts in Prishtina and, two years following my graduation, I was employed there as a lecturer. During 1990s, there was a lot of turmoil in Kosovo, and a parallel state system was established. At that time, the art of rebellion took hold and artists were always the opposition. A strong sense of resistance developed and, the motifs that were elaborated during those years were a critique against the system and a call for raising awareness. At the same time, I researched cultural heritage, catacombs, maps, symbols, different church murals, and frescos, as much as I could. From our local artists, I liked the artworks of Gjelosh Gjoka and the compositions of Rexho Mulliqi.
With the closing of institutions to Albanians in 1990, specifically the Art Gallery in Prishtina, the opening of improvised café-galleries began. As artists of that time period, my generation tried to leave its mark in Kosovar art, although much was conditioned by the political situation. Being an artist was not easy, on the contrary, it was very difficult. Even during that upheaval those years, I started being intrigued by what was seen as taboo, especially for people in Kosovo.
Throughout these years, the café and resistance culture were very active. At that time, I lived alone and I had the freedom to tackle different issues. There were times during curfews when we would be stuck in a location and morning would find us amidst the singing and resistance. The works I created during these years were like a spiritual deliverance for me. Almost every night we would take risks and go out in cafes, which were separated from the ones Serbs hung out in. When I would return home, I wrote and memorized the time. I will single out a few titles here "Dialog me Niçen" (Dialogue with Nietzsche), "Populli im shkrum i shkrumum" (My people, incinerated ash), and some special events in the form of a diary. Throughout all times I was exposed to grave images, I just wanted to put them on paper, document, and forget them, because they were a great burden for me to carry.
Meanwhile "Hani i Dy Roberteve" café opened by Fadil and Merita Dragaj, two very important individuals, who organized numerous activities. This space of art and politics opened with my exhibition. Later on, Dodona Gallery as part of Dodona Theater was a space where many good exhibitions happened. There were many activities that took place during those ten years of resistance against Serb repression. At that time, we had Kurriz, with many cafes bringing young people together and promoting art, especially those of the younger generation. A constellation of 36 cafes, and young people, where a high-risk life took place, but on the other hand, a productive one that made us feel alive and keep fighting to survive.
At that time, I had moved out to live alone, which for that time was unusual for a young girl, perhaps because my family lived in the center of Prishtina. So I tried to adapt my apartment into a studio and living space. My great inspiration was Marina Abramović, among other things because we were both from Montenegro. In 1997, I acquired a static camera, a blue and black acrylic and said to myself "Today I want to be different". I spread out four meters of fabric in the studio, I was alone, I put color on my nude body and placed the camera at an appropriate angle for filming, and the purpose of the performance was to show how we age. I wanted to be a brush and I did that, but I was far more interested to see how society would react toward the performance.
Gradually I came to another world, I came to the period when I did my exhibition "X's Speak"123​. Why did I choose X? Because X was no longer a mathematical equation for me, but it was a symbol, a target, we are here and I am looking for help. The performance was realized and the three-meter-long installation X was on fire. I connected them with X's and the disintegration of faces. They are not static figures, but they are expressive, a reflection of those women also. We artists cannot stand idle, especially when violence happens, that is why the art concept of resistance was born, X speaks as an art of revolt. Alongside this, I have also created works that deal with eroticism, with the aim of raising awareness that women also have another life that belongs only to us.​456
After the war, 33 international artists convened in North Macedonia, at an unusual venue where we could experiment. There, I developed a working technique with tar, which started as an experiment without any of the big burdens that political life threw my way all the time. Now I began working freely and continued with this cycle of engravings. I developed a cycle with tar, mainly paintings done with engravings and different letters, as a reflection of those years, titled "jam popull laraman" (I am a colorful nation), "jam viti 1999"​ (I am year 1999)78, "unë jam ajo me 36 shkronja"​ (I am the one with 36 letters)9, "une jam kurban i ballkanit"​ (I am Balkan's sacrifice)10, "viti 2003″.​ (Year 2003).1112
In 2005, as curator and co-author with seven other artists, we developed the exhibition Sexhibition 1131415. I participated with paintings, photos, cartoons, and videos with darts. The idea was that there are darts placed right between the legs, where the world developed and it must be seen differently, not just as a sex machine. It portrays three issues: trafficking of women, rape of women, and consensual sex through different mediums, such as video, drawing, photography, painting, performance, and installation.16
Inspiration awakens and moves me towards creating a concept of the moment.171819 Starting from the way I think, my artistic work is known as my seal. But, as always, there is a detachment that happens from one artwork to another. Every time period changes from the other, but the way of thinking cannot be black and white. Thinking evolves, but the footprint of an artistic expression can be recognized from one artwork to another. Being an artist, I think, is my identity and, naturally, since my identity and feeling has turned into my profession, then it is a merging that identifies me.​20
Lately, during the pandemic 2020-2021, I developed the cycle New Rules (Rregullat e Reja)​212223, bringing some elements from 1995 from the cycle "Sufler me mija qante skena, qeshte dhelprija" (Prompter with a thousand scene bags, the fox laughing). Seeing that technology has taken huge leaps of development, I think we were imposed new rules, whether we like them or not. Naturally, I created new concepts and figures which related to the meaningless development of economic and social events of the time. The figures were like silhouettes, someone backward, someone forwards, with different artistic expressions, such as video performance, photography, and painting. In totality, foreshadowing our challenging future.
In Kosovo, but also in the Balkan region, women have always been secondary. But as women, we must work and create an environment so that those coming after us do not have to go through such experiences. There is always room to develop and do more. If no one gave me a hand at my time, it is my obligation today to give a hand to another woman. My satisfaction today is to create, research and recognize my mistakes as well. There are many women artists whose works fade into history. For me, it is very important to research archives and identify artists from history.
1 Zake Prelvukaj, X-sat Flasin (X's Speak), Dodona Gallery, Pristina, 1998. Courtesy of the artist.
2Zake Prelvukaj, X-sat Flasin (X's Speak), Dodona Gallery, Pristina, 1998. Courtesy of the artist.
3Zake Prelvukaj, X-sat Flasin (X's Speak), Dodona Gallery, Pristina, 1998. Courtesy of the artist.
4 Zake Prelvukaj, Trupi im brushë (My body a brush), 2000.
5 Zake Prelvukaj, Trupi im brushë (My body a brush), 2000.
6 Zake Prelvukaj, Trupi im brushë (My body a brush), 2000.
7Zake Prelvukaj, Unë jam nr. 69. Courtesy of the artist.
8Zake Prelvukaj, Unë jam nr. 69. Courtesy of the artist.
9Zake Prelvukaj, Unë jam kurban i Ballkanit (I am Balkan's sacrifice), World getto, 2003. Courtesy of the artist.
10Zake Prelvukaj, Unë jam kurban i Ballkanit (I am Balkan's sacrifice), World getto, 2003. Courtesy of the artist.
11Zake Prelvukaj, World getto, 2005. Courtesy of the artist.
12Zake Prelvukaj, World getto, 2006. Courtesy of the artist.
13Zake Prelvukaj, Sexibition 1, 2005.
14Zake Prelvukaj, Sexibition 1, 2005.
15Zake Prelvukaj, Sexibition 1, 2005.
16Exhibition "Ofshamë".
17Zake Prelvukaj, Graphics made on a pole for electric current, painted with bitulin material.
18Zake Prelvukaj, Fytyrat tona në të ardhmen (Our faces in the future).
19Zake Prelvukaj, Fytyrat tona në të ardhmen (Our faces in the future).
20Zake Prelvukaj, working in studio, 2018.
21Zake Prelvukaj, New Rules, Painting, 2021.
22Zake Prelvukaj, New Rules, Painting, 2021.
23Zake Prelvukaj, Pika e Kuqe (Red Point), Performance, Exhibition New Rules, 2021.

– e lindur në vitin 1961 në Martinaj të Plavë Gusisë – është artiste multidiciplinare dhe profesoreshë e pikturës me bazë në Prishtinë. Prelvukaj ka ekspozuar punën e saj në galeri të panumërta kombëtare dhe ndërkombëtare, punët e saj janë pjesë e kolekcionit të Muzeut Kombëtarë te Grave në Art në Washington D.C., Galerisë NW në Cambridge, dhe Galerisë Kombëtare të Kosovës. Ajo ka kuruar ekspozita, shkruan shkrime kritike në art, disa prej tyre të botuara në gazeta vendore. Ajo ka realizuar murale, kostumografi dhe skenografi, art publik, dhe poashtu ekspozita dhe diskutime përmes platformës N. A të Artit, Ballkani i Ri. Ajo ka ligjëruar në fakultete dhe institucione kulturore të vendeve të ndryshme, së fundi ligjerata e saj në Muzeun e Paqes në Diksmuide. Në vitin 2010, ajo është avancuar në profesoreshë të rregullt të pikturës në Universitetin e Prishtinës.
Jam rritur në një familje ku është vizatuar, kënduar, pikturuar, ku ka pasur rrëmujë dhe art. Si fëmi ne absorbojmë dhe shtresojmë gjuhën vizuele edhe e ruajmë në vete. Dikur dhe shpërfaqet në praktikën tonë artistike. Me art merrem sepse çdo gjë që ka lidhje me art më ka provokuar dhe më ka lënë përshtypje. Unë kam qenë fëmi kur vëllau im ishte në Shkollën e Mesme të Artit në Pejë. Librat që i ka pasur, shkrimet, punimet që i ka punuar ai, i kam në mendje të fotografuara. Edhe pse isha fëmi kur i kam mbyllur sytë gjithnjë e kam parë vetën në atë karrigën e tij, ku ai krijonte. Vëllau ka qenë ne nje menyre edhe profesor i imi, ai më ka mësuar të vizatoj qysh herët. Jam rritur më një bibliotekë të artit dhe kulturës së përgjithshme dhe isha e pasionuar për film dhe letërsi.
Për fatin tim të mirë apo të keq, unë kam diplomuar në vitin 1991 në fakultetin e Arteve në Prishtinë, dhe dy vite pas diplomimit menjëherë u punësova aty si docente. Gjatë viteve '90, në Kosovë kishte shumë trazira u krijua sistemi paralel shtetëror. Atë kohë zhvillohej një art i revoltës dhe artistët ishin gjithmonë opozitë. Zhvillohej një ndjenjë e fortë për rezistencë dhe motivet që trajtoheshin gjatë atyre viteve ishin një kritikë ndaj sistemit dhe thirrje për vetëdijësim. Njëkohësisht kam hulumtuar trashëgiminë kulturore, katakombet, hartat, amblemat, muralet e ndryshme në kisha, afreskat, aq sa i kisha mundësitë. Nga artistët tanë me pelqenin veprat e Gjelosh Gjokës dhe komponimet e Rexho Mulliqit.
Me mbylljen e institucioneve, gjegjësisht Galerisë së Artit në Prishtinë për shqiptarët në vitin 1990, filloi krijimi i galerive të improvizuara dhe kafe-galerive. Si artistë të asaj kohe, gjenerata ime mundohej ta linte vulën e saj në artin kosovar edhe pse shumëçka kushtëzohej nga situata politike. Të qenurit artiste nuk ka qenë e lehtë, por në të kundërtën shumë e vështirë. Edhe në atë rrëmujë kohore në ato vite filloi të më intrigonte shumë ajo çka konsiderohej tabu, sidomos për njerëzit në Kosovë. 
Gjatë këtyre viteve kultura e kafës dhe rezistencës ishte shumë prezente. Atë kohë jetoja vetëm dhe e kisha lirinë të trajtoja tema të ndryshme. Kishte raste kur gjatë orës policore ngujoheshim në një lokacion dhe deri në mëngjes qëndronim në mes të këngës dhe rezistencës. Punët që i bëja në këto vite ishin si shlirim shpirtëror i imi. Pothuajse çdo mbrëmje rrezikonim dhe dilnim ne kafiterit, të cilat ishin të ndara nga ato të serbëve. Kur kthehesha në shtëpi, shkruaja dhe memoroja kohën, po veçoj disa tituj "Dialog me Nitzsche", "Populli im shkrum i shkrumum", dhe disa ngjarje të veçanta në formë ditari. Gjatë gjithë kohës isha e ekspozuar ndaj imazheve të rënda, kisha dëshirë vetëm të i paraqitja në letër të i dokumentoja dhe të i harroja, sepse ishin peshë e rëndë për mua.
Njëkohësisht u hap kafe-galeria "Hani i Dy Robertëve" nga Fadili dhe Merita Dragaj, dy individë shumë të rëndësishëm, që kanë organizuar shumë aktivitete. Kjo hapësirë e artit dhe politikës u hap me ekspozitën time. Më pastaj, Galeria Dodona në kuadër të Teatrit Dodona, ka qenë hapësirë ku janë zhvilluar shumë ekspozita të mira. Të shumta kanë qenë aktivitetet brenda atyre dhjetë viteve të rezistencës ndaj represionit serb. Atë kohë e kishim Kurrizin, ku kishte shumë kafiteri që ka mbledhur të rinjtë dhe ka provomuar artin, sidomos atë të gjeneratës së re. Një konstalacion i përbërë prej 36 kafiterive, njerëzve të rinj, ku është zhvilluar një jetë nën rrezik të madh, por në anën tjetër shumë jetë produktive që na ka bërë të ndjehemi gjallë dhe të mbijetojmë.
Në këtë kohë kisha dalur të jetoja vet, gjë që për atë kohë nuk ishte zakonshme për një vajzë të re, mbase familja ime jetonte në qendër të Prishtinës. Kështu që, u mundova ta adaptoj banesën time në studio dhe hapësirë banimi. E kisha inspirim të madh Marina Abramović, ndër tjera sepse që të dyja ishim nga Mali i Zi. Në vitin 1997,  mora një kamerë statike, një akrilik të kaltërt edhe një akrilik të zi dhe thashë, "Sot unë du me kenë ndryshe". Katër metra pëlhurë i shtriva në studio, isha vetëm, vendosa ngjyrën ne trup tim nudo edhe kamerën në kënd të përshtatshëm për xhirim, dhe puna kishte qëllimin ta tregoj se si ne plakemi. Unë doja të isha brushë edhe e bëra atë, por më tepër më interesonte se si reagon shoqërija ndaj performansës.
Gradualisht erdha në një botë tjetër, erdha në periudhën kur e realizova ekspozitën "X-at Flasin"123. Pse e zgjodha X? Sepse X nuk ishte më ekuacion matematikor për mua, por ishte shenjë, target, ne jemi këtu edhe kërkoja ndihmë. U realizu performansa dhe instalacioni X i ndezur ne flake me dimension tre metra. Ato i ndërlidha me X-sat edhe me shpërbamjen e fytyrave. Ato nuk janë figura statike, por janë ekspresive, reflektim edhe i atyre grave. Ne artistët nuk mund të qëndronim durëkryq sidomos kur ndodh dhunë, prandaj edhe lindi koncepti arti e rezistencës, X-at flasin si art i revoltës. Krahas kësaj kam realizuar edhe punë që kanë trajtuar erotikën, me dëshirën që të vetëdijësohemi që gratë e kanë edhe një jetë tjetër që na takon vetëm neve.456
Pas luftës, në Maqedoni të Veriut u mbledhën 33 artistë ndërkombëtar në një vend jo të zakonshëm ku mund të eksperimentonim. Aty e përpunova një teknikë të punës me zift që filloi nga një eksperimentim pa ngarkesa të mëdhaja që jeta politike më kishte tunduar gjatë gjithë kohës. Tash fillova të punoj shlirshëm dhe vazhdova me këtë cikël grafikash. Zhvillova një cikël me zift, kryesisht piktura të punuara me gravura edhe me shkronja të ndryshme, si reflektim i atyre viteve, me tituj " jam popull laraman", " jam viti 1999"78, "unë jam ajo me 36 shkronja"9, "une jam kurban i ballkanit"10, "viti 2003".1112
Në vitin 2005 si kuratore dhe autore bashkë me shtatë artistë e realizuam ekspozitën Sexibition 1.131415 Mora pjesë me piktura, foto, karikature dhe video me pikado. Aty trajtohej idea, pikado ishte vendosur mu aty në mes këmbëve ku bota është zhvilluar dhe duhet të shihet ndryshe, jo vetëm si makinë seksi. Si tri çështje, trafikimi i gruas, dhunimi i grave dhe seksi i dëshirushëm paraqitet të triat aty, përmes mediave të ndryshme si video, vizatimi, fotografia, piktura, performanca dhe instalacioni.16
Inspirimet më zgjojnë dhe lëvizin drejt krijimit të një koncepti të momentit.171819 Nisur nga mënyra se si mendoj, praktika ime artistike njihet si vula ime. Mirëpo, gjithëmonë ka shkëputje nga një punë në tjetrën. Çdo periudhë kohore ndryshon prej tjetrës, mirëpo mënyra e të menduarit nuk mundet të jetë bardh e zi. Mënyra e të menduarit zhvillohet, por gjurmët e një shprehje artistike mund të vërehen nga një vepër tek tjetra. Të qenurit artiste e mendoj si identitet timin, natyrisht që kur identiteti dhe ndjenja ime është shnëdrru në profesion atëherë është një bashkëdyzim që mua më identifikon.20
Së voni, gjatë periudhës të pandemisë 2020-21 kam zhvilluar ciklin New Rules (Rregullat e Reja)212223, duke bartë disa elemente nga viti 1995, nga cikli "Sufler me mija qante skena, qeshte dhelprija". Duke parë se teknologjija ka marrur hov marramandës të zhvillimit, mendoj që neve na u imponuan rregulla të reja të pëlqyera ose jo nga ne. Natyrisht se krijova koncepte dhe figura të reja që lidheshin me zhvillimin e pakuptimtë të ngjarjeve ekonomike dhe sociale të kohës. Figurat ishin si silueta, dikush mrapsht, dikush mbarë me shprehje te ndryshme artistike video performasë, fotografi pikture. Në tanësi duke paralajmruar të ardhmën tonë sfiduese.
Në Kosovë dhe regjionin e Ballkanit, gruaja gjithmonë ka qenë e dytësore. Mirëpo, duhet që ne gratë të punojmë, që të krijojmë një ambient që të tjerat mos të kenë përvoja të tilla. Gjithmonë ka hapësirë për t'u zhvilluar edhe më shumë. Nëse mua nuk ma ka dhënë askush dorën, unë e kam për obligim të ja shtrij dorën një gruaje tjetër sot. Kënaqësia ime në art është të krijoj, të hulumtoj, të kërkoj dhe të i shoh edhe gabimet e mia. Ka shumë gra artiste që puna e tyne tretet nga historia. E shoh shumë të rëndësishme që të hulumtohen arkivat dhe të identifikohen artistet nga historia.
1Zake Prelvukaj, X-sat Flasin, Galeria Dodona, 1998.
2 Zake Prelvukaj, X-sat Flasin, Galeria Dodona, 1998.
3Zake Prelvukaj, Hapja e ekspozites "X-sat Flasin", Galeria Dodona, 1998.
4Zake Prelvukaj, Trupi im brushë, 2000.
5Zake Prelvukaj, Trupi im brushë, 2000.
6Zake Prelvukaj, Trupi im brushë, 2000.
7Zake Prelvukaj, Unë jam nr. 69 
8Zake Prelvukaj, Unë jam nr. 69 
9Zake Prelvukaj, Unë jam ajo me 36 shkronja, World getto, 2003.
10Zake Prelvukaj, Unë jam kurban i Ballkanit, World getto, 2003.
11Zake Prelvukaj, World getto, 2005.
12Zake Prelvukaj, World getto, 2006.
13Zake Prelvukaj, Sekspozita, 2005.
14Zake Prelvukaj, Sekspozita, 2005.
15Zake Prelvukaj, Sekspozita, 2005.
16Nga ekspozita "Ofshamë".
17Zake Prelvukaj, Grafika të realizuara në shtylla për rrymë elektrike, të lyera me material bitulin. 
18Zake Prelvukaj, cikli Fytyrat tona në të ardhmen.
19 Zake Prelvukaj, cikli Fytyrat tona në të ardhmen.
20Zake Prelvukaj, gjatë punës ne studio, 2018.
21Zake Prelvukaj, Rregullat e reja, Pikturë, 2021.
22Zake Prelvukaj, Rregullat e reja, Pikturë, 2021.
23Zake Prelvukaj, Pika e Kuqe, Performace, Ekspozita Rregullat e reja, 2021.