Kriszta Nagy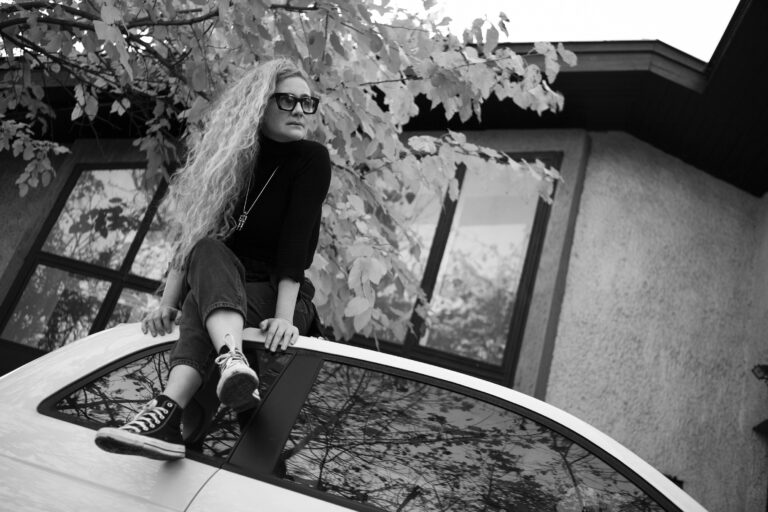 – born 1972 – is a contemporary painter and intermedia artist, underground singer and frontwoman of the band Tereskova. In addition to painting, she works in a variety of mediums and in the performance genre. In her practice, she blends elements of popular culture and advertising in a provocative way, elaborating on topics such as the contradictions of the elitist conception of art, the saleability of art, or gender inequalities. Her work has been exhibited at the Ernst Museum, the Kunsthalle Budapest (Műcsarnok) and the Ludwig Museum Budapest, among others.

Portrait of the artist by Évi Fábián
Commercial galleries appeared in Hungary when I graduated. Before that, official art scene was defined on a state-regulated, political basis. In contrast, there was a group of artists who could not exhibit officially, or at very rare occasions. My masters were Tamás Szentjóby and Dóra Maurer, who began to work in an era when art was defined by strike, desire for freedom and separation. They wanted to part from official, politically controlled art, so it is by turning inwards completely and almost shutting out the outside world that they worked and exhibited, sometimes despite prohibitions. After the country's political system changed, art could open up to the public. I was interested about what happens when art doesn't show resistance, but lives with its freedom and does what our teachers never did: it makes money out of itself, and just like anyone on the market who wants to sell something, advertises the product. And what does it advertise itself with? With a female body that is preferably uncovered.
I was in my late twenties when I made my work entitled I Am a Contemporary Painter1, in which I posed in the style of lingerie advertisements on a billboard in Lövölde Square in Budapest. The problems I have outlined in this work still define my art. I realized it because I wanted to draw attention to contemporary art, I wanted to communicate that we exist. I also wanted to point out the prejudices that surround artists and make it impossible for us to assert ourselves. According to public opinion, artists must live poorly and look bad, they must be miserable. Although this is a project made twenty years ago, I still did not reach the living standards I want to have because there is still no real contemporary art market in Hungary, and it is still considered a sin if an artist wants to work for money.
Several of my works deal with how to make contemporary art known. I think the artist has to be a star, just like a pop star. My goal is that people line up not only for the exhibition of a dead artist, say Van Gogh, but also for the exhibition of living, contemporary artists. If I was not born in Hungary, I would not have realized many of my works, because elsewhere fine arts and collecting art are parts of the culture.
I wanted to be a singer since I was a little girl. In the eighties, several artists played music, my role models were the Bizottság band and Marietta Méhes. They also inspired me to form a band, although I never learned to play music, nor did my role models. Shamefully I didn't put any energy into running my band, I never called anyone so we could have a concert, we never had a manager, and when we went to the countryside, I got a nervous breakdown there because the conditions weren't good. People, on the other hand, liked it, and the fact that I was Tereskova as well probably added a lot to my reputation. In the debuting commercial TV channels, and as a graduate painter who was also a crazy singer, I was unique. I was later able to use these experiences to make myself known as an artist as well.
With my exhibitions, my goal has always been to let a lot of people know that I'm causing an uproar so that one day an exhibition opening can become a real social event, not just a professional one. Unfortunately, art circles are still very closed, and I'm working on changing that.
When I first applied to university, the head of the council told my parents that no demons would be admitted to this school. For the fourth try, I went in dirty pants, ugly glasses and a ragged t-shirt, I didn't put on makeup, I put my hair together in a bun. Without even opening my portfolio, I was admitted to university. I could only get into the artistic circles by disguising myself as a man, or at least as an ugly girl. This is an absolutely feminist issue. In the early 1990s nevertheless, I thought, together with many feminists that feminism is a thing of the past. It turned out we weren't right.
In both my professional and private life, I had the disadvantage of being a successful and especially good-looking woman at the same time. That is why feminism has become important in my art as well. I am not informed about the subject of feminism, I am not interested in anything in the world except myself, yet I am always in the middle of things. Before, I hated when my work was labelled as female art, and I found it ridiculous that art is defined by whether it was done by a woman or a man. In 2015, I got tired from one minute to the next, that's when I became a feminist artist: I completed a series of 32 images called Writing on the Body234 that wouldn't have been made if yet another man hadn't left me because I didn't think the way they thought I should.
The man who made me realize this work left me because he thought my life is complicated. As a man, he can't help his partner, he can't be the backbone of a strong woman who wants to get a bowl of soup on the table when she's hungry.
It is not because I'm a feminist that I don't cook. I just don't feel like it. I want to stand in front of the canvas and paint instead. In the current situation, I have to work to be able to pay a cleaning lady and a housekeeper. Men forced these occupations onto women, they would not complete these task and would not be able to endure the shame if anybody found out what kind of lowly work they were doing at home.
I am constantly politicizing my art, but not the way it is done in the parliament.
I have a work where I defecate4 next to the revolution-torn parliament because I think I can do this better than the members of the parliament. After all, the fact that I rewrote Péter Geszti's song entitled Hungary is also politics. For doing so, I was called in by the then government to the Prime Minister's Office to discuss this with me. Or when I organized my own funeral and declared that I would no longer paint if in Hungary, artists are despoiled by businessmen in the name of patronage, that was politics as well. And of course, when I covered all the walls of the gallery with portraits of Viktor Orbán, indicating how politics crawled everywhere, into our private lives, that was politics too. Unfortunately, politics has infiltrated so much into the lives of all of us that many have been persecuted because of their supposed political position.
Since then, I don't want to expose myself to the political struggles of insane, emotionally overheated people. I was right when I was five, when I decided not to deal with politics because they would take me to the gulag.
The statement was realized in collaboration with curator Andrea Soós (2021).
1Image: Kriszta Nagy, Kortárs festőművész vagyok [I Am a Contemporary Painter], 1998, computer print, outdoor pvc banner, dimensions variable. Courtesy of the artist and Ludwig Museum – Museum of Contemporary Art, Budapest.
2Image: Kriszta Nagy, Writing on the Body, 2015, giclée print on aluminium sheet, dimensions variable. Courtesy of the artist.
3Image: Kriszta Nagy, Writing on the Body, 2015, giclée print on aluminium sheet, dimensions variable. Courtesy of the artist.
4Image: Kriszta Nagy, Writing on the Body, 2015, giclée print on aluminium sheet, dimensions variable. Courtesy of the artist.
5Image: Kriszta Nagy defecates next to the Parliament, 2006. Courtesy of the artist.
– szül. 1972 – kortárs festő-és intermédia művész, underground énekesnő, a Tereskova frontembere. A festészet mellett különböző médiumokban és a performansz műfajában is alkot. Műveiben a populáris kultúra és a reklám elemeit vegyítve provokatívan dolgoz fel olyan témákat, mint az elitista művészetfelfogás ellentmondásai, a művészet eladhatósága vagy a nemek közötti egyenlőtlenségek. Munkái többek között az Ernst Múzeum, a Műcsarnok és a Ludwig Múzeum kiállításain szerepeltek.

A művész portréját készítette: Fábián Évi
A kereskedelmi galériák akkor indultak, amikor diplomáztam. Előtte a hivatalos művészeti életet államilag, politikai alapon határozták meg. Ezzel szemben állt művészek azon csoportja akik hivatalosan nem, vagy csak nagyon ritkán állíthattak ki. Mestereim Szentjóby Tamás és Maurer Dóra voltak, akik egy olyan korszakban kezdtek el alkotni, amikor a művészetet a sztrájk, a szabadságvágy és a szeparálódás határozta meg. El akartak válni a hivatalos, politika által irányított művészettől, így teljesen önmagukba fordulva, a külvilágot szinte kizárva alkottak és állítottak ki, olykor tiltások ellenére. Miután megváltozott az ország politikai rendszere, a művészet nyithatott a közönség felé. Engem az izgatott, mi van akkor, ha a művészet nem ellenállást tanúsít, hanem él a szabadságával és olyat tesz, amit a tanáraink nem tettek soha: pénzzé teszi önmagát, pont úgy, mint ahogy a piacon bárki, aki el akar adni valamit, tehát reklámozza a terméket. És mivel reklámoz? Egy női testtel, ami lehetőleg fedetlen.
A húszas éveim végén jártam, amikor megcsináltam a Kortárs festőművész vagyok1 című munkámat, amelyen a fehérnemű reklámok stílusában pózolok egy óriásplakáton a budapesti Lövölde téren. A problémák, amiket ebben a munkában felvázoltam, még mindig meghatározzák a művészetemet. Azért csináltam ezt a művet, mert fel akartam hívni a figyelmet a kortárs művészetre, közölni szerettem volna, hogy létezünk. Valamint azokra a előítéletekre akartam rámutatni, amik körülveszik a művészeket és ellehetetlenítik az érvényesülésünket. A közgondolkodás szerint a művésznek rosszul kell élnie és kinéznie, szegénynek kell lennie. Bár ez egy húszéves projekt, nem élek azon az életszínvonalon, amilyenen szeretnék, mert még mindig nincs Magyarországon valódi kortárs művészeti piac, és még mindig bűn, ha egy művész pénzért szeretne dolgozni.
Több munkámat is mozgatja a gondolat, hogy hogyan lehet ismertté tenni a képzőművészetet. Azt gondolom, a művésznek épp úgy sztárnak kell lennie mint egy popsztárnak. Nekem az a célom, hogy ne csak egy halott művész, mondjuk Van Gogh kiállítása, hanem egy élő, kortárs művész kiállítása előtt is sorban álljanak az emberek. Ha nem Magyarországra születek, akkor sok munkám nem jött volna létre, mert máshol a képzőművészet és a műgyűjtés a kultúra része.
Kislány korom óta énekesnő akartam lenni. A nyolcvanas években több művész is zenélt, az én példaképeim a Bizottság és Méhes Marietta voltak, ők inspiráltak engem is arra, hogy zenekart alapítsak, bár soha nem tanultam zenélni, mint ahogy a példaképeim sem. Szégyenletes módon semmilyen energiát nem fektettem a zenekarom futtatásába, egyszer nem hívtam fel senkit, hogy koncertünk legyen, soha nem volt menedzserünk, ha vidékre kellett menni, ott idegösszeomlást kaptam mert nem voltak jók a feltételek. Az embereknek viszont tetszett, és az ismertségemhez valószínűleg sokat hozzátett, hogy Tereskova is voltam. Az induló kereskedelmi tévékben unikum voltam, mint diplomás festőművész, aki emellett egy őrült énekesnő is. Ezeket a tapasztalatoka később arra is fel tudtam használni, hogy magamat mint képzőművész is ismertté tegyem.
A kiállításaimmal mindig az volt a célom, hogy sokan tudjanak róla, hogy nagy port kavarjak, hogy egyszer egy valódi társadalmi esemény legyen egy kiállításmegnyitó, és ne csak a szakma vegyen részt. Sajnos még mindig nagyon belterjes a művészet, azon vagyok, hogy ezen változtassak.
Amikor először felvételiztem az egyetemre, a tanácselnökkel megüzenték a szüleimnek, hogy ebbe az iskolába démonokat nem vesznek fel. Negyedik próbálkozásra egy koszos nadrágban, egy ronda szemüvegben meg egy rongyos trikóban mentem, nem sminkeltem, a hajamat összefogtam kontyba. A mappámat ki se nyitották és felvettek. A művészet alkotói közé tehát csak úgy juthattam be, hogy férfinak álcáztam magam, de legalábbis egy csúnya lánynak. Ez egy abszolút feminista problematika. Ennek ellenére a kilencvenes évek elején azt gondoltam én is, és sok feminista is, hogy a feminizmus egy lefutott ügy. Aztán kiderült, hogy nem jól gondoltuk.
A szakmai és a magánéletemben is volt hátrányom abból, hogy sikeres és pláne jó nő vagyok egyszerre. Ezért lett a művészetemben is fontos a feminizmus. A feminizmus tárgykörében nem tájékozódom, engem semmi a világon nem érdekel önmagamon kívül, mégis mindig benne vagyok a dolgok közepében. Előtte utáltam, ha nőművészetnek bélyegezik a munkámat, és röhejesnek tartottam, hogy a művészetet az határozza meg, hogy nő, vagy férfi csinálja. 2015-ben egyik percről a másikra elegem lett, ekkor lettem feminista művész: megcsináltam a Testreírós234 című, 32 képből álló sorozatot, ami nem született volna meg, ha nem hagy el a sokadik férfi amiatt, mert úgy gondolkodtam, ahogy szerintük nem kéne.
A férfi, aki miatt ezt a művet létrehoztam, azért hagyott el, mert szerinte az én életem nehéz. Ő férfiként nem tud segítségére lenni a társának, nem lehet hátországa egy erős nőnek, aki szeretne egy tál levest kapni az asztalra, ha éhes.
Én nem azért nem főzök, mert feminista vagyok, hanem mert nincs kedvem hozzá, szeretnék helyette a vászon előtt állni és festeni. Jelen helyzetben ugyanis dolgoznom kell, hogy takarítónőt és házvezetőnőt tudjak fizetni egyszer. Ezeket a foglalatosságokat ugyanis a férfiak a nőkre osztották, ők ilyet nem vállalnak és nem bírnák a szégyent elviselni, ha kitudódna milyen alantas munkát végeznek otthon.
Folyamatosan politizálok a művészetemben, de nem úgy, ahogy az országházban csinálják.
Van egy művem, ahol a forradalom dúlta országház mellett székelek5, mert szerintem én jobban tudom ezt csinálni mint a honatyák. Végül is az is politika, hogy átírtam Geszti Péter Magyarország című számát, amiért az akkori kormány behivatott a Miniszterelnöki Hivatalba, hogy ezt megbeszéljék velem. Vagy az is politika, mikor megrendeztem a saját temetésem, és azt mondtam, hogy nem fogok többé festeni, ha Magyarországon a mecenatúra nevében művészeket rabolnak ki üzletemberek. És persze az is politika volt, amikor Orbán Viktor portrékkal borítottam be a galéria minden falát, jelezve, hogyan kúszott be mindenhová, a magánéletünkbe is a politika. Sajnos tényleg annyira bekúszott a politika mindannyiunk életébe, hogy sokan meghurcoltak vélt politikai állásponton miatt.
Azóta nem akarom kitenni magam érzelmektől túlfűtött őrültek politikai harcainak. Igazam volt öt évesen, amikor elhatároztam, hogy politikával nem szabad foglalkozni, mert elvisznek a gulágra.
A statement Nagy Kriszta és Soós Andrea kurátor együttműködésében jött létre (2021).
1kép: Nagy Kriszta, Kortárs festőművész vagyok, 1998, számítógépes nyomat, kültéri pvc molinó, változó méret. A művész és a Ludwig Múzeum – Kortárs Művészeti Múzeum jóvoltából.
2kép: Nagy Kriszta, Testreírós, 2015, giclée nyomat aluminium lemezen, változó méret. A művész jóvoltából.
3kép: Nagy Kriszta, Testreírós, 2015, giclée nyomat aluminium lemezen, változó méret. A művész jóvoltából.
4kép: Nagy Kriszta, Testreírós, 2015, giclée nyomat aluminium lemezen, változó méret. A művész jóvoltából.
5kép: Nagy Kriszta a magyar Parlament falánál székel, 2006. A művész jóvoltából.