Yllka Gjollesha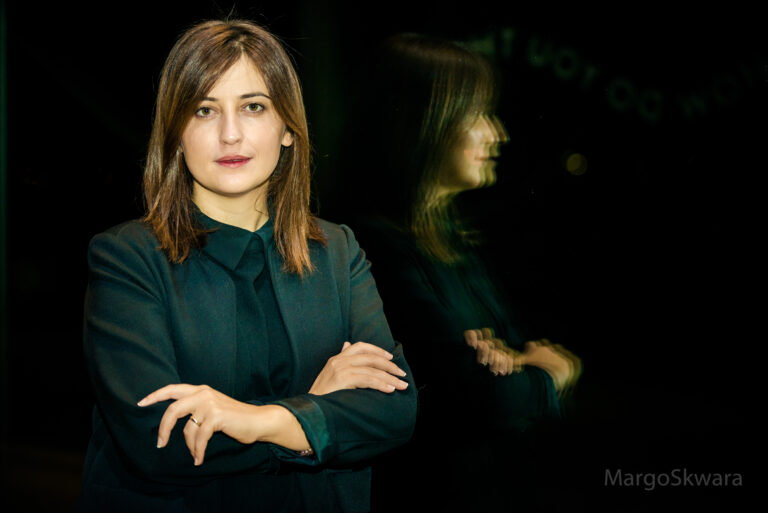 – born in Dibër in 1985. She mainly works with the medium of video art and installation. She studied at the "Jordan Misja" Art High School in Tirana and graduated from the Academy of Fine Arts in Tirana in 2006, the city where she currently lives and works. Her professional experience, in addition to her artistic creativity, touches also upon other fields such as film documentary, teaching and curating.
My family did, as many other families at that time, transfer to Tirana during the initial years of democracy. My journey starts here at the age of 7, during elementary school Labinoti and later on at the Artistic Lyceum Jordan Misja. During the period 2002 – 2006 I undertook my higher studies at the University of Arts in Tirana. My initial employment experience was with private TV stations, which at that time were going through a booming period of development. My relationship with television would persist until the present time, thus I underwent professional growth even in this field.
Television has also been one of the most meaningful supports in my artistic development pertaining to the video-art genre which I had very often picked up for expressing my ideas through my creative artistic activity. For 8 years in succession, I worked as the editor of many advertising videos and artistic documentaries. In 2016, I was appointed as editor-in-chief of RTSH2, a channel fully dedicated to marginalised groups in society including: LGBT community, persons with special needs, persons of old age etc. This new experience developed in me a parallel perspective towards my artistic practice so far. Many of my works were influenced very often subconsciously through the emotions and approaches pertaining to such social groups. Examples can be taken from the Time Anatomy (2020)1, MUTE (2013)2, The Family (2014)345 etc.
My professional experience touches upon, in addition to the artistic creative activity, other genres, such as documentary film, whereby I share a long journey consisting of 6 years. I will also mention the documentary dedicated to Gjon Mili, a photographer of worldwide reputation6, as well as short documentary films, featuring social topics and characters,of relevance to discuss in our society. One of the documentaries Tunels Angel depicts Angel, a 70-year old, who is guarding, same as during the communist regime, the tunnel, built with the perceived danger of enemy attack that could threaten the country, in mind. Ranging between craziness and passion, he has established a museum, where we can see Albania in its 30 years of transition, consisting of many items occupying his underground house, comprising 40 individual rooms. Rami is another character, fine-tuning the pianos and always behind the curtains of symphonic concerts. Rami provides us with another rhythm of musical notes, those which pave the way for the emergence of symphonic music.
My involvement has for 6 years extended over to teaching. I work as a part-time teacher at the Faculty of Architecture and Urbanism at the University of Tirana, as well as at the University of Arts, in Stage direction and Editing. To me, teaching has been a very good experience, especially the contact time with students and the reciprocal artistic exchange. Owing to them, many of my works have emerged.
A substantial part of my practice is taken up by curating, specifically regarding museums. I have been involved with the Museum of Gjon Mili in Korçë, the Ethnographic Museum in Kruja and Kavaja, Kadare House in Gjirokastër and the Ethnographic Museum in Gjirokastër. I am currently a curatorial consultant for the revitalisation of museums.
My work as a video-artist has been permeated by an approach which connects them to the element of time and how the reality they depicted underwent changes in the absence of an element or of the implementation of another element. In the video Time Anatomy (2020)8. Anatomy is where we preserve an uncertain time, it appears to us interchangeably as real and surreal. An intertwined anatomy, which does not manage to obtain its appropriate form. As an existing, but also a fake world. We all encounter situations wherein we cannot discern or perceive clearly how the different realities are served to us. They are very often feigned, brutal or face realities, embodying curated and suspicious aesthetics. They are similar to two wishes opposing each-other.
Inspiration for each of my works originates from moments that I find during business trips. I have always found my inspiration against the impossibility to transform the surrounding events, inadmissible situations, which can be witnessed and accepted by all9. This world of ours is made of walls and, perhaps, due to this it is a world. Touching upon the wall of impossibilities has been my permanent passion and fear, where one undoubtedly has to go to the end. As long as you cannot articulate the things which are witnessed in the darkness of solitude, inhabited by no one, this will be the end. To me, the creation of a work has been an attempt to convince oneself that 'I am here too'; it has been a means to accommodate some sense perceptions, which can never be articulated. We are in permanent search of the witnesses, be they often invisible, confirming our presence at the most essential level. We have no visible evidence, affirming the appearance of presence. None. I have actually a lot of proof and indications, however, they are all intrinsic, non-sensual, beyond-sensual, or a perfect consonance, emerging out of the unification of the entire senses. To me, the world is an illusion, therefore, it appears to be decent and rational to feed myself with its products, which are also illusions.
I am married and I have a daughter. She has been the subject matter of some of my video and installation related works. I held a conversation, in one of the videos, with my unborn daughter, whereby, the items that I was using during my pregnancy were displayed in the installation. Even during the periods when I did not have much free time and it was difficult to manage, I tried to make my obligations as a mother part of the creation process. I think that nothing can keep you from creating, on the contrary, 'hindrances' very often are transformed into real expressive sources.
Regarding my family, I can say that I am part of a family of artists, including my husband, my brother-in-law, my father-in-law, who are both painters as well. This is why my family and artistic life are cohabitating naturally with each-other. Very often intensive artistic discussions and debates constitute a daily part of my life. However, peculiarity stays with the fact that we are all different, with everyone searching and creating while preserving their individuality and 'face'.
Statement written by the artist in consultation with Adela Demetja (2022).
1Image: Yllka Gjollesha, Time Anatomy, 2020, Still from Video, Courtesy of the artist.
2Image: Yllka Gjollesha, MUTE, 2013, Still from video, Courtesy of the artist.
3Image: Yllka Gjollesha, The tuner, 2014, Video still from The Family, Courtesy of the artist.
4Image: Yllka Gjollesha, The embroidery, 2014, video still from The Family, Courtesy of the artist
5Image: Yllka Gjollesha, La Scala, 2014, video still from The Family, Courtesy of the artist.
6Image: Yllka Gjollesha, LIGHT, 2017, Still from documentary, Courtesy of the artist.
7Image: Yllka Gjollesha, Tunnels Angel, Video still, Courtesy of the artist.
8Image: Yllka Gjollesha, Time Anatomy, 2020, Video still, Courtesy of the artist.
9Image: Yllka Gjollesha, Good luck, 2013, Video still, Courtesy of the artist.
10Image: Yllka Gjollesha, My Baby, pencil on paper, 35x45 cm, 2007, Courtesy of the artist.
– lindur në Dibër në vitin 1985, jeton dhe punon në Tiranë. Ajo zakonisht punon me mediumet e video art dhe instalacion. Ka studiuar në liceun artistik "Jordan Misja" në Tiranë dhe është diplomuar në Akademinë e Arteve po në Tiranë ne 2006. Përvoja e saj profesionale, përveç krijimtarisë artistike, prek edhe fusha të tjera, si filmi dokumentar dhe mësimdhënëse dhe kurim.
Në vitet e para të demokracisë familja ime, si shumë familje të kohës, u transferua në Tiranë. Në moshën 7 vjecare kam nisur rrugëtimin tim në shkollën fillore Labinoti dhe më pas në Liceun Artistik Jordan Misja. Në vitin 2002 – 2006 përfundova studimet e larta pranë Universitetit të Arteve, Tiranë. Fillimet e para të përvojës në punë ishin disa vite në televizionet private, të cilat në atë kohë po përjetonin hovin e zhvillimit të tyre. Marrëdhëniet me televizionin do t'i kisha të gjata deri në ditët e sotme, duke përftuar edhe rritje profesionale në këtë fushë.
Televizioni ka qenë gjithashtu një nga ndihmesat e mëdha në zhvillimin tim artistik në lidhje me video-artin, zhanër të cilin e kam zgjedhur shpesh për të shprehur idetë në krijimtarinë time artistike. Për tetë vite rradhazi kam punuar si montazhiere e shumë videove promocionale dhe dokumentarëve artistikë. Në vitin 2016 jam emëruar kryeredaktore e RTSH2, një kanal i cili i dedikohej tërësisht grupeve të margjinalizuara në shoqëri: komunitetit LGBT, personave me aftësi të veçantë, moshës së tretë etj. Kjo eksperiencë më zhvilloi një këndvështrim paralel kundrejt praktikës time artistike deri më atëherë. Shumë nga punët e mia ndikoheshin në mënyra shpesh të pavetëdijshme nga emocionet dhe qëndrimet që kishin të bënin me këto grupe shoqërore. Shembull janë disa vepra si Anatomia e Kohës (2020)1, MUTE (2013)2, The Family (2014)345 etj.
Përvoja ime profesionale, përveç krijimtarisë artistike, prek edhe fusha të tjera, si filmi dokumentar, me të cilin kam një rrugë të gjatë tashmë prej gjashtë vitesh. Mund të përmend dokumentarin kushtuar Gjon Milit, një fotografi me famë botërore6, si dhe dokumentarë të shkurtër ku spikasin tema sociale e personazhe të rëndësishëm për t'u diskutuar në shoqërinë tonë. Njëri prej dokumentarëve Tunnels Angel7, flet për Engjëllin, një 70 vjeçar i cili ruan si në kohët e regjimit komunist tunelin e ndërtuar për rreziqet që mund t'i kanoseshin vendit nga armiku. Mes marrëzisë dhe pasionit ai ka krijuar një muze në të cilin shohim Shqipërinë e 30 viteve tranzicion, i përbërë nga shumë objekte që pushtojnë shtëpinë e tij me 40 dhoma nën tokë. Rami është një tjetër personazh i cili akordon pianot dhe qëndron gjithmonë pas skenës së koncerteve simfonike. Rami na krijon një tjetër ritëm të notave muzikore, ato të cilat përgatisin terrenin për krijimin e muzikës simfonike.
Për gjashtë vite jam angazhuar paralelisht edhe në mësimdhënie, si pedagoge e jashtme në Fakultetin e Arkitekturës dhe Urbanistikës në Universitetin e Tiranës, si dhe në Universitetin e Arteve, dega 'Regji Montazhi'. Mësimdhënia për mua ka qenë gjithmonë një eksperiencë shumë e mirë; kontakti me studentët ka qenë reciprok në lidhje me shkëmbimin artistik. Shumë vepra të miat kanë marrë formë falë tyre.
Një pjesë të rëndësishme në praktikën time zë edhe kurimi, specifikisht ai muzeal. Jam angazhuar në Muzeun Gjon Mili, Korçë, Muzeun Etnografik në Krujë dhe Kavajë, Shtëpinë Kadare Gjirokastër, dhe Muzeun Etnografik Gjirokastër. Aktualisht punoj si konsulente kuratore për rivitalizimin e muzeve.
Punët e mia si videoartiste kanë patur qasje të cilat lidhen me elementin kohë dhe se si realiteti që ato kapnin pësonte ndryshime në mungesë të një elementi apo implementimit të një elementi tjetër. Në videon Anatomia e kohës (2020)8, anatomia është ajo e cila mban një formë të papërcaktuar, e cila na shfaqet herë si reale dhe herë si irreale. Një anatomi e ndërthurur e cila nuk gjen formën e duhur. Si një botë ekzistente, por edhe fallco. Të gjithë gjendemi përpara situatave ku nuk arrijmë të ndajmë apo të perceptojmë qartë se si na serviren realitete të ndryshme. Ato shpesh janë butafori, brutale, falco, kanë një estetikë sa të kuruar aq edhe të dyshimtë. Janë si dy dëshira që kundërshtojnë njëra-tjetrën.
Në secilën prej veprave të mia frymëzimi vjen nga çaste të cilat i gjej në udhëtime të punës. Frymëzimin e kam gjetur gjithmonë tek pamundësitë për t'i transformuar ngjarjet përreth, në situata të pranueshme dhe të përjetueshme nga të gjithë9. Eshtë botë muresh kjo e jona, dhe ndoshta pikërisht për këtë arsye është edhe botë. Të prekësh murin e pamundësive, ky ka qenë përherë pasioni ose frika së cilës i duhet shkuar medoemos në fund. Nëse nuk i thua dot gjerat që përjetohen në terrin e një vetmie të banuara prej askujt, atëherë ky është fundi. Për mua krijimi i një vepre ka qënë një përpjekje për të bindur veten se "jam edhe unë"; ka qenë një mjet që vihet në shërbim të disa ndjesive që nuk mund të thuhen kurrë. Ne gjithnjë jemi në kërkim të dëshmitarëve, qoftë shpesh të padukshëm, që pohojnë praninë tonë në nivelin më jetik. Nuk kemi asnjë provë të dukshme që pohon shfaqjen e pranisë. Asnjë! Në fakt, prova dhe shenja kam shumë, por të gjitha janë të brendshme, janë joshqisore, tejshqisore, ose një harmoni e përkryer që lind nga njësimi i tërë shqisave. Bota për mua është iluzion, dhe prej këtu më duket e ndershme dhe e arsyeshme të ushqehem me produktet e saj që janë iluzione po ashtu.
Jam e martuar dhe kam një vajzë. Vajza ka qënë edhe subjekti i disa prej punëve të mia në video dhe instalacione. Në njërën prej videove, "bisedoja" me vajzën ende pa lindur. Në një instalacion përfshiheshin edhe sende të cilat i përdorja gjatë periudhës së shtatzanisë. Edhe në periudha kur nuk kam pasur shumë kohë të lirë dhe ka qenë e vështirë ta menaxhoj atë, jam përpjekur t'i bëj pjesë të krijimit edhe detyrimet si nënë. Mendoj se asgjë nuk mund të të pengojë të krijosh; përkundrazi, "pengesat" shpesh kthehen në burime të vērteta shprehëse.
Sa i takon familjes, mund të them se jam pjesë e një familjeje artistësh, duke përfshirë bashkëshortin, kunatin dhe vjehrrin tim, të cilët janë piktorë. Kjo ka bërë që jeta familjare dhe ajo artistike të bashkëjetojnë natyrshëm tek ne. Diskutimet, debatet artistike, shpesh herë edhe intensive, janë pjesë e përditshme e jetës sime. E veçanta megjithatë qëndron në faktin se ne të gjithë të ndryshëm kërkojmë dhe krijojmë secili duke ruajtur individualitetin dhe "fytyrën" e tij.
Tekst i shkruar nga artistja në konsultim me Adela Demetja-n (2022).
1Imazh: Yllka Gjollesha, Anatomia e Kohës, 2020, Imazh shkëputur nga video, Kortezi e artistes.
2Imazh: Yllka Gjollesha, Pa Zë, 2013, Shkëputur nga video, Kortezi e artistes.
3Imazh: Yllka Gjollesha, Akordues, Imazh i shkëputur nga video Family, 2014, Kortezi e artistes.
4Imazh: Yllka Gjollesha, Qëndisja, 2014, shkëputur nga video The Family, Kortezi e artistes.
5Imazh: Yllka Gjollesha, La Scala, 2014, Imazh shkëputur nga video The Family, Kortezi e artistes.
6Imazh: Yllka Gjollesha, DRITË, Imazh shkëputur nga dokumentari, 2017, Kortezi e artistes.
7Imazh: Yllka Gjollesha, Engjëlli i Tuneleve, 2019, Imazh i shkëputur nga video, Kortezi e artistes.
8Imazh: Yllka Gjollesha, Anatomia e Kohës, 2020, Imazhi i shkëputur nga video, Kortezi e artistes.
9Imazh: Yllka Gjollesha, Paç fat, 2013, Imazh i shkëputur nga video, Kortezi e artistes.
10Imazh: Yllka Gjollesha, Foshnja ime, Vizatim me laps ne letër, 35x45 cm, 2007, Kortezi e artistes.