Lori Lako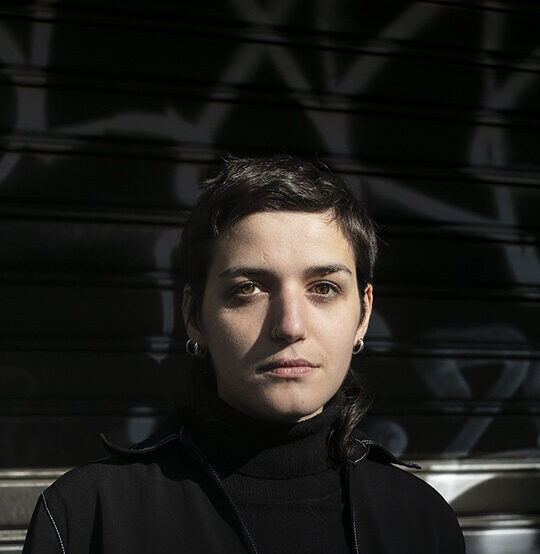 – born in 1991. Lori is a visual artist working with the medium of video, photography, performance and installation. She received a BFA in painting (2012) and MA in Visual Arts and New Expressive Styles (2017) from the Academy of Fine Arts, Florence. In 2015, she was a recipient of the Erasmus scholarship and studied at the Academy of Visual Arts in Munich. In 2020, she was the winner of the Ardhje, Young Visual Artists Award.
My practice reflects on the condition of post-modern humanity, outclassed by images and messages that hinder the decoding of the world, historical memory and listening to the self. I investigate the mediation of historical and personal events by the internet platforms and digital devices. Hence, I prefer to deconstruct and layer pre-existing images rather than create new ones in my projects. My home country, Albania, often appears in my work as a liminal state, suspended between the past and uncertain present where nothing happens and everything is possible.
I was born on 23 of February 1991, exactly three days after the demolition of the monument of dictator Enver Hoxha, who isolated the country from the rest of the world for almost half a century. Though I did not live through that historical period, it influenced me in many ways through the echo left behind and the stories of those who lived through it.
Since I was a child, I can recall the image of Pogradec (the city I was born and lived in until 2009), often overlapped by another image, an image of a city created by my fantasies and based on the narrations of other, older people, the half-dead and half-alive buildings, the parks that had turned into high rise buildings. The ruins caused by the change of the political system in 1991 would soon be followed by more ruins resulting from the near civil war in 1997. One of the recently destroyed buildings is the Oktopodi building. It takes two minutes to walk from where my family lives to this building, which lends its name to the wider area. Oktapodi was built in 1986. Known as ''lokali i tregetisë'' (trade store), it operated as a bar-restaurant. With its constructivist style, unique amongst the buildings it brought a new vision of architecture to the city. Soon, it became a building of great significance to the social and economical life of the city. Its actual pending state, similar to that of many buildings throughout the country, would inspire one of my first video works, Oktopodi (2012)1. The moving image, inverted and saturated in green, almost calls into question the existence of the building which appears only as a reflection in the water.
In 2021 I circled back to this building in the Pendulum podcast 2, with the episode In and Out of Oktopodi, 2021, where together with the artists Alketa Ramaj, Eni Derhemi and the architect Doriana Musai, we shared memories and reflections on the state of architecture in the country.
The general chaos of the first years after the fall of the dictatorship would be followed by the bankruptcy of the pyramid schemes which would eventually erupt in a near civil war in 1997. The state of emergency, among other things, would contribute to the closure of all the educational institutions for several months. As a result, my first experience of school was through following lessons via television. One of the starkest memories from this time is a bullet hole in the metal entrance gate to my family home. As kids we would often use it as a strategic point in order to see out onto the street without being seen during games of Hide and Seek. In 2015, I instinctively decided to film through this hole with my cellphone. The shaky moving image shows a group of kids running after a dog, an ordinary afternoon in the neighborhood3. I have often thought that I should go back to that video, with a stabilized camera, but maybe those few seconds of 'disturbed' frames are more loyal to the subject itself.
In 2009, I decided to go to Italy to continue my studies at Florence Academy of Fine Arts. The residence permit, which had to be renewed constantly, would often prevent my travels outside Italy. This personal condition would prove fruitful for works that reflect on the movement and limitations related to geopolitical issues, such as; You can travel the world with google maps, a video of an impossible journey due to visa restrictions that gets replaced by a 'journey' on google maps (2017)4; Possibly maybe (2017)5 a photo series, which confronts the poetic and abstract dimension of the trails left in the sky by airplanes with the details of flights obtained from the airport website; Sleep in screen (2017)6, a double channel video installation that follows a couple that in the absence of the possibility to share the same physical space, share time through a video call via Skype, which starts a few minutes before bedtime, lasts all night and ends with a single alarm that traverses their screens and wakes them both up.
Jointly with the autobiographical aspects, the mediation and reconfiguration that digital devices and the internet impose in today's world events, whether historical or personal, is a recurrent aspect of my work. Such is also the case in Now and Then (2017)7, a video which revisits archival footage taken from the internet of the exodus of Albanians to Italy in 1991. The video is composed of overused images that I decided to invert with the bas-relief effect into hardly recognizable ones in order to open them up to new iconographies.
The need to enter in more direct contact with the sites through physical presence and the spoken world, has led me to mixed media reading performances, such as Qui dormivano I monaci (2019)8 with Ambra Castagnetti, performance that took place in a 13th century monastery in Milano. I am a creature of the mud not the sky (2020)9, in Kino Rinia, an important but disused cinema venue in Prishtina. Klosterwiesgasse 74 / Ich höre einen Vogel Klagen (2020)10, lecture performance from the window of a room in Graz, where Lasgush Poradeci, pioneer of albanian modern poetry used to live and study during the 1920s.
The acceleration in production and consumption of images in contemporary society makes me often prefer to deconstruct and layer pre-existing images rather than creating new ones. One of these projects where the incipt becomes the family photo album is in my work Exotic Memories (2019)11. This installation was triggered by a photo of my childhood taken in a photographic studio in 1996. Most of my acquaintances have had their pictures taken posing in front of this specific backdrop depicting palm trees by the ocean. A really fashionable backdrop in the 90s. What somehow unites the photographs taken there is the contrast between the artificial photo studio and the exotic landscape as well as a sort of rigidity and awkwardness of the postures. The artifice that each pose carries within itself, along with the changes undergone by technology, suggested the reconstruction of this familiar backdrop to me. I scanned the photos I collected and digitally removed the subjects who had posed in front of it. The passage from the physical images to the digital scans was a process dotted by the loss of image quality and transformations of the image, which were unavoidable in the process of restoring the background to its entirety and bringing it back to life. The need to collect multiple photos in order to reconstruct the background made me think that in the same way collective memory is needed to recreate the past, the same was true for this work12.
In the years following the fall of the dictatorship, a new opportunity would appear in Albania:the American visa Lottery. My uncle and my aunt won this lottery and soon left Albania for good, in search of a better life. We would receive long letters from them, at times postcards, other times family pictures, showing how American buildings are indeed able to scrape the sky, combined with ordinary pictures of them posing in front of their big blaring TVs, their new living rooms and tidy bedrooms with some scattered eastern-european details. However, America would always remain a dream for the rest of us. My grandmother applied for a visa 3 times in the early 2000s in order to visit her children. Her visa application was denied all three times and she never had the chance to be in front of the fabled skyscrapers during her life. June 2022 presented me with the opportunity to visit the US for the first time, spending two months in the program Residency Unlimited in New York City. At the end of the residency I showcased my new work Assuming we can reach the sky (2022), in a one-day solo show.
This was a multimedia installation that consisted of photography from the family archives, a series of images I took during my stay, as well as a moving image installation.
The thought of these 10x15cm photographs13 as the only form of visual communication back in the day reminded me how much time I had spent obsessing over them, eager to decipher all the details of this country that seemed like a fever dream to me at the time. These archival family photographs composed the material that initiated the video work, which were depicted as digital postcards of a slow ascend to the top of some of the tallest skyscrapers in NYC. The video is composed by a cut of multiple one-shots, the moving image concludes with a tilt of the camera, which after having depicted the skyscrapers turns towards me, the gazing subject14.
Statement written by the artist in consultation with Adela Demetja (2022).
1Lori Lako, Oktapodi, 2012, Video 4'41'', photo Paolo Pastaccini, Courtesy of the artist
2Link: Pendulum Podcast: In And Out Of Octopodi by Lori Lako
3Lori Lako, 1997/2015, 2015, Video, 1'20'', Courtesy of the artist
4Lori Lako, You can travel the world (with google maps), 2017, Video 15', Courtesy of the artist
5Lori Lako, Possibly maybe, 2017, Photo series, variable dimensions, photo Alessandra Cinquemani, Courtesy of Galleria ME Vannucci
6Lori Lako, Sleep in screen, 2017, Video installation, 6:54', photo Indrit Kulli, Courtesy the artist
7Lori Lako, Now and then, 2017, Video, 3'35'', Courtesy of the artist
8Lori Lako, Qui dormivano i monaci, 2019, Durational performance two beds, one computer, one smartphone, seven doves, photo Andrea Novelli, Courtesy of the artist

9Lori Lako, I am a creature of the mud, not the sky, 2010, Installation / performance, 4 clay vases, chains, weeds, 30', photo Atdhe Mulla, Courtesy of the artist
10Lori Lako, Klosterwiesgasse 74 / Ich höre einen Vogel Klagen, 2020, Lecture performance, public space installation, QR code, augmented reality, photo Constantin Lederer, Courtesy of the artist
11Lori Lako, Study for Exotic Memories, 2019, Detail from installation, Courtesy of the artist
12Lori Lako, Exotic Memories, 2019, Installation, 261 x 256 cm, collages on paper 25 x 25 cm, Courtesy of Terzopiano Arte Contemporanea

13Lori Lako, Assuming we can reach the sky, 2022, Multimedia installation, photos, collages, variable dimensions, video 9'39'', photo  Lulu Meng, Courtesy of the artist
14Lori Lako, Assuming we can reach the sky, 2022, Video 9'39'', Courtesy of the artist.
– e lindur në vitin 1991. Lori është artiste pamore që punon me mediumet e videos, fotografisë, performancës dhe instalacionit. Është diplomuar në BFA për pikturë (2012) dhe MA për Artet Pamore dhe Stilet e Reja Ekspresive (2017) nga Akademia e Arteve të Bukura, Firence. Në vitin 2015 mori bursën Erasmus dhe studioi në Akademinë e Arteve Pamore në Mynih. Në vitin 2020 ishte fituese e çmimit për artistët e rinj pamor, Ardhje.
Punimet e mia reflektojnë mbi kushtin e njerëzimit post-modern, i kapluar nga imazhet dhe mesazhet që pengojnë zbërthimin e botës, kujtesën historike dhe dëgjimin e vetvetes. Merrem me hetimin e ndërmjetësimit të ngjarjeve historike dhe personale nga platformat e internetit dhe pajisjet dixhitale. Prandaj, në projektet e mia preferoj të dekonstruktoj dhe shtresëzoj imazhe para-ekzistuese në vend se të krijoj imazhe të reja. Vendi im, Shqipëria, shfaqet shpesh në punën time si një gjendje liminale, e pezulluar midis së shkuarës dhe së tashmes së pasigurt ku asgjë nuk ndodh dhe gjithçka është e mundur.
Kam lindur më 23 shkurt të vitit 1991, saktësisht tre ditë pas shembjes së monumentit të diktatorit Enver Hoxha, i cili e izoloi vendin nga pjesa tjetër e botës për gati gjysmë shekulli. Ndonëse nuk e kam jetuar vetë atë, gjithsesi kjo periudhë historike më ka ndikuar në shumë mënyra të ndryshme nëpërmjet hijes që mbetej prej saj dhe historive të treguara prej atyre që e kanë jetuar.
Më kujtohet prej se isha fëmijë sesi imazhit të Pogradecit, qytetit ku kam lindur dhe jetuar deri në vitin 2009, shpesh do të m'i mbivendosej një imazh tjetër, i krijuar në fantazinë time dhe i bazuar në rrëfimet e të moshuarve mbi të kaluarën e qytetit, mbi godinat gjysmë-vdekur e gjysmë-gjallë, për parqet që ishin kthyer në ndërtesa shumëkatëshe. Rrënojat e shkaktuara nga ndryshimi i sistemit politik në vitin 1991 do të pasoheshin shumë shpejt nga rrënojat e tjera të ardhura nga thuajse lufta civile e vitit 1997. Një nga ndërtesat e saposhkatërruara do të ishte Oktopodi. Ecja nga vendi ku jeton familja ime deri te kjo ndërtesë merr dy minuta. Sipas emrit të godinës quhet edhe zona përreth saj. Oktapodi është ndërtuar në vitin 1986. Ka qenë i njohur si "lokali i tregëtisë" dhe ka funksionuar si bar-restorant. Me stilin e saj konstruktivist, unik midis ndërtesave, godina në fjalë i solli qytetit një vizion të ri të arkitekturës. Shumë shpejt ajo u bë një ndërtesë me rëndësi të madhe për jetën shoqërore dhe ekonomike të qytetit. Gjendja e saj aktuale e pezullt, e ngjashme me fatin e shumë ndërtesave të tjera në të gjithë vendin, do të më frymëzonte për një nga veprat e mia të para video, Oktopodi (2012)1. Imazhi lëvizës, i përmbysur dhe zhytur në të gjelbër, thuajse vë në pikëpyetje ekzistencën e ndërtesës e cila shfaqet vetëm si reflektim në ujë.
Në vitin 2021 iu ktheva sërish kësaj ndërtese në podkastin Pendulum2, me episodin Brenda dhe Jashtë Oktopodit (2021), ku së bashku me artistet Alketa Ramaj, Eni Derhemi dhe arkitekten Doriana Musai, ndamë kujtime dhe reflektime mbi gjendjen e arkitekturës në vend.
Kaosi i përgjithshëm i viteve të para pas rënies së diktaturës do të pasohej nga falimentimi i firmave piramidale, të cilat do të shpërthenin në fund në një luftë gati civile në vitin 1997. Gjendja e jashtëzakonshme, ndër të tjera, do të shkaktonte mbylljen e të gjitha institucioneve arsimore për disa muaj me radhë. Si rezultat i kësaj gjendjeje, qasja ime e parë me shkollën u ndërmjetësua nga televizioni nga i cili më duhej të ndiqja mësimet. Një nga kujtimet më të forta nga kjo kohë është një vrimë plumbi në portën metalike hyrëse të shtëpisë së familjes time. Si fëmijë, e përdornim shpesh atë portë si një pikë strategjike për të parë pa u vënë re teksa luanim hapa dollapa. Në vitin 2015, vendosa krejt instinktivisht të filmoj përmes celularit nga kjo vrimë. Përmes një imazhi lëvizës që dridhej shfaqet një grup fëmijësh që vraponin pas një qeni në një pasdite të zakonshme lagjeje3. Shpesh kam menduar se duhet t'i rikthehem asaj videoje, me një kamerë të stabilizuar, por ndoshta ato pak sekonda kuadri të 'trazuar' janë më besnike ndaj vetë këtij subjekti.
Në vitin 2009 vendosa të shkoja në Itali për të vazhduar studimet në Akademinë e Arteve të Bukura të Firences. Leja e qëndrimit, e cila duhej të rinovohej vazhdimisht, më pengonte shpesh udhëtimet jashtë Italisë. Kjo gjendje personale do të rezultonte e frytshme për vepra që reflektojnë mbi lëvizjen dhe kufizimet e saj të ndërlidhura me çështje gjeopolitike, si p.sh.: Mund ta vizitosh botën përmes google maps (2017)4, video të një udhëtimi të pamundur për shkak të kufizimeve të vizave që zëvendësohet nga një 'udhëtim' në google maps; Me gjasë ndoshta (2017)5, një seri fotografike, e cila ballafaqon dimensionin poetik dhe abstrakt të gjurmëve të aeroplanëve lënë në qiell me detajet e fluturimeve të marra nga uebfaqja e aeroportit; Përgjumje në Ekran (2017)6 një video-instalacion me dy kanale që ndjek një çift që në mungesë të mundësisë së bashkëndarjes së një hapësire fizike, ndajnë kohën përmes një video-telefonate në Skype, e cila fillon disa minuta para gjumit, zgjat gjatë gjithë natës dhe përfundon me një alarm të vetëm që u tingëllon në ekrane duke i zgjuar së bashku.
Së bashku me aspektet autobiografike, ndërmjetësimi dhe rikonfigurimi që imponojnë pajisjet dixhitale dhe interneti në ngjarjet e sotme botërore, qofshin ato historike apo personale, është një aspekt që rivjen vazhdimisht në punën time. I tillë është edhe rasti i Herë-herë (2017)7, një video e cila rishikon pamjet arkivore të marra nga interneti të eksodit shqiptar në Itali në vitin 1991. Videoja është e përbërë nga imazhe të mbipërdorura, që vendosa t'i përmbys përmes efektit bas-relief sa vështirë se identifikoheshin më si të tilla, në mënyrë që t'i bëja të qasshme për ikonografi të reja.
Nevoja për të hyrë në një kontakt më të drejtpërdrejtë me vendet përmes pranisë fizike dhe fjalës, më ka çuar në performanca leximi përmes mediumesh të përziera, si Qui dormivano i monaci (2019)8me Ambra Castagnetti, performancë e zhvilluar në një Manastir të shekullit XIII në Milano. Jam një krijesë e baltës, jo e qiellit (2020)9 në Kino Rinia, kinema e rëndësishme e lënë në harresë në Prishtinë. Klosterwiesgasse 74 / Ich höre einen Vogel Klagen (2020)10, leksion-performancë nga dritarja e dhomës në Graz ku ka jetuar dhe studiuar Lasgush Poradeci, pionieri i poezisë moderne shqiptare gjatë viteve 1920.
Përshpejtimi i prodhimit dhe konsumit të imazheve në shoqërinë bashkëkohore më shtyn shpesh të preferoj të dekonstruktoj dhe shtresëzoj imazhe para-ekzistuese në vend të krijimit të imazheve të reja. Një nga këto projekte, ku nismëtar bëhet albumi i fotografive familjare, është vepra ime Kujtime Ekzotike (2019)11. Ky instalacion mori shkas nga një foto e fëmijërisë sime, e bërë në një studio fotografike në vitin 1996. Shumica e të njohurve të mi janë fotografuar duke pozuar përpara këtij sfondi specifik me palma buzë oqeanit. Një sfond përnjëmend në modë në vitet '90. Ajo që i bashkon disi fotografitë e bëra me këtë sfond është kontrasti midis studios artificiale të fotografisë dhe peizazhit ekzotik, si dhe një lloj ngurtësie dhe ngathtësie e pozimeve. Artifica që secila pozë mbarte brenda, së bashku me ndryshimet që pësoi teknologjia, më nxitën në rindërtimin e këtij sfondi të njohur përmes skanimit të fotove që mblodha dhe duke hequr në mënyrë dixhitale subjektet që kishin pozuar para tij. Kalimi nga imazhet fizike në skanimet dixhitale ishte një proces i mbushur me humbje dhe transformime të cilësisë së imazhit, të pashmangshme për ta rikthyer dhe për t'i dhënë jetë sfondit në tërësinë e tij. Nevoja për të mbledhur foto të shumta për të rindërtuar këtë sfond më bëri të mendoj se meqenëse memoria kolektive nevojitet për të rikrijuar të kaluarën, e njëjta gjë ishte e vërtetë edhe për këtë vepër12.
Në vitet pas rënies së diktaturës në Shqipëri do të shfaqej një mundësi e re, siç ishte Llotaria Amerikane. Xhaxhai dhe tezja ime arritën ta fitonin këtë llotari dhe u larguan përgjithmonë nga Shqipëria, në kërkim të një jete më të mirë. Familja ime do të merrte letra të gjata prej tyre, herë kartolina, herë të tjera fotografi familjare, që tregonin se si ndërtesat amerikane përnjëmend arrinin ta gërvishtnin qiellin; foto që vinin të kombinuara me foto të zakonshme të tyre duke pozuar para televizorëve të mëdhenj të ndezur, dhomat e tyre të reja të jetesës dhe dhoma gjumi të rregullta me disa detaje të shpërndara evropiano-lindore. Megjithatë, Amerika do të mbetej gjithmonë një ëndërr për ne të tjerët. Gjyshja ime aplikoi tre herë për vizë në fillim të viteve 2000 për të vizituar fëmijët e saj. Kërkesa e saj për vizë iu refuzua të tria herët dhe nuk iu dha mundësia përgjatë jetës së saj të ishte përballë rrokaqiejve përrallorë. Qershori i vitit 2022 më dha mundësinë për ta vizituar SHBA-në për herë të parë, duke kaluar dy muaj në programin Residency Unlimited në New York City. Në fund të rezidencës shfaqa punimin tim të ri Me presupozimin se ia mbërrijmë qiellit (2022), në një shfaqje timen njëditore.
Një instalacion multimedial që përbëhej nga fotografimi i arkivave familjare, një seri imazhesh të kapura gjatë qëndrimit tim, si dhe një instalacion imazhi lëvizës.
Ideja e këtyre fotografive 10 x 15 cm13 si forma e vetme e komunikimit vizual të asaj kohe, më kujtoi kohën që po kaloja duke u fiksuar pas tyre, me dëshirën për t'i deshifruar të gjitha detajet e këtij vendi që më ishte bërë makth në atë kohë. Këto fotografi familjare arkivore ishin materiali që i parapriu punës me video, e cila përshkruante si një kartolinë dixhitale një ngjitje të ngadaltë në majën e disa prej rrokaqiejve më të lartë në NYC. Videoja është e përbërë nga një prerje e disa shkrepjeve, ku imazhi lëvizës përfundon me një anim të kamerës, e cila pasi ka përshkruar rrokaqiejt kthehet drejt meje, subjektit vështrues14.
TTekst i shkruar nga artistja në konsultim me Adela Demetja-n (2022).
1Lori Lako, Oktapodi, Video 4'41'', foto Paolo Pastaccini, Kortezi e artistes

2Link: Pendulum Podcast: Brenda dhe Jashtë Oktapodit nga Lori Lako
3Lori Lako, 1997/2015, 2015, Video,1'20'', Kortezi e artistes
4Lori Lako, Mund ta vizitosh botën përmes google maps, 2017, Video 15', Kortezi e artistes
5Lori Lako, Me gjasë ndoshta, 2017, seri fotografike, dimensione të ndryshme, foto nga Alessandra Cinquemani, Kortezi e Galleria ME Vannucci
6Lori Lako, Përgjumje në ekran, 2017, Video instalacion, 6:54', foto nga Indrit Kulli, Kortezi e artistes
7Lori Lako, Herë-herë, 2017, video, 3'35''', Kortezi e artistes
8Lori Lako, Këtu flinin murgjit, 2019,  Performancë kohëgjatë, dy krevatë, një kompjuter, një telefon celular, shtatë pëllumba, foto nga Andrea Novelli, Kortezi e artistes
9Lori Lako, Jam krijesë e baltës, jo e qiellit, 2022, Instalacion/performancë, katër vazo balte, zinxhirë, barishte, kohezgjtja 30', foto nga Atdhe Mulla, Kortezi e artistes
10Lori Lako, Klosterwiesgasse 74 / Ich höre einen Vogel Klagen, 2020, Leksion performancë, instalacion në hapësirë publike, QR kod, realitet i augmentuar, foto nga Constantin Lederer, Kortezi e artistes
11Lori Lako, Studime për kujtime Ekzotike, 2019, Detaj nga instalacioni, Kortezi e artistes
12Lori Lako, Kujtime Ekzotike, 2019, instalacion, 261 x 256 cm, kolazhe në letër 25 x 25 cm, Kortezi e Terzopiano Arte Contemporanea
13Lori Lako, Me presupozimin se ia mbërrijmë qiellit, 2022, Instalacion multimedial, fotot, kolazhet, dimensione të ndryshme, video 9'39'', foto nga Lulu Meng, Kortezi e artistes
14Lori Lako, Me presupozimin se ia mbërrijmë qiellit, 2022, Video 9'39'', Kortezi e artistes