Barbora Kleinhamplová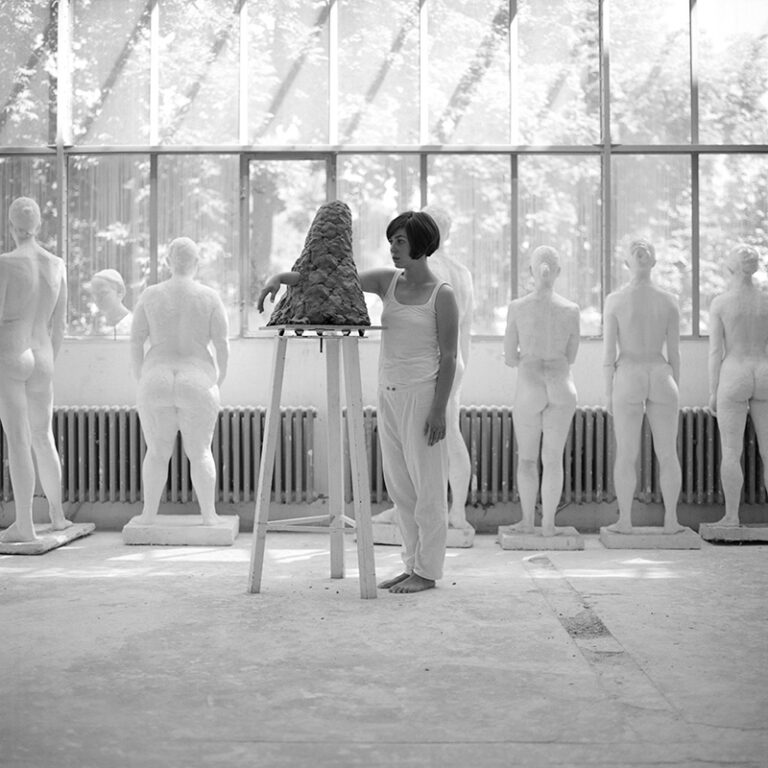 – born 1984 on the outskirts of Liberec (in the north of the Czech Republic, not far from the borders of Poland and Germany). Attended preschool and elementary school in the town of Stráž nad Nisou

1990 Parents got divorced

1992 Stabbed self in the arm while trying to punkify a pair of jeans by taking apart the seam

1993 Grandmother committed suicide; turned to the church for a few months.

1996 Drank first beer at a concert of the band Psí Vojáci

1998 Burned own belly while making 30 liters of varnish

1999 First two incidents of alcohol-induced poisoning

1999 Moved to Prague to study at applied arts high school SPŠG Hellichova; life in a moldy basement / diagnosis: asthma (medication: corticoids)

2000 Diagnosis: hyperthyroidism – hallucinations for several months due to medication and sleeping around 23 hours a day (blurry line between a dream state and waking state); first sex; first experience living with a boyfriend; night stay at a holding cell for inebriated people (showered by the caretaker)

2003 Summer stay in a caravan in England as a guest worker on a farm; first year at university (FAMU, Film and TV School of the Academy of Performing Arts in Prague)

2005 Breakup with boyfriend

2008 Rape; finished studies at FAMU; began studying at AVU (Academy of Fine Arts in Prague)

2009 First professor's tongue in my mouth1; lover; new relationship; discussion with the kitchen tiles after having ingested a combination of hallucinogenic substances.

2010 Second professor's tongue in my mouth; participation in a strike against neoliberal reforms in the educational system

2011 NYC (Occupy Wall Street; new lover, a macho Marxist); student exchange at Cooper Union School of Art; active in the initiative Zero Wage upon return to Czech Republic2

2014 Met partner and future father of my children at an antiracist demonstration3

2015 First (tentative) attempt to stop shaving legs; Seoul (Gangnam: visit to a slum full of retirement-aged people; fainting in the metro)4

2016 London (regular visits to the gym; Brexit)

2017 First child; began Doctoral studies thesis at the The Academy of Arts, Architecture, and Design in Prague (UMPRUM (Prague)5; NYC (walks with Silvia Federici, research on the interns' unpaid work in the art industry)

2018 Establishment and co-creation of the program Institute of Anxiety (with E.Jeřábková, Z. Blochová a E. Koťátková)

2020 Covid-19

2020-2023 First (and last) employment (including payment of health and social insurance)6

2022 Definitive end to shaving legs

2023 Second child

2025 Upon agreement with partner, transition to a polyamorous relationship – first female lover

2026 Expulsion from Doctoral program for surpassing the maximum permissible length of study

2027 Participation in discussions on building the first Green Cities;

2030 Both children active in the anticapitalist movement focused on the struggle against climate change; first stable polyamorous relationship with partner and another woman;

2032 move with children, male partner and female partner to the commune in the Green City;

2035 Older child begins hormone therapy (trans woman);

2040 Younger child joins the RFM (Radical Feminist Milita);

2045 Composting of remains according to the last wishes of the deceased

Fairytale

Fairytale is an imaginative game. It is a possibility for those who find it unpleasant to think in terms of reality but enjoy expressing themselves through the imagination. Instead of questions, a kind of framework is created in which the respondent has to imagine "something." The final form is an inventory of the various images. Even though this is inspired by a "psychoanalytic game" and diagnostic guide by Ookami Kasumi, here the diagnostics are left behind, making space for the readers' thoughts.

Imagine that you have awakened in an unknown place somewhere in a parallel reality. What body are you in? What is your name?

I know I've awakened into a dream. I trained for this for a very long time. I'm aware that I'm dreaming, I don't feel tired, my neck is not stiff, nothing hurts me… I slowly get up from the bed – nowhere to rush to. I'm in my body, I have my name.

Where are you?

I wake up in Moscow in the year 1930. It is late spring or the beginning of autumn, hard to say. I don't know what time it is, but it's light outside. I am in an unspecified apartment; nothing in it is particularly distinctive.

You are wearing clothing representing your ancestry. What is it?

I'm wearing my pajamas.

I throw my bathrobe on over them and put some slippers on my feet. I go on the balcony. From the balcony I see a building which immediately demands my full attention. It's a building in the shape of an irregular hexagon; the floor plan of which looks like a horizontal figure 8.

I turn around and leave the balcony, go back into the apartment and straight out to the hall stairs and out of the apartment building.

Are there any people there?

I don't meet anyone outside…

On the horizon you begin to see the place you are headed. What is this place?

I'm finally getting close to the building I saw from the balcony. It is the home of Konstantin Stepanovich Melnikov. He lives here with his family.

In my bathrobe and slippers I stand in front of the entrance, take hold of the door handle and let myself in. No one is here. It's quiet. I think I'm here alone. I go through the whole house, even the bedrooms with the gold walls meant for the whole family to co-sleep in.

You set out to meet a certain person. Who is it?

In the studio I finally found who I'm looking for – Konstantin Melnikov. He is waiting there.

He has a serious expression. We shake hands, greet each other, and he goes straight to explaining what he wants.

What is your task?

I came for the details of the Green Cities proposal. In the transition to a world with values that do not stand for production, performance and profit, technological support will enable the global transition of urban infrastructure to the Green Cities model. A dense network of such organized cities will serve as a basic platform to help manifest a feminist revolution based on care, slowing down, resting, sleep and collective dreaming, which should offer the solution as to how to escape the clutches of liberal capitalism.

To accomplish the task you get a map. Describe it.

Konstantin unwraps the proposals on the table and explains his thinking. The proposal for the Green Cities prototype and explains his thought processes to me. The proposal is perfectly rendered. However, it treats the city as if it were only for recreational purposes, as a short reprieve from the Moscow's workers' daily drudgery. However, if transformed, the Green Cities could be inhabited for permanent use by a society focused on care. The City functions on environmental energy provided by wind, water or solar power plants. Mass transit, replacing cars, will be provided exclusively by trams, which will transport inhabitants through the city and around a great network of forests and carefully managed wildlife parks. The City will be built as a system of collectivist buildings for shared/separate living and will be divided into six sectors – forest, far, garden, culture, care for children, space for rest/sleep. The generous buildings made for community or separate endeavors will allow the city's inhabitants to function in layered arrangements which don't reflect the concept of the nuclear family – polyamorous, same-sex, cooperative, etc. Children will be cared for collectively.

The central building of the whole city will be dedicated to sleep – "SONnaia SONata" (Sleep Sonata). In the building's central area, there will be bathrooms surrounded by spacious bedrooms.

The temperature, humidity and air pressure in the Sleep Sonata building will be technologically regulated. Sleep-supporting sounds will waft through air scented with pine resin – crunching leaves, birdsong or the lapping of waves, broadcast by the control central. Mechanized beds will be able to soothe sleepers by gently rocking.

The sounds of the forest are thus replaced by poetry and composed music which will diminish the rest of the stress and anxiety from the world of consciousness. The combined forces of art and technology will therefore offer not only lasting liberation from the world of work and production, but also the regeneration of the environment which, thanks to the slow and sleepy Green Cities, will achieve a state of calm and revitalization.

Who helps you?

In the dream, I say goodbye to Melnikov and leave the building with a feeling of victory – finally, I have the recipe for all the problems and forms of oppression.

In my dream I consider what to do next and decide to ask Katarína Klusová for help; together we will find out if the Kozyra Foundation will support this project.

Finally you begin to undertake the tasks. How do you feel? Are you looking forward to it? Do you have a heavy feeling of responsibility? Are you paralyzed?

In the end, I wake up from the dream in my own apartment, in my own bed, in 2020.

In my head are a number of questions – what should I think of this dream, in which social engineering solves all the world's problems?

I guess there was something I forgot to ask Melnikov about…
This text was created in cooperation with Katarína Klusová (2020).
1In my work from this period, I reflect primarily on psychoanalysis. In most of my works the phallus is present as a metaphorical representation of patriarchal domination. Works: Friction, Dirt; Bucketing.
2Theme: debt, the concept of Homo Economicus and criticism of the neoliberal economic narrative. Works: Handshake; Circle of Confusion; Thoughts in Circles; Invisible Hand; About the Choice of Language.
3Theme: work, sleep and its colonization; the neoliberal ethos in relation to coaching strategies, Spiritist practices, vertigo and feelings of alienation. Works: Reliable Relationship; The Labour of Eye (with Z. Baladrán); Sleepers' Manifesto (with T. Stejskalová); Sleepers. A three-act play with six actors (with T. Stejskalová).
4Research on the relationships between current political and economic institutions and various groups in the public served by them; anxiety as a symptom of the system, theme of work and flexibility. Works: Sometimes They Almost Feel Happy; We Are the People Who Understand Flexibility Has Its Widespread Benefits; MPEG Girl.
5Creative potential of anxiety and its relationship to institutions and individuals. Works: Hand Over Heels; The 12-hour Conference (with E. Koťátková); Sickness Report; Work Arrangements.
6 Employment in Futuropolis: School of Emancipation (development of educational methods for grades 6-9 focused on implementing critical pedagogy and bolstering the imagination). Works: If I could die on Mars, it would be great; Overload.
– narozena 1984 na periferii Liberce (na severu ČR, nedaleko hranic s Polskem a Německem); MŠ a ZŠ Stráž nad Nisou.

1990 rozvod rodičů

1992 probodnutí ruky při pokusu rozpárat si džíny ve stylu punk

1993 babička spáchala sebevraždu; několik měsíců trvající obrat k církvi

1996 první pivo na koncertě Psích Vojáků

1998 opaření břicha při domácí výrobě láku 30 litrů) láku

1999 první dvě otravy alkoholem

1999 stěhování do Prahy; studium na SPŠG Hellichova; život v plesnivém suterénu / diagnóza: astma (medikace: kortikoidy)

2000 diagnóza: hyperfunkce štítné žlázy – po dobu několika měsíců v důsledku medikace halucinace a spánek cca 23 hod. denně (těžko určitelná hranice mezi sněním a bděním); první sex; soužití s prvním přítelem; noční pobyt na záchytce (sprchování zřízencem);

2003 letní pobyt v karavanu v Anglii na farmě jako gastarbeiter; nástup na VŠ (FAMU, Praha)

2005 rozchod s přítelem

2008 znásilnění; dokončení studia na FAMU; nástup na AVU

2009 jazyk v puse od prvního pedagoga1; milenec; nový vztah; rozhovor s dlaždičkami po užití kombinace halucinogenních látek

2010 jazyk v puse od druhého pedagoga; účast ve stávce proti neoliberálním reformám ve školství

2011 NYC (Occupy Wall Street; nový milenec: macho-marxista); stáž na Cooper Union; po návratu do ČR aktivita v iniciativě Nulová mzda2

2014 na antirasistické demonstraci seznámení s budoucím partnerem a otcem dětí3

2015 první (nesmělý) pokus přestat si holit nohy; Seoul (Gangnam: návštěva slumu plného lidí v důchodovém věku; mdloby v metru)4

2016 Londýn (pravidelné návštěvy posilovny; Brexit)

2017 první dítě; zahájení doktorátu na UMPRUM (Praha)5; NYC (procházky se Silvií Federici, výzkum neplacené práce stážistů v uměleckém provozu)

od 2018 založení a spoluutváření programu Institutu Úzkosti (spolu s E.Jeřábkovou, Z. Blochovou a E. Koťátkovou)

2020 covid-19

2020–2023 první (a poslední) zaměstnání (včetně úhrady zdravotního a sociálního pojištění)6

2022 definitivní konec holení nohou

2023 druhé dítě

2025 po dohodě s partnerem přechod na polyamorický vztah – první milenka;

2026 vyhození z doktorátu pro dovršení maximální možné délky studia

2027 účast na diskusích kolem budování prvních Zelených měst

2030 obě děti aktivní v antikapitalistickém hnutí se zaměřením na boj proti změnám klimatu; první stabilní polyamorický vztah s partnerem a další ženou

2032 přesun s dětmi, partnerem i partnerkou do komuny v Zeleném městě

2035 starší dítě začíná podstupovat hormonální terapii (trans žena)

2040 mladší dítě se přidává k RFM (radikální feministické milici)

2045 zkompostování ostatků na vlastní přání

Pohádka

Pohádka je imaginativní hra. Je možností pro ty, kterým se není příjemné uvažovat v reáliích, ale nevadí jim imaginativní forma sebevyjádření. Místo otázek se vykresluje jakýsi rámec, ve kterém si dotazovaný má "něco" představit. Finální podobou je soupis představ. I když je tato forma inspirovaná "psychoanalytickou hrou" a diagnostikou Ookamiho Kasumiho, zde se diagnostiky vzdáváme a necháváme prostor pro domněnky čtenáře.

Představ si, že se probouzíš na neznámém místě někde v paralelní realitě. Do jakého těla se probouzíš? Jak se jmenuješ?


Probudila jsem se do snu, vím to. Na tohle jsem dlouho trénovala. Uvědomuju si, že sním, necítím únavu ani ztuhlý krk, nic mě nebolí … sbírám se pomalu z lůžka – není kam spěchat. Jsem ve svém těle, mám své jméno.

Kde se nacházíš?

Probudila jsem se v Moskvě, je rok 1930, je pozdní jaro, nebo začátek podzimu, těžko odhadnout přesněji, nevím kolik je hodin, venku je světlo. Nacházím se v neurčitém bytě, nic tu nemá výrazný charakter.

Máš na sobe oděv, který reprezentuje tvůj původ. Co je to?

Na sobě mám pyžamo.

Přehodím přes sebe župan a na nohy nazuju papuče. Vyjdu na balkón. Z balkónu vidím budovu, která si okamžitě získá moji plnou pozornost. Jedná se o dům s okny ve tvaru nepravidelného šestiúhelníku, jehož půdorys představuje ležatou osmičku.

Otočím se a vyjdu z balkónu zpět do bytu a odtud přímo ven po schodišti, ven z bytového domu.

Jsou tam lidé?

Venku nepotkávám nikoho…

Na obzoru se začíná rýsovat místo, ke kterému jsi se vydala. Co je to místo?

Konečně se blížím k domu, který jsem sledovala z balkónu. Je to dům Konstantina Stepanoviche Melnikova – zde žije se svou rodinou.

V županu a trepkách stojím před vchodem, vezmu za kliku a vstoupím dovnitř. Nikdo tu není. Je tu ticho, myslím, že jsem tu sama. Projdu celý dům, i ložnici se zlatými stěnami, určenou celé rodině ke kolektivnímu spánku.

Vydáváš se za konkrétním člověkem. Kdo to je?

V ateliéru nakonec najdu koho jsem hledala – Konstantin Melnikov. Už na mne čeká.

Má vážný výraz. Podáme si ruku, pozdravíme se, přejde rovnou k vysvětlení, o co mu jde.

Jaký je tvůj úkol?

Přišla jsem pro detailní návrhy Zeleného města.

V rámci přechodu na svět s hodnotami, které nestojí produkci, výkonu a zisku, dojde za podpory technologií ke globálnímu přechodu městské infrastruktury na model Zelených měst – hustá síť takto upravených měst bude sloužit jako základní platforma, která pomůže uskutečnit feministickou revoluci postavenou na péči, zpomalení, odpočinku, spánku a kolektivním snění, které snad nabídne řešení, jak uniknout ze sevření liberálního kapitalismu.

K splnění úkolu dostaneš mapu. Popiš ji.

Konstantin na stole rozbaluje návrhy a vysvětluje mi svoje myšlenkové pochody.

Návrh prototypu Zeleného města je dokonale propracovaný. Počítá však pouze s rekreačním charakterem města, jako krátkodobým vytržením z každodenní lopoty moskevských dělníků. V transformované podobě by však Zelená města mohla sloužit k permanentnímu užívání společnosti zaměřené na péči. Město počítá s ekologickou energií, zajišťovanou větrnými, vodními, nebo solárními elektrárnami. Hromadná doprava nahradí auta a bude zajišťována výhradně tramvajemi, které budou dopravovat obyvatele města skrze rozsáhlou síť lesů a citlivě spravovaných parků plných zvěře. Město bude postaveno na systému kolektivistických budov určených pro společné/sdílené bydlení a bude koncipováno do šesti sektorů – les, farma, zahrada, kultura, péče o děti a prostor pro odpočinek/spánek. Velkorysé budovy, určené pro komunitní/sdílené užívání umožní obyvatelům města fungovat ve vrstevnatých formách uspořádání, která neodpovídají konceptu nukleární rodiny – polyamorických, stejnopohlavních, družstevních atd.. Péče o děti bude sdílená.

Přímo spánku je věnována centrální budova celého města "SONnaia SONata" (Sonáta Spánku). Ve středu centrálního bloku budovy budou umístěny koupelny, obklobené rozlehlými ložnicemi.

Prostory Sonáty Spánku budou mít technologiemi regulovanou teplotu, vlhkost a tlak vzduchu. Vzduch vonící pryskyřicí ponese zvuky, podporující spánek – šustění listí, zpěv ptáků nebo šumění vln, vysílané z řídícího centra. Mechanizované postele se budou moci jemně konejšivě kývat.

Zvuky lesa pak nahradí poezie a komponovaná hudba, které si poradí se zbytky napětí a úzkostí ze světa vědomí. Kombinované síly umění a technologie tak nabídnou nejen trvalé vysvobození ze světa práce a produkce, ale také rehabilitaci životního prostředí, které se díky pomalým a ospalým Zeleným městům taky nakonec dočká klidu a revitalizace.

Kdo ti pomáhá?

Ve snu mě se loučím s Melnikovem a odcházím s vítězoslavným pocitem z budovy – konečně mám recept na všechny problémy a formy útlaku.

Ještě ve snu uvažuju co dál a rozhodnu se, že o pomoc poprosím Katarínu Klusovou a společně zjistíme, jestli by tuhle vizi nepodpořila Kozyra foundation.

Konečně se pouštíš do splnění úkolu. Jak se cítíš? Těšíš se na to? Máš tíživý pocit zodpovědnosti? Jsi paralyzovaná?

Konečně se probírám ze snu ve svém bytě ve vlastní posteli v roce 2020.

Visí mi v hlavě řada otazníků – co si myslet o tomhle snu, kde sociální inženýrství vyřeší všechny problémy světa?

Asi jsem se Melnikova zapomněla na něco doptat…
Text vznikl ve spolupráci s Katarínou Klusovou (2020).
1Práce z tohoto období reflektují především zájem o psychoanalýzu. V metaforické podobě je ve většině z nich přítomný falus, jako reprezentace patriarchální nadvlády. Práce: Dirty; Mums' Penis; Bucketing.
2Tematika dluhu, konceptu Homo Economicus a kritika neoliberálního ekonomického narativu. Práce: Handshake; Circle of Confusion; Thoughts in Circles; Neviditelná ruka trhu.
3Tematika práce, spánku a jeho kolonizace; neoliberální étos ve vztahu ke koučinkovým strategiím, spiritistickým praktikám, závrati a pocitu odcizení. Práce: Reliable Relationship; The Labour of Eye; Sleepers' Manifesto; Sleepers. A three-act play with six actors.
4Zkoumání vztahu mezi současnými politickými a ekonomickými institucemi a různými typy veřejnosti, jimž slouží; úzkost jako symptom systému, téma práce a flexibility; Práce: Fieldwork on Human Kind; Sometimes They Almost Feel Happy; We Are the People who understand Flexibility has it's Widespread Benefits; MPEG Girl.
5Kreativní potenciál úzkosti a jeho vztah k institucím a jednotlivcům; Práce: Hand Over Heels; 12ti hodinová konference; Sickness Report; Work Arrangements.
6zaměstnání ve Futuropolis: Škola emancipace (vývoj vzdělávací metodiky pro 2 stupeň ZŠ, zaměřené na implementaci kritické pedagogiky a rozvoj imaginace); Práce: If I could die on Mars, it would be great.