Žofia Dubová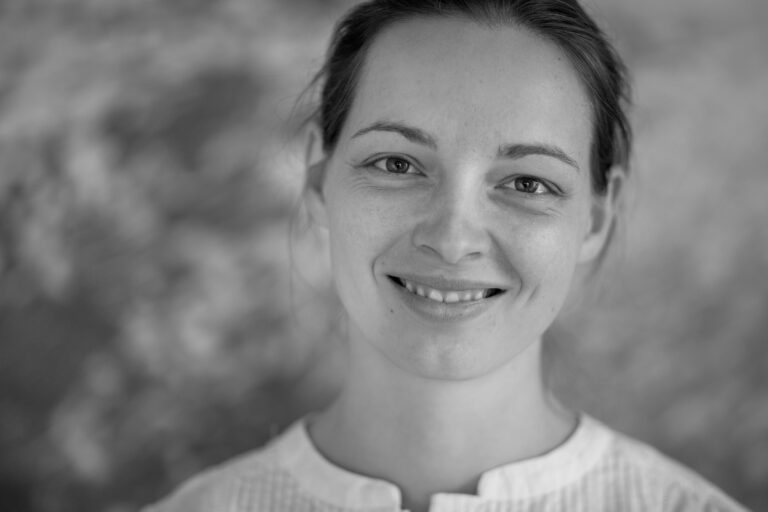 – born 1991, Bratislava. She is a painter and completed her doctoral studies at the Academy of Fine Arts in Bratislava in 2018. She participated in study internships at the Universidade do Porto in Portugal and at the University of Arizona in the USA. In 2018 she won the NOVUM Foundation award and in 2017 she reached the 1st place in the Painting of the Year Award – the prize of VÚB Bank Foundation. Her work is represented in the collection of the Slovak National Gallery.
Art is my job and my identity. In my work, I look for answers to the questions: What is freedom? What does the country mean for human? Can a person reinvent himself/herself? What lies beyond an image? My inspiration are personal experiences, possibilities of painting and image. Landscape and diverse environment. Art. Sometimes people too. Such an activity that builds a person's self-CONSCIOUSNESS and at the same time erases him. As an artist, I am presented with a whole complex of works from which only one cannot be selected. The series of paintings, a kind of my personal break in the art world, is called Hra:na (2016)1, which also includes my probably most famous painting Over the mountain2, with which I won the Painting Award of the VUB Bank Foundation in 2017.
In the intersection of what I do and who I am I usually answer directly: I am a painter. I think a lot about things, I observe a lot and I also try to create a lot. Painting in various forms and media is my passion, my interest, and my goal. Within these limits, which are not as closed at all as it might seem at first glance, I have the ambition to get as far as possible3.
I perceive my artistic practice as an ongoing process. The individual parts of my work often follow each other, but even if they are not related, my experience and knowledge gradually accumulate and influence what and how I create. My practice is gradually evolving, as I am. I understand the concept of artistic research ambiguously. What is the goal and what should be the result of artistic research? Can art follow the same rules as science? Artistic practice is inherently very creative, and this experience is largely non-transferable. One cannot start where the other ended just as it is done in science. But I think it is crucial to strive for development and move forward, and that can also be the goal of many institutions. Art is an important aspect of our reality. It is directly connected to human thinking, it builds values ​​and, to a large extent, human identity. However, I do not perceive myself as a theorist who should answer these questions professionally, I perceive them from the position of an artist. I think that painting, or art in general, was and probably will be largely elitist in our country. Well, it is not its fault. This is a much more complex problem, which is mainly reflected in our education system. Visual art is also a language, and if we want to be able to read it, we must know the individual letters. We cannot blame someone for not understanding if no one has ever explained to her/him how to approach art at all. Very often I encounter the fact that people do not know how to grasp my (or other) paintings. It is not only the imagination that is absent here, but also the ability to perceive, realize and then apply the information obtained in a way that requires one's own opinion. Of course, this opinion may not always be positive, but art is more about thinking than about agreement, and that is so precious about it. In addition, it is important for me to mention the values ​​that are an integral part of this. I am afraid that the system of values ​​that society – whether ours or others – is currently creating is largely reversed or mistaken. Only a few people do things for anything other than money. I am not saying that money is not important, of course in today's world it is not possible to live without them, but they are not everything. It would be better to create things that last and bring something, to be in and to co-create an environment that is above all creative and open – not only for yourself, but also for others.
Traveling inspires me, leads me to activity. Nowadays, in a time of pandemic, everything is strange. I spend my time mainly working, but when you do what you enjoy, you probably do not mind. I perceive the demanding role of the female artist in deciding on issues of functional partnership and motherhood. In the past, when I was alone, I devoted all my time to art (work) and it probably got me where I am now. However, if one does not want to be alone, one must divide the time differently. Anyone can decide what to prefer and it is completely normal. But if we want to deal with the roles of mother and woman, thinking becomes more difficult. It is the question of motherhood that is stressful for me on several levels. On the one hand, there is a desire to have children, on the other hand, there is the question of whether and how much time I will have to create. How to choose? And is it fair that I must choose? And another, albeit banal, but necessary issue is finance. I do not know if, as a painter, I can afford such a responsibility (as having a child) when I am not sure of financial security – it simply brings my profession. I do not like the idea of absolute dependence on a partner, and I do not know the solution yet.
My work is almost completely apolitical. In my personal life, I am sensitive to any form of discrimination, but in my artistic practice I do not deal with it. Personally, I cannot imagine that someone would deny me something just because I am a woman, I am not used to it. But if that happens, it needs to be addressed. For me, politics is a complicated structure, but it is necessary for the peaceful coexistence of a large group of people in one territory. I am a woman; I am an artist, and I am Slovak. But what does this mean? I am not at all sure if I know what our national identity is. It seems to me that more than gender, rather geographical – and therefore probably mainly political – discrimination limits "our" art. We are stamped as Eastern "backward" Europe, and in a way discriminated in the "advanced" parts. A few years ago, for example, there was a group exhibition of contemporary painting in Vienna (and it is really close!). There were different names from different countries, but not a single Slovak painting was represented there. I do not think that nothing "good enough" is created here. From this position it is very difficult to expand into the world. I think it is a rather complex problem, which also reflects how much is invested in art and should be addressed in much higher positions than the artists themselves have an impact on. Quality art is created here, and someone should represent and present it. I like Slovakia very much as a country. Sometimes, however, I am quite worried about what is going on here, and sometimes I even wonder if I should go somewhere where art is more desirable.
Please see selection of works:456789101112.
The text was written in collaboration with Zuzana Kotíková (2021).
Zuzana Kotiková – studied at the Faculty of Humanities of Charles University in Prague. In 2011, she returned from Prague to her hometown Košice and started working at Tabačka Kulturfabrik. Since 2013, Kotikova has been organizing the Košice Artist in Residence program. The program was established as one of the key development projects for Košice – European Capital of Culture 2013 and since 2016 it has been operating as an independent civic association, which Zuzana founded with curator Petra Housková. In addition, Zuzana and Petra founded the Šopa Gallery in 2015. Zuzana has a long-term cooperation with Creative Industry Košice, where she is involved in an international project focused on the development of culture and the creative industry.
1See: https://www.zofiadubova.sk/hrana/.
2Image: Žofia Dubová, Over the mountain, 2016, combined technique on canvas, 190 x 165 cm, photo Dušan Havran. Courtesy of the artist.
3See: https://www.zofiadubova.sk/o-mne/.
4Image: Žofia Dubová, Madeira, 2019, acrylic on canvas, 90 x 126 cm, photo Peter Ančic. Courtesy of the artist.

5Image: Žofia Dubová, Untitled, from the series From the North Mountain, 2021, acrylic on plain and graphite, glass paint and lister on glass, object 212 x 2017 x 90 cm, glass 95 x 145 cm, photo Peter Ančic. Courtesy of the artist.

6Image: Žofia Dubová, Rain, 2015, combined technique on canvas, 150 x 107 cm, photo author's archive. Courtesy of the artist.

7Image: Žofia Dubová, Atlas, 2019, acrylic and felt-tip pens on canvas, 434 x 298 cm, photo Peter Ančic. Courtesy of the artist.
8Image: Žofia Dubová, Untitled (lines), 2018, combined technique on canvas, 140x200cm, photo: Dušan Havran. Courtesy of the artist.
9Image: Žofia Dubová, Untitled, 2017, graphite on glass, 110 x 240cm, photo Jana Hojstričová. Courtesy of the artist.
10Image: Žofia Dubová, One Against All (a Mountain Stands Here), 2016, combined technique on canvas, 190 x 140 cm, photo Dušan Havran. Courtesy of the artist.
11Image: Žofia Dubová, K2 - Chogori, 2019, acrylic and embroidery on canvas, 200 x 130 cm, photo Peter Ančic. Courtesy of the artist.
12Image: Žofia Dubová, Kanchenjunga, 2019, acrylic, oil and embroidery on canvas, 200 x 130 cm, photo Peter Ančic. Courtesy of the artist.
– sa narodila v roku 1991 v Bratislave. Je maliarkou a v roku 2018 absolvovala doktorandské štúdium na Vysokej škole výtvarných umení v Bratislave. Zúčastnila sa študijných stáží na Universidade do Porto v Portugalsku a na University of Arizona v USA. V roku 2018 získala cenu nadácie NOVUM a v roku 2017 dosiahla 1. miesto v súťaži Maľba roka VÚB. Jej dielo je zastúpené v zbierke Slovenskej národnej galérie.
Umenie je mojím zamestnaním aj identitou. V tvorbe hľadám odpovede na otázky: Čo je sloboda? Čo znamená krajina pre človeka? Môže človek znovu vynájsť sám seba? Čo je pokračovanie obrazu? Mojou inšpiráciou sú osobné zážitky, možnosti maľby a obrazu. Krajina a rôznorodé prostredia. Umenie. Niekedy aj ľudia. Taká činnosť, ktorá buduje sebaVEDOMIE človeka a zároveň ho maže. Ako umelkyňu ma predstavuje celý komplex diel z ktorého nemožno vybrať len jedno. Séria obrazov, ktorá pre mňa bola akýmsi osobným prerazením v umeleckom svete má názov Hra:na (2016)1, do ktorej patrí aj môj pravdepodobne najznámejší obraz Over the mountain2, s ktorým som vyhrala súťaž Maľba 2017 Nadácie VUB.
V prieniku toho, čo robím a toho, kým som zvyčajne odpovedám priamo: som maliarka. Veľa o veciach premýšľam, veľa pozorujem a snažím sa aj veľa tvoriť̌. Maľba v rôznych formách a médiách je mojou vášňou, mojím záujmom aj mojím cieľom. V týchto medziach, ktoré vôbec nie sú také uzavreté, ako by sa na prvý pohľad mohlo zdať̌, mám ambíciu dostať̌ sa čo najďalej3.
Svoju umeleckú prax vnímam ako prebiehajúci proces. Jednotlivé časti mojej práce na seba často nadväzujú, ale aj ak by spolu nesúviseli, tak moje skúsenosti a vedomosti sa postupne hromadia a ovplyvňujú to, čo a ako tvorím. Moja prax sa postupne vyvíja, ako ja. Pojem umelecký výskum chápem nejednoznačne. Čo je cieľom a čo by malo byť výsledkom umeleckého výskumu? Môže sa umenie riadiť rovnakými pravidlami ako veda? Umelecká prax je vo svojej podstate veľmi tvorivá a táto skúsenosť je do veľkej miery neprenosná. Jeden nemôže začať tam, kde druhý skončil práve tak, ako sa to robí vo vede. No myslím si, že je kľúčové sa snažiť o vývoj a posun vpred a aj to môže byť cieľom mnohých inštitúcií. Umenie je dôležitým aspektom našej reality. Je priamo napojené na ľudské myslenie, buduje hodnoty a do veľkej miery aj identitu človeka. Avšak nevnímam sa ako teoretik, ktorý by mal na tieto otázky odborne odpovedať, vnímam ich z pozície umelkyne. Myslím, si, že maľba, alebo celkovo umenie u nás bolo a asi aj bude do značnej miery elitárske. No nie je to jeho chyba. Ide o omnoho komplexnejší problém, ktorý odzrkadľuje najmä systém nášho vzdelávania. Vizuálne umenie je tiež jazyk, a ak ho chceme vedieť čítať, musíme poznať jednotlivé písmená. Nemôžeme viniť niekoho, že mu nerozumie, ak mu nikdy nikto nevysvetlil, ako vôbec k umeniu pristupovať. Veľmi často sa stretávam s tým, že ľudia nevedia moje (či iné) obrazy uchopiť. Nie je to len imaginácia, ktorá tu absentuje, ale aj schopnosť vnímať, uvedomiť si a následne aplikovať získanú informáciu spôsobom, ktorý vyžaduje vlastný názor. Samozrejme, ten nemusí byť vždy pozitívny, ale umenie je viac o rozmýšľaní ako o súhlase, a to je na ňom také vzácne. Okrem toho, je pre mňa dôležité spomenúť hodnoty, ktoré sú toho neoddeliteľnou súčasťou. Obávam sa, že rebríček hodnôt, ktoré spoločnosť – či už naša alebo iná – momentálne vytvára, je do značnej miery obrátený či pomýlený. Málokto robí veci aj pre niečo iné, ako sú peniaze. Nevravím, že peniaze nie sú dôležité, isteže v dnešnom svete to bez nich nejde, ale nie sú všetko. Bolo by lepšie vytvárať veci, ktoré trvajú a niečo prinášajú, byť v a spoluvytvárať prostredie, ktoré je predovšetkým tvorivé a otvorené – nielen pre seba, ale aj pre druhých.
Cestovanie ma vie naštartovať, inšpirovať, priviesť k aktivite. V súčasnosti, v čase pandémie, je všetko akési zvláštne. Svoj čas trávim hlavne prácou, ale keď človek robí to, čo ho baví, tak to asi ani veľmi nevadí. Náročnosť role umelkyne, ženy, vnímam pri rozhodovaní sa o otázkach funkčného partnerstva a materstva. V minulosti, keď som bola sama, venovala som všetok svoj čas umeniu (práci) a pravdepodobne aj to ma dostalo tam, kde som teraz. Ak však človek nechce byť sám, musí svoj čas deliť inak. Rozhodnúť sa môže každý a je to úplne normálne. Ale ak sa chceme zaoberať rolami matky a ženy, začne byť premýšľanie náročnejšie. Práve otázka materstva je pre mňa stresujúca na viacerých úrovniach. Na jednej strane tu je túžba mať deti, na strane druhej sa tu natíska otázka, či vôbec a koľko času potom budem mať na tvorbu. Ako si vybrať? A je fér, že si musím vyberať? A ďalšia, síce banálna, ale zato nevyhnutná problematika sú financie. Neviem, či si ako maliarka môžem dovoliť takú zodpovednosť (ako mať dieťa) keď nemám istotu finančného zabezpečenia – to jednoducho moje povolanie so sebou prináša. Nepáči sa mi absolútna závislosť na partnerovi a riešenie zatiaľ nepoznám.
Moja tvorba je takmer úplne apolitická. V osobnom živote citlivo vnímam akúkoľvek formu diskriminácie, ale v umeleckej praxi sa tomu nevenujem. Osobne si neviem predstaviť, že by mi niekto niečo uprel iba preto, že som žena, nie som na to zvyknutá. Ale ak sa to deje, treba sa tým zaoberať. Politika je pre mňa komplikovanou štruktúrou, ktorá je však nevyhnutná pre mierové spolužitie veľkej skupiny ľudí na jednom území. Som žena, som umelkyňa a som Slovenka. Ale čo z toho vyplýva? Nie som si vôbec istá či viem, aká je naša národná identita. Zdá sa mi, že viac než genderová, skôr geografická – a teda asi hlavne politická – diskriminácia limituje "naše" umenie. Sme opečiatkovaní ako východná "zaostalá" Európa, a istým spôsobom diskriminovaní v tých "vyspelých" častiach. Pred pár rokmi bola napríklad vo Viedni (a to je naozaj blízko!) súborná výstava súčasnej maľby. Boli tam rôzne mená z rôznych krajín, ale Slovenská maľba tam nemala zastúpenie. Nemyslím, že by u nás nevznikalo nič dostatočne "dobré". Z tejto pozície je veľmi ťažké expandovať do sveta. Myslím si, že je to dosť komplexný problém, ktorý odzrkadľuje aj to, koľko sa do umenia investuje a mal by byť riešený na omnoho vyšších pozíciách, než na aké majú umelci sami dosah. Vzniká tu kvalitné umenie a niekto by ho mal zastupovať a prezentovať. Ja mám Slovensko veľmi rada, ako krajinu. Niekedy ma však to, čo sa tu deje, dosť znepokojuje a občas aj premýšľam, či by som nemala ísť tam, kde sa umeniu viac praje.
Ďalšie práce456789101112.
Text bol napísaný v spolupráci so Zuzanou Kotíkovou (2021).
Zuzana Kotiková – študovala na Fakulte humanitních studií Karlovej univerzity v Prahe. V roku 2011 sa z Prahy vrátila do rodných Košíc a začala pracovať v Tabačke Kulturfabrik. Od roku 2013 sa venuje organizácii rezidenčných programov Košice Artist in Residence. Program vznikol ako jeden z kľúčových rozvojových projektov pre Košice – Európske hlavné mesto kultúry 2013 a od roku 2016 funguje ako samostatné občianske združenie, ktoré Zuzana založila s kurátorkou Petrou Houskovou. Okrem toho Zuzana s Petrou založili galériu Šopa (2015). Zuzana dlhodobo spolupracuje s Creative Industry Košice, kde sa venuje medzinárodným projektom zameraným na rozvoj kultúry a kreatívneho priemyslu.
1Viď: https://www.zofiadubova.sk/hrana/.
2Obrázok: Žofia Dubová, Over the mountain, 2016, kombinovaná technika na plátne, 190 x 165 cm, photo Dušan Havran. S láskavým dovolením umelkyne.
3Viď: https://www.zofiadubova.sk/o-mne/.
4Obrázok: Žofia Dubová, Madeira, 2019, akryl na plátne, 90 x 126 cm, photo Peter Ančic. S láskavým dovolením umelkyne.
5Obrázok: Žofia Dubová, Bez názvu, zo série Od severu hora, 2021, akryl na pláne a grafit, sklárska farba a lister na skle, objekt 212x2017x90cm, sklo 95 x 145 cm, photo Peter Ančic. S láskavým dovolením umelkyne.
6Obrázok: Žofia Dubová, Rain, 2015, kombinovaná technika na plátne, 150 x 107 cm, photo archív autorky. S láskavým dovolením umelkyne.
7Obrázok: Žofia Dubová, Atlas, 2019, akryl a fixy na plátne, 434 x 298 cm, photo Peter Ančic. S láskavým dovolením umelkyne.
8Obrázok: Žofia Dubová, Bez názvu (línie), 2018, kombinovaná technika na plátne, 140 x 200 cm, photo Dušan Havran. S láskavým dovolením umelkyne.
9Obrázok: Žofia Dubová, Bez názvu, 2017, grafit na skle, 110 x 240 cm, photo Jana Hojstričová. S láskavým dovolením umelkyne.
10Obrázok: Žofia Dubová, Jedna proti všetkým (tu stojí hora), 2016, kombinovaná technika na plátne, 190 x 140 cm, photo Dušan Havran. S láskavým dovolením umelkyne.
11Obrázok: Žofia Dubová, K2 - Chogori, 2019, akryl a výšivka na plátne, 200 x 130 cm, photo Peter Ančic. S láskavým dovolením umelkyne.
12Obrázok: Žofia Dubová, Kanchenjunga, 2019, akryl, olej a výšivka na plátne, 200 x 130 cm, photo Peter Ančic. S láskavým dovolením umelkyne.