Vahida Ramujkić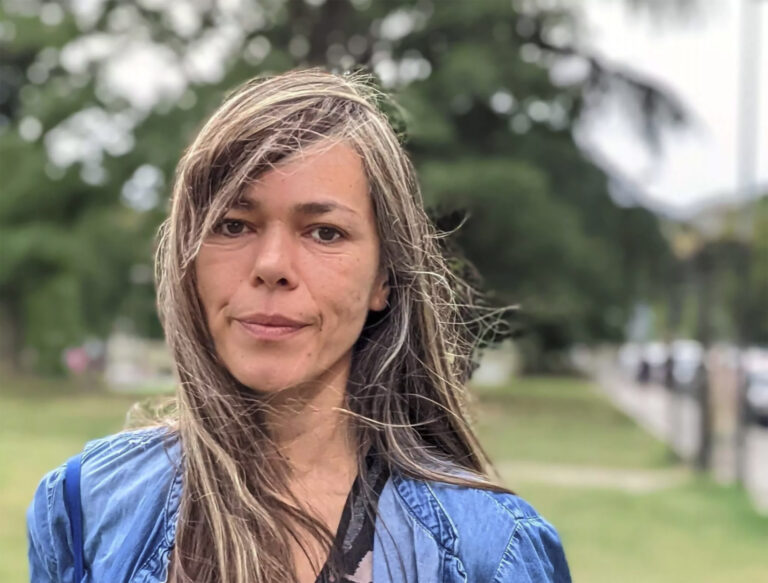 – (Belgrade, Yugoslavia, 1973) completed studies at the Faculty of Fine Arts in Belgrade, and specialised at the Faculty of Fine Arts in Barcelona, where she lived and worked from 1998 to 2008. From 2001 to 2011, she worked as a part of the collective Rotor (with Laia Sadurni and others). After returning to Belgrade she initiated a series of long-term projects — Disputed Histories (since 2007), Documentary Embroidery (with Aviv Kruglanski, since 2008), Microcultures (2011/12), Minipogon (since 2017), etc., which – in their segments – were realised and presented at various local and international exhibitions and festivals. She is a part of the irational.org platform, and conducts her social activism by working within organizations — ReEX (Belgrade, 2016/2019), the Anti-Fascist Alliance of Serbia (2015/16), A NoNameKitchen (since 2017, Belgrade). From January to June 2020, she served as a Chairwoman of the Board of Directors of the Association of Fine Arts of Serbia, and is currently a member of the Board of Directors. Focusing her work on the function of art in society, she is engaged in developing approaches and methods for building and defending togetherness. She is the laureate of the 25th October Salon in Belgrade with the work Istina/E vërteta (2011), as well as the winner of various awards in Spain and Serbia.

I would say that my artistic work is embedded in everyday life hence I regard it not so much as a profession. It is more focused on developing contexts and devising methods for establishing different production relations and the relationship with the immediate material environment. Typical of my work are the long-term artistic researches, usually in a collective or in collaboration with other people, which intertwine and interflow. Segments of these processes materialise into various formats and forms which develop their own autonomous life.1.
After completing my art education, I realised that I had to go through a whole new process of unlearning almost everything that my studies had moulded me for. My new school was the street – "ordinary" people, immediate experience. On that trail, the collective Rotor was formed, which has developed into a platform for individual and joint learning in interaction with the immediate surrounding.23
The second turning point in my work took place around 2003, when the great museums began to invite us to showcase the ephemeral practices – which were developed by a large number of individuals – at representative exhibitions. Contradictions immediately manifested – how to communicate artistic practices that are employed in creating social change and carry a certain political potential and not thwart these efforts by drowning them in ideologically set matrices whose reproduction institutions have a hard time avoiding.

A significant insight that I gained through collaborative projects is that that which is communal is more valuable than the individual but that the community is also very difficult to defend. This was a particular theme in the development of the Documentary Embroidery technique (since 2008 with Aviv Kruglanski).4 This cooperation branched into the project Microculture – in Cooperation with Microorganisms, which dealt with the process of fermentation in a culinary, social and economic sense in a practical way.5
The questioning of social norms from personal and shared perspectives characterises the second line that I traced through an attempt to translate legal regulations and practices of the controversial regulations on foreigners in the EU countries, which was continued through the establishment of a library of history textbooks and coming up with methods for collective reflection on common histories.67
Volunteer work with refugees in the midst of the refugee crisis contributed to a deeper consideration of realistic possibilities for achieving equality (cultural – through the dictionaries of the refugees and those of the volunteers and local residents8 and economic – through the setting up of a plant for the processing of plastic waste and workshops in the centre of the refugee camp). The starting point for this entire endeavour was the belief that social equality cannot be achieved without economic equality.9
The devaluation of work in the entire sector of culture and art, especially its section that tries to correspond to social needs, contributed to my becoming more actively involved in the work of the parent professional association of fine artists in Serbia. Examining the scope that joint work and acting in the field of art can have on the wider social context is the main challenge of this entire engagement.
The text is written in collaboration with Simona Ognjanović (2022).
1Image: Vahida Ramujkić, Tying - Untying / Coding - Decoding in Documentary Embroidery, 2016.
2Image: Rotor logo, 2001.
Link: Remains of the website can be found at: www.irational.org/rotorrr
3Image: Diagrams from Rotor's Manuals for Terrae, Aqua and Air, Dispari&Dispari, Reggio Emilia, 2007. Link: http://www.irational.org/rotorrr/rotor_manuals/

4Image: Alef-Bet of Jessy Cohen, Holon, 2011. Documentary Embroidery Office run with Aviv Kruglanski, as part of exhibition Time|Resistance at Israeli Center For Digital Art, Holon, Israel.
Link: Real Time Documentary Embroidery – http://bbva.irational.org/documentary_embroidery/
5Image: Microcultures Lab, Bar Comunista, Villarubia, Spain, 2011. In collaboration with Aviv Kruglanski, Moshe Robas, at Culturhaza Part of the project Campo Adentro. 
Link: Microcultures, in collaboration with microorganisms – http://bbva.irational.org/microcultures/
6Image: Disputed Histories Library Ex Libris. Link: Disputed Histories Project - http://www.irational.org/vahida/history/

7Image: False Truths, 25 October Salon, Belgrade, 2011. In collaboration with Daniel Cosentino and Filip Bojović.

8Image: Basic Dictionaries in Pasto, Dari and Urdu, Belgrade Barracks, 2017. In collaboration with Zia, Amado, Mireia, Shams, Habib, etc. Link: http://irational.org/vahida/basic_refugee_dictionary/
9Image: minipogon, with Tijana Cvetković, Chow Tai Sing, Danilo Prnjat. Link: http://www.irational.org/minipogon/


– (Beograd, Jugoslavija, 1973) završila je studije slikarstva na Fakultetu likovnih umetnosti u Beogradu, a specijalizaciju na Fakultetu likovnih umetnosti u Barseloni, gde je živela i radila od 1998.  do 2008. godine. Od 2001. do 2011. deluje kroz kolektiv Rotor (sa Laiom Sadurni i drugima), a po povratku u Beograd inicira seriju dugoročnih projekata  — Istorije u raspravi (od 2007.), Dokumentarni vez (sa Avivom Kruglanskim, od 2008.), Mikrokulture (2011-12), Minipogon (od 2017.) i druge, koji su u svojim segmentima realizovani i predstavljeni na raznim lokalnim i internacionalnim izložbama i festivalima. Deo je platforme irational.org, a svoj društveni angažman ostvaruje i kroz delovanje u okviru organizacija — ReEks (Beograd, od 2016-2019), Savez antifašista Srbije (2015-16), Kuhinja bez imena (od 2017, Beograd). Od januara do juna 2020. vršila je funkciju Predsednice Upravnog odbora Udruženja likovnih umetnosti Srbije, a aktuelno je članica Upravnog odbora. Fokusirajući se na funkciju umetnosti u društvu kroz svoj rad bavi se razvijanjem pristupa i metoda za izgradnju i odbranu zajedništva. Lauretkinja je 25. Oktobarskog salona u Beogradu sa radom Istina/E vërteta (2011.), kao i dobitnica drugih nagrada u Španiji i Srbiji.
Za svoj umetnički rad rekla bih da je ugrađen u svakodnevnicu, pa ga otuda manje doživljavam kao profesiju. On je više centriran na građenje konteksta i osmišljavanje metoda za uspostavljanje drugačijih proizvodnih odnosa i odnosa sa neposrednim materijalnim okruženjem. Tipična za moj rad su dugotrajna umetnička istraživanja, najčešće u kolektivu ili u saradnji sa drugim ljudima, koji se prepliću i prelivaju jedan u drugi. Segmenti ovih procesa materijalizuju se u raznovrsne formate i forme koje zadobijaju svoj autonomni život.ref number="1″ lang="rs"]
Po završetku umetničkog školovanja shvatila sam da moram proći kroz jedan novi proces odučavanja od skoro svega za šta su me studije formirale. Moja nova škola bila je ulica – "obični" ljudi, neposredno iskustvo. Na tom tragu formiran je kolektiv Rotorrr, koji se izgradio u platformu za individualno i zajedničko učenje u interakciji s neposrednim okruženjem.23
Drugi prelomni moment u mom radu odigrao se oko 2003. kada su veliki muzeji počeli da nas pozivaju da efemerne prakse u čijem je procesu rada učestvovao veliki broj pojedinaca prikažemo na reprezentativnim izložbama. Kontradikcije su se odmah manifestovale – kako komunicirati umetničke prakse koje su uposlene u kreiranju društvene promene i nose određeni politički potencijal, a ne osujetiti ove napore njihovim utapanjem u ideološki postavljene matrice koje institucije teško izbegavaju da reprodukuju.
Značajan uvid koji sam stekla kroz saradničke projekte je da je zajedničko vrednije od individualnog, ali da je i zajedništvo veoma teško braniti. Ovo je naročito bila tema u razvijanju tehnike Dokumentarnog veza (od 2008 sa Avivom Kruglanskim)4. Ova saradnja imala je svoje račvanje i u projektu Mikrokulture – u saradnji sa mikroorganizmima,  koji se u praktičnom smislu bavio procesom fermentacije u kulinarskom, društvenom i ekonomskom smislu.5
Preispitivanje društvenih normativa iz lične i deljenih perspektiva predstavlja drugu liniju koju sam razvijala kroz pokušaj prevođenja zakonskih propisa i praksi kontroverznog zakona za strance u EU, a koji je dobio svoj nastavak kroz konstituisanje biblioteke udžbenika istorije i osmišljavanje metoda za kolektivno promišljanje zajedničkih istorija.67
Volontersko angažovanje u radu sa izbeglicama u jeku izbegličke krize doprinelo je dubljem promišljanu realnih mogućnosti za dostizanje jednakosti (kulturne – kroz rečnike jezika izbeglica na jezike volontera i lokalnih stanovnika8, i ekonomske – kroz instaliranje pogona za preradu otpadne plastike i radionice u središte izbegličkog kampa. Polazište za čitav ovaj poduhvat bilo je uverenje da se društvena jednakost ne može postići bez ekonomske jednakosti.9
Devalvacija rada u čitavom sektoru kulture i umetnosti, a naročito njenog dela koji pokušava da korespondira društvenim potrebama, doprinela je tome da se aktivnije uključim u rad matičnog strukovnog udruženja likovnih umetnika u Srbiji. Ispitivanja dometa koje udruženi rad i delovanje iz polja umetnosti može imati na širi društveni kontekst glavni je izazov celokupnog ovog angažovanja.
Tekst je napisan u saradnji sa Simonom Ognjanović (2022).
1Slika: Vahida Ramujkić, Uvezivanje - razvezivanje / kodiranje - dekodiranje, Dokumentarni vez, 2016.
2Slika: Rotor logo, 2001. 
Link: Fragmenti dokumentacije akcija mogu se naći na: www.irational.org/rotorrr
3Dijagram Rotorovog manuala za zemlju, vodu i vazduh, Dispari&Dispari, Reggio Emilia, 2007.
Link: http://www.irational.org/rotorrr/rotor_manuals/
4Slika: Alef-Bet of Jessy Cohen, Holon, 2011. Kancelarija dokumentarnog veza vođena sa Avivom Kruglanskim, kao deo izložbe Time|Resistance, Israeli Center For Digital Art, Holon. Link: Dokumentarni vez – http://bbva.irational.org/documentary_embroidery/
5Slika: Mikrokulturni Lab, Bar Comunista, Villarubia, Španija, 2011. U saradnji sa Avivom Kruglanskim i Mošeom Robesom, u Kulturhazi. Deo projekta Campo Adentro. Link: Mikrokulture, u saradnji sa mikroorganizmima – http://bbva.irational.org/microcultures/
6Slika: Biblioteka Istorije u raspravi Ex Libris. Link: Istorije u Raspravi - http://www.irational.org/vahida/history/
7Slika: Lažne istine, 25 Oktobarski salon, Beograd, 2011. U saradnji sa Danielom Cosentinom i Filipom Bojovićem.
8Slika: Osnovni rečnici za Paštu, Dari i Urdu, Belgrade Barracks, 2017. U saradnji sa  Zijom, Amadom, Mireiom, Shamsom, Habibom, itd. Link: http://irational.org/vahida/basic_refugee_dictionary/
9Slika: minipogon, with Tijana Cvetkovic, Chow Tai Sing, Danilo Prnjat. Link: http://www.irational.org/minipogon/