Sláva Sobotovičová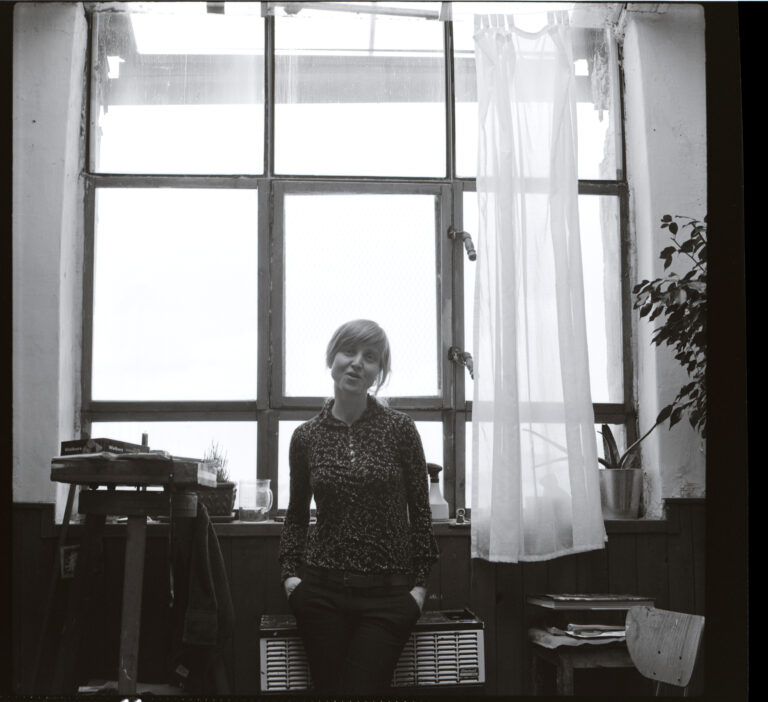 – born 1973. Already during her university studies, she moved from her homeland Slovakia to Prague, where she graduated from the Academy of Fine Arts. Since 2018, she has been active at the Visiting Artist Studio at the Academy of Arts, Architecture and Design in Prague. The media that she utilises in her artistic practice the most are performance, video and sound. For her music and singing are not only means of articulation but also the very theme of many of her works.
Seemingly unrelated
Being an artist comes to me naturally as it is the most unambiguous way of self-realization. The artist has the ability to transcend rational truths, expand the body of knowledge that can be gathered through an artistic perspective, regardless of whether these insights refer to the nature of ideas, aesthetics or politics. They can also contribute through subversive implications — not for the sake of the subversion itself, but as a way of alluding to something that society has been overlooking or underestimating. I myself am a part of the generation (if this could even be seen as generational) that often has these mystifying notions that romanticise the figure of the artist, in which their approach to art is more fatalistic than pragmatic. I perceive art as a way of life rather than a profession.
In my art practice, I take much inspiration from memories since they are already a certain filter. When one experiences something and it remains present and lively in them, it means that this experience is somewhat extraordinary and could potentially be enriching even for someone else as well. This is how the singing of those who are close to me operates for me. Music is a code of communication that we use infallibly without even realizing it. Through memory and emotion songs have the capacity of acting as a link between different people across time and space. What interests me is not the musical quality but music as an object of everyday, amateur or subconscious consumption. Gradually I have begun to deal with its political aspects more consciously. The fates of some specific compositions often point towards great political and historical movements. Thus through them, it is possible to refer to broader issues that are not only sentimental, but that also reflect the course of the world. Such is, for example, the story of the Slovak anthem. Its current lyrics pertain to the national revival and are quite militant. At school, we have always been taught that the melody is an original Slovak folk song. It does exist but there is also a Hungarian version, which is probably older — however, to say this publicly would be somewhat inappropriate. And this particular political shadow is interesting. The lyrics of the anthem are of course completely removed from the lyrics of the folk song since all folk versions are "merely" love ballads.
The anthem also appears in the title of the first video I have ever made [The Anthem of Unfulfilled Love, 1999]. It features three young girls holding grapes and singing the melody of the anthem. However, the lyrics have been turned into a reproachful, intimate yet meaningless dispute between partners. My intention was to take something that seems to be dead as if no longer concerning us and render it relevant. Upon closer inspection, even works that appear to be obsolete can provide content that remains meaningful and relatable. The work La Pernette se lève (anonymous, 15th century) on Top of Met Gala (Gucci Mane, 2017) from 2018 is based on a similar principle. I used the official video clip of the rapper Gucci Mane, who sings about drugs and his stay in prison, depicting a party scene full of beautiful women dancing half-naked. I blurred the image of the video and recorded myself singing a medieval ballad over it. The song is about a girl who rejects wealthy suitors because she is longing for her imprisoned lover. These songs are separated by time and culture, but in fact, they have much in common — desire and unavailability, imprisonment, sin and guilt. I like the combination of two seemingly unrelated things that can be intertwined in a completely seamless manner. Suddenly, something inseparable is developed. As in any collage, unexpected poetic effects and new witty associations emerge almost without direct intervention from my side1.
I have always been fascinated by family ties. Many of my older pieces are family situations that happened in real life and have been restaged. Organising these has actually been quite easy and practical since many of the actors were readily available [e.g. The Day After, 2005; Shepherds, 2007]. However, only with a certain distance have I become fully aware of the value of the fact that the videos feature people who are authentically dear and close to me. Even though this method originated as a game with simple or sentimental motives, the result that I have managed to arrive at has subsequently justified it2.
It happens that I perceive the interpretation of my own works differently in retrospect. When I am in the process of making, I tend to try things without always having a clear plan. I often do not know what is being created. Then I feel as if I were a fraud — and this particular moment of bad conscience interests me very much. My dissertation on singing as an instrument of critique was concluded by saying that art is smarter than an artist …
When referring to some of my older works [e.g. Ride, 2006] that were interpreted through the lens of feminism, I would say: I didn't mean it that way, but if that is what they sound like, I don't mind. Now I see that these works clearly were feminist. A gesture can be feminist, even if you yourself are not aware of it. In my case, feminism cannot be escaped — I may have partial reservations regarding some of its dogmas or ideological tendencies but I can't say that I am not a feminist. Quite on the contrary. When I was younger, it may have been a more poignant topic, perhaps partly because it was a different time and partly because I was young and inexperienced. Young girls today know that their feelings are justified, but back then this rhetoric was not fully embodied yet. We had to face a very masculine environment that was becoming invested in very specific issues: for example, when strategies of different exhibitions were being discussed in the 1990s, as a woman one could be omitted or not included if they were not able to drink in a pub for as long as the men did. As women, we did not have much support in the literature, the media nor in the public discourse. Today, women's struggle for visibility is generally more established and the future is very likely to be even more feminist. It will probably not even be called that, because it would become normal, just as no one questions the right of women to vote in elections anymore.
The fact that I come from Slovakia but live in the Czech Republic is a rare resource for me. It is certain information or additional lived experience. When I am speaking in a foreign language, I often feel as if I did not have to necessarily tell the truth because it feels like a game and I am playing a role. So when I speak Czech, I can lie. I cannot lie in Slovak. This is, of course, a great hyperbole, but the identity remains tightly interlinked with language. In fact, I keep operating in a kind of fiction. I lead a speculative life.
The text was created in collaboration with Kristýna Péčová (2020).
1Samples of audio works by Sláva Sobotovičová available at: https://soundcloud.com/user-210753703.
2Samples of older works by Sláva Sobotovičová at: www.artlist.cz/slava-sobotovicova-2622/.
– narozena 1973 se už za vysokoškolských studií přestěhovala z rodného Slovenska do Prahy, kde absolvovala Akademii výtvarných umění. Od roku 2018 působí v Ateliéru s hostujícím umělcem na pražské Vysoké škole uměleckoprůmyslové. Ve své volné tvorbě se nejčastěji vyjadřuje skrze performance, video a zvuk. Hudba a zpěv jsou nejen výrazovým prostředkem, ale také samotným tématem mnoha jejích prací.
Zdánlivě nesouvisející
Být umělcem mi připadá přirozené, je to nejpřímější způsob seberealizace. Umělec může překračovat racionální pravdu, rozšiřovat poznání o to, co je možné vidět z uměleckého hlediska, ať už z estetických, ideových nebo politických východisek. Může také vnášet subversivní náměty – ne pro subverzi samotnou, ale aby upozornil na něco společností podceněného nebo přehlíženého. Jsem z generace (pokud je to vůbec generační), která má o postavě umělce takové mýtické nebo romantické představy a k umění přistupuje méně pragmaticky a více fatalisticky. Vnímám ho spíše jako způsob života než jako profesi.
V praxi mne hodně inspirují vzpomínky, protože už jsou určitým filtrem. Když něco zažiješ a po čase to v tobě stále pracuje, znamená to, že je na tom něco pozoruhodného, co může být potenciálně nosné i pro někoho jiného. Ve mně takto pracuje zpívání mých bližních. Hudba je dorozumívacím kódem, který neomylně používáme, aniž bychom si to uvědomovali. Skrze paměť a emoce navíc písně fungují jako spojka mezi lidmi napříč časem nebo prostorem. Mě nezajímá hudba kvůli hudebnosti, ale spíše jako předmět každodenní, amatérské nebo podvědomé spotřeby. Postupně jsem se začala vědoměji zabývat i její politickou rovinou. Na osudech konkrétních skladeb jsou totiž často vidět velké politické a historické pohyby. Skrze ně je možné mluvit o obecných otázkách, které nejsou jen sentimentální, ale odrážejí chod světa. Takový je například příběh slovenské hymny. Její současný text je obrozenecký a značně militantní. Vždycky jsme se učili, že melodie je původně slovenskou lidovkou. Ta sice existuje, existuje ale i její maďarská verze, která je pravděpodobně starší – jenomže to se nehodí říkat. A právě tento politický stín je zajímavý. S textem písně samozřejmě nemá nic společného, všechny lidové verze jsou "pouhé" balady o lásce.
Hymna je i název prvního videa, které jsem v životě natočila. [Hymna nenaplněné lásky, 1999] Vystupují v něm tři mladé dívky, které drží hrozny a zpívají v melodii hymny. Text je ale změněný ve vyčítavé, intimní a nesmyslné vyřizování mezi partnery. Mým záměrem byla aktualizace něčeho zdánlivě mrtvého, něčeho, co se nás už zdánlivě netýká. V mnoha překonaných dílech najdeme při bližším pohledu obsah, který pro nás i dnes něco znamená. Na podobném principu je postavené také dílo La Pernette se lève (anonymus 15th century) on Top of Met Gala (Gucci Mane, 2017) z roku 2018. Použila jsem oficiální videoklip rappera Gucciho Manea, který zpívá o drogách a o svém pobytu ve vězení. Jeho klip je záběrem do večírku s tančícími polonahými krasavicemi. Obraz klipu jsem rozmazala a nazpívala jsem přes něj středověkou baladu o holce, která odmítá bohaté nápadníky, protože touží po svém uvězněném milém. Obě písně jsou oddělené časem i kulturou, ale vlastně jsou o tom samém – o touze a nedostupnosti, o vězení, hříchu a vině. Líbí se mi kombinace dvou naoko nesouvisejících věcí, které mohu úplně bezešvým způsobem protkat. Najednou vznikne něco neoddělitelného. Stejně jako v jakékoli koláži se navíc rodí (skoro bez mého přičinění) nečekané poetické efekty a nová vtipná sousedství1.
Vždy mne také fascinovaly rodinné vazby. Mnohá z mých starších děl jsou re-inscenace reálných rodinných situací, které bylo snadné i praktické udělat, protože aktéři byli jednoduše k mání. [např. Den potom, 2005; Pastýři, 2007] Až z odstupu si naplno uvědomuji hodnotu toho, že jsou ve videích autentičtí bližní. A ačkoli tehdy metoda vznikla jako hra, z primitivních nebo sentimentálních důvodů, podařilo se mi dospět k něčemu, co ji následně oprávnilo2.
Právě interpretace vlastních prací někdy vnímám zpětně jinak. Když díla dělám, spíše něco zkouším, nemám vždy jasný plán, často nevím, co vzniká. Mám potom pocit, jako bych byla podvodník – a ten moment špatného svědomí mě dost zajímá. Svou dizertaci o zpěvu jako nástroji kritiky jsem uzavřela tím, že umění je chytřejší než umělec…
O některých svých starších dílech [např. Jízda, 2006], která byla vykládána skrze feminismus, jsem říkávala: nemyslela jsem je tak, ale pokud tak vyznívají, nevadí mi to. S odstupem času vidím, že ta díla jednoznačně feministická byla. Gesto může být feministické, i když o tom sama nevíš. Z feminismu se nemůžu vyvléknout – mohu mít sice dílčí výhrady proti některým jeho dogmatům nebo ideologizaci, ale nemůžu říct, že bych nebyla feministka, naopak. Když jsem byla mladší, bylo to možná jako téma palčivější, což může být z části tím, že byla jiná doba, a z části tím, že já jsem byla mladá a nezkušená. Mladé holky dnes vědí, že jsou jejich pocity oprávněné, za nás ale ještě nebyla vžita ona rétorika. Musely jsme čelit hodně mužskému prostředí, což vstupovalo do úplně konkrétních záležitostí: například když se v 90. letech hodně výstav domlouvalo na tazích, mohlo tě jako holku vyšachovat to, že jsi v hospodě nevydržela pít tak dlouho jako kluci. Neměly jsme tolik opory v literatuře, médiích ani veřejném diskurzu. Dnes je ženský boj za viditelnost obecně více etablovaný a budoucnost bude zřejmě ještě feminističtější. Nejspíš se to tak ani nebude jmenovat, protože to bude normální, stejně jako už nikdo nezpochybňuje třeba volební právo žen.
To, že pocházím ze Slovenska a žiju v Čechách, je pro mě vzácný spodní zdroj, určitá informace nebo zkušenost navíc. Když mluvím cizím jazykem, mám často pocit, že nemusím říkat pravdu, protože je to hra a já jsem v roli. Takže když mluvím česky, můžu lhát. Slovensky lhát nemohu. To je samozřejmě velká hyperbola, ale identita úzce souvisí s jazykem. Já tak vlastně pořád funguji v jakési fikci. Vedu spekulativní život.
Text vznikl ve spolupráci s Kristýnou Péčovou (2020).
1Ukázky audio děl Slávy Sobotovičové dostupné na: https://soundcloud.com/user-210753703.
2Ukázky starších děl Slávy Sobotovičové na: www.artlist.cz/slava-sobotovicova-2622/.