Nikolett Balázs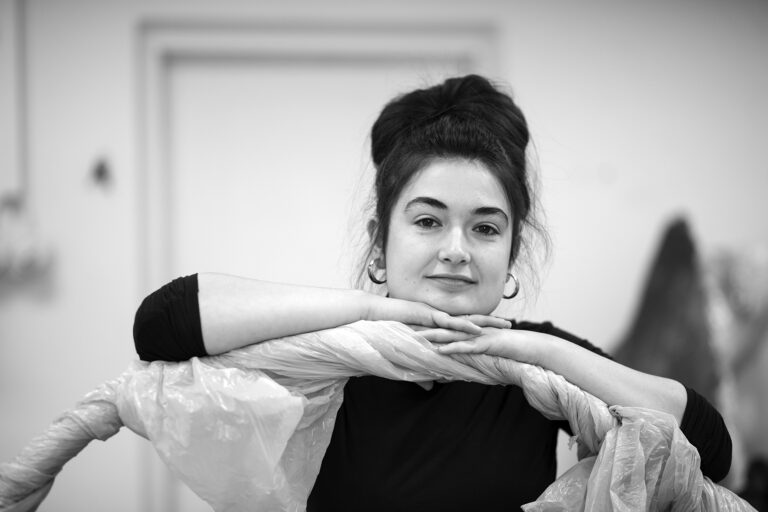 – born in 1990. The artist creates artworks that redefine classic artistic techniques and materials of our environment. Often originated from peripheral environments, she drags her found objects and poor materials form their milieu, and by recycling them she puts them in an artwork position, questioning their values and interpretation. The rusty wire bundle, industrial foam and waste wood integrate with the canvas, oil paint, and gypsum in one picture. For Balázs, creating an artwork is a metamorphosis, the interpretation of our philosophical, ordinary, social and personal relationship with the material. Balázs folds, cuts, untwists, guts, sews, glues, forms, paints and constantly searches for new contexts of the materials. The playful, sensual, social and aesthetical natures of fine art are essential elements of Balázs's art, which becomes even more human on the borderline of abstraction and figurality.

I like to think of my artistic practice as cooking. I put together diverse ingredients and vary the proportions1, experiment with texture, colour and taste until I find the ideal state when I don't have to remove or add anything and I can finally take it off the fire. The process is terribly important to me, my studio acts as a practice garden where I can find certainty about the rules of life when taking decisions. However, this studio excitement is just a starting point for me. The message of the finished work, its physical existence, its impact on the community, the construction of my professional path are equally important. This requires an awareness of action in which feminism has been and continues to be a huge help for me to this day. And my works carry the female experience in their material2.
My procedure results in objects that reaches out to our material experience through our visual memory. In the information flood that characterizes our time, we are accustomed to being distracted. With the spread of digitization, the accumulation of images, the lack of selection and the questioning of their authenticity create a very strange and uncertain situation. In response, my works are material handrails that evoke our direct contact with materials3 and offer a carefully selected visual and haptic experience. Their job is to enliven our individual and shared memories4. It is my duty to bring the medium of the image to life5, to put it in motion and to incorporate different layers of the viewer's experiences into the history of my works. It is this elementary experience as well as the incomplete, underrepresented narrative of women's art that pulsates from my practice.
Starting from the experiences of my Eastern Hungarian peripheral environment, it is through the emphasis of my female point of view that I shape the tradition of abstract imaging into objects. This locality, this personal experience provides a warm, fertile medium for me to engage fruitfully in a larger narrative.

ABSTRACTION

This is what allows me to put things in order. Abstraction gives me the clarity, the strict structure that pushes out the excess while calling for a multifaceted association game. It gives exactly the amount of information needed to engage the viewer. In this respect, the art of Imi Knoebel, Etel Adnan, Ellsworth Kelly, Eva Hesse, Dóra Maurer, Klára Kuchta, Imre Bak had a huge impact on me. In music Alt-J, Portico Quartet, Steve Reich, Aphex Twin, Kaly Jag give me this precision, while in film directing, Andrei Tarkovsky, Yorgos Lanthimos, Anders Thomas Jensen, Béla Tarr are absolute standards for me.

BORDER AREA

Hungary has many aging villages and small towns. I grew up on the Romanian-Hungarian border in Létavértes, where crises of certain social values appear very sharply. The underpaid traditional manual labour results in a certain kind of "makeshift aesthetics" in the surrounding settlements. Recycling6 objects collected here and there is a necessity, and this became a defining strategy in my art. I build my works as a collage7, from a wide variety of materials. The rusty bundles of wire, silicone and plastic textile form into an image together with the canvas, paint and plaster8. I consider it important for my works to reflect this heritage, so that the narratives of my narrow community and their shared experience get preserved. Personal story and self-knowledge are an essential stepping stone for me to connect to universal topics.

FEMALE ART

I grew up in a multi-generational, traditional family model where I became a woman through the example of my female ancestors. Stakhanovist, agricultural work ethic, rural piety, the Christian sacrificial role of women are dripping in my veins, while the careerist and globalized attitude of my generation as well as its feminist wind has steered me in a completely different direction. Through the example of my family, I have seen the underestimation of women's hard work, be it the low pay of my mom working as a seamstress, or the load of housework and parenting weighing on women. Both personally and in my practice, I represent the energy that I have seen flowing away for generations. I consider it my task to make up for a presence that is being swept away by patriarchal society.
How can we form a complete picture of ourselves if the images around us do not faithfully reflect it? I desire to see, to feel the body of the image in front of me, that shows the female experience in a raw way. A work of art that has a skeleton, flesh, skin and atmosphere… I can touch it, and it reveals itself honestly, straightforwardly. In my rural environment, it is natural to have a non-separated9, direct experience of death, aging, corporeality and birth. This kind of openness results in the beauty of accepting reality, and provides a better insight into our environment and ourselves. Our connection with our body and nature inside of our social network is a topic that provides an inexhaustible source of inspiration for my artistic practice. It is the different manifestations of these in form, colour and material that compose my works. Often, forms that evoke female genitals10 and sensual materials proliferate, sometimes freely, sometimes cut, crumpled, covered, wrapped around a solid mass, on a wide scale between sterility and dirtiness11. Sometimes, it is the shaving of my own hair or a plant growing out of the crack in the asphalt that inspired me. I often refer to experiences I have had at home during housework, animal or crop farming12. I shape the canvas the way my grandma folded angel wings, or I cut the materials the way the fat is cut off the meat. When flooding the potato field, I still feel the bubbling of sludgy, warm mud between my naked toes. I would like to materialize the lack of this juicy, direct experience through my work, that leads to an increasing sense of alienation and unreal self-image.
I glue, paint, mould, fold, seam, mix and cast in my studio, practically having a very similar work rhythm to those at home. It is in addition to my 40-hour office work that I can be an artist, and the fragmentation of my time is also holding me back. This is greatly impacted by current politics, social patterns, the issue of starting a family, financial income, social relationships, etc … It seems like a lot. In my opinion, the great task of the female members of my generation is to let go of the will to have everything, by exploring the origin and the quality of that will. Abstraction is of a tremendous help to me, as it highlights essential elements and filters out what is less important. I have to throw away what is not my heart's desire, get rid of expectations that are not mine. I'm working on this. For me, this is what means freedom and feminism.
The statement was realized in collaboration with art historian Róna Kopeczky (2020).
1Image: Nikolett Balázs, Carapace, 2019, gypsum, industrial foam, paint, 90 x 130 cm (collection of MODEM, Debrecen). Photo and courtesy of the artist.
2Image: Nikolett Balázs, Relic (detail), 2019, silicone, hardened textile, paint, 60 x 60 cm. Photo: Réka Hegyháti. Courtesy of the artist
3Image: Nikolett Balázs, They do not talk to each other (detail), 2019, folded textile, silicone, plaster, sheet, 130 x 120 cm. Photo: Réka Hegyháti. Courtesy of the artist.
4Assmann Jan, Cultural memory and Early Civilization: Writing, Remembrance, and Political Imagination, Cambridge University Press, 2011.
5Belting Hans, Das echte Bild, C.H.Beck (2006).
6Image: Nikolett Balázs, Inside, 2019, industrial foam, wire, bitumen, 95 x 65 cm (private collection), photo Réka Hegyháti. Courtesy of the artist.
7Image: Nikolett Balázs, Uncontrollable, 2019, textile, canvas, silicone, paint, rubber, 250 x 100 cm, photo Réka Hegyháti. Courtesy of the artist.
8Image: Nikolett Balázs, Self-supporting, 2019, canvas, silicone, paint, 58 x 30 cm (private collection), photo Réka Hegyháti. Courtesy of the artist.
9Foucault, Michel: Of Other Spaces – Heterotopias (1967) exindex.hu/index.php?page=3&id=253 Last viewed: 2020.11.30.
10Image: Nikolett Balázs, Sugarcoated, 2019, hardened canvas, paint, plaster, 140 x 90 cm, photo Réka Hegyháti. Courtesy of the artist.
11Mary Douglas, Purity and Danger – An Analysis of Concepts of Pollution and Taboo, London, Psychology Press, 2003.
12Image: Nikolett Balázs, Nest, 2020, plaster, wire, silicone, 45 x 37 x 7 cm. Photo and courtesy of the artist.



– szül. 1990 – olyan műtárgyakat hoz létre, melyekben újraértelmezi a klasszikus művészeti technikákat és környezetünk alapanyagait. Talált tárgyai, szegényes anyagai gyakran peremvidéki környezetéből származnak, melyeket újrahasznosít és műtárgyi pozícióba helyez. A rozsdás drótköteg, szilikon, műanyag, textil egy képpé szervesül a vászonnal, festékkel, gipsszel. Balázs számára a műtárgykészítés egy metamorfózis, az anyaggal történő filozófiai, mindennapi, szociális és személyes kapcsolatunk újraértelmezése a kész munka által. Balázs hajtogat, varr, szétvág, kicsavar, ragaszt, fest és folyamatosan újabb kontextust keres az anyagoknak. A képzőművészet játékos, érzéki, női nézőpontú és konstruktivista volta Balázs művészetének lényegi elemei, melyek emberközelivé válnak az absztrakció és figuralitás határmezsgyéjén.
Szeretek úgy gondolni alkotói tevékenységemre, mint a főzésre. Többféle alapanyagot rakok össze és addig variálom az arányokat1, addig kísérletezek az állaggal, színnel, ízzel, míg meg nem találom azt az ideális állapotot, mikor elvenni és hozzárakni nem kell már és levehetem a tűzről. A folyamat borzasztóan fontos számomra, a műtermem a gyakorlókertem, ahol az életre vonatkozó szabályokra találok bizonyosságot döntéseim során. Ez a műtermi izgalom azonban csak egy kiindulási alap számomra. A kész munka üzenete, továbbélése, közösségre gyakorolt hatása, szakmai utam építése ugyanolyan fontos. Ehhez tudatosság, fellépés kell, melyben a feminizmus óriási segítségemre volt és van mind a mai napig. Munkáim pedig anyagukban hordozzák a női tapasztalatot2.
Procedúrám olyan objekteket eredményez, melyek anyagtapasztalatunknál fogva ragadják meg képi emlékezetünket. Korunk információs áradata közepette a figyelemeltereléshez vagyunk szokva, ráadásul a digitalizáció térhódításával a képek felhalmozódása, a szelektálás hiánya és hitelességük megkérdőjelezése egy nagyon fura és bizonytalan viszonyt alakít ki. Válaszul munkáim tárgyi kapaszkodók, közvetlen kapcsolatunkat idézik meg az anyagokkal3, gondosan szelektált vizuális és haptikus élményt kínálnak. Feladatuk, hogy egyéni és közös emlékezetünk megelevenítésére szolgáljanak4. A kép médiumának életre keltése5 a feladatom, hogy megmozgassam, bekapcsoljam a néző rétegzett élményeit a munkák történetébe. Ez az elementáris tapasztalat pulzál a munkákból, valamint a nőművészet hiányos, alul reprezentált narratívája.
Az absztrakt képalkotás hagyományát, női nézőpontom kiemelésével, kelet-magyarországi peremvidéki környezetem tapasztalataiból kiindulva gyúrom objektekké. Ez a lokalitás, személyes tapasztalat meleg, termékeny táptalajt biztosít, hogy egy nagyobb elbeszélésbe gyümölcsözően kapcsolódhassak be.

ABSZTRAKCIÓ

Én ezzel tudok rendet rakni. Az absztrakció adja meg nekem azt a letisztultságot, szigorú struktúrát, mely kilöki a felesleget, miközben sokrétű asszociációs játékra hív. Pont annyi információt ad, ami épp szükséges a néző bevonásához. Ebben a tekintetben óriási hatással volt rám Imi Knoebel, Etel Adnan, Ellsworth Kelly, Eva Hesse, Maurer Dóra, Kuchta Klára, Bak Imre művészete. Zenében az Alt-J, Portico Quartet, Steve Reich, Aphex Twin, Kaly Jag adja meg ezt a pontosságot, Andrej Tarkovszkij, Yorgos Lanthimos, Anders Thomas Jensen, Tarr Béla rendezése pedig etalon számomra.

PEREMVIDÉK

Magyarország rengeteg elöregedő faluval, kisvárossal rendelkezik. Én a román-magyar határnál nőttem fel Létavértesen, ahol nagyon élesen megmutatkoznak bizonyos társadalmi értékválságok. A hagyományos két kezi munka alulfizetettsége egy bizonyos "tákolmányesztétikát" eredményez a környező településeken. Az innen-onnan összeszedett tárgyak újrahasznosítása6 szükségmegoldás, ami művészetemben is meghatározó stratégia. Kollázsként7 építem munkáimat a legkülönfélébb anyagokból. A rozsdás drótköteg, szilikon, műanyag textil egy képpé szervesül a vászonnal, festékkel, gipsszel8. Fontosnak tartom, hogy munkáim tükrözzék ezt az örökséget szűk közösségem elbeszélése, közös tapasztalatának megőrzése szempontjából. A személyes történet, az önismeret számomra elengedhetetlen ugródeszka az univerzális témákba kapcsolódáshoz.

NŐMŰVÉSZET

Több nemzedékes hagyományos családmodellben nőttem fel, ahol női felmenőim példáján keresztül értem nővé. A sztahanovista, földművelő munkamorál, vidéki kishitűség, a keresztény áldozatvállaló női szerep csörgedezik vénáimban, miközben generációm karrierista és globalizált hozzáállása, feminista szele teljesen más irányba terelt. Családom példáján keresztül láttam a női kemény munka alulértékelését, legyen szó Anyukám varrónői alacsony fizetéséről, a házimunka és gyermeknevelés nőkre háruló részéről. Azt az energiát képviselem személyemmel és munkáim által, amit generációkon keresztül elfolyni láttam. Feladatomnak tartom minél magasabb minőségben pótolni azt a jelenlétet, melyet a patriarchális társadalom kiszorít.

Hogyan is lehet teljes képet alkotni saját magunkról, ha a körülöttünk lévő képek ezt nem tükrözik hűen? Vágyom, hogy magam előtt lássam, érezzem a kép testét, amely nyersen mutatja a női tapasztalatot, történetet. Műtárgy, melynek csontváza, húsa, bőre és atmoszférája van… meg tudom érinteni, őszintén, köntörfalazás nélkül fedi fel magát. Vidéki környezetemben természetes a halál, az öregedés, testiség, születés el nem szeparált9, közvetlen tapasztalata. Ez a fajta nyitottság a realitás elfogadásának szépségét eredményezi, nagyobb rálátást biztosítva környezetünkre és önmagunkra.

Kapcsolatunk a testünkkel, természettel társadalmi hálózatunkban egy olyan téma, amely kifogyhatatlan merítést biztosít képzőművészeti tevékenységemhez. Ezeknek különböző forma, szín és anyagbeli megnyilvánulásai alkotják munkáim. Gyakran női nemi szervre hajazó formák,10 érzéki anyagok burjánzanak néhol szabadon hagyva, máskor belevágva, összegyűrve, eltakarva, tömör massza köré zárva, a sterilitás és a koszosság közti széles skálán11. Van, hogy dús szőrzetem borotválása inspirál, vagy az aszfalt repedéséből kinövő növény. Gyakran használok fel olyan élményeket, melyeket otthon láttam a házimunka, állattartás és földművelés során12. Úgy formázom a vásznat, mint ahogy Mama hajtogatta a csörögefánkot, vagy úgy vágom az anyagokat, ahogy a hájat fosztják le a húsról. A burgonyaföld árasztásakor az iszapos, meleg sár kibuggyanását mai napig érzem pucér lábujjaim közt. Pótolni szeretném munkáim által ennek a szaftos, közvetlen tapasztalatnak a hiányát, mely egyre nagyobb elidegenedéshez, és valótlan önképhez vezet.
Ragasztok, festek, formázok, hajtogatok, varrok, keverek, öntök a műtermemben, gyakorlatilag nagyon hasonló munkaritmusom van, mint az otthoniaknak. A heti 40 órás irodai munkarendem mellett vagyok képzőművész, engem is az elaprózódás hátráltat. Ezt nagyban befolyásolja az aktuális politika, a szociális minták, családalapítás kérdésköre, anyagi bevétel, társas kapcsolatok stb… Soknak tűnik. Véleményem szerint generációm nő tagjainak nagy feladata a mindent akarás elengedése, melynek eszköze a kutatás ennek az akarásnak az eredetére és minőségére vonatkozóan. Számomra óriási segítség az absztrakció, mely a lényeges elemeket kiemeli és leszűri, ami kevésbé fontos. Ki kell dobálni, ami nem a szívem vágya, megszabadulni azoktól az elvárásoktól, amik nem az enyémek. Ezen dolgozok. Számomra ez jelenti a szabadságot és a feminizmust.
A statement Balázs Nikolett és Kopeczky Róna művészettörténész együttműködésében jött létre (2020).
1Kép: Balázs Nikolett, Carapace, 2019, gipsz, ipari hab, festék, 90 x 130 cm (a debreceni MODEM gyűjteményében), fotó Balázs Nikolett. A művész jóvoltából.
2Kép: Balázs Nikolett, Ereklye (részlet), 2019, szilikon, keményített textil, festék, 60 x 60 cm, fotó: Hegyháti Réka. A művész jóvoltából.
3Kép: Balázs Nikolett, Nem beszélnek egymással (részlet), 2019, hajtogatott textil, szilikon, gipsz, lemez, 130x120 cm, fotó Hegyháti Réka. A művész jóvoltából.
4Assmann, Jan, A kulturális emlékezet: írás, emlékezés és politikai identitás a korai magaskultúrákban (Cultural memory and Early Civilization : Writing, Remembrance, and Political Imagination), Budapest: Atlantisz, 1999.
5Belting, Hans, A hiteles kép: Képviták, mint hitviták (Das echte Bild), Budapest: Atlantisz, 2009.
6Kép: Balázs Nikolett, Belül, 2019, ipari hab, drót, bitumen, 95 x 65 cm (magángyűjtemény), fotó Hegyháti Réka. A művész jóvoltából.
7Kép: Balázs Nikolett, Irányíthatatlan, 2019, textil, vászon, szilikon, festék, gumi, 250 x 100 cm, fotó Hegyháti Réka. A művész jóvoltából.
8Kép: Balázs Nikolett, Önfenntartó, 2019, vászon, szilikon, festék, 58x30 cm (magángyűjtemény), fotó Hegyháti Réka. A művész jóvoltából.
9Foucault Michel, Más terekről (Of Other Spaces) – Heterotípiák, 1967, exindex.hu/index.php?page=3&id=253. Utolsó letöltés: 2020.11.30.
10Kép: Balázs Nikolett, Cukormáz, 2019, keményített vászon, festék, gipsz, 140 cm x 90 cm, fotó: Hegyháti Réka.
11Mary Douglas, Purity and Danger – An Analysis of Concepts of Pollution and Taboo, London: Psychology Press, 2003.
12Kép: Balázs Nikolett, Fészek, 2020, gipsz, drót, szilikon, 45 x 37 x 7 cm, fotó: Balázs Nikolett. A művész jóvoltából.