Dobrawa Borkała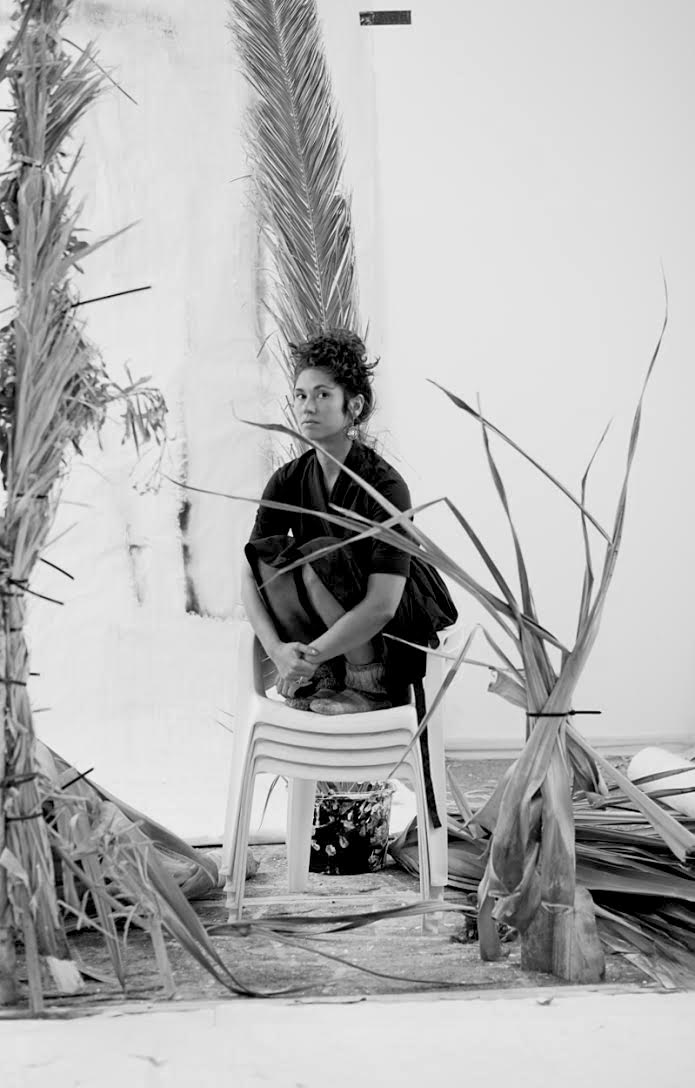 – born in 1990, New York. Graduate of the National School of Fine Arts in Paris and Master of Clinical Psychology at the University of Humanities and Social Sciences in Warsaw. EMDR therapist (Eye Movement Desensitization Therapy, used to treat trauma). Instructor of the Buteyko breathing method and Yoga. Creates visual works and installations. Investigates breath in performance space, visual arts, therapeutic and symbolic recording.

Portrait of the artist by Yonay P. Matos, 2018.

Mindfulness is an art, breathing is an art,
I grew up with a independant mom. For the first few months of my life I accompanied her to all her classes at the Academy of Fine Arts, I soaked in art. As a child I communicated through drawings, devouring books and inventing illustrated characters1. An important part of cognitive processes for me is drawing. The mind thinks in pictures, which it translates into language, it visualizes overheard words. Ever since I can remember I have explored hand gestures2 following an image, embodying thoughts. I integrate experiences through drawing3. It is my intuitive medium of expression and communication. I dream of having a "Magic Pencil." I like to create in a meditative state. Drawing works are records of inner visual experiences. A contemplative process of extracting light from darkness, shape from emptiness4.
For as long as I can remember, my priority has been to combine artistic initiatives with community service, while discovering healing potential through art. Parallel to my art education, I studied clinical psychology. I do not separate my life into professional and private. I try to engage in activities and projects that inspire and develop me. I dynamically balance different realities and activities.
Studying at the École Nationale Supérieure des Beaux-Arts in Paris was an adventure full of encounters, interactions and exchanges. In duo with my friend Marcella Barcelo, in public spaces we drew what we called Performance dessinée5. My drawings were shown in exhibitions6. I completed my 5-year education in 2015, graduating (DNAP) with an Immersion show and a paper on plant perception.
In 2012 I participated in the project Art at the Castle, carried out in the detention center in Warsaw's Grochów district7. As part of my master's thesis in psychology, I undertook research on the effects of art therapy on the well-being of female prisoners suffering from post-traumatic stress disorder (PTSD). At the same time, the Culture House Foundation8 offered yoga classes, which the inmate girls talked about enthusiastically. Out of curiosity, I took up daily practice. I felt tremendous changes. I channeled art therapy exploration into yoga and breathing practices. I expanded my hand gesture, developing whole body sensitivity.
I was fascinated by the powerful experiential impact of the conscious exploration of breathing and decided to focus on it. For a couple of years I was learning about breathing techniques from different cultural backgrounds – I traveled, stayed in ashrams and Buddhist monasteries, participated in trainings. I lacked a way to record this knowledge, so I undertook the creation of the Breath Alphabet – a system of breath graphic signs. This fall I am preparing a virtual primer of the Alphabet9; it consists of dozens of characters that distinguish variations of the human breath that we have an intentional influence on. Notation can be used to record and reproduce breathing practice.
Breathing reflects the body's openness to the world, its strength and sensitivity. Inner and outer, intimate and collective, personal and political merge through the air. I inspire my thoughts with texts by feminist philosopher Luce Irigaray: "To discover that I can live autonomously, that no one absolutely needs me, that I don't have to invent mothers or fathers for myself to live. Breathing on my own also allows me to step away from the socio-cultural bearing. And now I can begin to be born, to no longer live by someone else's breath as a fetus in the womb and as a human being in a given historical horizon. To be born for my life. To be born for a certain cultural naivety: to not have to destroy in order to discover or rediscover what is already there, what is beautiful and true. To realize this through my own personal rebirth."10, or David Abram.
I am fascinated by the history of the formation of the Earth's atmosphere, such as the oxygen catastrophe; which 2.4-2 billion years ago caused the mass extinction of anaerobic organisms and at the same time allowed for the evolution of new organisms including homo sapiens. I am currently analyzing the impact of industrialization on changes in cranial and respiratory anatomy.
I have been functioning nomadically for many years, so I do not identify with a country – more with the land, vegetation. I am half Venezuelan. Poland is the country where my mother lives, my first home. I moved to France in 2005. I observe how language affects the perception and shaping of reality, the manifestation of personality. I travel discovering spiritual-breath-body practices. Mobility directs me to minimalism, limitation of matter.
I create breath compositions – embody them, practice every day for a few months and observe. There are times when breathing practices take me a few hours a day. My body is a laboratory and a home at the same time. I explore body memory11. Breathing Scores invite you to read not only with your eyes but with your whole feeling and thinking body, they affect the nervous system. They suggest attentiveness towards the individual as well as the collective atmospheric body12. I search for the healing properties of art.
To explore the collective dimension of breath in 2018 I initiated the EChO- Experimental Breath Choir. Regular group practice allowed us to explore the dynamics of collective breath13.
With Anna Jurkiewicz14 we make up the Haust duo15.
I engage in activities that directly involve the viewer, aimed at developing sensitivity: I conduct Breath Symphony workshops and performances1617. Happening titled Przytulia [from 'hugging']18 is the daily gesture of patting – self-love.
The sense of (co-)responsibility is deeply rooted in me. Every context of action implies certain patterns. For example, in my role as a therapist, the ethics and dynamics of working with people are more formalized than during initiatives proposed in the context of art. Artistic activities leave me the most freedom. To follow curiosity, to explore. Combining perspectives is extremely inspiring and I love it.
During the pandemic, I moved to "The Toadstool," the summer home of a friend, curator Inés Muñozcano19. I am located in the middle of the forest, by the Pilica River. I am discovering life in nature. I breathe the air that permeates plants and animal nostrils. I discover the healing properties of plants. I take walks in the forest, I spend many hours on 'breathing-body' exercises by the river. I become accustomed to the cold, which encourages me to move. I compose bouquets more often than I draw. I dream more and more.
Text was written in cooperation with Magdalena Adameczek (2021).
1Image: Dobrawa Borkała,  Lilianas the multiple girl, drawing on recycled paper, 2014. Courtesy of the artist.
2Image: Dobrawa Borkała, Body matrix, drawing on recycled paper, Biennale du dessin, Cité Internationale des Arts, 2014. Courtesy of the artist.
3Image: Dobrawa Borkała, ONE, needle, ink, kaolin, wooden panel, 50 x 60 cm, in the collection of the National Museum in Gdańsk. Courtesy of the artist.
4Image: Dobrawa Borkała, Atmosphere of self, 2016–2018, Own technique ( holding the air, the artist scrapes the paint off the illuminated glass with a needle; the process takes place from the autumnal equinox to the spring equinox), 100 x 70 cm. Courtesy of the artist.
5Image: Dobrawa Borkała and Marcella Barcelo, Fées à la craie, 2010. Courtesy of the artist.
6Dobrawa Borkała, I would like you all to love me, 2013, M2 Gallery, see: vimeo.com/user11257036 
7Image: Dobrawa Borkała (together with the artist Maja Rozbicka and women prisoners from the half-open prison), Prison Yard, Olszynka Grochowska, 2012. Courtesy of the artist.
8See: fundacjadomkultury.pl/
9See: sztukaoddechu.pl
10Irigaray Lucy, Between East and West: From Singularity to Community, Columbia University Press, New York 2002, p.5

11See: magazynrtv.com/en/wydanie-4/afirmacja/tittle-tittle-tittle/
12Image: Dobrawa Borkała, bezDUSZNOŚĆ [breathlessness], sound work, part of installation  Panika [Panic], exhibition "Kreatywne Stany Chorobowe: AIDS, HIV, RAK" [Creative Illnesses: AIDS, HIV, CANCER], Galeria Arsenał, Poznań, 2019, see: dobrawaborkala.com/panic. Courtesy of the artist.
13Why "choir" if breathing? What are they doing there if they are not singing?

On a daily basis, we don't give breathing much thought. Rarely does it occur to anyone that we all and always breathe chorally, and that our chorus is formed not only by humans, but by all creatures, all fauna and flora, participating in gas exchange on and below the surface of the Earth. That we form a great indivisible breathing community.

Our small breathing community was born from the need for practical research on the subject of breathing, within the framework of Dobrawa Borkała's Breathing Synchrony project. With the support of the Kadr Community Center we met in the Breathless Room, experimenting with everything that is connected to the breath, what comes from it and what is created from it.

Inhaling and exhaling, and what comes between them - silence. The drawing in of air, the sucking in, the choking out, the grunting, the cringing, the humming, the growling. The howling of wind and wolf, cackling, barking, meowing. Shouting, the seeds of speech and singing, sobbing, laughing. Finally, communication, communicating on the most primal, emotional level. Choir is for us learning to be attentive.

We can communicate a lot with our breath - without words.

14See: annajurkiewicz.bandcamp.com/album/lulu
15See: sztukaoddechu.pl/hausty.html
16Image: Dobrawa Borkała, Acclimatization score, Królikarnia, 2017, photo Szymon Rogiński. Courtesy of the artist.
17Image: Dobrawa Borkała, Breath Symphony Brightening, Komuna Warszawa, 2019, photo Karolina Gorzalańczyk. Courtesy of the artist and Komuna Warszawa.
18Image: Dobrawa Borkała, Przytulia,  happening, BWA Bydgoszcz, 2020. Courtesy of the artist.
19See: onassis.org/people/ines-munozcano
– urodzona w 1990 w Nowym Jorku. Absolwentka Państwowej Wyższej Szkoły Sztuk Pięknych w Paryżu oraz Magister Psychologii Klinicznej Uniwersytetu Humanistycznospołecznego w Warszawie. Terapeutka EMDR (terapia odwrażliwiania za pomocą ruchu gałek ocznych, stosowana przy leczeniu traumy). Instruktorka metody oddechowej Buteyko oraz Jogi. Tworzy prace wizualne i instalacje. Bada oddech w przestrzeni performance, sztuk wizualnych, zapisu terapeutycznego i symbolicznego.

Portret artystki Yonay P. Matos, 2018.


Uważność to sztuka, oddech to sztuka,
Wychowywałam się u boku samodzielnej mamy. Przez pierwsze miesiące życia towarzyszyłam jej na wszystkich zajęciach na ASP, przesiąknęłam sztuką. Jako dziecko komunikowałam się poprzez rysunki, pożerając książki i wymyślając ilustrowane postacie1. Ważnym elementem procesów poznawczych jest dla mnie rysowanie. Umysł myśli obrazami, które tłumaczy na język, zasłyszane słowa wizualizuje. Od kiedy pamiętam eksploruję gesty dłoni2 podążające za obrazem, ucieleśniające myśli. Integruję doświadczenia za pomocą rysunku3. To moje intuicyjne medium wyrazu i komunikacji. Marzę o "Zaczarowanym Ołówku". Lubię tworzyć w stanie medytacji. Prace rysunkowe stanowią zapisy wewnętrznych doświadczeń wizualnych. Kontemplacyjny proces wydobywania światła z ciemności, kształtu z pustki4.
Odkąd pamiętam, moim priorytetem było łączenie inicjatyw artystycznych z pracą społeczną, przy jednoczesnym odkrywaniu uzdrawiającego potencjału poprzez sztukę. Równolegle z edukacją artystyczną studiowałam psychologię kliniczną. Nie rozdzielam życia na zawodowe i prywatne. Staram się angażować w działania i projekty, które mnie inspirują i rozwijają. Dynamicznie równoważę różnorodne rzeczywistości i działania.
Studia na École Nationale Supérieure des Beaux-Arts w Paryżu stanowiły przygodę pełną spotkań, interakcji i wymiany. W duecie z przyjaciółką Marcellą Barcelo rysowałyśmy w przestrzeniach publicznych tzw. Performance dessinée5. Moje rysunki brały udział w wystawach6. Ukończyłem 5-letnią edukację w 2015 roku, uzyskując dyplom (DNAP) z pokazu Immersion oraz pracą na temat percepcji roślin.
W 2012 uczestniczyłam w projekcie Sztuka na zamku prowadzonym w Areszcie Śledczym na warszawskim Grochowie7. W ramach pracy magisterskiej z psychologii podjęłam badania na temat wpływu arteterapii na dobrostan więźniarek cierpiących na zespół stresu pourazowego (PTSD). W tym samym czasie Fundacja Dom Kultury8 zaproponowała zajęcia jogi, o których osadzone dziewczyny opowiadały rozentuzjazmowane. Z ciekawości podjęłam codzienną praktykę. Odczułam ogromne zmiany. Skierowałam poszukiwania arteterapeutyczne na jogę oraz praktyki oddechowe. Poszerzałam gest ręki, rozwijając wrażliwość całego ciała.
Zafascynowało mnie jak silne oddziaływanie na doświadczenie ma świadoma eksploracja oddychania i postanowiłam się na niej skupić. Przez parę lat poznawałam techniki oddechowe z różnych kręgów kulturowych – podróżowałam, przebywałam w ashramach i klasztorach buddyjskich, brałam udział w szkoleniach. Brakowało mi sposobu zapisu tej wiedzy, więc podjęłam się utworzenia Alfabetu Oddechowego – systemu oddechowych znaków graficznych. Tej jesieni przygotowuję wirtualny elementarz Alfabetu;9 składa się z kilkudziesięciu znaków wyróżniających warianty oddechu ludzkiego, na które mamy intencjonalny wpływ. Notację można wykorzystywać do zapisu i odtwarzania praktyki oddechowej.
Oddychanie odzwierciedla otwartość organizmu na świat, jego siłę i wrażliwość. Wewnętrzne i zewnętrzne, intymne i kolektywne, osobiste i polityczne łączą się poprzez powietrze. Inspiruję myśli tekstami feministycznej filozofki Luce Irigaray: "Odkrywać, że mogę żyć autonomicznie, że nikt nie jest mi absolutnie potrzebny, że nie muszę wymyślać dla siebie matek, ani ojców, aby żyć. Samodzielne oddychanie pozwala mi również odejść od społeczno-kulturowego łożyska. I teraz mogę zacząć się rodzić, aby nie żyć już cudzym oddechem tak jak płód w łonie matki i jak człowiek w danym horyzoncie historycznym. Urodzić się dla mojego życia. Urodzić się dla pewnej kulturowej naiwności: nie musieć niszczyć, żeby odkrywać albo ponownie odkrywać to, co już jest, co jest piękne i prawdziwe. Uświadomić to sobie poprzez swoje osobiste odrodzenie."10, czy Davida Abrama.
Fascynuje mnie historia kształtowania się atmosfery ziemskiej, np. katastrofa tlenowa; która 2,4-2 miliarda lat temu spowodowała masowe wymarcie organizmów beztlenowych i jednocześnie pozwoliła na ewolucję nowych organizmów m.in. homo sapiens. Obecnie analizuję wpływ rozwoju industrializacji na zmiany w anatomii czaszki i układu oddechowego.
Od wielu lat funkcjonuję nomadycznie, dlatego nie utożsamiam się z krajem – bardziej z ziemią, roślinnością. Jestem w połowie wenezuelką. Polska jest krajem, gdzie mieszka moja mama, mój pierwszy dom. W 2005 przeprowadziłam się do Francji. Obserwuję, jak język wpływa na postrzeganie i kształtowanie rzeczywistości, przejawy osobowości. Podróżuję odkrywając praktyki duchowe-oddechowe-cielesne. Mobilność nakierowuje na minimalizm, ograniczenie materii.
Tworzę kompozycje oddechowe – ucieleśniam je, praktykuję codziennie przez parę miesięcy i obserwuję. Są okresy, kiedy oddechowe praktyki zajmują mi parę godzin dziennie. Mój organizm to laboratorium i zarazem dom. Eksploruję pamięć ciała11. Partytury Oddechowe zapraszają do lektury nie tylko za pomocą wzroku, lecz całego czującego i myślącego organizmu, wpływają na układ nerwowy. Proponują uważność wobec indywidualnego, jak i zbiorowego ciała atmosferycznego12. Poszukuję leczniczych właściwości sztuki.
Aby eksplorować kolektywny wymiar oddechu w 2018 zainicjowałam EChO- Eksperymentalny Chór Oddechowy. Regularna praktyka grupowa pozwoliła nam zgłębiać dynamikę zbiorowego oddechu13.
Wraz z Anną Jurkiewicz14 współtworzymy duet Haust15.
Angażuję się w działania bezpośrednio angażujące odbiorcę, skierowane na rozwijanie wrażliwości: prowadzę Warsztaty i performanse Symfonii Oddechowej1617. Happening Przytulia18 to codzienne gesty oklepywania – samo miłości.
Poczucie (współ)odpowiedzialności jest we mnie głęboko zakorzenione. Każdy kontekst działania zakłada określone wzorce. Np. w roli terapeutki etyka i dynamika pracy z ludźmi jest bardziej sformalizowana niż podczas inicjatyw proponowanych w kontekście sztuki. Działania artystyczne pozostawiają mi najwięcej swobody. Podążania za ciekawością, eksploracji. Łączenie perspektyw jest niezwykle inspirujące.
Wraz z pandemią przeprowadziłam się do "Muchomorka", domu letniskowego przyjaciółki, kuratorki Inés Muñozcano19. Znajduję się w środku lasu, nad Pilicą. Odkrywam życie w naturze. Oddycham powietrzem, które przenika przez rośliny i nozdrza zwierząt. Odkrywam właściwości lecznicze roślin. Spaceruję po lesie, spędzam wiele godzin na 'oddechowo-cielesnych' ćwiczeniach nad rzeką. Oswajam się z chłodem, który nakłania do ruchu. Częściej komponuję bukiety niż rysuję. Coraz więcej śnię.
Tekst powstał we współpracy z Magdaleną Adameczek (2021).
1Zdjęcie: Dobrawa Borkała, bombeczka podwójna dziewczyneczka, rysunek na papierze recyklingowym, 2014. Dzięki uprzejmości artystki.
2Zdjęcie: Dobrawa Borkała, Body matrix, rysunek na papierze recyklingowym, Biennale du dessin, Cité Internationale des Arts, 2014. Dzięki uprzejmości artystki.
3Zdjęcie: Dobrawa Borkała, ONE,  igła, tusz, kaolin, płyta drewniana, 50 x 60 cm, w kolekcji Muzeum Narodowego w Gdańsku. Dzięki uprzejmości artystki i Muzeum Narodowego w Gdańsku.
4Zdjęcie: Dobrawa Borkała, Atmosphere of self,  2016–2018, technika własna (wstrzymując powietrze artystka zeskrobuje igłą farbę z podświetlonego szkła, proces praktykowany od równonocy jesiennej do równonocy wiosennej), 100 x 70 cm. Dzięki uprzejmości artystki.
5Zdjęcie: Dobrawa Borkała and Marcella Barcelo, Fées à la craie, 2010. Dzięki uprzejmości artystki.
6Dobrawa Borkała, Chciałabym, żebyście wszyscy mnie pokochali, 2013, Galeria M2, zob.  vimeo.com/user11257036
7Zdjęcie: Dobrawa Borkała (razem z artystką Mają Rozbicką i więźniarkami z pół-otworka) Spacerniak, Olszynka Grochowska, 2012. Dzięki uprzejmości artystki.
8Zob. fundacjadomkultury.pl/
9Zob. sztukaoddechu.pl
10Irigaray Lucy, Between East and West: From Singularity to Community, Columbia University Press, Nowy Jork 2002, s. 5.
11Zob. magazynrtv.com/wydanie-4/afirmacja/partytury-oddechowe/
12Dobrawa Borkała, bezDUSZNOŚĆ, utwór, w ramach instalacji Panika, wystawie "Kreatywne Stany Chorobowe: AIDS, HIV, RAK", Galeria Arsenał, Poznań, 2019, zob. dobrawaborkala.com/panic. Dzięki uprzejmości artystki.
13Dlaczego "chór", skoro oddechowy? Co oni tam robią, skoro nie śpiewają?

Na co dzień nie obdarzamy oddychania refleksją. Rzadko komu przychodzi do głowy, że wszyscy i zawsze oddychamy chóralnie, a nasz chór tworzą nie tylko ludzie, ale wszystkie stworzenia, cała fauna i flora, biorąca udział w wymianie gazowej na i pod powierzchnią Ziemi. Że tworzymy wielką niepodzielną wspólnotę oddechową.

Nasza niewielka wspólnota oddechowa zrodziła się z potrzeby praktycznego przebadania tematu oddechu, w ramach projektu Synchronii Oddechowej Dobrawy Borkały. Dzięki wsparciu Domu Kultury Kadr spotykaliśmy się w sali Do Utraty Tchu, eksperymentując ze wszystkim, co łączy się z oddechem, co z niego wynika i co z niego powstaje.

Wdech i wydech, a także to, co między nimi – cisza. Wciąganie powietrza, zasysanie, dławienie się, chrząkanie, charczenie, szum, warkot. Wycie wiatru i wilka, kląskanie, szczekanie, miauczenie. Krzyk, zalążki mowy i śpiewu, szloch, śmiech. Wreszcie komunikacja, porozumiewanie się na najbardziej pierwotnym, emocjonalnym poziomie. Chór to dla nas nauka uważności.

Dużo możemy sobie przekazać za pomocą oddechu – bez udziału słów.
14Zob. annajurkiewicz.bandcamp.com/album/lulu
15Zob. sztukaoddechu.pl/hausty.html
16Zdjęcie: Dobrawa Borkała, Partytura aklimatyzacyjna, Królikarnia, 2017, zdjęcie Szymon Rogiński. Dzięki uprzejmości artystki.
17Zdjęcie: Dobrawa Borkała, Symfonia Oddechowa Jaśnienie, Komuna Warszawa, 2019, zdj. Karolina Gorzalańczyk. Dzięki uprzejmości artystki.
18Zdjęcie: Dobrawa Borkała,  Przytulia, happening, BWA Bydgoszcz, 2020. Dzięki uprzejmości artystki.
19Zob. onassis.org/people/ines-munozcano