Marta Hryniuk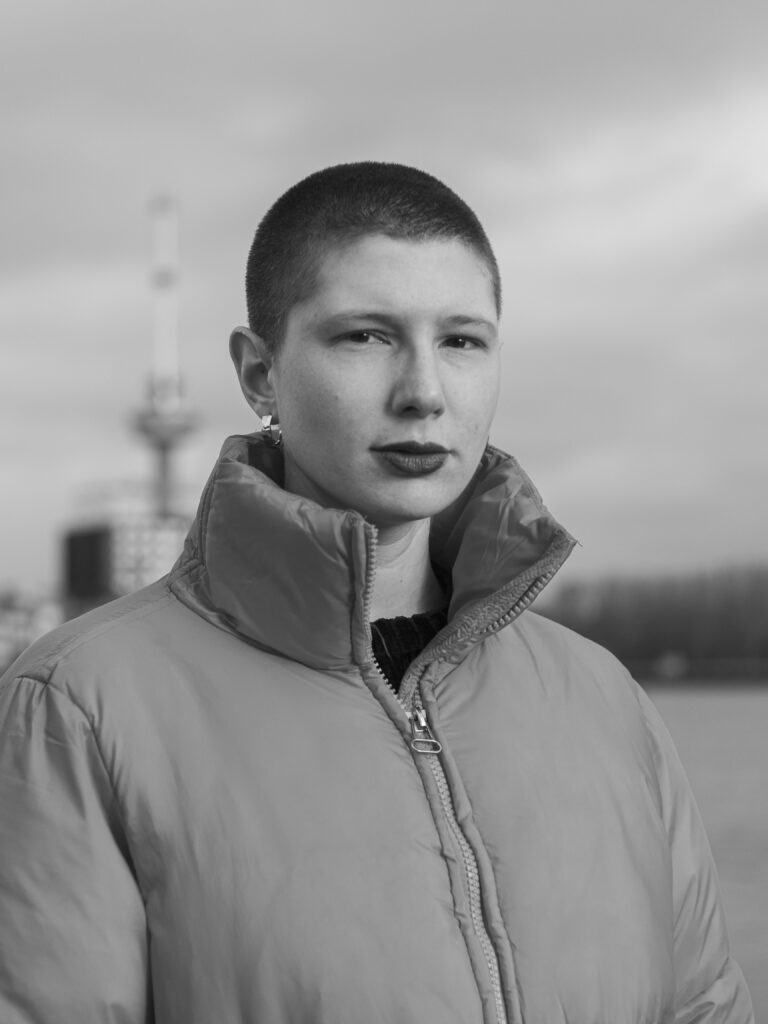 – born in 1991 Warsaw. artist and filmmaker currently based in Rotterdam. Studied Fine Arts at the University of Arts in Poznań, Academy of Art in Szczecin, and the Piet Zwart Institute in Rotterdam. She received fellowships from the Minister of Culture and National Heritage (2015), Młoda Polska (2016), Centrum Beeldende Kunst Rotterdam (2019), Stichting Niemeijer and Mondriaan Fonds (2020). Her works propose a form of poetic filmmaking towards assembling female lineages, nurtured by the entanglements of eastern European countries and their diasporas. She works collaboratively, and is involved with WET – a production and distribution cooperative for film, video and artists' moving image. She is also a member of Filmwerkplaats, an artist-run 16mm film lab in Rotterdam.


Portrait of the artist by Nick Thomas.
In my work I use moving image to assemble fragmentary portraits of people, communities and places, exploring the affective textures of their lives. I am attentive to the histories that have shaped them, complicating them where possible and resisting linear timelines. My practice evolves in dialogue with other artists and film-makers, and I now frequently collaborate rather than working individually.
I often work with female subjects and biographies, especially those shaped by experiences of displacement. I am interested in the complicated entanglements of eastern European countries, and their diasporas, something which has become more acute since moving away from Poland myself in 2016. I want to know what can be learned and reclaimed from these histories and narratives, and how they shape people's intersubjective experiences. My dual perspective – as both insider and outsider – has enabled me to see these narratives as a part of a shared political space, and as a catalyst for imagining alternative ways of living and working together.
Ideas around nostalgia, belonging and national identities also became pertinent in my work after relocating to Rotterdam. I live in the working class neighbourhood of Charlois, an area with a large Polish community, with whom I interact every day. Thinking about diasporic spaces of intimacy and care1, I filmed de Spiegel2 and Sohaila3, both depicting working class and immigrant women in places where labour and sociality entwine. Sohaila is a silent portrait of a hairdressers' salon, and takes its name from one of the employees, whereas de Spiegel, which comprises a single, continuous shot, is set in my neighbourhood bar run by Alicja Dulak, who doubles as bartender and amateur singer. In the video she sings a Polish ballad while her regular customers engage in casual conversations around the bar; multiple languages entwine, altering viewers' levels of access to the piece. For non-Polish audiences, the language operates solely on a non-verbal level, producing an opaque space narrated through gestures and conviviality.
Similarly, 'Balkon van Europa'4, made in collaboration with Erika Roux5, touches on female working-class labour and identity. A female protagonist spends time in a snack bar located at the very tip of the Rotterdam harbour, on so-called 'reclaimed land'6. Through its panoramic window, she looks onto the mouth of the river Maas, where cargo ships enter and exit Europe's largest port. Composed of a series of locked off shots, the video reflects on the progression of time and acts of looking; it pursues snippets of narrative in order to break them down, and dissolve into surfaces, textures and compositions.
Following the thread of displacement, in 2019 I started working with my family archives. In an attempt to link them to my own lived experiences, I began to make connections between female bodies across generations and social-geographical contexts. 'Camerawoman'7 draws on a film archive, shot on 8mm by my great aunt Maria Jastrzębska, who I never met. The reels are records of her daily life, travels and relationships in 1950s and '60s Poland. Tapping into the fragmentary nature of an amateur archive, the work has had various iterations – as a book, a reading and a video installation8. 'Camerawoman' talks about gendered experiences, and the ways they are embodied in intimate visual records. For me, engaging with the archive, is also a process of assembling my own female lineage.
In my films I turn towards, and tune into the world, making records of precarious moments and gestures; I am interested in presenting 'the world to be witnessed'9. I often use only images and sounds recorded on location, trusting they can carry their own weight. My documentary desire to witness the world goes hand in hand with an attentiveness to images and forms (a nod to my background as a painter). A generating force for my films lies in the capacity of the moving image to communicate and take stances through evocation and poetic juxtaposition, without conclusions. While employing an observational mode I want my work to allow for opacity and partiality, leaving space for a viewer to do the associative labour necessary to construct the world of the film. Inspiring examples of films sharing these qualities are 'At the Time of the Ebb'10 by Alia Farid, the films of Kevin Everson, or works by individuals affiliated with Harvard's Sensory Ethnography Lab11 such as 'People's Park'12 and 'Foreign Parts'13.
Acting as a cameraperson for the majority of my films, I am interested in camerawork understood as a physical endeavour, acknowledging my own limitations and exploring the possibilities of a camera treated as an extension of my body. I believe that the relationships between subjects–their lived experiences and emotions–and the camera can be embodied in the camerawork. For me, filming is an interpersonal and investigative process, with the camera acting as both a poetic device, a means for facilitating encounters, and a tool for research.
Pursuing my interests in Polish colonial legacies, as well as following a family connection, part of my work has been situated in western Ukraine. An important part of this process has been to research historical and contemporary Ukrainian voices14. I became interested in processes of shaping identities and cultivating memory in the region, and in exploring alternative possibilities of living and working. I made a film 'The Close River'15 in 2019 during a research trip to Hutsulshchyna I took with my partner and collaborator Nick Thomas16. With an itinerant camera, the film traces shifting borders and markers of power, drawing a poetic portrait of a place where histories of coexistence, violence and resistance are carved into the landscape.
In 'The Close River', as well as in another collaboration 'Forces'17, both shot on 16mm film, we explored the possibilities of field recordings and non sync sound in order to evoke a place rather than represent it. 'Forces' was developed through letters and drawings which we then used as a script. We shot the film over a couple of summer days in two locations in Rotterdam, the urban island of Brienenoord and the port – filming each other in places chosen for a conjunction of symbolic and material forces in the landscape. 'Forces' is a film poem, a suspension of the present, an act of spending and wasting time together.
I'm currently working towards a mid-length film, made across multiple villages in Hutsulshchyna in collaboration with Nick Thomas and Khrystyna Bunii18 – a local researcher, activist and archivist. The film will take the form of a poetic documentary following Bunii as she carries out her amateur ethnographic research. On her field trips, she approaches inhabitants of Hutsul villages in order to scan family photographs and documents, and in doing so produces a vast digital archive of a heterogeneous culture, pursuing a political practice of self-narration. Through engaged camerawork, capturing spontaneous encounters, oral and musical accounts, the film will track the emergence of the archive in real time.
As well as working in collaboration I have always been involved in self-organising and grassroots activities, recognising the necessity of building independent structures of mutual support and dialogue. Between 2013-17 I was a co-founding member of Silverado19 and currently I am involved in WET, a production and distribution cooperative for film and video. At the core of the cooperative are the tenets of mutual assistance, sharing of expertise and exchange of labour. WET is also a platform for public presentation and facilitates film workshops informed by our collaborative research into feminist and collective filmmaking.
The text was written in collaboration with Magdalena Adameczek (2020).
1The term "diasporic intimacy" was used by Svetlana Boym in her book The Future of Nostalgia, 2001, Basic Books, New York.
2Image: Marta Hryniuk, de Spiegel, 2018, film, de Spiegel, 5' 10''. Courtesy of the artist.
3Image: Marta Hryniuk, Sohaila, 2019, film 16mm, 2' 50''. Courtesy of the artist.
4Image: Marta Hryniuk (with Erika Roux), Balkon van Europa, 2018, HD video, 14'.
5See: erikaroux.com/
6A process of land reclamation in the Netherlands started in the 13th century when the Dutch were regularly using windmills to pump water off reclaimed areas known as polders. The process has continued up until now; recently the politics around 'water management' change as a response to the climate crisis.
7Image: Marta Hryniuk (with Anna Łuczak), Camerawoman, 2019, performative reading, documentation, TENT Rotterdam. Courtesy of the artist and TENT Rotterdam.
8The work combines my great aunt's visual account with my own writing, citations from Ingeborg Bachmann, Word for word, 1972, and Giuliana Bruno, Atlas of Emotion, 2002.
9Erika Balsom, The Reality Based Community, 2017, e-flux, see: e-flux.com/journal/83/142332/the-reality-based-community/
10Alia Farid, At the Time of the Ebb, 2019, see: vimeo.com/326412543
11See: sel.fas.harvard.edu/
12J.P. Sniadecki, Libbie D Cohn, People's Park, 2012, see: vimeo.com/64236096
13J.P. Sniadecki, Verena Paravel, Foreign Parts, 2010, see: vimeo.com/64236020
14Amongst others: Oksana Zabuzhko, Tania Maliarchuk, Maria Matios, Lesya Ukrainka.
15Image: Marta Hryniuk, The Close River, 2020, film 16mm, 27' 30''. Courtesy of the artist.
16See: wetfilm.org/about/
17Image: Marta Hryniuk (with Nick Thomas), Forces, 2020, film 16mm, 11' 20'', commisioned by Gdańska Galeria Miejska,  see: vimeo.com/422360105?fbclid=IwAR3pmTUk1Pd-JNqHU_ZzmXSQjhoAraH39Wd821C9tE6NaYFrC7r0YHxWVo8. Courtesy of the artist.
18Image: Khrystyna Bunii, research, public instagram account, on-going, see: instagram.com/carpathiancult/.
19See: kolektyw-silverado.tumblr.com/
– urodzona w 1991, Warszawa. Artystka, reżyserka i aktywistka obecnie mieszkająca i pracująca w Rotterdamie, w Niderlandach. Marta Hryniuk studiowała na Uniwersytecie Artystycznym w Poznaniu, Accademia di Belle Arti w Neapolu, Akademii Sztuki w Szczecinie oraz w Instytucie Piet Zwart w Rotterdamie. Jest stypendystką Ministerstwa Kultury, Dziedzictwa Narodowego i Sportu (2015), programu Młoda Polska (2016), Centrum Beeldende Kunst Rotterdam (2019), Stichting Niemeijer (2020) i Mondriaan Fonds (2020). Swoją praktykę opiera na poetyckim sposobie tworzenia filmów, gromadzeniu kobiecych genealogii, z troską kultywowanych w zaplątanej rzeczywistości rozproszonych mieszkanek Europy Wschodniej. Jest częścią WET – kooperatywy zajmującej się produkcją i dystrybucją filmów artystycznych i wideo. Jest także członkinią Filmwerkplaats, artist-run laboratorium w Rotterdamie, prowadzonego przez artystów i artystki pracujących na taśmie analogowej.


Portret artystki Nick Thomas.
W swojej pracy korzystam z narzędzi filmowych do budowania portretów społeczności, ludzi i miejsc. Przyglądam się i podążam za historiami i kontekstami, które kształtują te rzeczywistości, komplikując je i opierając się linearnemu postrzeganiu czasu. Moja praktyka rozwija się w dialogu z innymi artystkami i twórcami; obecnie znacznie częściej pracuję w duetach i kolektywach, aniżeli indywidualnie.
Swoje prace często poświęcam postaciom i biografiom kobiet, zwłaszcza tym kształtowanym przez doświadczenie migracji. Interesują mnie szczególnie historie regionów Europy Wschodniej oraz ich rozproszonych po świecie diaspor – szczególnie od czasu mojej wyprowadzki z Polski w 2016 roku. W mojej pracy badam, czego możemy się nauczyć, i co odzyskać z tych peryferyjnych narracji, oraz jak kształtują one intersubiektywne doświadczenia ludzi i społeczności. Moja podwójna perspektywa – osoby z i spoza tego kontekstu – pozwala mi patrzeć na te historie jako cząstkowe wspólnej przestrzeni politycznej, dostrzegać w nich katalizator pozwalający na wyobrażanie alternatywnych sposobów życia i wspólnego funkcjonowania.
Kwestie dotyczące nostalgii, przynależności czy tożsamości narodowych, również zajęły ważne miejsce w mojej praktyce. Mieszkam w robotniczej dzielnicy Rotterdamu – Charlois, zamieszkiwanej przez liczną polską mniejszość. Myśląc o rozproszonych (czy diasporycznych) przestrzeniach intymności i troski1, nakręciłam filmy de Spiegel2 i Sohaila3, w których portretuję imigrantki i reprezentantki klasy pracującej w miejscach, w których splatają się z sobą praca, relacje społeczne i towarzyskie. Sohaila to niemy portret salonu fryzjerskiego, a tytuł filmu pochodzi od imienia jednej z pracowniczek, natomiast de Spiegel, który składa się z jednego, długiego ujęcia – nakręcony został w moim lokalnym barze, prowadzonym przez Alicję Dulak – przyjmującą rolę barmanki i piosenkarki amatorki. W czasie kiedy jej klienci rozmawiają przy barze, Alicja śpiewa polską balladę; w filmie splata się wiele języków, przybliżając i oddalając widzom dostęp do narracji. Dla odbiorców spoza Polski język działa wyłącznie na płaszczyźnie niewerbalnej tworząc nieprzejrzystą przestrzeń opowiadaną za pomocą gestów i serdeczności.
Podobnie dzieje się w Balkon van Europa4, filmie zrealizowanym we współpracy z Eriką Roux5, który dotyka kwestii pracy i tożsamości kobiet z klasy robotniczej. Główna bohaterka spędza czas w barze z przekąskami znajdującym się na samym skraju portu w Rotterdamie, na tak zwanej "ziemi odzyskanej"6. Przez panoramiczne okno bohaterka obserwuje ujście rzeki Maas, po której przemieszczają się statki towarowe, wpływające i wypływające z największego portu Europy. Złożony z serii statycznych ujęć film rejestruje upływ czasu oraz skupia się na aktach patrzenia; film generuje urywki narracji by chwilę później rozbić je i rozpuścić w płaszczyznach i kompozycjach.
Podążając za wątkami przemieszczania się i migracji (tych przymusowych i tych z wyboru), w 2019 roku rozpoczęłam pracę z archiwami rodzinnymi. Próbując połączyć historie archiwalne z moimi własnymi, poszukiwałam powiązań między cielesnymi doświadczeniami kobiet na przestrzeni pokoleń i różnych kontekstów społeczno-geograficznych. Camerawoman7 inspirowana jest archiwalnymi filmami, nakręconymi w technice 8mm przez moją cioteczną prababkę Marię Jastrzębską, której nigdy nie miałam okazji poznać. Taśmy są zapisem jej życia codziennego, podróży i relacji, których doświadczała w Polsce lat 50. i 60. Ze względu na fragmentaryczny i nieuporządkowany charakter tego amatorskiego archiwum, moja praca z nim nie przyjęła jednej, ale wiele różnych form: książki artystycznej, performatywnego odczytu i instalacji wideo. Camerawoman opowiada o doświadczeniu upłciowionym i jego zapisie w formie intymnego filmowego dziennika. Obcowanie z archiwum jest dla mnie także częścią procesu tworzenia własnej genealogii.
W swoich filmach zwracam się ku światu i dostrajam do rzeczywistości, rejestrując niepewne chwile i gesty8. Interesuje mnie przedstawienie "świata którego jesteśmy świadkami"9. Często korzystam jedynie z obrazów i dźwięków zarejestrowanych "w plenerze" – bez skomplikowanego procesu postprodukcji – ufając, że potrafią unieść swój ciężar. Moje dokumentalne pragnienie bycia "świadkową świata" idzie w parze z dbałością o obrazy i formy (co zawdzięczam mojemu wykształceniu malarskiemu). Siłą napędową moich filmów jest wyjątkowa możliwość jaką daje praca z tym medium – komunikowania się i zajmowania pozycji poprzez poetyckie zestawienia, analogie czy metafory, nie wymagające stawiania ostatecznych konkluzji. Stosując obserwacyjny tryb w pracy z kamerą, chcę, żeby moje filmy zachowywały nieprzejrzystość i cząstkowość, pozostawiając widzowi przestrzeń do wykonania asocjacyjnej pracy wyobraźni w celu skonstruowania świata przedstawionego filmu. Inspirujące przykłady obrazów o podobnych cechach to m.in. At the Time of the Ebb10 Alii Farid, filmy Kevina Eversona lub prace twórców związanych z Harvard's Sensory Ethnography Lab11, np. People's Park12 i Foreign Parts13.
Jako operatorkę kamery większości moich filmów, interesuje mnie praca z kamerą rozumiana jako wysiłek fizyczny, wiążąca się z dostrzeganiem własnych ograniczeń i eksplorowaniem możliwości kamery będącej przedłużeniem ciała. Myślę, że relacje między filmowanymi podmiotami – ich ucieleśnionymi doświadczeniami i emocjami – a kamerą mogą ujawniać się w warstwie języka filmowego. Praca nad filmem jest dla mnie procesem interpersonalnym i badawczym, a kamera pełni rolę poetyckiego narzędzia, pretekstu do spotkań i oraz przyrządu badawczego.
Podążając za moim zainteresowaniem polskim kolonialnym dziedzictwem, jak również śledząc moje rodzinne uwikłania, zaczęłam pracować w zachodniej Ukrainie. Istotną częścią tego procesu jest wsłuchiwanie się w historyczne i współczesne głosy ukraińskie14. Interesują mnie procesy kształtowania się tożsamości i kultywowania pamięci w tym regionie, a także alternatywne sposoby organizacji życia i pracy. Film The Close River15 nakręciłam w 2019 roku podczas podróży riserczowej na Huculszczyznę, którą podjęłam z moim partnerem życiowym i zawodowym Nickiem Thomasem16. Inspirując się teorią krajobrazu17, film szkicuje poetycki portret miejsca, w którego pejzażu zapisane są historie współistnienia, przemocy i oporu.
Zarówno w The Close River jak i w innej, wspólnej pracy pt. Forces18 – obydwu filmach nakręconych na taśmie 16 mm – badaliśmy możliwości nagrań terenowych i niemej kamery, by raczej przywołać aniżeli sportretować miejsce. Forces został opracowany za pomocą listów i rysunków, które następnie wykorzystaliśmy jako scenariusz. Film nakręciliśmy przez kilka letnich dni w dwóch lokalizacjach w Rotterdamie, na miejskiej wyspie Brienenoord oraz w porcie – filmując się nawzajem w lokalizacjach wybranych ze względu na jednoczesność różnych symbolicznych i materialnych sił tkwiących w ich krajobrazach. Forces to filmowy wiersz w którym czas zostaje zawieszony; to akt wspólnego trwonienia czasu.
Obecnie pracuję nad filmem średniometrażowym, nakręconym na Huculszczyźnie we współpracy z Nickiem Thomasem i Khrystyną Bunii19 – lokalną badaczką, aktywistką i archiwistką. Film będzie miał formę dokumentalnego eksperymentu gdzie kamera śledzi Bunii podczas jej amatorskich badań etnograficznych. Podczas swoich wyjazdów terenowych Bunii nawiązuje znajomości z mieszkańcami wiosek huculskich i skanuje ich rodzinne zdjęcia i dokumenty, tworząc w ten sposób obszerne cyfrowe archiwum heterogenicznej kultury Hucułów, praktykując zarazem polityczną auto-narrację. Dzięki zaangażowanej pracy kamery, uchwytując spontaniczne spotkania, opowiadane historie i zapisy muzyki, film będzie rejestrował powstawanie archiwum w czasie rzeczywistym.
Oprócz współpracy z innymi, zawsze byłam zaangażowana w działania oddolne i inicjatywy społeczne, dostrzegając konieczność budowania niezależnych struktur wzajemnego wsparcia i dialogu. W latach 2013 – 17 byłam członkinią i współzałożycielką kolektywu Silverado20, obecnie jestem zaangażowana w WET – kooperatywę zajmującą się produkcją i dystrybucją filmów i wideo. U podstaw WET leżą zasady wzajemnej pomocy, dzielenia się wiedzą, wymiany pracy i umiejętności. WET jest również platformą do prezentacji i warsztatów filmowych; od 2021 mamy też fizyczną przestrzeń w Rotterdamie.
Tekst powstał we współpracy z Magdaleną Adameczek (2020).
1Termin "diasporic intimacy" [rozproszona intymność] został zaczerpnięty z książki Svetlany Boym, The Future of Nostalgia, Nowy Jork, Basic Books, 2001.
2Zdjęcie: Marta Hryniuk, De Spiegel, 2018, HD wideo, film 5'10''. Dzięki uprzejmości artystki.
3Zdjęcie: Marta Hryniuk, Sohaila, 2019, 16mm, przeniesione na nośnik cyfrowy, 2'50''. Dzięki uprzejmości artystki.
4Zdjęcie: Marta Hryniuk (we współpracy z Eriką Roux), Balkon van Europa, 2018,HD wideo, 14'30''. Dzięki uprzejmości artystki.
5Zob. erikaroux.com/
6Proces rekultywacji terenu w Holandii rozpoczął się w XIII wieku, kiedy Holendrzy regularnie używali wiatraków do wypompowywania wody z rekultywowanych obszarów zwanych polderami. Proces ten trwa aż do dzisiaj, ostatnio polityka "gospodarki wodnej" zmienia się w odpowiedzi na kryzys klimatyczny.
7Zdjęcie: Marta Hryniuk (we współpracy z Anną Łuczak), Kamerzystki, 2019, czytanie performatywne, TENT Rotterdam, 2019. Dzięki uprzejmości artystki.
8Instalacja łączy wizualną reprezentację stworzoną przez moją cioteczną prababkę z moim tekstem, cytatami z książki Ingeborg Bachmann, Word for word, 1972; and Giuliana Bruno, Atlas of Emotion, 2002.
9Erika Balsom, The Reality Based Community, 2017, zob. e-flux.com/journal/83/142332/the-reality-based-community
10Alia Farid, At the Time of the Ebb, 2019, zob. vimeo.com/326412543
11Zob. sel.fas.harvard.edu/
12J.P. Sniadecki, Libbie D Cohn, People's Park, 2012, zob. vimeo.com/64236096
13J.P. Sniadecki, Verena Paravel, Foreign Parts, 2010, zob. vimeo.com/64236020
14Pośród nich: Oksana Zabuzhko, Tania Maliarchuk, Maria Matios, Lesya Ukrainka.
15Klatka z filmu The Close River [Bliska rzeka], 27m30s, 16mm, przeniesione na nośnik cyfrowy, 2020.
16Zob. wetfilm.org/about/
17Zdjęcie: Marta Hryniuk (we współpracy z Nickiem Thomasem), Forces, 2020, 16mm przeniesione na nośnik cyfrowy, 11'20'', Galeria Miejska, Gdańsk, zob. vimeo.com/422360105?fbclid=IwAR3pmTUk1Pd-JNqHU_ZzmXSQjhoAraH39Wd821C9tE6NaYFrC7r0YHxWVo8
18Zdjęcie: Khrystyna Bunii, badania upublicznione na Instagramie, on-going, zob. instagram.com/carpathiancult/.
19Zob. kolektyw-silverado.tumblr.com/