Kateřina Konvalinová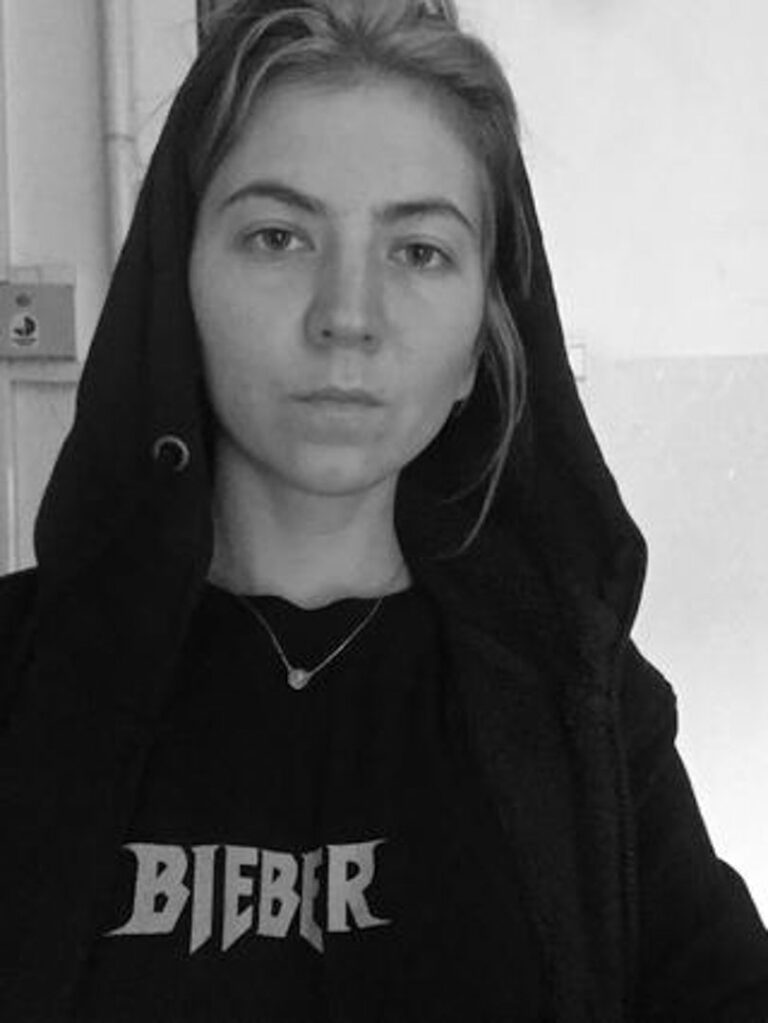 – born in 1991, Pardubice, now lives in Prague. Her work can be characterized as autobiographical fiction, based on personal experience and amateurish research of interpersonal / interspecies processes and relationships, seeing the personal as political. In the years 2014-2020 she studied at the Academy of Fine Arts in Prague. She completed a semester internship at the Prague DAMU, Department of Alternative and Puppet Theater, majoring in directing and dramaturgy, and a six-month internship at the Yogyakarta Institute of Art (Seni Institut Yogyakarta) in Indonesia, majoring in traditional dance.
She focuses on the so-called small life revolutions (life changing experiences such as falling in love, first LSD experience or a bad trip, etc.), as well as on the physical and mental symptoms of our times (pain, anxiety, fatigue, depression) and on psychological-therapeutic tools such as cracks, which can be used to reassess the current situation and deconstruct the status quo. Video and performance are the yin and yang of her artistic practice.


When I was on the Work and Travel program in the USA – tasting the dream in a restaurant kitchen in Montauk approximately twelve hours a day with a chef from Puerto Rico, his sister and our manic boss from Ireland – I bought a meal in the local Chinese restaurant and received one of those fortune cookies.

On its paper was written: "Love is the answer."
I love to refer to my artistic beginnings in this poetic, almost mythological, manner. However, the reality is quite distant from this story, which, although it's true, actually happened much later. As the child of non-artistic parents from a non-artistic background, I showed quite poor aspiration as an artist. I enjoyed drawing, but did not show any surprising skill. I began attending after-school preparatory art classes in the very last year of elementary school only because I wanted to attend a specialized high school to study architecture. I didn't end up going there because when I went to the school's "Open House" I found it extremely boring.
However, there was still something tempting about art – perhaps the romantic tales of an artist's dedication to colors, materials and shapes, or the almost magical (mysterious) skills and extraordinarily dramatic lifestyles of great artists in history (predominantly men, which the educational system somehow did not consider suspicious to a certain degree). In any event, I found art most interesting, autonomous and worth exploring.  
Nevertheless, as I did not have any solid standing in the arts and therefore almost no chance of being accepted to the Academy of Fine Arts in Prague, nor the Academy of Arts, Architecture & Design for that matter, I enrolled as a student of pedagogy in a small city, majoring in Fine Arts and English (2010). I considered this a win-win situation, as it combined the two subjects I enjoyed the most. As I was slowly making my way through my studies, learning in-depth about all the impressive art stories from the past to present, I first heard the shocking news that art does not have to mean only painting or sculpture, which was followed by an everlasting love/hate relationship with performance and the moving image (which later become my primary medium). I also started to notice something else, which I think many of my friends/colleagues shared (of course not all of them, as there are always super self-aware individuals who think they are awesome even if they do not show any evidence of being so). That thing that we shared, at any rate, was the notion or sense of being second- or third-rate artists, perhaps better stated, "creatives" – the term I hate the most. We are not artists, we just teach art…as simple as that. I would say that these invisible forces or feelings also constituted a silent agreement – nobody talked about it, no one named it directly, but it was there somehow. All of this just made me think that being an artist meant membership in some secret chamber club to which one must be invited, work hard to be accepted and only then be permitted to show his or her magic in certain places, preferably painted in white, to numerous expressions of admiration. THE ARTIST is someone of great respect and honor.
I began to believe that this secret community is actually independent, run by its own rules, far from the boring casual or Muggle reality – autonomous and open-minded. With this utopian belief, I finally decided to apply to the Academy of Fine Arts (2014) to become a part of that mysterious society. I was not the only one surprised when I was accepted. I was jumping for joy as if I had received a letter from Hogwarts.
However, after that flash of ecstasy, I slowly sobered up, as everything seemed to stink a bit. I realized that this community, of which I had suddenly become a member, was far from that ideal, and that it actually not only imitates the larger system which it criticizes, but sometimes even outdoes it (unpaid labor, overwork, missed family events, competitive environments, gossiping, snobbery, patronizing and bullying).
Of course there were also wonderful events happening, and many valuable people participating in this community, but recently I have not found much sense in it. I am not saying it is not important, but for me personally, it is in many ways an outdated system. Galleries, for example, had become really sad places with almost graveyard vibes even before the COVID pandemic. I still enjoy the fact that there exist such strange places lacking in specific purpose – I am speaking about independent spaces of course, because private and commercial galleries have quite a clear purpose. Recently I have been feeling sad about this, melancholic almost, and I think that my graduation has had a big part to play in that. I would say that a lot of art today is made impulsively, and grant policies also have a great influence there. I am not calling that bad automatically, I just question whether this is independence, autonomy or habit.
I believe art should leave its safe spaces and go out to get dirty, meet some new people out there (with face-masks on, of course) and stop being so self obsessed. I still think that studying art is great and that everybody should do that. But the definition of what being an artist and art school graduate is could be revised. I am an idealist and I believe that art should not be about making beautiful aesthetic objects to contemplate, nor about making money or finding fame.
What is even more fucked up is that the artists themselves are the least paid least in the whole process. Today, one painting by Toyen could buy you a very nice villa in Prague, but in her own time, was Toyen able to buy herself a villa? I would suspect that Toyen was not passionate about having such property, but her legacy was sold at three auctions and recently there was a record breaking amount of money bid on one of her paintings. Someone – clearly not any public cultural institution – spent 79 million Czech crowns on one of her tiny paintings. Come on, that is insane! I can't even visualize such an amount. Not to mention how many homeless people or those on the edge could make a fine living out of it.
I have lost my trust in big institutions and I believe that quite an extensive decentralization (I don't mean privatization) must happen in order to gain certain autonomy in negotiation and cooperation. I have not yet figured out exactly how it should be done and I do not intend to do so. But a good start I assume is stepping out of it for a while to take a breath. I have realized that I want to participate in setting up new conditions, not following devotedly what is already established. We as artists have power; we are in a sense ambassadors of visual knowledge and representation, and we can use the structures for something other than exhibiting ourselves.
In my work I have tried to address and explore love from a political perspective. I dabbled in some artistic research on that back in 2017 when I was feeling the lack of any equitable vision. I simply cannot live without utopias. I started with a piece called Love Manifesto1 and through a series I call Corrective Relations: Bad Trip2, I slowly established a method of anthropological self-observation and a form of autobiographical fiction. I believe one can make quite an accurate analysis of any political or social decision from a single individual story, as external conditions are inscribed in the personal lives of all creatures living in the era – yeah, here it comes! – the personal is political, and vice versa. You may find this approach for example in recent literature like Normal People by Sally Rooney or The End of Eddy by Édouard Louis. As an ongoing result of that life-inspired research, I want to become more physically involved in what is on fire outside while remaining an artist in my heart.
Text written by Kateřina Konvalinová (2021).
1Image: Kateřina Konvalinová, Love Manifesto, movie still, 2017. Courtesy of the artist.
2Image: Kateřina Konvalinová, Corrective Relations: Bad Trip,movie still, 2019. Courtesy of the artist.
– narozena v 1991, Pardubicích, žijcí v Praze. Její tvorbu lze charakterizovat jako autobiografickou fikci, založenou na osobní zkušenosti, prožitku a diletantském výzkumu mezilidských / mezidruhových procesů a vztahů ve smyslu osobní je politické. V letech 2014-2020 studovala na Akademii výtvarných umění v Praze. Absolvovala semestrální stáž na pražské DAMU, katedra Alternativního a loutkového divadla obor režie-dramaturgie a půlroční stáž na Yogyakartském uměleckém institutu (Seni Institut Yogyakarta) v Indonésii, obor tradičního tance. Zaměřuje se na tzv. drobné životní revoluce (life changing experience: jako je zamilování, první LSD zážitek či badtrip, atd.), dále na fyzické a psychické symptomy doby (bolest, úzkost, únava, deprese) a psychologicko-terapeutické nástroje jakožto trhliny, jimiž lze přehodnotit současný stav a zpochybnit status quo. Video a performance jsou jin a jang její umělecké praxe.
Když jsem se účastnila programu Work and Travel v USA – ochutnávajíc přibližně dvanáct hodin denně sen s kuchařem z Portorika, jeho sestrou a naším maniakálním šéfem z Irska v restauraci v Montauku – koupila jsem si jídlo v místní Čínské restaurace a dostala jeden z těch koláčku štěstí.

Na papírku v něm bylo napsáno: "Láska je odpověď."
Ráda odkazuji na své umělecké počátky tímto poetickým, téměř mytologickým způsobem. Realita je však od tohoto příběhu docela vzdálená – i když je to pravda, ve skutečnosti se to stalo mnohem později. Jako dítě rodičů z ne-uměleckého prostředí jsem projevovala poměrně malou snahu být umělkyní. Bavilo mě kreslit, ale neukázala jsem žádné překvapivé schopnosti. Začala jsem navštěvovat mimoškolní přípravné výtvarné kurzy v posledním ročníku základní školy jen proto, že jsem chtěla navštěvovat specializovanou střední školu a studovat architekturu. Nakonec jsem tam nechodila, protože když jsem šla na školní "Den otevřených dveří", připadalo mi to nesmírně nudné.
Na umění však stále bylo něco lákavého – možná romantické příběhy o umělcově oddanosti barvám, materiálům a tvarům, nebo téměř magické (tajemné) dovednosti a mimořádně dramatický životní styl velkých umělců v historii (převážně mužů, což vzdělávací systém nepovažoval za podezřelé) V každém případě mi připadalo umění nejzajímavější, autonomnější a hodné prozkoumání.
Jelikož jsem však neměla žádné pevné postavení v umění, a tedy téměř žádnou šanci na přijetí na Akademii výtvarných umění v Praze, ani na Akademii umění, architektury a designu, přihlásila jsem se jako studentka pedagogiky v malém městě, obor výtvarné umění a angličtina (2010). Považovala jsem to za win-win situaci, protože to kombinovalo dva předměty, které mě nejvíce bavily. Když jsem se pomalu prokousávala studiem a hlouběji se učila o všech působivých uměleckých příbězích od minulosti až po současnost, poprvé jsem zaslechla šokující zprávu, že umění nemusí znamenat pouze malbu nebo sochařství, po které následovala má věčná láska / nenávist k performanci a moving image (který se pozdděj istal mým hlavním pracovním médiem). Také jsem si začala všímat něčeho jiného, ​​o čem si myslím, že mnoho mých přátel / kolegů sdílelo (samozřejmě ne všichni, protože vždy existují super sebevědomí jedinci, kteří si myslí, že jsou úžasní, i když o tom neukazují žádné důkazy . Tou věcí, kterou jsme sdíleli, byla každopádně představa nebo smysl být umělci druhé nebo třetí kategorie, snad lépe řečeno, "kreativci" – termín, který nenávidím nejvíce. Nejsme umělci, jen učíme umění … tak jednoduché. Řekla bych, že tyto neviditelné síly nebo pocity také představovaly tichou dohodu – nikdo o tom nemluvil, nikdo to přímo nepojmenoval, ale nějak to tam bylo. To vše mě jen přimělo myslet si, že být umělcem znamenalo členství v nějakém tajném komorním klubu, do kterého musí být člověk pozván, tvrdě pracovat, aby byla přijata, a teprve poté smět předvést své kouzlo na určitých místech, nejlépe malované bílou barvou k četným projevům obdivu. UMĚLEC je někdo s velkou úctou a ctí.
Začala jsem věřit, že tato tajná komunita je ve skutečnosti nezávislá, řízená svými vlastními pravidly, daleko od nudné neformální nebo mudlovské reality – autonomní a otevřená. S touto utopickou vírou jsem se nakonec rozhodla podat přihlášku na Akademii výtvarných umění (2014), abych se stala součástí této tajemné společnosti. Nebyla jsem jediná, kdo byl překvapen, když mě přijali. Skákal jsem radostí, jako bych dostala dopis z Bradavic.
Po tomto záblesku extáze jsem však pomalu vystřízlivěla, protože se zdálo, že vše trochu páchne. Uvědomila jsem si, že tato komunita, jejíž členkou jsem se najednou stala, byla vzdálena mému ideálu a že ve skutečnosti nejen napodobuje větší systém, který kritizuje, ale někdy ho dokonce překonává (neplacená práce, přepracování, zmeškané rodinné události, konkurenční prostředí, klábosení, snobství, sponzorství a šikana).
Samozřejmě došlo také k úžasným událostem a do této komunity se zapojilo mnoho cenných lidí, ale nenašla jsem v ní velký smysl. Neříkám, že studium není důležité, ale pro mě osobně je to v mnoha ohledech zastaralý systém. Například galerie se staly opravdu smutnými místy s téměř hřbitovními vibracemi ještě před pandemií COVID. Stále mě baví skutečnost, že existují taková podivná místa postrádající konkrétní účel – mluvím samozřejmě o nezávislých prostorech, protože soukromé a komerční galerie mají zcela jasný účel. Nedávno jsem z toho byla smutná, téměř melancholická, a myslím si, že v tom měla velkou roli moje promoce. Řekla bych, že mnoho umění je dnes vytvářeno impulzivně, velký vliv zde také mají grantové politiky. Nemyslím si, že je to automaticky špatně, jen se ptám, zda je to nezávislost, autonomie nebo zvyk.
Věřím, že umění by mělo opustit své bezpečné prostory a jít se špinit, potkat nějaké nové lidi (samozřejmě s rouškami) a přestat být tak posedlý. Stále si myslím, že studium umění je skvělé a že by to měl dělat každý. Mohla by však být revidována definice toho, kdo je umělcem a absolventem umělecké školy. Jsem idealistka a věřím, že umění by nemělo být o výrobě krásných estetických předmětů k rozjímání, ani o vydělávání peněz nebo hledání slávy.
Ještě víc je v prdeli, že samotní umělci jsou v celém procesu nejméně placení. Dnes by vám jeden obraz od Toyen mohl koupit velmi pěknou vilu v Praze, ale mohla si v době, kdy žila tu vilu sama koupit? Tuším, že by Toyen nebyla takovým majetkem nadšená, ale její dědictví se prodalo na třech aukcích a nedávno se jeden z jejích obrazů vydražil za rekordní množství peněz. Někdo – zjevně ne veřejná kulturní instituce – utratil za jeden z jejích maličkých obrazů 79 milionů korun. No tak, to je šílené! Takovou částku si ani neumím představit. Nemluvě o tom, kolik lidí bez domova nebo těch na okraji společnosti by z toho mohli mít užitek.
Ztratila jsem důvěru ve velké instituce a věřím, že k získání určité autonomie při vyjednávání a spolupráci musí dojít k poměrně rozsáhlé decentralizaci (nemyslím tím privatizaci). Dosud jsem přesně nepřišla na to, jak by to mělo být, a nemám v úmyslu tak učinit. Ale dobrý začátek předpokládám, je ten že z toho na chvíli vystoupíte, abyste se mohli nadechnout. Uvědomila jsem si, že se chci podílet na vytváření nových podmínek, ne oddaně následovat to, co je již stanoveno. My jako umělci máme moc; jsme v jistém smyslu vyslanci vizuálních znalostí a reprezentace a můžeme struktury použít k něčemu jinému než k vystavování.
Ve své práci jsem se snažila oslovit a prozkoumat lásku z politického hlediska. V roce 2017 jsem cítila nedostatek spravedlivého pohledu a pustila jsem se do uměleckého výzkumu. j Prostě nemůžu žít bez utopií. Začala jsem dílem nazvaným Manifest lásky1 a skrze sérii, které říkám Korektivní vztahy: Bad trip2, jsem pomalu zavedla metodu antropologického sebepozorování a formu autobiografické fikce. Věřím, že z jednoho individuálního příběhu lze udělat docela přesnou analýzu jakéhokoli politického nebo sociálního rozhodnutí, protože vnější podmínky jsou zapsány v osobním životě všech tvorů žijících v éře – ano, tady to přichází! – osobní je politický a naopak. Tento přístup najdete například v nedávné literatuře jako Normální lidé od Sally Rooneyové nebo Skoncovat s Eddym B. od Édouarda Louise. V rámci pokračujícího výzkumu inspirovaného životem se chci více fyzicky zapojit do toho, co venku hoří, a přitom zůstat v srdci umělkyní. .
Napsala Kateřina Konvalinová (2021).
1Obrázek: Kateřina Konvalinová, Manifest lasky, still, 2017. S laskavým svolením umělkyně.
2Obrázek: Kateřina Konvalinová, Korektivní vztahy: Bad trip, still, 2019. S laskavým svolením umělkyně.