Jelica Radovanović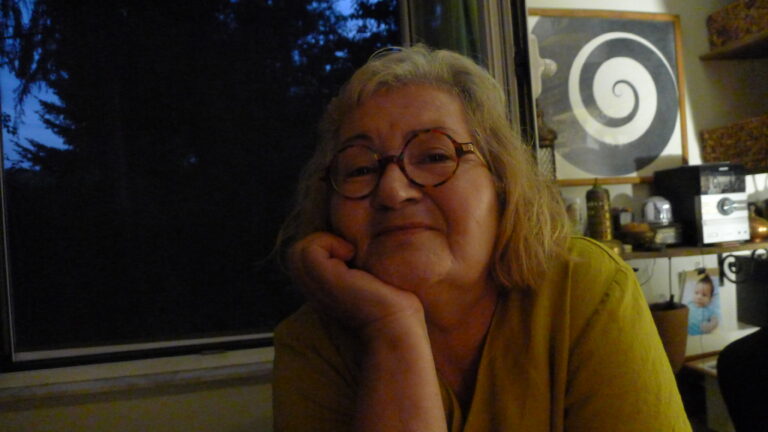 – born in 1957 in Dubrovnik. She graduated from the Faculty of Fine Arts in Belgrade in 1981, Department of painting, in the class of professor Radenko Mišević. Since 1991, she's been co-working with Dejan Anđelković. They have been exhibiting their works at several important institutions, including the Museum of Contemporary Art of Vojvodina in Novi Sad, Culture and Media Center in Karlsruhe, The Museum of Contemporary Art in Belgrade, National Art Gallery in Sofia, Art academies in Vienna and Berlin and the National Museum in Belgrade. They have also been exhibiting at the Art Biennial of Visual Arts in Pančevo, the October Salon in Belgrade and festivals such as BELEF in Belgrade and Styrian Autumn in Graz.
The fall of socialism, war, transition and the installation of liberal capitalism are all symbolic spaces in which I existed, exist and will one day cease to exist. In the field of culture they existed in parallel, and they still exist, as schizophrenic imperatives. Primitive patriarchy and the working woman, an equal partner to the man. Nationalism as a crime and nationalism as proof of loyalty to the community. Religion as opium for the people and atheism as a betrayal of one's people. Justice for all, injustice is just.
I come from a long line of women who accepted hardcore patriarchy. My grandmothers tried to teach me to knit, embroider, chop, to be aware of a woman's place. This was the package that was handed down to them from their mothers and grandmothers and passed on to my mother1. My mother, a successful psychoanalyst, dissolved herself in a masochistic pleasure serving a primitive and aggressive father. But she induced in me opposing views. The consequence was my conflict with my father, a complete absence of communication or very formal communication with him. I chose to ignore the pressures that the culture of the community I was living in was trying to impose on me2 by assuming positions based on my biological sex.
After graduating from the Faculty of Visual Arts I began living with Dejan Anđelković, also a visual artist. Today, 38 years later, we still have a family, a daughter, a grandson… Of all the naive youthful hopes, having a child was and still is the greatest miracle I ever experienced, and the members of our family are the most important people in the world to me. After several years of living together, sharing the same reality, daily conversations, we realised that there was a problem with the authorship of our works, or rather that the authorship was shared. We gave up our individual artistic signatures and started working together. A disinterest in the work of art as a commodity3 freed us from the need to reproduce works recognisable by their form and from having to use media suitable for selling. We would choose a form and an artistic or "non-artistic" medium that was adequate to a particular idea. Other layers of the artworks exist that connect them to a meaningful flow.
During the 1980s the inevitable crumbling of our universe became obvious. First our language fell apart through the media, and everything culminated in a bloody civil war, with an initial phase of the accumulation of capital by means of robbery4. Until then, I considered myself an atheist5. The discovery that there is no instance in which one can say "Stop! This is unacceptable!" revealed to me that the seed of faith in God that my grandmothers had tried so hard to instill in me had taken root somewhere deep and hidden within. Exposure to a universe ruled by chaos made me into a real atheist. I tried to become politically active. I was one of the founders of a party with a republican orientation6.
I also perceive artistic work as a kind of political activism. Art is integrative in relation to everything in the human universe, anything that can become a part of language, content, form… A work of art, through a specific language and form of communication, in which the entire subjectivity of the author and the potential consumer participate, detects the blind spots of the local or broader communities. The context in which a work of art comes to exist has acquired great importance. I don't believe in the existence of great artists and great works of art that will cause a revolution in the value system7. The process of installing liberal capitalism in Serbia has been followed by the tendency for artists to "become visible", to exhibit more, create contacts with gallerists and curators domestically and abroad, especially abroad. The statement from the Croatian artist Goran Trbuljak has become more significant with time: "It's a fact that some people today are more concerned with creating an exhibition than with what will be exhibited." Our response to this was to turn even more toward the local community. This is the context that concerns us the most, which is why we stayed in Serbia during the 90s. We make works of art which include local butcher shops, bakeries, hair salons8… We work based on our inner need to exhibit within the contexts that are intellectually and emotionally alive for us, and in which we feel ethically comfortable.
The text is written in collaboration with Simona Ognjanović (2022).
1Image: Jelica Radovanović, Baby, sculpture of dough produced within Led Art collective, 1993. Exhibition Art kuvar (Art Cook). Courtesy of the artist.
2In the economy of a group, family, workplace… different positions form in which some are stereotypically considered more masculine, and some more feminine, but this is not conditioned by biological sex, but an acceptance of such a distribution by an individual.

Image: Jelica Radovanović, My Grandmother is the Father of my Mother, installation, 2001. Courtesy of the artist.
3When I was finishing my studies in Serbia, the contemporary art market almost didn't exist. There was a market for wall decorations, mostly landscapes and flowers. In the last year of my studies, I met a private gallerist from Vienna who was in Belgrade looking for fresh goods. He was amazed by the artistic production that exists without a market. He would say: "I don't understand why artists work here." But I understood why, and I decided never to depend on artwork sales. We earned our living by doing various jobs, including making jewelry, painting houses, murals, set design… I worked in elementary and secondary education, and today I work in higher education at the Image Media study program.
4Image: J. Radovanović & D. Anđelković, No title, performance, 1996. Performed in collaboration with magician Rade Pilipović Griffoni within exhibition Alter image, off BITEF, Rex Cinema, Belgrade. Courtesy of the artist.
5Image: Jelica Radovanović, Rosenkranz i Guildenstern are Dead (or Louis XIV has never declared I am the state), photography, 1991. Courtesy of the artist.
6I began working as an elementary school teacher. I soon realized that working with children is more useful than working in politics. Teaching children to think creatively through creative work, to become aware and question their experiences and opinions, make them resistant to manipulation, prepares them to one day become emancipated citizens and voters. Less is more.
7Harold Pinter gave a desperate, explicitly political speech at the Nobel Prize ceremony, knowing that its effect would be as minimal as the impact of the value of his artistic work. Famous, "well-known", rich, branded artists and fetishized works of art belong to another story, the story of the market. A work of art adopted by a culture becomes something completely different, the same form with a different meaning. I am not interested in Matisse's armchair for the eye, I am closer to the "vandal" act of Alexander Brenner.

Image: J. Radovanović & D. Anđelković, Self portraits, gilded gesso, 2011. Photo: Veljko Pavlović. Courtesy of the artist.
8See: Jasmina Čubrilo, SYMPTOM.DJ, 2011, Foundation Vujičić collection.

Image: J. Radovanović & D. Anđelković, Conversations, installation, MoCAB, 2001. Work is produced in collaboration with local butcher Milan Novčić. Photo: Veljko Pavlović. Courtesy of the artist.
– je rođena 1957. u Dubrovniku. Diplomirala je na Fakultetu likovnih umetnosti u Beogradu 1981. na slikarskom odseku, u klasi profesora Radenka Miševića. Od 1991. Radi zajedničke radove s Dejanom Anđelkovićem. Među značajnim institucijama u kojim su zajedno izlagali su Muzej savremene umetnosti Vojvodine u Novom Sadu, Centar za kulturu i medije u Karlsrueu, Muzej savremene umetnosti u Beogradu, Nacionalna umetnička galerija u Sofiji, umetničke akademije u Beču i Berlinu i Narodni muzej u Beogradu. Izlagali su i na izložbama kao što su Pančevačko bijenale vizuelnih umetnosti, Oktobarski salon u Beogradu i festivalima kao što su Belef u Beogradu i Štajerska jesen u Gracu.
Period raspadajućeg socijalizma, rata, tranzicije i instaliranja liberalnog kapitalizma su simbolički prostori u kojima sam postojala, postojim i nestaću. U polju kulture su paralelno postojali, i još uvek postoje, shizofreni imperativi. Primitivni patrijarhalizam i radna žena, ravnopravni partner muškarcu. Nacionalizam kao zločin i nacionalizam kao dokaz odanosti zajednici. Religija kao opijum za narod i ateizam kao izdajstvo svoga narda. Pravda za sve, nepravda je pravedna.
Nastala sam iz niza žena koje su pristajale na tvrdi patrijarhat. Moje babe su pokušavale da me nauče da štrikam, vezem, seckam, budem svesna gde je ženi mesto. Paket koje su dobile od svojih majki i baba i uručile ga mojoj majci1. Moja majka, uspešna psihoanalitičarka, rastapala se u mazohističkom uživanju opslužujući primitivnog i agresivnog oca. Ali mene je indukovala suprotnim stavovima. Posledica je bila moj sukob s ocem, potpuno odsustvo komunikacije ili vrlo formalna komunikacija. Izabrala sam ignorisanje kao odgovor na pritiske da na osnovu biološkog pola zauzimam pozicije koje kultura zajednice u kojoj živim pokušava da mi nametne2.
Posle završenih studija na Fakultetu likovnih umetnosti počela sam da živim sa Dejanom Anđelkovićem, takođe likovnim umetnikom. Danas, 38 godina kasnije, još uvek imamo porodicu, ćerku, unuka… Od svih naivnih mladalačkih nada, dete je bilo i ostalo najveće divno čudo koje sam iskusila, a članovi naše porodice za mene najvažniji ljudi na svetu. Posle nekoliko godina zajedničkog života, deljenja iste realnosti, svakodnevnih razgovora, shvatili smo da postoji problem sa autorstvom naših radova, zapravo, da je autorstvo zajedničko. Odrekli smo se ličnih izvođačkih rukopisa i počeli da radimo zajedničke radove. Nezainteresovanost za umetničko delo kao robu3 oslobađa nas potrebe da umnožavamo radove prepoznatljive po formi i koristimo medije pogodne za prodaju. Izabraćemo formu i umetnički ili "neumetnički" medij koji je adekvatan za određenu ideju. Postoje drugi slojevi umetničkih dela koji ih povezuju u smisleni tok.
Osamdesetih godina prošlog veka raspadanje našeg univerzuma postalo je očigledno. Prvo se kroz medije raspao jezik, a sve je kulminiralo krvavim građanskim ratom, prvobitnom akumulacijom kapitala kroz otimačinu4. Do tada sam sebe smatrala ateistkinjom5. Otkriće da ne postoji instanca koja će reći " Stop! Ovo je nedopustivo!" mi je istovremeno otkrilo da se seme vere u boga koje su se babe toliko trudile da mi usade negde skriveno primilo. Ogoljavanje univerzuma u kom vlada haos me je učinilo pravom ateistkinjom. Pokušala sam da se politički aktiviram. Bila sam jedna od osnivača partije republikanske orijentacije6.
Umetnički rad takođe doživljavam kao vrstu političkog aktivizma. Umetnost je integrativna u odnosu na sve što postoji u ljudskom univerzumu, bilo šta može postati deo jezika, sadržaja, forme… Umetničko delo, kroz specifični jezik i komunikaciju, u kom učestvuje ceo subjekt autora i potencijalnog konzumenta, detektuje slepa mesta uže ili šire zajednice. Kontekst u kom je delo nastalo ima veliku važnost. Ne verujem u velike umetnike i velika umetnička dela koja će izazvati revoluciju u vrednosnom sistemu7. Proces instaliranja liberalnog kapitalizma u Srbiji prati i težnja umetnika da "postanu vidljivi", da što više izlažu, uspostave kontakte sa galeristima i kustosima u zemlji i inostranstvu, pogotovu inostranstvu. Sve veću težinu ima tvrdnja umetnika iz Hrvatske Gorana Trbuljaka: "Činjenica da je nekom dana mogućnost da napravi izložbu važnija je od onog što će biti pokazano." Naš odgovor je bio još veće okretanje lokalnoj zajednici. To je kontekst koji nas se najviše tiče, zato smo devedesetih godina ostali u Srbiji. Pravimo radove uključujući lokalne mesare, pekare, frizere…8 Radimo vodeći se unutrašnjom potrebom i izlažemo u kontekstima koji su za nas intelektualno i emotivno aktivni, u kojima se osećamo etički udobno.
Tekst je napisan u saradnji sa Simonom Ognjanović (2022).
1Ilustracija: Jelica Radovanović, Beba, skulptura od testa, 1993. Izložba Art kuvar (umetnička grupa Led art). Ljubaznošću umetnice.
2U ekonomiji grupe, porodice, radnog mesta... formiraju se različite pozicije od kojih se neke po stereotipnom mišljenju smatraju muškim ili ženskim, ali to nije uslovljeno biološkim polom već pristajanjem subjekta na takvu podelu. 

Ilustracija: Jelica Radovanović, Moja baba je otac moje majke, instalacija, 2001. Ljubaznošću umetnice.
3U doba kad sam završavala studije u Srbiji,  tržište delima savremene umetnosti gotovo da nije postojalo. Postojalo je tržište ukrasa za zid, uglavnom pejzaža i cveća. Na poslednjoj godini studija upoznala sam privatnog galeristu iz Beča koji je u Beogradu bio u potrazi za svežom robom. Bio je zapanjen umetničkom produkcijom koja nastaje bez tržišta. Govorio je: "Ne razumem zašto umetnici ovde rade?" Ja sam razumela zašto i odlučila da nikada ne zavisim od prodaje umetničkih dela. Za život smo zarađivali radeći razne poslove uključujići pravljenje nakita, krečenje, izvođenje murala, scenografija... Radila sam u osnovnom i srednjem obrazovanju, a danas radim u visokom obrazovanju na studijskom programu Mediji slike.
4Ilustracija: J. Radovanović & D. Anđelković, Bez naziva, performans, 1996. Performans izveden u saradnji s mađioničarem Radetom Pilipovićem Griffonijem u okviru zložbe Alter image, off BITEF,  Bioskop Rex, Beograd.
5Ilustracija: Jelica Radovanović, Rozenkranc i Gilderstern su mrtvi (ili Luj XIV nikada nije rekao: Država, to sam ja), fotografija, 1991. Ljubaznošću umetnice.
6U to vreme sam počela da radim kao nastavnik u osnovnoj školi. Uskoro sam procenila da je rad sa decom delotvorniji od eksplicitnog bavljenja politikom. Učiti decu da kreativno misle kroz stvaralački rad, osvešćuju i preispituju svoje iskustvo i stavove, činiti ih otpornijim na manipulaciju, je njihovo pripremanje da jednog dana postanu emancipovani građani pa i glasači. Manje je više.
7Harold Pinter je na dodeli Nobelove nagrade održao očajnički, eksplicitno politički govor, znajući da će njegov efekat biti minimalan kao i uticaj vrednosti koje nosi njegov umetnički opus. Slavni, "poznati", bogati, brendirani  umetnici i fetišizirana umetnička dela pripadaju drugoj priči, priči tržišta. Umetničko delo adoptirano od strane kulture postaje nešto sasvim drugo, ista forma sa drugim upisom. Nisam zainteresovana za matisovsku fotelju za oko, blizak mi je "vandalski" čin Aleksandra Brenera.

Ilustracija: J. Radovanović & D. Anđelković, Autoportreti, pozlaćeni gips, 2011. Foto: Veljko Pavlović. Ljubaznošću umetnice.
8Ilustracija: J. Radovanović & D. Anđelković, Konverzacije, instalacija, MSUB, 2001. Rad je izveden u saradnji sa lokalnim mesarom Milanom Novčićem. Foto: Veljko Pavlović. Ljubaznošću umetnice.

Vidi monografiju: Jasmina Čubrilo, SYMPTOM.DJ, 2011, Fondacija Vujičić kolekcija.