Jelena Mijić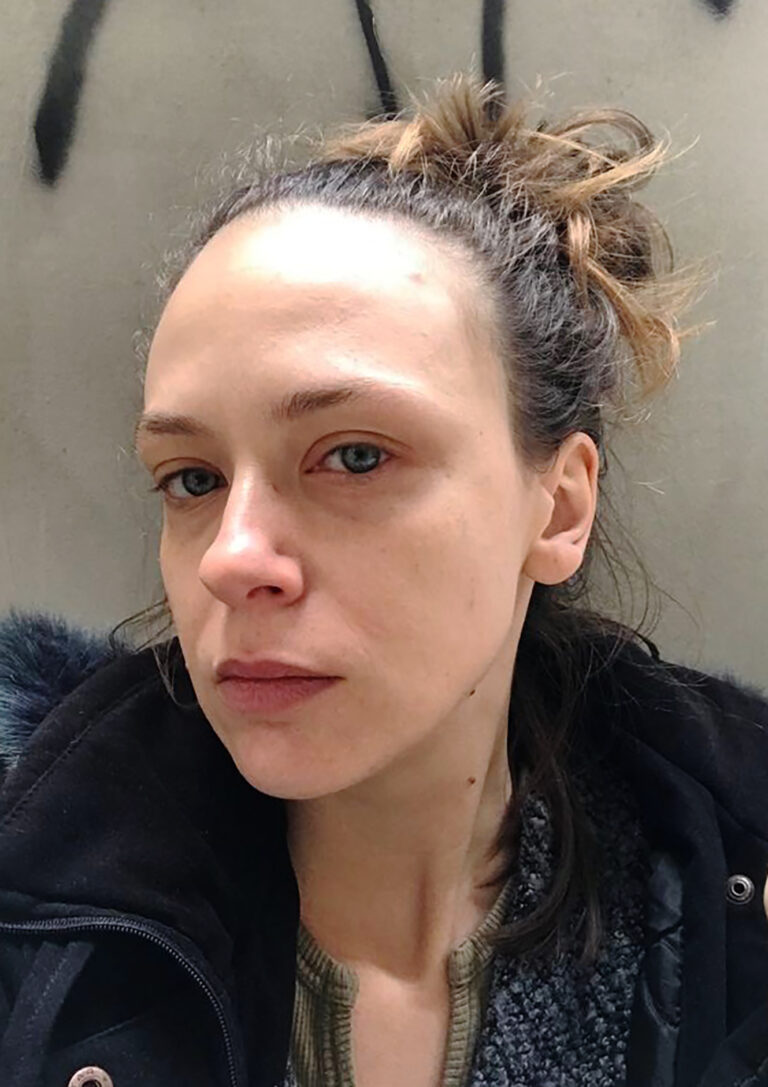 Jelena Mijić was born in 1989 in Novi Sad, Serbia. In 2013, she graduated from the painting program at the Faculty of Fine Arts in Belgrade. During the summer semester of 2013/2014 she was a visiting student at Freie Kunst (Akademie der Bildenden Künste) in Munich, Germany, in the class of Professor Jean-Marc Bustamante. In 2015, she completed her master's degree in painting at the Faculty of Fine Arts in Belgrade.
I'm Jelena Mijić, although I always find it strange when I hear my full name, because I am usually called Jela. I grew up in the village of Bukovac near Novi Sad, I am the oldest of three sisters. It was only when I started high school for design in Novi Sad that I became aware of class differences. I studied painting at the Faculty of Fine Arts in Belgrade, where I currently live and work as a gallerist, producer and cultural manager, waitress and bartender, sometimes as a photographer, and occasionally I run creative workshops for children. For several years, I was also the host of the radio show Sceniranje (Staging), which is devoted to the local art scene and cultural policies. Since 2013, every couple of years, I have been a part of the team that organises the MultiMadeira artist residencies on the Portuguese island of Madeira. In my free time I take dance lessons. I have also performed as a dancer and musician and held performances. In the context of visual art, I create and exhibit only when a good opportunity arises, i.e. when I am invited to participate in something that offers an interesting contextual or spatial-production framework, and for the reason that I do not have the means (in a spatial-time-financial sense) to create for the sake of creation, nor the will to spend time applying for exposure for the sake of exposure i.e. building up my CV. In the near future I plan to move back to my village and do more or less everything I mentioned earlier. Most of all, I would like to be an artist and a housewife.
I don't differentiate between private and professional, I live it all together. I prefer to act in a collective1 or in collaboration with someone rather than alone. I also like to involve other people, not necessarily artists, in my work2. My view of myself as an artist varies and I find it difficult to fit comfortably into existing categories. I see art as a vocation rather than a profession. I believe that the art system is deeply corrupted, but at the same time I have the need and feel the responsibility to participate in it, so I problematize it through my own work, simultaneously establishing an ironic distance from myself. I have a problem with imposed authorities, as well as the increasingly noticeable tendency to reduce art to mere trade and commodity.
Subjects that interested me even as a student of painting are the authority of the artist's personality, the questioning of the classical principles on which the work of art is based, as well as issues of control and giving in, randomness, and the demystification of the creative process and artistic system. On that trail, I created the first work I consider having an author's stamp, a series of paintings called "Art Must be Beautiful, Colourful and Handmade"3, which led me further into "Lottery-Paintings"456789, which are based on the principles of aleatoricism, and are created with the participation of the audience. Very often when I create, I build on my previous works or procedures. I don't do much, I simmer ideas for a long time, until they thicken nicely, and then I wait for a good excuse to carry them out. Or I happen to be provoked by the context. Then I make a new work that is a response to the situation, but methodologically it keeps continuity with previous works. Sometimes I even exhibit old work, but with some new element, which enables a new reading. In terms of production, I am guided by two motives: simple and cheap.
In 2017, I spent two months in New York as part of a residency program organised by Residency Unlimited, as a winner of the "Dimitrije Bašičević Mangelos" Award, which is given to young visual artists. In the works created after that, I mainly deal with understanding the relationship between the text and the artwork, between the positions of the curator and the artist, as well as the role and influence of the market in the world of art. From that moment on, the text itself, that is, the way the work is spoken of, becomes a very important part and key to understanding the work itself. The work "Reinstatement"10, created in 2018 purposely for the 57th October Salon, explicitly considers these relationships. In the following work "The Great Painting Exhibition With a Bunch of Paintings or How New York Brought Me Back to Painting"11121314 (probably the most complex work I have done so far) a very important ingredient is the text by Branislav Dimitrijević15, an art historian and curator of authority who agreed to play the game, that is, to write an overpraising text about a conceptually almost banal work. The initial idea was to literally respond to two important postulates woven into the very identity of the award: the transfer of experience from the centre to the periphery; the expectation to perform (demonstrate) something extraordinary upon return – in the form of a solo exhibition.
In the last work "Jela's business"16 created in 2021 for the purposes of the exhibition at the Street Gallery in Belgrade, the text explaining the exhibition and which was placed to be seen before all the works, and which I wrote, was an integral part of the entire work although I don't think it has any literary value. In it, the process of creation of the work is recounted almost in detail, as are the conditions of work and everyday life. It is in this gesture that my most important views are expressed. Art is not more important than other activities and it must be for everyone. Art is not separated from the private, nor from the social. Artists must not mystify, nor create a false image of what it looks like to practice art. Being just an artist is impossible. One must entertain.
The text was written in collaboration with Mirjana Dragosavljević (2022).
1Reference: https://www.belgraderaw.com/
2Reference: Sava Ristović, a journalist from the cultural program of Radio Belgrade 2, asked me during a guest appearance on the occasion of the "The Great Painting Exhibition With a Bunch of Paintings" if I might be a rebel (https://www.rts.rs/page/radio/sr/story /24/radio-beograd-2/3316933/znakovi.html)
3Illustration: Jelena Mijić, Art Must be Beautiful, Colourful, Handmade, series of paintings, oil on canvas, 2013, courtesy of the artist.
4Reference: https://cargocollective.com/jela/lottery-paintings
5Illustration: Jelena Mijić, Lottery-Paintings, participatory oil on canvas, 2014, courtesy of the artist.
6Illustration: Jelena Mijić, Lottery-Paintings, participatory oil on canvas, 2014, courtesy of the artist.
7Illustration: Jelena Mijić, Lottery-Paintings, participatory oil on canvas, 2014, courtesy of the artist.
8Illustration: Jelena Mijić, Lottery-Paintings, participatory oil on canvas, 2014, courtesy of the artist.
9 Illustration: Jelena Mijić, Lottery-Paintings, participatory oil on canvas, 2014, courtesy of the artist.
10Reference: https://kolekcija.oktobarskisalon.org/sr/kolekcija-umetnik/jelena-mijic/
11Illustration: Jelena Mijić, The Great Painting Exhibition With a Bunch of Paintings or How New York Brought Me Back to Painting, 2018, courtesy of the artist.
12Illustration: Jelena Mijić, The Great Painting Exhibition With a Bunch of Paintings or How New York Brought Me Back to Painting, 2018, courtesy of the artist.
13Illustration: Jelena Mijić, The Great Painting Exhibition With a Bunch of Paintings or How New York Brought Me Back to Painting, 2018, courtesy of the artist.
14Illustration: Jelena Mijić, Lottery Within The Great Painting Exhibition With a Bunch of Paintings or How New York Brought Me Back to Painting, 2018, courtesy of the artist.

15https://bit.ly/3RSuNxC
16 https://cargocollective.com/jela/jelina-posla-jela-s-business
Jelena Mijić je rođena 1989. godine u Novom Sadu u Srbiji, 2012/2013. godine je završila osnovne studije slikarstva na Fakultetu likovnih umetnosti u Beogradu, 2013/2014. je bila gostujuća studentkinja na letnjem semestru na Freie Kunst, u klasi profesora Jean marc Bustamantea (Akademie der Bildenden Künste) u Minhenu u Nemačkoj. 2014/2015. je završila master studije slikarstva na Fakultetu likovnih umetnosti u Beogradu.

Ja sam Jelena Mijić, mada mi je uvek čudno kad čujem svoje puno ime, jer me uglavnom zovu Jela. Odrasla sam u selu Bukovac u blizini Novog Sada, najstarija sam od tri sestre.Tek polaskom u srednju školu za dizajn u Novom Sadu, postala sam svesna klasnih razlika. Studirala sam slikarstvo na Fakultetu likovnih umetnosti u Beogradu, gde trenutno živim i radim kao galeristkinja, producentkinja i menadžerka u kulturi, konobarica i šankerica, ponekad kao fotograf, povremeno radim i kreativne radionice sa decom. Nekoliko godina bila sam i radio voditeljka emisije "Sceniranje" koja se bavi lokalnom umetničkom scenom i kulturnim politikama. Od 2013. godine pa svakih par godina deo sam tima koji organizuje umetnički rezidensi MultiMadeira na portugalskom ostrvu Madeiri. U slobodno vreme idem na časove plesa, a nastupala sam i kao plesačica, performerka i muzičar. U kontekstu vizuelne umetnosti stvaram i izlažem samo kada se ukaže dobra prilika, odnosno kada sam pozvana da učestvujem u nečemu što nudi zanimljiv kontekstualni ili prostorno-produkcioni okvir, a iz razloga što nemam sredstva (prostorno-vremensko-novčana) da stvaram radi stvaranja, niti volje da trošim vreme na apliciranje za izlaganje radi izlaganja tj. izgradnje CV-ja. U skorijoj budućnosti planiram da se preselim natrag u svoje selo i tamo radim manje više sve što sam prethodno navela. Najviše bih volela da sam panumetnica i domaćica.
Ne pravim razliku između privatnog i profesionalnog, živim to sve skupa. Više volim da delujem u kolektivu1 ili u saradnji sa nekim nego sama. Volim i da uvlačim druge ljude, ne nužno umetnike, u svoj rad2. Moje viđenje sebe kao umetnice varira i teško mi je da se ugodno smestim u postojeće kategorije. Umetnost doživljavam pre kao poziv nego kao profesiju. Smatram da je umetnički sistem duboko korumpiran , ali u isto vreme imam i potrebu, a i odgovornost da u njemu učestvujem, te ga onda kroz sopstveni rad problematizujem, istovremeno uspostavljajući ironijsku distancu i spram sebe. Imam problem sa nametnutim autoritetima, kao i sve osetnijom tendencijom svođenja umetnosti na čistu trgovinu i komoditet.
Teme koje su me zanimale još kao studentkinju slikarstva su autoritet umetnikove ličnosti, preispitivanje klasičnih principa na kojima se zasniva umetničko delo, kao i pitanja kontrole i prepuštanja, nasumičnosti, te demistifikacija stvaralačkog procesa i umetničkog sistema. Na tom tragu nastaje prvi rad koji smatram autroskim, serija slika pod nazivom "Umetnost mora da bude lepa, šarena i rukom rađena"3, koji me je odveo dalje u "Slike-lutrije"456789, koje su zasnovane na principima aleatorike, a nastaju uz participaciju publike. Veoma često se u radovima nadovezujem na prethodne radove ili postupke iz prethodnih radova. Ne radim mnogo, ideje krčkam dugo, dok se lepo ne zgusnu, a onda čekam dobar izgovor da ih izvedem. Ili mi se desi da budem isprovocirana kontekstom, tada radim novi rad koji je odgovor na situaciju, ali metodološki može da se isprati kontinuitet sa prethodnim radovima. Ponekad čak izložim i stari rad, ali uz nekakav novi element, koji mu omogućava novo čitanje. U produkcionom smislu vode me dva motiva: jednostavno i jeftino.
2017. godine provela sam dva meseca u Njujorku u okviru rezidencijalnog programa u organizaciji Residency Unlimited-a, a kao dobitnica Nagrade "Dimitrije Bašičević Mangelos" koja se dodeljuje mladim vizuelnim umetnicima. U radovima koji nastaju nakon toga uglavnom se bavim razumevanjem odnosa između teksta i umetničkog dela, između pozicija kustosa i umetnika, kao i uloge i uticaja tržišta u svetu umetnosti. Od tog trenutka sam tekst, odnosno način na koji se govori o radu postaje veoma važan deo i ključ za razumevanje samog rada. Rad "Reinstatment"10 koji je nastao 2018. godine za potrebe izlaganja na 57. Oktobarskom salonu i eksplicitno se bavi razmatranjem ovih odnosa. U narednom radu "Velika slikarska izložba sa gomilom slika ili Kako me je Njujork vratio slikarstvu"11121314 (verovatno najkompleksnijem radu koji sam do sad izvela) veoma važan sastojak je tekst Branislava Dimitrijevića15, istoričara umetnosti i kustosa od autoriteta koji je pristao na igru, odnosno da napiše jedan gotovo hvalospev jednom konceptualno gotovo banalnom radu. Polazna ideja bila je da bukvalno odgovorim na dva bitna postulata utkana u sam identit nagrade: prenos iskustva iz centra na periferiju; očekivanje da se po povratku u obliku samostalne izložbe izvede (demonstrira) nešto izvanredno.
U poslednjem radu "Jelina posla"16 nastalom 2021. godine za potrebe izlaganja u Uličnoj galeriji u Beogradu, tekst koji objašnjava izložbu i koji je bio postavljen tako da prethodi svim radovima, a koji sam ja pisala, bio je integralni deo čitavog rada iako mislim da nema nikakvu literarnu vrednost. U njemu je gotovo bukvalno prepričan proces nastanka rada, ali i detaljno opisani uslovi rada i svakodnevnog života. Upravo u tom gestu izraženi su moji najvažniji stavovi. Umetnost nije važnija od drugih delatnosti i ona mora biti za svakog. Umetnost nije odvojena od privatnog, niti od društvenog. Umetnici ne smeju mistifikovati, niti graditi lažnu sliku o tome kako izgleda baviti se umetnošću. Biti samo umetnik je nemoguće. Zabavljati se mora.
Tekst je napisan u saradnji sa Mirjanom Dragosavljević (2022).
1Referenca: https://www.belgraderaw.com/
2Referenca: Sava Ristović, novinar kulturnog programa Radio Beograda2, pitao me je prilikom gostovanja povodom "Velike slikarske izložbe sa gomilom slika" da li sam ja možda buntovnik (https://www.rts.rs/page/radio/sr/story/24/radio-beograd-2/3316933/znakovi.html)
3Ilustracija: Jelena Mijić, Umetnost mora da bude lepa, šarena, rukom rađena, serija slika, ulje na platnu, 2013, ljubaznošću umetnice.
4Referenca: https://cargocollective.com/jela/lottery-paintings
5Ilustracija: Jelena Mijić, Slike-lutrije, participativno ulje na platnu, 2014, ljubaznošću umetnice.
6Ilustracija: Jelena Mijić, Slike-lutrije, participativno ulje na platnu, 2014, ljubaznošću umetnice.
7Ilustracija: Jelena Mijić, Slike-lutrije, participativno ulje na platnu, 2014, ljubaznošću umetnice.
8Ilustracija: Jelena Mijić, Slike-lutrije, participativno ulje na platnu, 2014, ljubaznošću umetnice.
9Ilustracija: Jelena Mijić, Slike-lutrije, participativno ulje na platnu, 2014, ljubaznošću umetnice.
10Referenca: https://kolekcija.oktobarskisalon.org/sr/kolekcija-umetnik/jelena-mijic/
11Ilustracija: Jelena Mijić, Velika slikarska izložba sa gomilom slika ili Kako me je Njujork vratio slikarstvu, 2018, ljubaznošću umetnice.
12Ilustracija: Jelena Mijić, Velika slikarska izložba sa gomilom slika ili Kako me je Njujork vratio slikarstvu, 2018, ljubaznošću umetnice.
13Ilustracija: Jelena Mijić, Velika slikarska izložba sa gomilom slika ili Kako me je Njujork vratio slikarstvu, 2018, ljubaznošću umetnice.
14Ilustracija: Jelena Mijić, Lutrija u okviru Velike slikarske izložbe sa gomilom slika ili Kako me je Njujork vratio slikarstvu, 2018, ljubaznošću umetnice.
15https://bit.ly/3RSuNxC
16https://cargocollective.com/jela/jelina-posla-jela-s-business