Elżbieta Jabłońska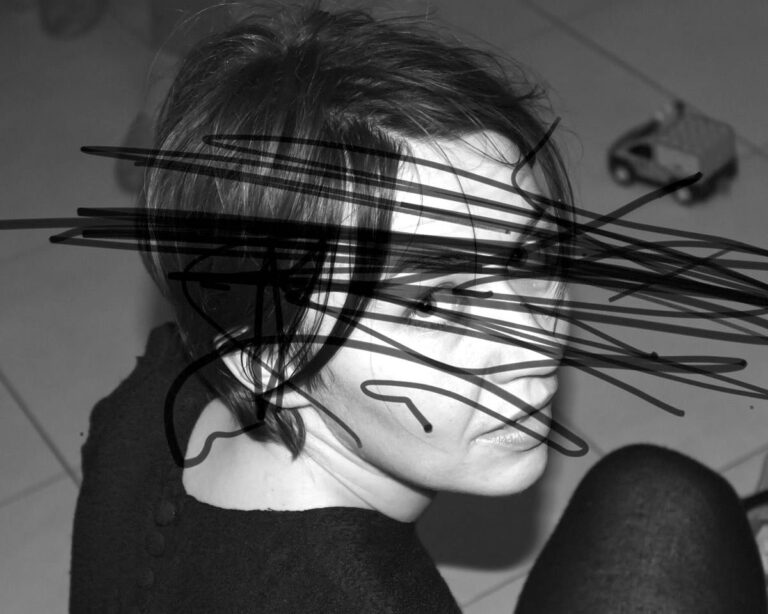 – born in 1970. Between 1990–95 she studied at the Faculty of Fine Arts of Mikołaj Kopernik University in Toruń, where she is currently a professor. Lives in Kozielec. She creates installations, photographs, performances and time-and-space activities. Her oeuvre includes long-lasting actions based on cooperation with cultural institutions, projects activating various communities and curatorial attempts. Her work is a commentary to the status and role of women in traditional society. In her works she makes use of cultural stereotypes and clichés that accompany the notion of a woman and femininity.
Art is a space for asking questions, building short-lived communities, an attempt to touch the delicate structures of the world, a field of observations, struggles and disappointments. It is unlimited and at the same time hermetic, difficult to access. It is freedom.
I am inspired by the changing reality depending on the context of time and place. It depends on my personal capabilities, on sensitivity, which allows me to experience its most trivial manifestations, hidden in everyday rituals, in the patterns of functioning, in the activities repeated over and over again, in obvious gestures and tamed obsessions.
This collection of small observations of everyday events is examined, analyzed and simplified. Sometimes ironically, amusingly and lightly, and sometimes truthfully, bluntly and bitterly. I comment on what is around me and unsuccessfully fulfill the assigned roles, which are completely contradictory and incompatible.
I open my eyes, sit down, have coffee. I uncover the window, stare into space. I get up. I walk over, the kitchen. I cook, cut, grate, serve breakfast. I eat. I change, talk, clean, wash, sweep, feed. Corridor, shoes, I leave. Composter. I move it, throw it away, stu-kam. I come back. I mulch, fold, wash, hang up. I sit down, table, chair, computer. I read, answer, write, talk, check. Pause. I organize, pour, flip, build. I create a situation, open, cultivate, look. I forget. I leave, come back, pass by, check, look. I pick up mail, throw things away, wipe things down. I design, I draw, I think. I check. There it is. I serve. I hug, talk, laugh. I scrub, I stitch, I clutter, I procrastinate. The window. Down the Vistula. I am lost, I fall down. I give up, I doubt, I taste, I comb, I add up, I run away, I plunge into the water. Cold. I live.
Looking for relations in art I make a gentle assault on the recipient in order to finally knock him/her out of the position of passive duration. If only for a moment to redirect attention and perception to areas less obvious, requiring focus and reflection. I try to do it.
I am interested in cooperation, collaboration, exchange and context. Situations based on mutual help, sensing and catching subtle changes. In direct contact with a group of people, without a preconceived plan and despite difficulties. I put togerher paper flowers with the homeless1.
I create space for action at a particular time and place to enhance the potential value of being together. Sometimes I cook for an audience on a cooker that is too big, uncomfortable and difficult to use2. Sometimes I look at the horizon with a group of people practicing abandonment together3, or I grow carrots on the "waste ground of art" by the galleries4. I lead through the rite of passage.
I need verbalization. I intuitively look for ready-made concepts, I search for meaning in solutions based on the found word. I borrow them and put them into circulation. I sail on a ship with a ten-thousand-foot neon sign reading New Life5. I wrap the facade of the gallery with a sign – count on nothing. I send thousands of letters asking if your mind is full of goodness6? In front of the gallery building I put a sign – there is nothing there anymore7. I like to doubt.
I look for stories written in places and the people who tell them. I pick out the little things that might get lost from the cluttered threads. I give them new shapes on the basis of a productive reluctance, which in the face of the surrounding excess may be the only way out. I choose emptiness. Shapes in symbolic space, beyond the obviousness of matter.
I give up production, I run away from matter, and sometimes also from myself, set in this specific role of an artist.
I lose my notes, memos, papers, notebooks, and again find them after time. In retrospect, everything looks a little different. Gains and losses. Sometimes there are discoveries worth keeping and re-reading. Sometimes they are not mine. I borrow texts to introduce them into wider circulation: "Nothingness is everything that does not exist, and everything that exists is nothingness. Nothingness can be compared to a whirlpool, pulling one in ceaselessly"8.
For a dozen or so years I have lived by the 788th kilometer of the VistulaRiver, in Kozielec. Seven kilometers from the expressway, 25 kilometers from Bydgoszcz, 51 from Torun, 126 from Gdansk, 217 from Warsaw, 400 from Berlin, 1029 from Kiev. I make my observations from a distance, from a perspective that changes the size and weight of the landscape. From a distance everything looks different and resonates differently. Priorities change, and responsibilities, otherwise very pleasant, swell. The system of dependencies seemingly gets more complicated.
This strongly influences all activities, including creativity. Space allows us to push the boundaries of meaning, and time seemingly slows down. It is easier to re-evaluate, easier to give up, and abandonment is a conscious choice.
The peripherality in which I function may seem to hinder my active participation in life, give the impression of being passed over by the mainstream of events. But the only thing that passes me by and over which I have no influence is the river I look at every day. It flows along a wide channel, sometimes taking in coastal meadows, and at other times, when the water level is low, revealing sandbanks and the bottom. Beyond the river, a wide view of fields and forests is crowned by a horizon line elevated by gentle hills. On the right a rooster crows, on the left there is a vineyard interspersed with plum, apple and walnut trees. The whole vaulted by a vastness of blue.
A very good place to share.
Text created in collaboration with Anna Ciabach (2020).
1Image: Elżbieta Jabłońska, Helping, 2004, performance, video. Image courtesy of the artist.
2Elżbieta Jabłońska, Kitchen, 2003, performance, exhibition "White Mazur", Neuer Berliner Kunstverein, Berlin; see: https://www.youtube.com/watch?v=4MIzoOzlek0. Image courtesy of the artist and Berliner Kunstverein.
3Image: Elżbieta Jabłońska, Exercise in abandonment, 2014, action, Artloop Festival " Relaxation and Recreation", Sopot; see: https://www.youtube.com/watch?v=LIReIYXa_qw. Image courtesy of the artist and Artloop Festival.
4Image: Elżbieta Jabłońska, Nieużytki sztuki [Barrens of art], 2014, actions in public space, various locations. Image courtesy of the artist.
5Image: Elżbieta Jabłońska,  New Life, from 2010, neon, video. Image courtesy of the artist.
6Image: Elżbieta Jabłońska, Is your mind full of goodness?, 2007, performance, neon. Image courtesy of the artist.
7Image: Elżbieta Jabłońska, There's Nothing There Anymore, 2014, installation. Image courtesy of the artist.
8The quote comes from the notebook of the artist's son, Antoni, who was a few years old at the time between 2004 – 2005.
– urodzona w 1970. W latach 1990-95 studiowała na Wydziale Sztuk Pięknych Uniwersytetu Mikołaja Kopernika w Toruniu, gdzie obecnie jest profesorką. Mieszka w Kozielcu. Tworzy instalacje, fotografie, performance oraz działania czasowo-przestrzenne. W jej dorobku znajdują się działania długofalowe oparte na współpracy z instytucjami kultury, projekty aktywizujące różne środowiska oraz próby kuratorskie.
Sztuka jest przestrzenią zadawania pytań, budowania krótkotrwałych wspólnot, jest próbą dotykania delikatnych struktur świata, polem obserwacji, zmagań i rozczarowań. Jest nieograniczona i zarazem hermetyczna, trudno dostępna. Jest wolnością.
Inspiruje mnie zmienna rzeczywistość uzależniona od kontekstu czasu i miejsca. Od moich osobistych możliwości, od wrażliwości, która pozwala mi doświadczać jej najbanalniejszych przejawów, ukrytych w codziennych rytuałach, w schematach funkcjonowania, w powtarzanych nieustannie czynnościach, w oczywistych gestach i ujarzmionych natręctwach.
Kolekcję drobnych obserwacji zdarzeń z codzienności, poddaję oglądowi, analizuję i upraszczam. Czasem ironicznie, zabawnie i lekko, a czasem prawdziwie, dosadnie i gorzko. Komentuję to co wokół i bezskutecznie wypełniam przypisane role, które są zupełnie sprzeczne i nieprzystające.
Otwieram oczy, siadam, kawa. Odsłaniam okno, patrzę w przestrzeń. Wstaję. Przechodzę, kuchnia. Gotuję, kroję, ucieram, podaję śniadanie. Zjadam. Przebieram się, rozmawiam, sprzątam, zmywam, zamiatam, karmię. Korytarz, buty, wychodzę. Kompostownik. Przesuwam, wyrzucam, stukam. Wracam. Ścielę, składam, piorę, rozwieszam. Siadam, stół, krzesło, komputer. Czytam, odpowiadam, piszę, rozmawiam, sprawdzam. Przerwa. Organizuję, przelewam, przerzucam, buduję. Stwarzam sytuację, otwieram, uprawiam, patrzę. Zapominam. Wychodzę, wracam, przejeżdżam, sprawdzam, szukam. Odbieram pocztę, wyrzucam rzeczy, wycieram. Projektuję, rysuję, myślę. Sprawdzam. Jest. Podaję. Przytulam, rozmawiam, śmiech. Szoruję, ścielę, zagarniam, zwlekam. Okno. W dole Wisła. Zagapiam się, upadam. Poddaję się, wątpię, smakuję, czeszę, sumuję, uciekam, zanurzam się w wodzie. Zimna. Żyję.
Szukając w sztuce relacji dokonuję łagodnego zamachu na odbiorcę/odbiorczynię by ostatecznie wytrącić jego/ją z pozycji biernego trwania. Choć na chwilę przekierować uwagę i postrzeganie w obszary mniej oczywiste, wymagające skupienia i refleksji. Staram się to robić.
Interesuje mnie współpraca, kooperacja, wymiana i kontekst. Sytuacje oparte na wzajemnej pomocy, na przeczuwaniu i wychwytywaniu subtelnych zmian. W bezpośrednim kontakcie z grupą osób, bez z góry opracowanego planu i pomimo trudności. Składam papierowe kwiaty z bezdomnymi1.
Stwarzam przestrzeń dla działania w konkretnym czasie i miejscu by wzmocnić potencjalną wartość wspólnego bycia. Czasem gotuję dla publiczności krzątając się przy za dużej, niewygodnej i trudnej w obsłudze kuchni2. Czasem patrzę na horyzont z grupą osób ćwicząc wspólnie zaniechanie3, albo uprawiam marchewki na przygaleryjnych nieużytkach sztuki4. Inicjuję.
Potrzebuję werbalizacji. Intuicyjne wypatruję gotowych koncepcji, szukam sensu w rozwiązaniach opartych na znalezionym słowie. Zapożyczam je i puszczam w dalszy obieg. Płynę statkiem z dziesięciometrowym neonem Nowe Życie5. Otulam fasadę galerii napisem – nie licz na nic. Wysyłam tysiące listów z pytaniem Czy twój umysł jest pełen dobroci6? Przed budynkiem galerii umieszczam tablicę – tam już nic nie ma7. Lubię wątpić.
Szukam historii zapisanych w miejscach i ludzi, którzy je opowiadają. Ze skłębionych wątków wybieram drobiazgi, które mogą się zagubić. Nadaje im nowe kształty w oparciu o produkcyjne zaniechanie, które wobec otaczającego nadmiaru może być jedynym wyjściem. Wybieram pustkę. Kształty w przestrzeni symbolicznej, poza oczywistością materii.
Rezygnuję z produkcji, uciekam od materii, a czasem również od siebie samej osadzonej w tej konkretnej roli artystki.
Swoje zapiski, notatki, kartki, zeszyty gubię i odnajduję po czasie. Z perspektywy wszystko wygląda nieco inaczej. Zyski i straty. Czasem pojawiają się odkrycia warte zatrzymania i ponownego odczytania. Bywa, że nie moje. Zapożyczam teksty by wprowadzić je w szerszy obieg: "Nicość jest wszystkim czego niema, a wszystko co istnieje jest nicością. Nicość można porównać do wiru, wciągającego bez ustanku"8.
Od kilkunastu lat mieszkam przy 788 kilometrze Wisły, w miejscowości Kozielec. Siedem kilometrów od drogi szybkiego ruchu, 25 kilometrów od Bydgoszczy, 51 kilometrów od Torunia, 126 od Gdańska, 217 km od Warszawy, 400 km od Berlina, 1029 km od Kijowa. Moje obserwacje prowadzę z dystansu, z perspektywy, która zmienia wielkość i ciężar krajobrazu. Z oddalenia wszystko wygląda inaczej i inaczej wybrzmiewa. Zmieniają się priorytety, a obowiązki, skądinąd bardzo przyjemne, pęcznieją. System zależności pozornie się komplikuje.
To mocno wpływa na wszystkie aktywności, również na twórczość. Przestrzeń pozwala przesuwać granice sensu, a czas pozornie zwalnia. Łatwiej dokonuje się przewartościowań, łatwiej się rezygnuje, a zaniechanie jest świadomym wyborem.
Peryferyjność, w której funkcjonuję może pozornie utrudniać aktywny udział w życiu, sprawiać wrażenie omijania przez główny nurt zdarzeń. Ale jedyne co mnie mija i na co nie mam wpływu to rzeka, na którą patrzę każdego dnia. Płynie szerokim korytem zagarniając niekiedy przybrzeżne łąki, a innym razem, przy niskim poziomie wody, odkrywając piaszczyste łachy i dno. Za rzeką rozległy widok na pola i lasy wieńczy uniesiona, dzięki łagodnym wzgórzom, linia horyzontu. Z prawej pieje kogut, z lewej rozciąga się uprawa winorośli poprzecinana śliwami, jabłoniami i orzechami włoskimi. Całość sklepiona ogromem niebieskości.
Bardzo dobre miejsce, którym warto się dzielić.
Tekst powstał we współpracy z Anną Ciabach (2020).
1Zdjęcie: Elżbieta Jabłońska, Pomaganie, 2004, peroformance, video. Dzięki uprzejmości artystki.
2Elżbieta Jabłońska, Kuchnia, 2003, performance, wystawa "Biały Mazur", Neuer Berliner Kunstverein, Berlin, zob.https://www.youtube.com/watch?v=4MIzoOzlek0.
3Elżbieta Jabłońska, Ćwiczenia z zaniechania, 2014, akcja, Festiwal Artloop "Relaks i rekreacja", Sopot, zob. https://www.youtube.com/watch?v=LIReIYXa_qw. Dzięki uprzejmości artystki.
4Zdjęcie: Elżbieta Jabłońska, Nieużytki sztuki, 2014, akcje w przestrzeni publicznej, różne lokalizacje. Dzięki uprzejmości artystki.
5Zdjęcie: Elżbieta Jabłońska,  Nowe Życie, od 2010, neon, video. Dzięki uprzejmości artystki.
6Zdjęcie: Elżbieta Jabłońska, Czy twój umysł jest pełen dobroci?, 2007, performance, neon. Dzięki uprzejmości artystki.
7Zdjęcie: Elżbieta Jabłońska, Tam już nic nie ma, 2014, instalacja. Dzięki uprzejmości artystki.
8Cytat pochodzi z notatnika syna artystki – Antoniego – wówczas kilkuletniego. Notatnik z lat 2004 – 2005.