Klára Bočkayová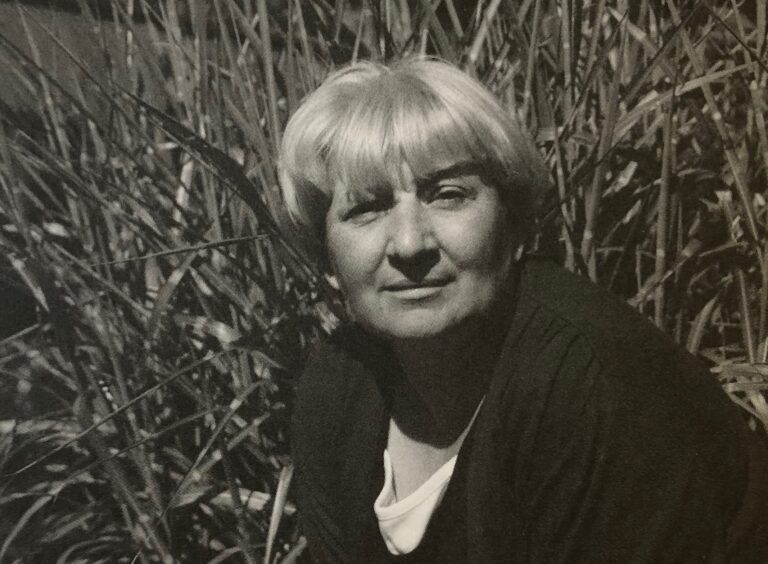 – born in 1948 in Martin. She is a Slovak visual artist, actively working with overlaps of painting and drawing. After graduating from the Secondary School of Applied Arts (1963—1967), she continued her painting studies at the Academy of Fine Arts in Bratislava (1967–1973), simultaneously she entered the unofficial art scene. Already in the 70's she was characterized by using the principles of textual or visual citation, which together with the integration of everyday materials created the basis for the development of her own technique, the so-called phase frottage. Many of her ironic works combine references to banal folk culture with elements of a typically feminine environment, foreshadowed several aspects of local, feminist-oriented art. In addition to the concentrated refinement of her own work, Klára Bočkayová was also an active member of the art group A — R (Avance — Retard; formally founded in 1991), and a teacher at the Jozef Vydra School of Applied Art in Bratislava (1995-2005).

Portrait photo: Jana Geržová, Interviews on Painting: A View of Slovak Painting through Oral History, Bratislava 2009, p. 150 (photo by Marcel Bočkay).
During the last year of the school, I stopped to paint completely because I decided to do my master thesis in the ceramics department to avoid ideological painting. In the 1970s, there was a strict demand to paint in the spirit of socialist realism again, and only disgusting, politically engaged themes were listed. Then, when I found myself out of school, I was lost. Every student experience the same shock of feeling like she/he has become homeless. That's when I started thinking about what I was going to do. I created several temporary pictures, but then I came home for the holidays and from my relative I inherited embroideries, so – called "kuchárky" (textile embroidery that used to hangg on the wall in the kitchen). There weren't many of them, about twelve, and they immediately interested me. We didn't have anything like that at home and their nativity had a special charm. Milan advised me to make frottage, as I did at school, and I caught on to this technique. The whole painting was a research, it was an experiment what can be done from such a template12. When our son was born, I continued as soon as I could. It seemed to me that ideally, I should continue with the drawings. The drawing suited me because it could be done in two hours while the boy was asleep3.
During the holidays, I always did a larger series of works because grandmothers were willing to help with my son. First worked with a thin canvas, I frottaged one motif then I painted it, this is the first series of works. Then I started experimenting with each motif by multiplying it45. In 1986, I was invited from Kostelec nad Černými lesy to take part in an exhibition with a topic – A4 format. This kind of format was problematic, because the embroidery always has a certain format, let´s say 60 x 80 cm and the figures on them as well. The question was how I transfer it in A4 format. Once I put an A4 paper on a table, I took the graphite and draw with it over the paper, which moved gently. This is how the drawing started to move. It was like when you just start singing a certain melody, and suddenly you find out it's a song. I realized it was a procedure, and I started to make it in a large format.
I realized that when the paper can move, so can the canvas, but it cannot be stretched in the classic way, it must be back to front so that it can be laid on the surface. This was a great discovery for me, and at first, I couldn't even name what it was. For example, head: when I pulled from top to bottom, it was stretched in height, when I pulled from one side to the other, it was stretched in width. The original small drawing grows with movement. It's still the little head, but suddenly it looks awfully big, but it couldn't get out of its dimension, not without moving. It's the only thing it reached out to, and at the same time it looks like it's always been so big. The result is therefore an anamorphous record of movement6
Coming to Bratislava was a kind of emigration for me. I had to start from scratch. I felt like someone who had left a certain limiting environment. On the other hand, I didn't feel like I had to break into the world of men. This never seemed relevant to me, because I knew there are women who had already broken through. I decided to paint, it seemed completely natural to me, and no one discouraged me from doing so. On the contrary, my husband always helps me with some advice, or tell me, when I did something well. We are not an obstacle to each other; our relationship has never been like that. Maybe it's because each of us did something completely different, and we saw our opposite in each other. I have never felt oppressed by the masculine world. Of course, I also had to hold out that my husband was in a work and after the work he went to the studio where he was painting, because he would simply not fit into our one-room apartment. However, this is a coincidence that we did not own a house at that time, where we would have set up a studio. It just came out that way.
What was the collaboration with art institutions like? There was none before November 1989. Anyone who did not respond to calls to display politically engaged topics, or to the orders of normalizers to participate in mandatory celebratory exhibitions, could not even exhibit anywhere. Let's just say it's a thing of the past. After the revolution, the institutions were reorganized, rebuilt, updated, their bosses changed. As we know, it always depends on the individuals. Again, and again. As far as politics is concerned, it cannot be considered as something certain. We constantly observe its misuse for personal purposes. And today it is as misguided as in the regime of consolidation, normalization, and extended cooperation with ŠTB [State Security]. I want to look at human destiny, life, and death from angles other than pragmatic. Less greedy goals, more purity of soul, I think this is expected from art. And the artist should expect it from herself.
The text was written in collaboration with Lujza Kotočová (2021).
Lujza Kotočová was born in 1995. She studied art history at Charles University in Prague, and during her studies she also completed a research stay at the University of Hamburg. Her main areas of interest include intellectual influences on artistic production in the period of socialism, institutional frameworks of art criticism and the issue of documentation of ephemeral art. She is currently collaborating on the research project Behind the Artwork. Thinking Art Against the Cold War's Bloc Polarity (principal investigator: Dr. Katalin Cseh-Varga; FWF Austrian Science Fund), while is she externally participating in the activities of the Research Institute of Academy of Fine Arts in Prague and also working in the National Film Archive within the Video Archive section.
1Image: Klára Bočkayová, Rozprávka (I-IV) [Fairy Tale (I-IV)], 1979, frottage on textile, acrylic, 82 x 63 cm, photo personal archive of the artist.
2Image: Klára Bočkayová, Nočná mora [Nightmare], 1978, frottage on textile, 97 x 67 cm, photo personal archive of the artist.
3In this text are used updated and extended older interviews. For the full text see: Jana Geržová, Rozhovory o maľbe: Pohľad na slovenskú maľbu prostredníctvom orálnej histórie, Bratislava 2009, p. 151–166; Vendula Fremlová, Terezie Petišková, Anna Vartecká (eds.), Grey Gold: české a slovenské umělkyně 65 +, Brno 2014, p. 169—176.
4Image: Klára Bočkayová, Vydajte mňa, mamička…[Marry me, mommy…], 1981, frottage, pastel, graphite on paper, 58 x 79.5 cm, photo personal archive of the artist.
5Image: Klára Bočkayová, Opona [Curtain], 1984, frottage on paper, 81 x 59 cm, photo personal archive of the artist.
6Image : Klára Bočkayová, Prudký cit II. [Strong Feeling II.], 1988, acrylic, 80 x 90 cm, photo personal archive of the artist.


– sa narodila v roku 1948 v Martine. Je to slovenská výtvarná umelkyňa, aktívne pracujúca s presahmi maľby a kresby. Po absolvovaní Strednej školy umeleckého priemyslu (1963—1967) pokračovala v štúdiu maľby na Vysokej škole výtvarných umení v Bratislave (1967—1973), paralelne s čím postupne vstupovala do diania neoficiálnej výtvarnej scény. Už v 70. rokoch sa pre ňu charakteristickým stalo využívanie princípov textovej či vizuálnej citácie, ktoré spoločne s integráciou materiálov každodennej povahy vytvorilo základ pre rozvinutie jej vlastnej autorskej techniky, tzv. fázovej frotáže. Mnohé z jej ironicky založených diel, kombinujúcich odkazy k banálnej ľudovej kultúre s prvkami typicky ženského prostredia, predznamenávali viaceré aspekty lokálneho, feministicky orientovaného umenia. Okrem sústredeného precizovania vlastnej tvorby sa Klára Bočkayová profilovala tiež ako aktívna členka výtvarnej skupiny A—R (Avance—Retard; formálne založená v roku 1991), či ako pedagogička Školy úžitkového výtvarníctva Jozefa Vydru v Bratislave (1995—2005).

Portrétna fotografia: Jana Geržová, Rozhovory o maľbe: Pohľad na slovenskú maľbu prostredníctvom orálnej histórie, Bratislava 2009, s. 150 (Autor fotografie Marcel Bočkay).
Keď som končila školu, posledný rok som celkom prestala maľovať, lebo diplomovú prácu som sa rozhodla robiť na oddelení keramiky, aby som sa vyhla ideologickej maľbe. V 70. rokoch bola striktná požiadavka, aby sa opäť maľovalo v duchu socialistického realizmu a boli vypísané samé nechutné, angažované témy. Potom, keď som sa ocitla mimo školy, zostala som v lufte. Každý študent zažije ten šok, keď má pocit, akoby sa stal bezdomovcom. Vtedy som začala rozmýšľať o tom, čo idem robiť. Vzniklo niekoľko prechodných obrázkov, ale potom som prišla na prázdniny domov a príbuzná nám odkázala medziiným aj výšivky, tzv. "kuchárky". Nebolo ich veľa, približne dvanásť, a hneď ma oslovili. My sme nič podobné doma nemali a tá naivná poloha mala v sebe zvláštne čaro. Milan mi poradil, aby som ich frotovala, tak ako som to urobila už v škole, a ja som sa tejto techniky chytila. Celé maľovanie malo podobu výskumu, bolo to overovnie, čo všetko sa dá z takejto predlohy urobiť12. Keď sa nám narodil syn, pokračovala som hneď, ako to šlo. Zdalo sa mi, že ideálne bude pokračovať kresbami. Kresba mi vyhovovala, lebo sa dala urobiť za dve hodinky, pokiaľ chlapec spal3.
Cez prázdniny som vždy urobila väčšiu sériu prác, pretože babičky boli ochotné pomôcť. Najprv som robila veci na tenučkom plátne, nafrotážovala som si jeden motív, ktorý som pomaľovala, to je prvá séria vecí. Potom som začala experimentovať s jednotlivým motívom tak, že som ho zmnožovala45. V roku 1986 ma z Kostelca nad Černými lesy vyzvali zúčasniť sa na výstave s témou formát A4. Tento formát bol problém, lebo výšivky majú vždy istý formát, povedzme 60 x 80 cm a figúry na nich tiež. Otázka bola, ako to dostanem na formát A4. Raz som si položila A4, zobrala som grafit, prešla som ním po papieri, ktorý sa jemne pohyboval. Takto sa mi kresba začala hýbať. Bolo to, ako keď si začneš len tak spievať istú melódiu, a zrazu zistíš, že to je pesnička. Uvedomila som si, že je to postup, a začala som ho robiť vo veľkom formáte.
Uvedomila som si, že keď sa môže hýbať papier, môže sa hýbať aj plátno, ale nemôže byť napnuté klasickým spôsobom, musí byť naopak, aby sa dalo položiť na podklad. Keď mi to prvýkrát vyšlo, bol to pre mňa veľký objav a v prvom okamihu som ani nevedela pomenovať, čo to vlastne vzniklo. Dajme tomu hlavička: keď som potiahla z hora dolu, bola natiahnutá do výšky, keď som potiahla z jednej strany na druhú, bola natiahnutá do šírky. Pôvodná malá kresba rastie pohybom. Stále je to tá malá hlavička, a zrazu pôsobí ako strašne veľká, ale ona nemohla vyjsť zo svojej dimenzie, nemohla bez pohybu. Jedine ním sa natiahla a pritom to pôsobí tak, ako keby to odjakživa bolo také veľké. Výsledok je teda anamorfózny záznam pohybu6.
Pre mňa bol príchod do Bratislavy istým druhom emigrácie. Musela som začať od nuly. Pripadala som si ako niekto, kto odišiel z istého limitujúceho prostredia. Na druhej strane, nemala som pocit, že musím preraziť vo svete mužov. To sa mi nikdy nezdalo aktuálne, pretože som vedela, že sú ženy, ktoré dávno prerazili. Ja som sa rozhodla, že sa budem venovať maľovaniu, pripadalo mi to úplne prirodzené, a nikto ma od toho neodrádzal. Naopak, muž mi vždy pomôže nejakou radou, alebo mi povie, toto sa ti podarilo. Náš vzťah nikdy nebol taký, aby sme si boli navzájom na prekážku. Možno je to aj tým, že každý z nás robil niečo celkom iné, a v tom druhom sme videli svoj protiklad. Nikdy som nemala pocit utláčania maskulínnym svetom. Samozrejme, musela som prežiť aj to, že muž bol v robote a po robote v ateliéri, kde si maľoval, lebo do jednoizbového bytu by sa jednoducho nezmestil. To je však zasa zhoda okolností, že sme v tom čase nemali rodinný dom, kde by sme si boli spravili ateliér. Jednoducho to tak vyšlo.
Aká bola spolupráca s umeleckými inštitúciami? Pred novembrom 1989 žiadna. Kto nereagoval na výzvy zobrazovať angažované témy, ani na povely normalizátorov zúčastňovať sa povinných oslavných výstav, ten potom ani nesmel nikde vystavovať. Povedzme si, je to už minulosť. Po revolúcii sa inštitúcie siahodlho reorganizovali, prestavovali, aktualizovali, menili sa ich šéfovia. Ako vieme, vždy záleží na jednotlivcoch. Zas a znova. Čo sa týka politiky, nemožno s ňou rátať ako s istotou. Neustále pozorujeme jej zneužívanie na osobné ciele. A dnes je to scestné práve tak, ako v režime konsolidácie, normalizácie a rozšírenej spolupráce ŠTB. Chcem sa dívať na ľudský osud, život a smrť z iných uhlov než pragmatických. Menej zištných cieľov, viac čistoty duše, to sa myslím očakáva od umenia. A má to očakávať umelec od seba samého.
Text bol napísaný v spolupráci s Lujzou Kotočovou (2021).
Lujza Kotočová sa narodila v roku 1995. Vyštudovala dejiny umenia na Univerzite Karlovej v Prahe, v priebehu štúdia tiež absolvovala bádateľský pobyt na Universität Hamburg. K hlavným oblastiam jej záujmu patria intelektuálne vplyvy na umeleckú produkciu v období socializmu, inštitucionálne rámce výtvarnej kritiky a problematika dokumentácie efemérneho umenia. V súčasnosti spolupracuje na výskumnom projekte Behind the Artwork. Thinking Art Against the Cold War's Bloc Polarity (hlavná riešiteľka: Dr. Katalin Cseh-Varga; FWF Austrian Science Fund), externe sa podieľa na aktivitách Vědecko-výzkumného pracoviště AVU a zároveň pôsobí v Národním filmovém archivu v rámci sekcie Videoarchiv.
1Obrázok: Klára Bočkayová, Rozprávka (I-IV), 1979, frotáž na textile, akryl, 82 x 63 cm, foto osobný archív umelkyne.
2Obrázok: Klára Bočkayová, Nočná mora, 1978, frotáž na textile, 97 x 67 cm, foto osobný archív umelkyne.
3Text vznikol aktualizáciou a rozšírením starších rozhovorov. Pre plné znenie viď: Jana Geržová, Rozhovory o maľbe: Pohľad na slovenskú maľbu prostredníctvom orálnej histórie, Bratislava 2009, s. 151–166; Vendula Fremlová, Terezie Petišková, Anna Vartecká (eds.), Grey Gold: české a slovenské umělkyně 65 +, Brno 2014, s. 169—176.
4Obrázok: Klára Bočkayová, Vydajte mňa, mamička…, 1981, frotáž, pastel, grafit na papieri, 58 x 79,5 cm, foto osobný archív umelkyne.
5Obrázok: Klára Bočkayová, Opona, 1984, frotáž na papieri, 81 x 59 cm, foto osobný archív umelkyne.
6Obrázok: Klára Bočkayová, Prudký cit II., 1988, akryl, 80 x 90 cm, foto osobný archív umelkyne.