Daniela Krajčová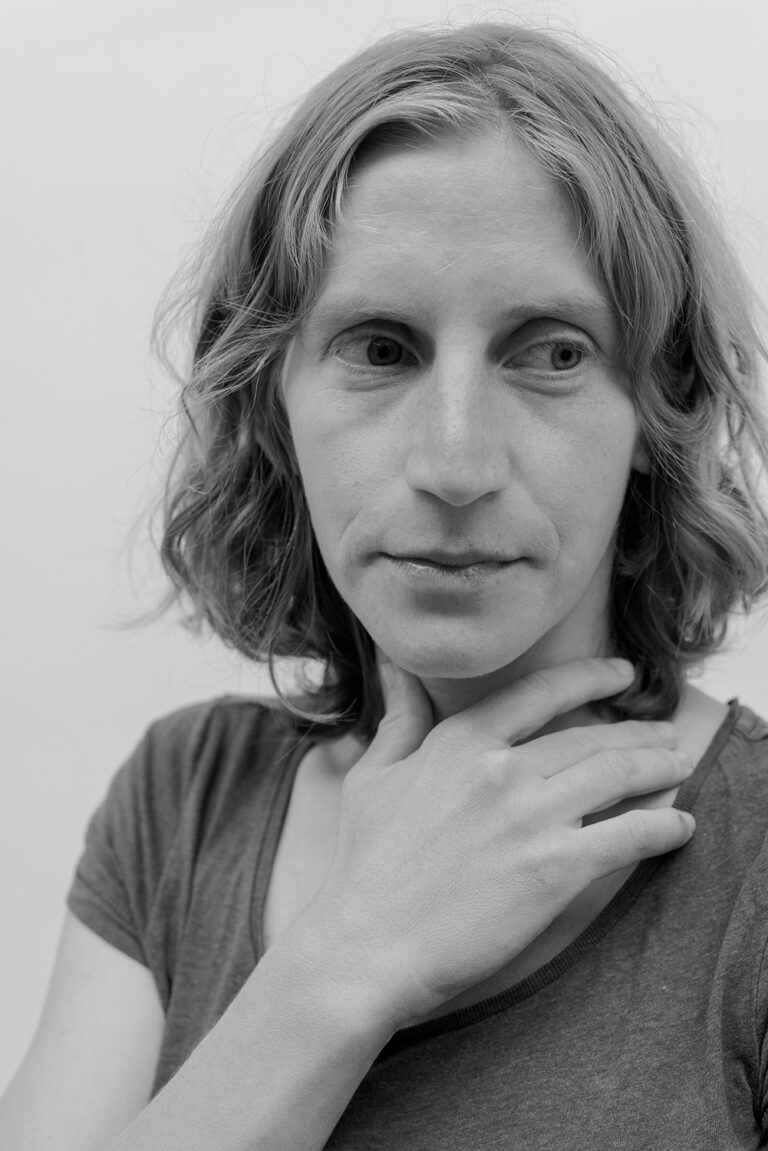 – born in 1983, Žilina. She graduated from the Academy of Fine Arts and Design in Bratislava (Department of Intermedia and Multimedia, Studio of Spatial Communications) in 2008 and from the animated film at the Academy of Performing Arts in Bratislava in 2010. In 2014 she finnished her doctoral studies at the Academy of Fine Arts and Design, Department of Intermedia and Multimedia. In her work she has devoted herself in the long term to painting, drawing, animation, animated film and participatory activities focused mainly on minorities or discriminated groups of the population. The author chooses problematic or controversial topics and relates them to the study of social, human-legal consequences or personal stories, which are often the "product" of historical facts. Daniela's works are based on both reflexive and sensitive observation of people and their environment, on the method of animation not only in the sense of artistic realization, but also in terms of mobilization of activity and integration of minority groups into the society. In 2016, she was a finalist of the Oskár Čepan Award. Her exhibitions was held in Slovakia at the Kunsthalle Bratislava (Fear of the Unknown, 2016; And is she here again ?, 2016), in Transit (Committed to Change, 2014), in Slovak National Gallery (Paradise Hunters, 2012) and also abroad (Prague Biennial, 2013; Venice Biennale of Architecture, 2012, in Budapest, France, Slovenia, Estonia, Albania, etc.) In 2019 she introduced the Map of Friendship project, created with refugees, at the Altán Klamovka Gallery in Prague and the Kabinet T Gallery in Zlín. In 2020, she won the Oskár Čepan Award.
In my work I am dealing with issues of otherness, social exclusion, and the reasons that lead to this exclusion. Within my work I am trying to encourage reflection on topics such as: the division of society into certain groups, minorities, coexistence and tolerance of diversity, as well as different cultures and other ways of life1. The topic of motherhood is also important to me, specifically in pointing out the negative aspects of motherhood and the consequences of social isolation. When processing these topics, I see as an important matter to connect the content with the artistic design, form – emphasis on craftsmanship, the connection of new media with classical media (drawing, painting). I am carrying out my artistic research through various everyday activities such as: personal meeting, conversation, shared experience2, walk3, staying in a foreign environment, coping with otherness, looking for an opportunity for a conversation4, joint activity or workshop56.
As a mother, I am currently taking care of my 3 small children. I am satisfied, but I am constantly trying to find time for myself and my work, I definitely have less time than I would like to. At the same time, I think the children will not let me lose myself in my work, they force me to live a normal life, which may give me a distance from my work7. The position of a woman is much more vulnerable during the care of young children, it is a very difficult period when a woman can easily get trapped in the social isolation, as she depends on the help of others. I spend most of the day as a mother with the invisible work (caring for my children). This condition influences the way I work, the topics I deal with, but also the form, which is simpler – I used to do time-consuming hand-drawn animations, now I focus more on drawings8. Childcare also includes walks with them – for now these walks have become my working method. I believe that it is constantly necessary to describe the world from a woman's point of view, a woman's experience, because their experience is different. Women are more fundamentally affected by the role of motherhood, no matter how they deal with it, whether or not they have children. In the past, I also worked on projects with women, for example in the work To Vienna (2012), where I compare the experience of female senior caregivers in Austria to the work of masons who in 19th century traveled from Slovakia to work in Hungary or Austria9. Also, in the work Visit of Elena and Natasha (2013), I processed an interview of my mother with 2 other older women in our family, when my mother asked them why no one told her that her grandfather was a Jew10. Similarly, in the work Self-Subsistent Ration (2015), I used an interview with my grandmother, where she mentions her personal experience with collectivization of the rural countryside11.
The second level of my work consists of topics that go beyond the personal dimension, and could be applied to other people. In my work, I have so far processed the history (the period of the Second World War, the Holocaust, but also the period shortly after the war) mainly from the point of view of coexistence / exclusion of certain groups of the population (Jews, Roma)12. My country is affected by a long period of socialism, which is reflected in people's unapproachableness, distrust of other cultures, and racism. In the past, other cultures have lived in Slovakia in harmony, which was disrupted during the Second World War, so I am interested in this period as well. I see the importance of art in drawing attention to sensitive topics, in sharing personal experience, retelling or artistic processing of personal or shared experience.

Among the works that most express my work are:
• Slovak for asylum seekers, 2010 13 – participatory project with refugees in a camp in Rohovce14.
• Caravan project, since 2013 15 – a joint participatory project with Oto Hudec, in which children from Roma communities in Slovakia create short animated videos based on their own stories16.
• Destroyed Photos, 2015 17 – a redrawn narration of the photographer about his lost photographs from the period of the Second World War in Banská Štiavnica18.
• Shared Threads, 2020 19 – Mothers' shared experiences from Internet forums hanging on sheets on bed sheets referring to clotheslines. Performance refers to the work of housewives20.
The text was written in collaboration with Denisa Tomková (2020).
1See: http://www.krajcovadaniela.com/0506_straka.html
2See: http://www.krajcovadaniela.com/13_visit.html
3See: http://www.krajcovadaniela.com/13_manual_com.html
4Image: Daniela Krajčová, Maps of friendships, 2019, photo from author´s archive. Courtesy of the artist.
5Image: Daniela Krajčová, Anonym, 2020, photo from author´s archive. Courtesy of the artist.
6See: http://www.krajcovadaniela.com/12_pricina.html
7See: http://www.krajcovadaniela.com/12_pricina.html
8Image: Daniela Krajčová, Playsights, 2020, photo from author´s archive. Courtesy of the artist.
9See: http://www.krajcovadaniela.com/13_visit.html
10See: http://www.krajcovadaniela.com/13_visit.html
11See: http://www.krajcovadaniela.com/15_samo.html
12See: http://www.krajcovadaniela.com/15_foto.html

13Image: Daniela Krajčová, Slovak for Asylum Seekers, 2010, photo author's archive. Courtesy of the artist.
14See: http://www.krajcovadaniela.com/10_slovencina.html
15Image: Daniela Krajčová, Oto Hudec, Project Caravan, 2019, photo archive of authors. Courtesy of the artist.
16See: https://www.projektkaravan.sk/
17Image: Daniela Krajčová, Destroyed Photographs, 2015, photo Juraj Bartoš. Courtesy of the artist.
18See: http://www.krajcovadaniela.com/15_foto.html
19Image: Daniela Krajčová, Shared threads, 2020, photo author´s archive. Courtesy of the artist.
20See: https://www.youtube.com/watch?v=FsR6T1jUm9c
– sa narodila v roku 1983, Žilina. V roku 2008 vyštudovala VŠVU (Katedra intermédií a multimédií, Ateliér priestorových komunikácií) a v roku 2010 animovaný film na VŠMU v Bratislave. V roku 2014 ukončila doktorandské štúdium na VŠVU, na Katedra intermédií a multimédií. V tvorbe sa dlhodobo venuje maľbe, kresbe, animácií, animovanému filmu a participačným aktivitám zameraným najmä na minoritné či diskriminované skupiny obyvateľstva. Autorka si vyberá problematické či kontroverzné témy a vzťahuje ich k skúmaniu sociálnych, ľudsko-právnych dôsledkov, osobných príbehov, ktoré sú neraz "produktom" historických skutočností. Danieline práce sú založené na reflexívnom a citlivom pozorovaní ľudí a okolia, na metóde animácie nielen vo význame výtvarnej realizácie, ale aj v zmysle aktivizácie k činnosti, živej integrácie minoritných skupín do spoločnosti. V roku 2016 bola finalistkou Ceny Oskara Čepana. Vystavovala na výstavách na Slovensku v Kunsthalle Bratislava (Strach z neznámeho, 2016; A je tu zas?, 2016), v Tranzite (Committed to Change, 2014), v SNG (Paradise Hunters, 2012) a v zahraničí (Pražské bienále, 2013; Bienale architektúry Benátky, 2012; v Budapešti, Francúzsku, Slovinsku, Estónsku, Albánsku, ai.) V roku 2019 prezentovala projekt Mapy priateľstva, vytvorený s utečencami, v galérií Altám Klamovka v Prahe a v galérií Kabinet T v Zlíne. V roku 2020 sa stala laureátkou Ceny Oskara Čepana.


Vo svojej tvorbe sa venujem otázkam inakosti, sociálnej vylúčenosti, a dôvodom ktoré vedú k tejto vylúčenosti. Svojimi prácami sa snažím nabádať na reflexiu na témy ako: rozdelenie spoločnosti do určitých skupín, minority, vzájomné spolužitie a tolerancia rozdielnosti, ako aj rozličné kultúry a iné spôsoby života1. Dôležitou je tiež pre mňa téma materstva, konkrétne poukazovanie na negatívne stránky materstva a následky sociálnej izolácie. Pri spracovaní týchto tém je pre mňa dôležité prepojenie obsahu s výtvarným prevedením, formou- dôraz na rukodielnosť, prepojenie nových médií s klasickými médiami (kresba, maľba). Svoj umelecký výskum realizujem skrz rôzne každodenné aktivity ako: osobné stretnutie, rozhovor, zdieľaná skúsenosť, spoločný zážitok2, prechádzka3, pobyt na určitý čas v cudzom prostredí, vyrovnávanie sa s inakosťou, hľadanie príležitosti na rozhovor4, spoločná aktivita, alebo workshop56.
Ako matka, sa momentálne sa starám o svoje 3 malé deti. Som spokojná, ale neustále sa snažím nájsť si čas aj pre seba a svoju tvorbu, určite ho mám menej ako by som chcela. Zároveň myslím mi deti nedovolia prepadnúť len práci, nútia ma zažívať bežný život, čo mi možno dáva odstup od práce7. Pozícia ženy je v období starostlivosti o malé deti oveľa zraniteľnejšia, je to veľmi náročné obdobie, kedy sa žena ľahko môže dostať do sociálne izolácie, závislosti na pomoci iných. Neviditeľná práca, ktorou ako matka trávim väčšinu dňa, (starostlivosťou o moje deti), ma ovplyvnila v spôsobe práce, v témach, ktorým sa venujem, ale aj prevedení, v jednoduchšej forme- predtým som robila časovo náročné ručne kreslené animácie, teraz skôr už len kresby8. Starostlivosť o deti zahŕňa aj prechádzky s nimi- tie sa stali mojou pracovnou metódou. Verím, že je neustále nutné opisovať svet zo ženského pohľadu, ženskej skúsenosti, pretože ich skúsenosť je odlišná. Ženy zásadnejšie ovplyvňuje rola materstva, nech sa s ním vysporiadajú akokoľvek, či už majú alebo nemajú deti. V minulosti som spracovala projekty aj so ženami napríklad v práci Do Viedne (2012), kde prirovnávam skúsenosti opatrovateliek seniorov v Rakúsku k práci murárov v minulosti, ktorí chodili zo Slovenska za prácou do Maďarska a Rakúska9. Rovnako, v práci Návšteva u Eleny a Nataši (2013) som spracovala rozhovor mojej mamy s ďalšími 2 staršími ženami v našej rodine, kde sa ich moja mama pýtala, prečo jej bolo zamlčané, že jej starý otec bol Žid10. Podobne, v práci Samozásobovacia jednotka (2015), som použila rozhovor s svojou starou mamou, kde spomína svoju osobnú skúsenosť s kolektivizáciou11.
Druhou rovinou mojej práce sú témy, ktoré presahujú osobný rozmer, vzťahujú sa na iných ľudí. V mojej práci som doposiaľ spracovávala históriu (obdobie druhej svetovej vojny, holokaust, ale aj obdobie krátko po vojne) hlavne z pohľadu spoločného súžitia/ vyčlenenia istých skupín obyvateľstva (Židia, Rómovia)12. Slovensko je ovplyvnené dlhým obdobím socializmu, čo sa odráža na uzavretosti ľudí, nedôvere voči iným kultúram, a rasizme. Zároveň tu v minulosti žili iné kultúry v zhode, ktorá sa počas druhej svetovej vojny narušila, preto ma toto obdobie zaujíma. Význam umenia vidím v upozorňovaní na citlivé témy, v zdieľaní osobnej skúsenosti, prerozprávaní či výtvarnom spracovaní osobnej alebo zdieľanej skúsenosti.

Medzi práce, ktoré najviac vyjadrujú moju tvorbu patria:
• Slovenčina pre žiadateľov o azyl, 2010 13 – participatívny projekt s utečencami v tábore v Rohovciach14.
• Projekt Karavan, od 2013 15 – spoločný participatívny projekt s Otom Hudecom, v ktorom deti z rómskych komunít na Slovensku vytvárajú krátke animované videá na základe vlastných príbehov16.
• Zničené fotografie, 201517 – prekreslené rozprávanie fotografa o jeho stratených fotografiách z obdobia druhej svetovej vojny v Banskej Štiavnici18.
• Zdieľané nite, 202019 – zdieľané skúsenosti matiek z internetových fór rozvešiavané na kresbách na posteľných plachtách odkazujúce na šnúry na prádlo. Performance odkazuje na prácu žien v domácnosti20.
Text bol napísaný v spolupráci s Denisou Tomkovou (2020).
1Viď: http://www.krajcovadaniela.com/0506_straka.html
2Viď: http://www.krajcovadaniela.com/13_visit.html
3Viď: http://www.krajcovadaniela.com/13_manual_com.html
4Obrázok: Daniela Krajčová, Maps of friendships, 2019, archív autorky. S láskavým dovolením umelkyne.
5Obrázok: Daniela Krajčová, Anonym, 2020, archív autorky. S láskavým dovolením umelkyne.
6Viď: http://www.krajcovadaniela.com/12_pricina.html
7
8Obrázok: Daniela Krajčová, Playsights, 2020, archív autorky. S láskavým dovolením umelkyne.
9Viď: http://www.krajcovadaniela.com/13_visit.html
10Viď: http://www.krajcovadaniela.com/13_visit.html
11Viď: http://www.krajcovadaniela.com/15_samo.html
12Viď: http://www.krajcovadaniela.com/15_foto.html

13Obrázok: Daniela Krajčová, Slovenčina pre žiadateľov o azyl, 2010, archív autorky.
14Viď: http://www.krajcovadaniela.com/10_slovencina.html
15Obrázok: Daniela Krajčová, Oto Hudec, Project Caravan, 2019, photo archive of authors. Courtesy of the artist.
16Viď: https://www.projektkaravan.sk/
17Obrázok: Daniela Krajčová, Destroyed Photographs, 2015, photo Juraj Bartoš. Courtesy of the artist. S láskavým dovolením umelkyne.
18Viď: http://www.krajcovadaniela.com/15_foto.html
19Obrázok: Daniela Krajčová, Shared threads, 2020, archív autorky. S láskavým dovolením umelkyne.
20Viď: https://www.youtube.com/watch?v=FsR6T1jUm9c