Anna Mark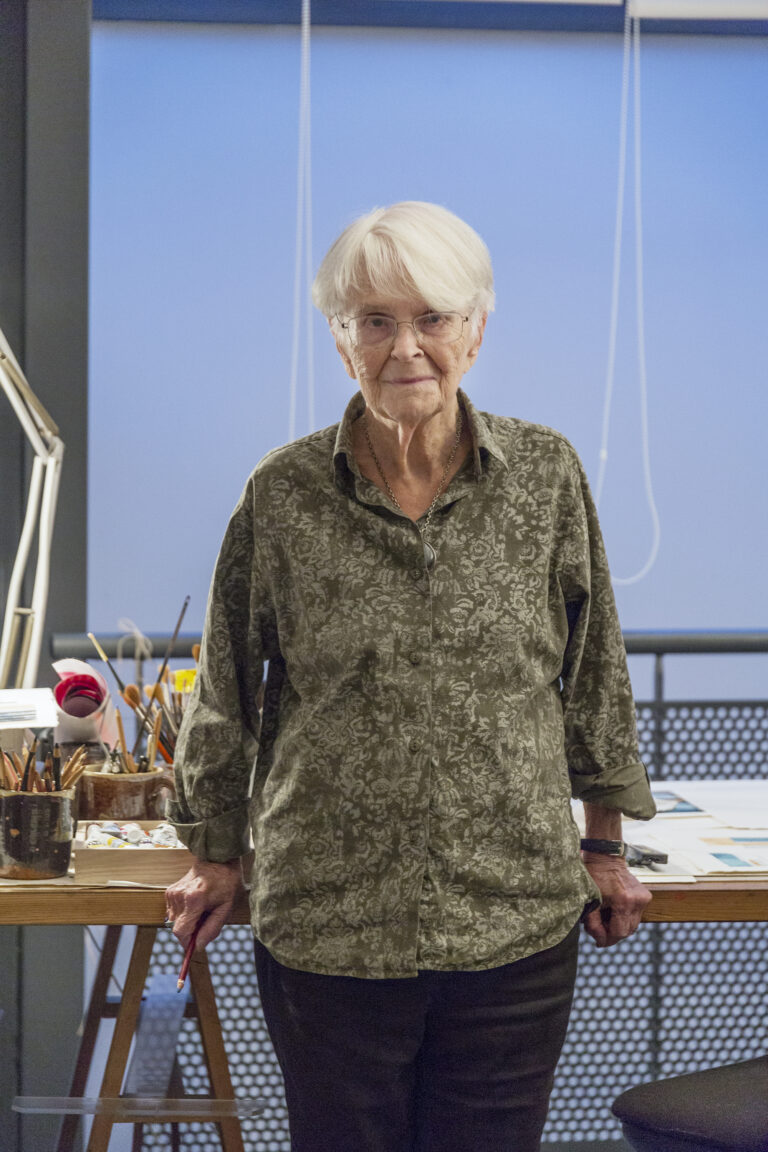 – born in 1928, Budapest. She studied painting at the University of Fine Arts in Budapest between 1946 and 1950. From 1950 until 1955 she worked as a set designer for the Budapest Puppet Theater. During this time, she maintained friendly relations with the artists of the European School, such as Lili Ország, Endre Bálint and Júlia Vajda. After she left Hungary in 1956, she lived in Saarbrücken, Germany, and moved to Paris in 1959, where she has been living and working since then. In her early works, surrealist imagery was the basis of her analysis of the nature and materiality of physical objects. Her interest in architecture manifests itself in her quest for balance between strict construction and emotional content; her oeuvre consists of reliefs, gouaches, ink drawings, aquatints and prints.
From 1950, after my graduation, I worked as a set designer at the Budapest Puppet Theater. At that time the institution was a refuge, there was a sense of freedom which we could not find elsewhere. We started work at seven in the morning, but by three in the afternoon we could go home and work on our art. It was a very positive period for me, many artists gravitated around theater, such as Vera Bródy, Lili Ország and József Jakovits. It was a place where you could breathe. Miklós Mészöly, János Pilinszky and other prominent figures of the Hungarian cultural scene were spending time there as well. When I moved to Paris, Júlia Vajda, Endre Bálint or Dezső Korniss among others, visited me.
In the 1950s I got a book about the art of Picasso from my brother. This was the only Picasso book in town, so it was passed from hand to hand and one could have it for a distinct period of time. It contained mostly black and white reproductions, but there were some colourful images that influenced me as well. That time surrealism had a strong impact on my work, since it was the only accepted world in socialist Hungary, as it has some figurative reminiscences. I created figurative oil paintings, where I could express a lot that intrigued us at that time and this gave freedom. My relative, Stefánia Mándy often held art history gatherings, which I attended with friends. These events brought me close to modern art.
Besides modern art I was interested in folk art and mythology, as were the members of the European School. My love for folk art is reflected in my home and in my works as well. There was a small craft shop in Budapest, on Vörösmarty Square where everyone around me used to go and you could buy things in installments. Many of my weavings, ceramics and objects come from there. To this day I love to look at them, it's the only place in my home where I'm willing to dust relatively often because then I can hold them in my hands.
The wall, key, keyhole, box, window, pillar and boat are recurring motifs in my work. We cannot speak of periods in my art, nor of persons, but rather of personification. Colors and compositions return from time to time, but their significance and position are often redrawn. The box is always present in my pictures, it has a personal content, be it someone, a relative, an acquaintance or a friend. In addition, time is something that has played a big role in my whole life. Space and time are in all my work and are interconnected. I made my first reliefs in the late 1960s in which I experimented with the relationship between black, white and the light. In contrast to monochrome works, the differences in textures capture or block out light, bringing out gray-blacks, deep blacks and pure whites. The surface of these spectacular, sometimes monumental artworks are made of the material developed by me (a mixture of sand, marble dust and resin). That time I was interested in the tangibility of things. I never really wanted to become a sculptor, although nowadays I sometimes regret that I didn't, but it's just an old dream. I've always wanted to be a painter for as long as I can remember. I was also interested in music, but only the love and importance of classical music has stayed with me.
In 1956, after two attempts, I managed to escape from Hungary. We first started at the end of November with my father and my then partner, whom I later married. At night, in pouring rain, we walked through the fields along the Austrian-Hungarian border. I remember that our shoes were getting heavier and heavier because of the layers of mud on them. After a while we realized that it did not make sense to continue our journey as it turned out that we walked a circle and returned to the exact place where we started. So we laid down in a haystack in the pouring rain. I could tell that the border guards would find us because I had lost my gloves. They found us in the morning, but nothing happened. We were not alone, half of Hungary was on the move back then. We were taken back to Budapest, but one week later we started again, that time successfully.
We originally wanted to go to Paris, but got stuck in Germany. We were told that we have to live there for two weeks, and then we can go wherever we want. Two weeks became two years. We lived in a room in a sublet, I had no space to paint, I just drew a lot. After two years we settled in Paris. It is always special when you arrive in an unknown world. It's important and unusual. I have some memories but I cannot decide which one is real. It was a great experience to leave Hungary for sure. It was a dream come true. At the beginning, in Paris, I was just drawing, I had no studio. The first apartment for rent we found was in the north of the city, which needed to be renovated. A ragpicker lady lived there before. My husband and I peeled eighteen layers of wallpaper off the wall. As we peeled back the layers, we could reconstruct the apartment, where the furniture had been kept before. It wasn't easy or quick. What we took down stuck to the ground and we had to start all over again. But we had fun. I was happy that we finally got settled.
After learning the language, I started to visit galleries and got to know some artists. It was a slow process, I moved step by step. I first showed my works at Galerie du Haut Pavé. They only worked with artists under the age of forty, so it was a perfect opportunity for me. Although the great breakthrough was my exhibition at La Roue gallery. It was a small but prestigious gallery where I could exhibit after four years of living in Paris. I received positive reviews in Le Monde, Le Figaro and Quotidien de Paris. In the 1970s, I made my debut in the United States and all my paintings were sold there. Although I hoped I would get them back so I could exhibit them in Paris. I had to start all over again. It seemed terrible at the time, but in the present, one always sees things in an exaggerated way.
Not a day goes by that I don't work, go to the studio and create something new. I wake up, go to the window to check the weather and then I get the paint and the brush and start to work. I can't do it any other way. As long as you can move your hands and head you will do it.
It was never an issue for me to balance between family and work. Once when my son was little, I was drawing next to the window and he came up to me and said: 'This is ugly!' At that moment, I felt that for my son, my work was a kind of competitor, but soon this was also resolved. There are so many artists in Paris that I have never been discriminated against for not being French. One artist more or one less, it didn't matter. In my opinion, to make a distinction between women and men artists is wrong, it just shouldn't happen12345678910.
The statement was written in cooperation with curator Fruzsina Kigyós (2022).
1Image: Anna Mark, H 37, 1975, oil on canvas, 75x116 cm. Photo by Illés Sarkantyú, courtesy of the artist.
2Image: Anna Mark, R 1228,1980, relief, 16x30x30 cm. Photo by Illés Sarkantyú, courtesy of the artist.
3Image: Anna Mark, G 208, 1982, gouache and pencil on screen printed base, 64×50 cm. Photo by Illés Sarkantyú, courtesy of the artist.
4Image: Anna Mark, R 2, 1992, relief, 116x89 cm. Photo by Illés Sarkantyú, courtesy of the artist.
5Image: Anna Mark, R 1200, 1992, relief, 130x97 cm. Photo by Illés Sarkantyú, courtesy of the artist.
6Image: Anna Mark, R 12, 1993, relief, 100x100 cm. Photo by Illés Sarkantyú, courtesy of the artist.
7Image: Anna Mark, G 382,1996, gouache, pencil and chalk on screen printed base, 56x75 cm. Photo by Illés Sarkantyú, courtesy of the artist.
8Image: Anna Mark, G 308, 2013, gouache and pencil on screen printed base, 49×49 cm. Photo by Illés Sarkantyú, courtesy of the artist.
9Image: Anna Mark, G 461, 2019, gouache and chalk on screen printed base, 59,5x60 cm. Photo by Illés Sarkantyú, courtesy of the artist.
10Image: Anna Mark, G 12a, 2020, gouache and pencil on paper, 24x30 cm. Photo by Illés Sarkantyú, courtesy of the artist.
– szül. 1928, Budapest. A budapesti Képzőművészeti Főiskolán tanult festészetet 1946 és 1950 között. 1950-től 1955-ig a Nemzeti Bábszínház díszlettervezőjeként dolgozott. Ez idő alatt baráti kapcsolatot ápolt az Európai Iskola alkotóival, mint például Ország Lilivel, Bálint Endrével, Vajda Júliával. Miután 1956-ban elhagyta Magyarországot, a németországi Saarbrückenben élt, majd 1959-ben Párizsban telepedett le, ahol ma is él és dolgozik. A szürrealista képi világ pályafutása korai szakaszában alapjául szolgált a fizikai tárgyak természetének és anyagiságának folyamatos vizsgálatához. Az építészet iránti érdeklődése a szigorú konstrukció és az érzelmi töltet közötti egyensúlykeresésben nyilvánul meg; munkái reliefekben, gouache-okban, tollrajzokban, aquatintákban és metszetekben bontakozik ki.
Főiskolás éveim után 1950-től az Állami Bábszínházban díszlettervezőként ténykedtem. Akkoriban az intézmény egy menedékhely volt, olyan szabadságot jelentett számunkra, amit máshol nem találtunk meg. Reggel hétkor kezdődött a munka, de délután háromkor már hazamentünk és a művészetünkkel tudtunk foglalkozni. Számomra ez egy nagyon pozitív időszak volt, hisz rengetegen kötődtek ide, többek között Bródy Vera, Ország Lili, Jakovits József. Itt lehetett lélegzethez jutni. Bejárt ide Mészöly Miklós, Pilinszky János és sokan mások. Miután Párizsba költöztem, szép számban el is jöttek hozzám, mint Vajda Júlia, Bálint Endre, Korniss Dezső.
Az 1950-es években bátyámtól kaptam egy Picasso művészetéről szóló könyvet, ez volt az egyetlen Picasso könyv a városban, így kézről kézre járt és be volt osztva, hogy kinél mennyi ideig lehet. Zömében fekete-fehér reprodukció volt benne, de volt egy pár színes oldal, mely hatással volt rám is. Alkotásaimban ekkor a szürrealizmus jegyei igen erősen voltak, mivel ez volt az egyetlen, megengedett világ. Figuratív olajképeket készítettem, melybe sok minden belefért, ami minket abban az időben foglalkoztatott, és ez szabadságot adott. Rokonom, Mándy Stefánia, gyakran tartott művészettörténeti összejöveteleket, ahova én is jártam barátokkal. Ezek az események hoztak engem össze a modern a művészettel.
Ezzel párhuzamosan foglalkoztatott a népművészet és a mitológiai, úgy mint a közelemben lévő Európai Iskola tagjait is. A népművészet szeretete az otthonomban és alkotásaimban is visszaköszön. Budapesten a Vörösmarty téren volt egy pici népművészeti termékeket áruló üzlet, ahova a környezetemből mindenki járt és lehetett részletre is vásárolni. Több szőttesem, kerámiám és tárgyam is onnan származik. A mai napig szeretem őket kézbe venni és nézegetni, ez az egyetlen hely az otthonomban, ahol hajlandó vagyok port törölni aránylag gyakran, mert ilyenkor a kezembe vehetem őket.
Alkotásaimban visszatérnek a fal, kulcs, kulcslyuk, láda, ablak, oszlop és csónak motívumai. Nem beszélhetünk korszakokról a művészetemben, sem személyekről, sokkal inkább megszemélyesítésről. A színek és a kompozíciók időről időre visszaköszönnek, de a fontosságuk és helyzetük rendszerint újra rajzolódik. A láda mindig jelen van a képeimen, személyes tartalmat kap, ez valaki, egy rokon, ismerős, vagy barát. Ezen felül az idő az, ami egész életemben nagy szerepet játszott. Tér és idő jelen vannak, összefüggnek minden műben, amit csinálok. Első reliefjeimet a hatvanas évek végén hoztam létre, ezekben kísérleteztem a fekete, a fehér és a fény kapcsolatával. A monokróm művekkel szemben a textúrák különbségei a fényt megragadva vagy elzárva, a szürke-feketéket, mélyfeketéket és a tiszta fehéreket hozzák ki. E látványos, olykor monumentális művek felületét az általam kikísérletezett anyag (homok, márványpor, műgyanta elegye) adja. Akkor a dolgok megfoghatósága foglalkoztatott. Sosem merült fel bennem, hogy szobrász legyek, bár manapság néha sajnálom, hogy nem lettem az, de ez csak egy öreges vágyálom. Mióta az eszemet tudom mindig is festő akartam lenni. A zene is érdekelt, de csak a komolyzene szeretete, fontossága maradt meg bennem.
1956-ban, kétszeri nekifutással sikerült elmenekültem Magyarországról. Először november végén vágtunk neki apámmal és akkori barátommal, akihez később hozzámentem feleségül. Éjjel, szakadó esőben gyalogoltunk a földeken át az osztrák-magyar határ mentén. Emlékszem, egyre nehezebbek lettek a cipőink, mert súlyos sárréteg tapadt hozzájuk. Egy idő után beláttuk, hogy nincs értelme folytatni az utat, mert kiderült, hogy körbementünk és ugyanoda értünk vissza, ahonnan elindultunk. Így befeküdtünk a szakadó esőben egy szénaboglyába. Tudtam, hogy meg fognak minket találni a határőrök, mert elhagytam a kesztyűmet. Reggelre ránk is leltek, de nem történt semmi baj. Nem voltunk egyedül, fél Magyarország elindult akkor. Visszavittek minket Budapestre, de egy hét után újra nekivágtunk, sikeresen.
Párizsba akartunk menni eredetileg, ám Németországban ragadtunk. Azt mondták, két hétig kell ott élnünk, és aztán mehetünk, ahová akarunk. A két hétből két év lett. Egy albérlet szobájában laktunk, nem volt helyem festeni, csak rajzoltam, nagyon sokat. Majd két év után Párizsban telepedtünk le. Mindig különös, amikor az ember megérkezik egy ismeretlen világba. Fontos, rendhagyó. Őrzök ugyan emlékeket, de már nem tudom eldönteni, melyik valós. Az biztos, hogy nagy élmény volt kijutni. Maga a megvalósult álom. Kezdetben, Párizsban is csak rajzoltam, nem volt műtermem. Először a város északi részén találtunk albérletet, amelyet rendbe kellett hozni. Egy rongyszedő néni lakott ott korábban. Tizennyolc réteg tapétát hámoztunk le a falról a férjemmel. Ahogy szedtük le a rétegeket, rekonstruálni lehetett a lakást, hogy hol, milyen bútort tartottak korábban. Nem volt egyszerű, sem gyors. Amit leszedtünk, odaragadt a földhöz, és újra kellett kezdeni az egészet. De jól éreztük magunkat. Boldog voltam, hogy végre sikerült letelepednünk.
Miután megtanultam a nyelvet, elkezdtem galériákba járni, megismerkedtem néhány művésszel. Lassú folyamat volt ez is, lépésről lépésre haladtam. Először a Galerie du Haut Pavé-ban mutattam be a munkáimat. Csak negyven éven aluli művészekkel foglalkoztak, úgyhogy pont kapóra jött a lehetőség. A nagy áttörést ugyanakkor La Roue nevű galériában rendezett kiállításom jelentette. Kicsi, de nívós galéria volt, ahová körülbelül négy év párizsi lét után kerültem. A Le Monde-tól, a Le Figaro-tól és a Quotidien de Paris-tól is rendkívül pozitív kritikát kaptam. A 70-es években, Amerikában is bemutatkoztam és ott minden képem elkelt.Bár azt reméltem, visszajönnek és Párizsban is kiállíthatom őket. Így kénytelen voltam elölről kezdeni a munkát. Akkor ez borzalmasnak tűnt, de a jelenben az ember mindig felnagyítva látja a dolgokat.
Nincs olyan nap, hogy ne dolgoznék, ne mennék el a műterembe és ne alkotnék újat. Felkelek, odamegyek az ablakhoz, megnézem, milyen idő van, aztán már veszem is a festéket és az ecsetet, nekilátok a munkának. Ezt nem lehet másképp. Amíg az ember mozgatni tudja a kezét és a fejét, addig csinálja.
Sosem okozott gondot a családom és a munkám összeegyeztetése. Mikor a fiam kicsi volt, egyszer az ablaknál rajzoltam, a fiam odajött és azt mondta: "Ez csúnya!" Itt éreztem, hogy a fiam számára a munkám egyfajta vetélytárs volt, de aztán elég hamar a helyére került ez is. Párizsban annyi művész él, hogy sose kaptam megkülönböztetést amiatt, hogy nem vagyok francia. Eggyel több vagy kevesebb már nem számított. És ugyanígy, véleményem szerint, ha különbséget teszünk nő és férfi művészet között az baj, ennek nem kellene megtörténnie12345678910.
A statement a művész és Kigyós Fruzsina kurátor közreműködésében jött létre (2022).
1kép: Anna Mark, H 37, 1975, olaj, vászon, 75x116 cm. Fotó: Sarkantyú Illés, a művész jóvoltából.
2kép: Anna Mark, R 1228,1980, relief, 16x30x30 cm. Fotó: Sarkantyú Illés, a művész jóvoltából.
3kép: Anna Mark, G 208, 1982, gouache, ceruza, szitanyomott alap, 64×50 cm. Fotó: Sarkantyú Illés, a művész jóvoltából.
4kép: Anna Mark, R 2, 1992, relief, 116x89 cm. Fotó: Sarkantyú Illés, a művész jóvoltából.
5kép: Anna Mark, R 1200, 1992, relief, 130x97 cm. Fotó: Sarkantyú Illés, a művész jóvoltából.
6kép: Anna Mark, R 12, 1993, relief, 100x100 cm. Fotó: Sarkantyú Illés, a művész jóvoltából.
7kép: Anna Mark, G 382,1996, gouache, ceruza, kréta, szitanyomott alap, 56x75 cm. Fotó: Sarkantyú Illés, a művész jóvoltából.
8kép: Anna Mark, G 308, 2013, gouache, ceruza, szitanyomott alap, 49×49 cm. Fotó: Sarkantyú Illés, a művész jóvoltából.
9kép: Anna Mark, G 461, 2019, gouache, kréta, szitanyomott alap, 59,5x60 cm. Fotó: Sarkantyú Illés, a művész jóvoltából.
10kép: Anna Mark, G 12a, 2020, gouache, ceruza, papír, 24x30 cm. Fotó: Sarkantyú Illés, a művész jóvoltából.