Anna Łuczak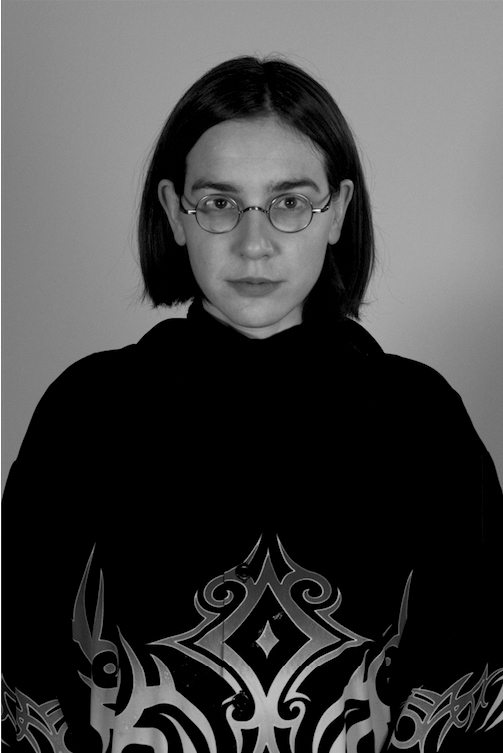 – born 1984, Łódź. Anna is an artist living and working in the Netherlands. She graduated from the Piet Zwart Institute. In 2017-2018 she was a resident of the Jan van Eyck Academy. She creates video-installations, sculptures, performances and functional objects. She is one of the founders of WET Film – a film cooperative that produces, distributes and popularizes video art. Together with Angelica Falkeling she runs Emotional Channel, a lifestyle project about different dimensions of precarity and unequal working relations.

Portrait of the artist by Isabelle Graeff, 2020.
TRANSFORMATION, IDENTITY, WORK
Art has always had a sociological dimension for me. The way the railing on the staircase in the building where I live is decorated speaks of the aspirations, desires and dreams of the people at the time when it was made; about social divisions and the state of knowledge; about religion and the mentality that goes with it. On the other hand, art offers a kind of rapture – a moment captured in a frame.
From my early visits to the museum at Więckowskiego Street in Łódź I remember Daniel Spoerri's table1 Joseph Beuys' Transport to Poland 2 and Alina Szapocznikow's Multiple Portrait3. Objects, quite ordinary things, but hiding a mystery, magic, a record of an experience.
My departure from Poland was to some extent connected with my country's accession to the European Union. Poland and I "entered" the Union at the same time. In 2005, I started my studies in Rotterdam, which provoked many obvious questions. How does language define identity? What disappears in translation? Who is the author? Who am I without a cultural context that defines me? In the video installation Imagine Preference I sought answers to these questions4.
During my studies, my thinking about art and life was greatly influenced by Bernd Krauß5 – an interdisciplinary artist who, during his teaching career at the Piet Zwart Institute, nurtured many generations of artists and significantly shaped the independent art scene in Rotterdam. Jan Verwoert6 also played an important role, often explaining complex philosophical theories with the help of characters from The Muppet Show.
After my studies, I began to face the problem of the precariousness of cultural workers. My work often stems from the casual jobs I do for a living. In 2013, I was employed as a translator for the production of a documentary about Polish seasonal workers in the Netherlands. Much of the material we collected while working on the film was discarded during editing. These rejected fragments became the pretext and starting point for the work Trust Speakers78.
A cultural worker has in some sense the status of a 'guest worker', Kuba Szroeder talks about this in his book "ABC of Design"9. In 2018, together with Angelica Falkeling10 we created the Emotional Channel (EC)11 – a lifestyle project about the different dimensions of precarity and unequal labour relations. Within this project we record podcasts, run an online shop, create exhibitions, performances, clothing collections and porcelain12. We use platforms such as YouTube, Instagram, DaVinci, SoundCloud – similar to the techniques used in marketing by influencers.
The first of our 'collections' was EC sportswear SS18 – running pants made from scraps and leftovers that Angelica had been collecting for many years while working in a knitwear shop13. Then there was the sea fire SS20 T-shirt made from hand-printed fabric14, the EC socks made in Lodz15, and a set of porcelain coffee mugs, the production of which was a form of self-therapy during one of our nervous breakdowns16.
Another EC project was our month-long stay in Iceland, during which we created a series of collages made from food packaging17. The EC logo was designed by Hagen Verlager18. The payment for this 'service' was barter – we paid him for the logo with trousers from our SS18 collection. The project is also accompanied by performances, such as a poetry reading inspired by the Dutch supermarket chain Albert Heijn19. By creating EC with Angelika, we refer to popular culture in its broadest sense, the trends that ubiquitously flood us and the lifestyle we aspire to.
In 2019, we held our group exhibition OC, LA The Car Show20. in an RV that we traveled in with artist Katharina Cameron21 from Los Angeles to Las Vegas22. We installed our exhibition in the driveway of The Venetian hotel as an unofficial, self-proclaimed satellite event of the Venice Biennale taking place at the same time23. We don't create works in spite of our modest economic power, but rather try to let it guide us – keeping in mind an ethic towards the world and towards ourselves. What sculpture will fit in your suitcase when you go to install an exhibition in another city24? This is an important factor when planning the size of a sculpture. Emotional Channel will hold its next exhibition in December 2020. This time it will be a neoliberal milk bar staged in a home gallery run by Olga Hohmann25 in Berlin.
When I left Lodz to study, I never thought I would not return. When in 2014 my brother, Maciej Łuczak, together with Katarzyna Adamczewska started to run the independent art space Pracownia Portretu26, it enabled us to shorten the distance between Rotterdam and Lodz. At Pracownia many Polish as well as international artists had the chance to present their work solo for the first time. The possibility of exchange is the meaning of my departure.
Collaborating with others is critical aspect of my practice. In 2018, together with Erika Roux, Marta Hryniuk, Nick Thomas and Sophie Bates, we founded the WET film co-op27 for the production and distribution of artistic films and videos. On our online platform we showcase a work each month, accompanied by an interview with the filmmaker. Next year we are planning a series of workshops on selected aspects of film production. In October 2020 we ran an experimental workshop for Piet Zwart Institute students, where we tried to create a film by getting rid of hierarchies, reinventing roles and functions on set. My work has been shaped in Rotterdam yet it completely flows from the experience of transition in Poland and the constant life between these two realities.
The text was written in collaboration with Magdalena Adameczek (2020).
1See: https://zasoby.msl.org.pl/arts/view/694
2See: https://zasoby.msl.org.pl/arts/view/157
3See: https://zasoby.msl.org.pl/arts/view/8480
4Image: Anna Łuczak, Imagine Preference, 2013, Tent, Rotterdam, curator Arnisa Zego. Courtesy of the artist. 
5See: http://berndkrauss.blogspot.com/
6See: https://www.frieze.com/tags/jan-verwoert
7Image: Anna Łuczak, Trust Speakers, exhibition, CCA Project Room, 2015, curator Romuald Demidenko, photo Bartosz Górka. Courtesy of the artist and CCA Project Room. 
8See: https://issuu.com/newartcenter/docs/trust_speakers_2015
9See: https://beczmiana.pl/abc-projektariatu-o-nedzy-projektowego-zycia/
10See:  http://cargocollective.com/angelicafalkeling
11See: https://emotionalchannel.hotglue.me
12See: http://www.guestrooms.xyz/bittersweet-reality/
13Image: Emotional Channel, EC pants, SS 2018. Courtesy of the artist.
14Image: Emotional Channel, EC T-shirt, sea fire, SS 2020. Courtesy of the artist.
15Image: Emotional Channel, EC socks, Source: Instagram @va801as.
16Image: Emotional Channel, EC cups, 2020, RET pop-up, photo Angelika Falkeling. Courtesy of the artist.
17See: https://artviewer.org/angelica-falkeling-and-anna-luczak-at-rib/
18See: https://hagenverleger.com/
19Image: Emotional Channel, EC, 2018, Albert Heijn poetry reading, Rib, Rotterdam, photo Nick Thomas. Courtesy of the artist and Rib Rotterdam. 
20See: http://annaluczak.com/project/oc-l-a-the-car-show-kraftfahrzeughaftpflichtversicherung/
21See: https://www.katharinacameron.com/
22Image: Anna Łuczak, OC, 2019, "LA the Car show", Joshua Tree National Park, USA. Courtesy of the artist. 
23See: https://vimeo.com/335614042
24Image: Anna Łuczak, OC, 2019, "LA car show", Red Rock Mountains National Park, USA. Courtesy of the artist.
25See: http://olgahohmann.com/
26See: http://www.pracowniaportretu.com/index.html
27See: http://wetfilm.org/
– urodzona w 1984, Łodź – artystka rezydująca i tworząca w Holandii. Ukończyła Piet Zwart Institute. W latach 2017-2018 stypendystka Jan van Eyck Academy. Tworzy video-instalacje, rzeźby, performance oraz obiekty użytkowe. Jedna z założycielek WET Film –kooperatywy filmowej, która zajmuje się produkcją, dystrybucją i popularyzacją sztuki wideo. Wraz z Angelicą Falkeling prowadzi Emotional Channel – projekt lajfstajlowy o różnych wymiarach prekarności i nierównych stosunkach pracy.

Portret artystki Isabelle Graeff, 2020.
TRANSFORMACJA, TORZSAMOŚĆ, PRACA
Sztuka zawsze miała dla mnie wymiar socjologiczny. To w jaki sposób zdobiona jest poręcz na klatce schodowej w budynku, w którym mieszkam mówi o aspiracjach, pragnieniach i marzeniach ludzi w czasie kiedy powstawał. O podziałach społecznych i stanie wiedzy. O wyznawanej religii i mentalności, która się z nią wiąże. Z drugiej strony sztuka oferuje jednak pewnego rodzaju uniesienie – zatrzymanie w kadrze.
Z wczesnych wizyt w muzeum na Więckowskiego w Łodzi najbardziej zapadł mi w pamięć Stół Daniela Spoerri1, Transport do Polski Josepha Beuysa2, Portret Wielokrotny Aliny Szapocznikow3. Przedmioty, obiekty zupełnie zwykłe, ale kryjące w sobie tajemnicę, magię, zapis przeżycia.
Mój wyjazd z Polski był w jakimś stopniu związany z wejściem mojego kraju do Unii Europejskiej. Polska i ja "weszłyśmy" do Unii w tym samym czasie. W 2005 roku zaczęłam studia w Rotterdamie co sprowokowało mnie do wielu oczywistych pytań. W jaki sposób język określa tożsamość? Co znika w tłumaczeniu? Kto jest autorem? Kim jestem ja sama bez określającego mnie kontekstu kulturowego? W instalacji wideo Imagine Preference szukałam odpowiedzi na te pytania4.
W trakcie studiów ogromny wpływ na moje myślenie o sztuce i życiu miał Bernd Krauß5 – artysta interdyscyplinarny, który podczas swojej pracy dydaktycznej w Piet Zwart Institute wychował wiele pokoleń artystów i w znacznym stopniu wpłynął na kształt niezależnej sceny artystycznej w Rotterdamie. Istotną rolę odegrał również Jan Verwoert6, który często tłumaczy zawiłe teorie filozoficzne przy pomocy postaci z The Muppet Show.
Po studiach zaczęłam mierzyć się z problemem prekarności pracowników kultury. Moje prace często wynikają z wykonywanych przeze mnie dorywczych zajęć zarobkowych. W roku 2013 byłam zatrudniona jako tłumacz przy produkcji filmu dokumentalnego o polskich pracownikach sezonowych w Holandii. Znaczna część materiału zebranego przez nas w trakcie pracy nad filmem została odrzucona przy montażu. Te odrzucone fragmenty stały się pretekstem i punktem wyjścia do pracy Trust Speakers78.
Pracownik kultury ma w jakimś sensie status "gastarbeitera", mówi o tym Kuba Szroeder w książce "ABC Projektariatu"9. W roku 2018 razem z Angelicą Falkeling10 stworzyłyśmy Emotional Channel (EC)11 – lifestylowy projekt o różnych wymiarach prekarności i nierównych stosunkach pracy. W ramach tego projektu nagrywamy podcasty, prowadzimy sklep internetowy, tworzymy wystawy, performance, kolekcje ubrań oraz porcelanę12. Posługujemy się platformami YouTube, Instagram, DaVinci, SoundCloud – na podobieństwo technik używanych w marketingu przez influencerów.
Pierwszą z naszych "kolekcji" było EC sportswear SS18 – spodnie do biegania uszyte ze skrawków i resztek, które Angelica zbierała od wielu lat pracując w sklepie z dzianinami13. Następnie koszulka sea fire SS20 z ręcznie drukowanego przez nas materiału14, skarpetki EC wyprodukowane w Łodzi15 czy zestaw porcelanowych kubeczków do kawy, których produkcja była formą autoterapii podczas załamania nerwowego jednej z nas16.
Innym projektem EC był nasz wspólny, miesięczny pobyt na Islandii, w trakcie którego powstała seria kolaży wykonanych z opakowań po jedzeniu17. Logo EC zaprojektował Hagen Verlager18. Płatność za "usługę" odbyła się na zasadzie handlu wymiennego – za logo zapłaciliśmy mu spodniami z naszej kolekcji SS18. Projektowi towarzyszą też performance, takie jak odczyt poezji zainspirowany siecią holenderskich supermarketów Albert Heijn19. Tworząc EC razem z Angelicą nawiązujemy do szeroko pojętej kultury popularnej, wszechobecnie zalewających nas trendów i aspiracyjnego stylu życia.
W 2019 zorganizowałyśmy wystawę zbiorową OC, LA The Car Show20 w kamperze, którym podróżowałyśmy wraz z artystką Katariną Cameron21 z Los Angeles do Las Vegas22. Zainstalowaliśmy naszą wystawę na podjeździe hotelu The Venetian jako nieoficjalne, samozwańcze wydarzenie satelickie odbywającego się w tym samym czasie Biennale w Wenecji23. Nie tworzymy prac na przekór naszej skromnej siły ekonomicznej, ale raczej staramy się pozwolić jej nas prowadzić – pamiętając o etyce wobec świata i wobec samych siebie. Jaka rzeźba zmieści się do walizki gdy jedziesz instalować wystawę w innym mieście24? Jest to istotny czynnik przy planowaniu wielkości rzeźby. W grudniu 2020 odbędzie się kolejna odsłona Emotional Channel. Tym razem będzie to neoliberalny bar mleczny zainscenizowany w domowej galerii prowadzonej przez Olgę Hohmann25 w Berlinie.
Wyjeżdżając z Łodzi na studia, nigdy nie sądziłam, że już nie wrócę. Gdy w 2014 roku mój brat, Maciej Łuczak, wraz z Katarzyną Adamczewską zaczęli prowadzić niezależną przestrzeń artystyczną Pracownia Portretu26, umożliwiło nam to skrócenie dystansu między Rotterdamem i Łodzią. W Pracowni wielu Polskich jak i międzynarodowych artystów po raz pierwszy miało szansę na solową prezentację prac. Możliwość wymiany stanowi o sensie mojego wyjazdu.
Współpraca z innymi jest dla mnie bardzo ważna. W 2018 roku wraz z Eriką Roux, Martą Hryniuk, Nickiem Thomasem i Sophie Bates założyliśmy kooperatywę filmową WET27 zajmującą się produkcją i dystrybucją artystycznych filmów i wideo. Na naszej platformie online co miesiąc prezentujemy pracę, której towarzyszy wywiad z twórcą. W przyszłym roku planujemy serię warsztatów dotyczących wybranych aspektów produkcji filmowej. W październiku 2020 prowadziliśmy eksperymentalne warsztaty dla studentów Piet Zwart Institute, podczas których próbowaliśmy stworzyć film pozbywając się hierarchii, wymyślając od nowa role i funkcje na planie. Moja twórczość ukształtowana została w Rotterdamie, mimo to jednak całkowicie wypływa z doświadczeń transformacji w Polsce i ciągłego życia pomiędzy tymi dwoma realiami.
Tekst powstał we współpracy z Magdaleną Adameczek (2020).
1Zob. https://zasoby.msl.org.pl/arts/view/694
2Zob. https://zasoby.msl.org.pl/arts/view/157
3Zob. https://zasoby.msl.org.pl/arts/view/8480
4Zdjęcie: Anna Łuczak, Imagine Preference, 2013, Tent, Rotterdam, kuratorka Arnisa Zego. Dzięki uprzejmości artystki.
5Zob. http://berndkrauss.blogspot.com/
6Zob. https://www.frieze.com/tags/jan-verwoert
7Zdjęcie: Anna Łuczak, Trust Speakers, wystawa, CSW Projekt Room, 2015, Kurator Romuald Demidenko, zdj. Bartosz Górka. Dzięki uprzejmości artystki i CSW Projekt Room. 
8Zob. https://issuu.com/newartcenter/docs/trust_speakers_2015
9Zob.https://beczmiana.pl/abc-projektariatu-o-nedzy-projektowego-zycia/
10Zob.  http://cargocollective.com/angelicafalkeling
11Zob. https://emotionalchannel.hotglue.me
12Zob. http://www.guestrooms.xyz/bittersweet-reality/
13Zdjęcie: Emotional Channel, EC pants, SS 2018. Dzięki uprzejmości artystki.
14Zdjęcie: Emotional Channel, EC T-shirt, sea fire, SS 2020. Dzięki uprzejmości artystki.
15Zdjęcie: Emotional Channel, EC socks, Źródło: Instagram @va801as.
16Zdjęcie: Emotional Channel, EC cups, 2020, RET pop-up, zdj. Angelika Falkeling. Dzięki uprzejmości artystki.
17Zob. https://artviewer.org/angelica-falkeling-and-anna-luczak-at-rib/
18Zob. https://hagenverleger.com/
19Zdjęcie: Emotional Channel, EC, 2018, odczyt poezji Albert Heijn, Rib, Rotterdam, zdj. Nick Thomas. Dzięki uprzejmości artystki i Rib Rotterdam.
20Zob. http://annaluczak.com/project/oc-l-a-the-car-show-kraftfahrzeughaftpflichtversicherung/
21Zob. https://www.katharinacameron.com/
22Zdjęcie: Anna Łuczak, OC, 2019, "LA the Car show", Joshua Tree National Park, USA. Dzięki uprzejmości artystki. 
23See: https://vimeo.com/335614042
24Zdjęcie: Anna Łuczak, OC, 2019, "LA car show", Red Rock Mountains National Park, USA. Dzięki uprzejmości artystki.
25Zob. http://olgahohmann.com/
26Zob. http://www.pracowniaportretu.com/index.html
27Zob. http://wetfilm.org/