Roma Hałat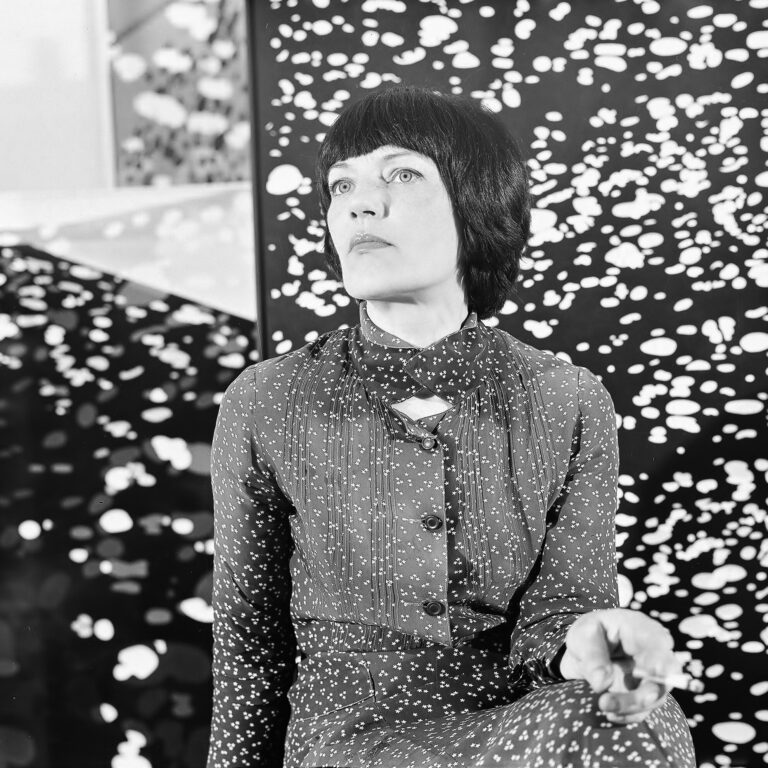 – born in 1937 in Bydgoszcz, died in 2021 in Łódź. She graduated from the State School of Fine Arts in Łódź. She was studying first in Stefan Wagner's and next in Teresa Tyszkiewicz's studios, their art having an important influence on her artistic stance. In 1962 Roma Hałat began teaching at her alma mater. She was appointed Tyszkiewicz's assistant in the Textile Printing Design studio. In the years 1959-1963, she belonged to the literary and art group "Nowa Linia" [New Line]. In 1969 she co-founded the "Konkret" group. From 1985, she collaborated with Galeria 86 in Łódź. In 2007 she received the Silver Medal for Merit to Culture – Gloria Artis.
In the "Konkret" period, the artist created the "roller" paintings, often painted in large formats, directly in the gallery space, or where they were eventually displayed. She covered the canvas with regular, mechanically reproduced patterns. The works were so big that they could not even be taken out of the gallery. The fate of these giants was ephemeral, and they were preserved only in archival photos1.
The starting point for an important chapter in her art was in an inconspicuous leaf with crumbling parched tissue, accidentally found in 1977. The form of the leaf seemed to prove that the structures of even the smallest things in our immediate surroundings may be reminiscences of beings on a macro scale. The first works resulting from this discovery were Landscapes painted in the years 1977–1985. The series consisted of over twenty works. The first of them featured various takes on the elements of the leaf2. These works, as well as the later ones, were painted with acrylic paints on canvas in the universal format of 146×146 cm. They were destroyed by the artist herself, most likely for economic reasons and shortages of artistic materials in that period. In subsequent works, Hałat multiplied irregular shapes similar to circles and ovals, reminiscent of openings and holes in the parched matter3. Starting from the analysis of the surrounding world, she synthesized what was available to the eye and encapsulated it in simple shapes. The canvases seem monochromatic and distant from the variety of forms and colours present in nature. However, on closer inspection, some of the shapes come to light only at a very close distance or when one is looking at the canvas at an appropriate angle.
Inspiration by literature is an important element of Roma Hałat's creative work but also the fascination with the alphabet and writing as graphic elements. In her diaries kept for many years, she wrote down her thoughts, quotes and verses of poetry that were important to her. She often made her works on paper inspired by those notes that she did not create with the intention of publishing. The series of drawings Epitaph for a Poet, dedicated to Stanisław Grochowiak, who died in 1976, was the artist's personal tribute to poetry. The series consists of six works on paper featuring a recurring rose motif4.
In the 1980s, she returned to drawing as her primary form of expression. Drawing made by stacking layers of lines and the multiplication of form is less disciplined than painting. In the series Shadow's Life (1986/1987), the artist registers slight shifts of the shadow cast by a working hand5. These drawings are also a record of the progression of artistic work and a testimony to the passage of time as determined by changes in the angle of light incidence. The image of her hand can be treated as a non-obvious self-portrait of the artist, who was ambidextrous. Throughout history, each hand has been given symbolic meanings, roles, injunctions, and prohibitions. The artist preferred to use her left hand, which she attributed to intuitiveness, independence, and freedom.
Roma Hałat inaugurated her the most recognized series – the Triads in 19856. In her personal notes she described them as follows: "Each work consists of three sides, layers stacked on top of each other, with a beginning, middle, and end. A triad is formed. The cut-out rhythms form an opening through which fragments of the second and third sides appear. Chance has it what will be revealed to us. The Triads' inner layers are always hidden. They are a mystery – like a human being (…)"7.
These reliefs are considered to be a form of integration of concepts and fascinations with various forms of artistic expression, previously dispersed on canvases and diary pages. The later form of the Triads was clearly laid out as a column of the text of a book page. The artist's personal notes, excerpts of her favourite literary works constitute an integral part of the composition. But in some sense, its content is encoded, magically encapsulated in a characteristic handwritten notation, written backwards with the left hand. The written word has become an artistic form, a medium of emotions that encourages communication beyond the purely verbal level.
In 1989, the artist came across reports about prehistoric drawings in the cave of El Castillo in Spain, which contained over a hundred different representations painted with charcoal and red ochre. The subtitle "El Castillo cont.", which she began to give to her selected works from that time on, emphasizes the bond with past generations and the continuity of the need for artistic expression. Numerous motifs and symbols appearing in Roma Hałat's art can be understood not through knowledge, but through intuition and sensitivity shared by all human beings. This discovery confirmed her belief in the existence of continuity of cultures and human history, perhaps that is why she gave this name to the seriesInterpenetration of Time, which she initiated in 19938. These works are also an expression of her fascination with writing and alphabets as visual signs. Their layout resembles a column of text, covered with tiny lines and forms reminiscent of Far Eastern calligraphy, cuneiform writing or cave drawings. The overlapping of cultures, times, and content has been portrayed in a very literal way. Individual forms merge, intersect, and permeate, placing her art itself in the uninterrupted stream of artistic creation, performed by humankind for millennia.
Text was written by Katarzyna Piskorz (2021).
Katarzyna Piskorz – b. 1990. Curator, art historian and author of texts. A graduate of the University of Warsaw, she studied in UK and Denmark. She worked in a variety of art institution in Poland (Zachęta National Gallery of Art), and abroad (incl. Saatchi Gallery and Peggy Guggenheim Collection in Venice). She has been working in the auction market since 2018 – initially at Desa Unicum then as a freelancer she was offering advice and guidance to private art collectors. Creative director at HOS Gallery since 2019.
1Image: The artist at work during the exhibition of art group "Konkret", 1971. Courtesy of artist's family.
2Image: destroyed works from the series "Landscapes", 1977-1980. Photo of the exhibition "Painting and Drawing" featuring works by Roma Hałat at Ośrodek Propagandy Sztuki in Łódź, 1980. Courtesy of artist's family. 
3Image: Roma Hałat, Landscape XX, 1977-1980, acrylic on canvas, 146 x 146 cm (private collection), photo Adam Gut. Courtesy of HOS Gallery.
4Image: Roma Hałat, from the series "An Epitaph for a Poet" (1), 1976, ink, pencil on paper, 82 x 70 cm (private collection), photo: Adam Gut. Courtesy of HOS Gallery.
5Image: Roma Hałat, from the series "Shadow's Life" (5G), 1986, ink on paper, 46 x 59 cm (private collection), photo Adam Gut. Courtesy of HOS Gallery. 
6Image: Roma Hałat, Meditation, from the series "Triads", 2004, acrylic, ink on paper, 100 x 70 cm (private collection), photo Adam Gut. Courtesy of HOS Gallery. 
7Image: The structure of a work from the series "Triads", photo Agata Pązik. Courtesy of artist's family. 
8Image: Roma Hałat, from the series "Interpenetration of Time", 1993, acrylic and ink on paper, 100 x 90 cm (private collection), photo Adam Gut. Courtesy of HOS Gallery.

– urodzona w 1937 w Bydgoszczy, zmarła w 2012 w Łodzi. Ukończyła studia artystyczne w Państwowej Wyższej Szkole Sztuk Plastycznych w Łodzi. Kształciła się w pracowni Stefana Wagnera, następnie Teresy Tyszkiewicz, których twórczość miała istotny wpływ na jej postawę artystyczną. W 1962 rozpoczęła pracę pedagogiczną w macierzystej uczelni. Została mianowana asystentką Tyszkiewicz w pracowni Projektowania Druku na Tkaninie. W latach 1959-1963 należała do ugrupowania literacko-plastycznego "Nowa Linia". Była współzałożycielką grupy "Konkret" (1969). Od 1985 współpracowała z łódzką Galerią 86. W 2007 otrzymała Srebrny Medal "Zasłużony Kulturze Gloria Artis".
W okresie funkcjonowania "Konkretu" artystka tworzyła obrazy przy pomocy wałka malarskiego. Pokrywała płótno regularnym, mechanicznie powielanymi wzorami. Obrazy te, bardzo często ogromnych formatów, malowane były już bezpośrednio w przestrzeni galerii. Gabaryty obrazów nie pozwalały nawet na ich wyniesienie, dlatego los tych olbrzymów był efemeryczny, a ślad po nich zachował się jedynie na zdjęciach archiwalnych1.
Asumptem do rozpoczęcia ważnego rozdziału w twórczości był przypadkowo odnaleziony w 1977 liść o wykruszonej z wysuszenia tkance. Jego forma zdawała się poświadczać, że struktury rzeczy najmniejszych z naszego najbliższego otoczenia mogą być reminiscencją bytów w skali makro. Pierwszymi pracami będącymi efektem wzmiankowanego odkrycia były Pejzaże malowane w latach 1977–1985. Na cykl składało się ponad dwadzieścia prac. Na pierwszych z nich pojawiały się rozmaicie skadrowane fragmenty liścia2. Prace te, podobnie jak i późniejsze, tworzone były farbami akrylowymi na płótnie o zuniwersalizowanym formacie 146 × 146 cm. Prace te zniszczyła sama artystka, najprawdopodobniej z powodów ekonomicznych i panujących podówczas niedostatków materiałów plastycznych. W kolejnych już pracach Hałat multiplikowała nieregularne kształty zbliżone do koła i owalu, będące reminiscencją otworów i dziurek w wyschniętej materii3. Wychodząc od analizy otaczającego świata, dokonała syntezy tego, co dostępne dla oka i zamknęła w prostych kształtach. Płótna wydają się monochromatyczne i dalekie od różnorodności form i feerii barw obecnych w przyrodzie. Jednak przy dokładniejszym oglądzie powierzchnia zachwyca wielością odcieni, zaś niektóre z kształtów ujawniania się dopiero z bardzo bliska lub po spoglądaniu na płótno pod odpowiednim kątem.
Ważnym elementem twórczości Romy Hałat była inspiracja płynąca z literatury, ale także fascynacja alfabetem i pismem jako znakami graficznymi. W prowadzonych przez wiele lat dziennikach notowała swoje myśli, ważne dla niej cytaty i fragmenty poezji. Swoje prace na papierze często wykonywała na bazie tych zapisków. Jej osobistym ukłonem w stronę poezji był cykl rysunków Epitafium dla poety dedykowany zmarłemu w 1976 Stanisławowi Grochowiakowi. Na cykl składa się sześć prac na papierze z powracającym motywem róży4.
W latach 80. powróciła do rysunku jako podstawowej formy wyrazu. Rysunek polegający na nawarstwianiu kreski i multiplikowaniu formy jest mniej zdyscyplinowany niż jej malarstwo. W cyklu Życie cienia (1986/1987) artystka rejestruje drobne przesunięcia cienia pracującej dłoni5. Rysunki te są także zapisem postępów etapów pracy artystycznej oraz świadectwem upływu czasu wyznaczonego przez zmiany kąta padania światła. Wizerunek własnej dłoni można potraktować jako nieoczywisty autoportret artystki, która była oburęczna. Każdej z dłoni na przestrzeni dziejów zostały nadane symboliczne znaczenia, role, nakazy i zakazy. Artystka preferowała posługiwanie się lewą dłonią, której to przypisywała intuicyjność, swobodę i wolność.
Najbardziej znany w jej dorobku cykl Triady Roma Hałat zainicjowała w 19856. Sama artystka opisywała te prace w następujący sposób: "każda praca składa się z trzech stron, warstw ułożonych jedna na drugiej, jest początek, środek i koniec. Tworzy się triada. Wycinane rytmy to otwarcie, poprzez które ujawniają się fragmenty drugiej i trzeciej strony. Przypadek decyduje o tym, co się nam objawi. Warstwy wewnętrzne Triad są zawsze ukryte. Są tajemnicą – jak u człowieka […]."7
Prace te uchodzą za formę zintegrowania, dotychczas rozproszonych na płótnach, kartkach dziennika koncepcji i fascynacji różnymi formami artystycznego wyrazu. Z czasem forma Triad jednoznacznie została ujęta w kolumnę tekstu książkowej stronicy. Osobiste notatki artystki i fragmenty ulubionych utworów literackich stały się integralną częścią dzieła. Jednak ich treść została w pewnym sensie zakodowana, zaklęta w charakterystycznym odręcznym piśmie notowanym wspak lewą ręką. Pismo stało się formą artystyczną, nośnikiem emocji zachęcającym do komunikacji wychodzącej poza poziom czysto językowy.
W 1989 artystka natrafiła na wzmianki o prehistorycznych rysunkach w jaskini El Castillo w Hiszpanii, które zawierały ponad setkę rozmaitych przedstawień namalowanych węglem drzewnym i czerwoną ochrą. Podtytuł "El Castillo c.d", który artystka dotąd nadawała wybranym pracom, podkreśla więź z przeszłymi pokoleniami oraz ciągłość potrzeb artystycznego wyrazu. Wiele motywów i symboli przewijających się w sztuce Romy Hałat jest czytelna nie dzięki wiedzy, lecz wspólnej nam ludziom intuicyjności i wrażliwości. Odkrycie to utwierdziło ją w przeświadczeniu o istnieniu ciągłości kultur i ludzkiej historii, być może dlatego tak, a nie inaczej zatytułowana cykl zainicjowany w 1993 – Przenikanie czasu8. Prace te są także wyrazem fascynacji pismem i alfabetami jako znakami wizualnymi. Układ również przypina szpaltę tekstu pokrytego drobnymi kreskami i formami do złudzenia przypominającym dalekowschodnią kaligrafię, pismo klinowe lub naskalne rysunki. Owo nakładanie się kultur, czasów i treści jest zobrazowane bardzo dosłownie. Poszczególne formy zlewają się, przebijają i przenikają, wpisując dokonania samej Hałat w nieprzerwany nurt artystycznej kreacji, dokonywany przez ludzkość od tysiącleci.
Autorką tekstu jest Katarzyna Piskorz (2021).

Katarzyna Piskorz – ur. 1990. Kuratorka, historyczka sztuki i autorka tekstów. Absolwentka historii sztuki na Uniwersytecie Warszawskim, część studiów odbyła w Wielkiej Brytanii oraz w Danii. Doświadczenie zawodowe zdobywała w instytucjach muzealnych w Polsce (Zachęta Narodowa Galeria Sztuki) i za granicą (Saatchi Gallery, Peggy Guggenheim Collection w Wenecji). Pracowała w departamencie projektów aukcyjnych w Desa Unicum oraz zajmowała się doradztwem i tworzeniem kolekcji dzieł sztuki. Dyrektorka artystyczna warszawskiej HOS Gallery od 2019.
1Zdjęcie: Artystka przy pracy w trakcie wystawy grupy "Konkret", 1971. Dzięki uprzejmości rodziny artystki. 
2Zdjęcie: Zniszczone prace z cyklu "Pejzaże", 1977-1980. Zdjęcie z wystawy Romy Hałat "Malarstwo i rysunek" w Ośrodku Propagandy Sztuki w Łodzi, 1980. Dzięki uprzejmości rodziny artystki.
3Zdjęcie: Roma Hałat, Pejzaż XX, 1977-1980, akryl na płótnie, 146 x 146 cm (kolekcja prywatna), zdj. Adam Gut. Dzięki uprzejmości HOS Gallery.  
4Zdjęcie: Roma Hałat, z cyklu "Epitafium dla poety" (1), 1976, tusz, ołówek na papierze, 82 x 70 cm (kolekcja prywatna), zdj. Adam Gut. Dzięki uprzejmości HOS Gallery.  
5Zdjęcie: Roma Hałat, z cyklu "Życie cienia" (5G), 1986, tusz na papierze, 46 x  59 cm (kolekcja prywatna), zdj. Adam Gut.  Dzięki uprzejmości HOS Gallery. 
6Zdjęcie: Roma Hałat, Medytacja z cyklu "Triady", 2004, akryl, tusza na papierze, 100 x 70 cm (kolekcja prywatna), zdj. Adam Gut. Dzięki uprzejmości HOS Gallery.  
7Zdjęcie: struktura pracy z cyklu "Triady", zdj. Agata Pązik. Dzięki uprzejmości rodziny artystki.   
8Zdjęcie: Roma Hałat, z cyklu "Przenikanie czasu", 1993, akryl, tusz na papierze, 100 x 70 cm (kolekcja prywatna), zdj. Adam Gut. Dzięki uprzejmości HOS Gallery.