Olga Jevrić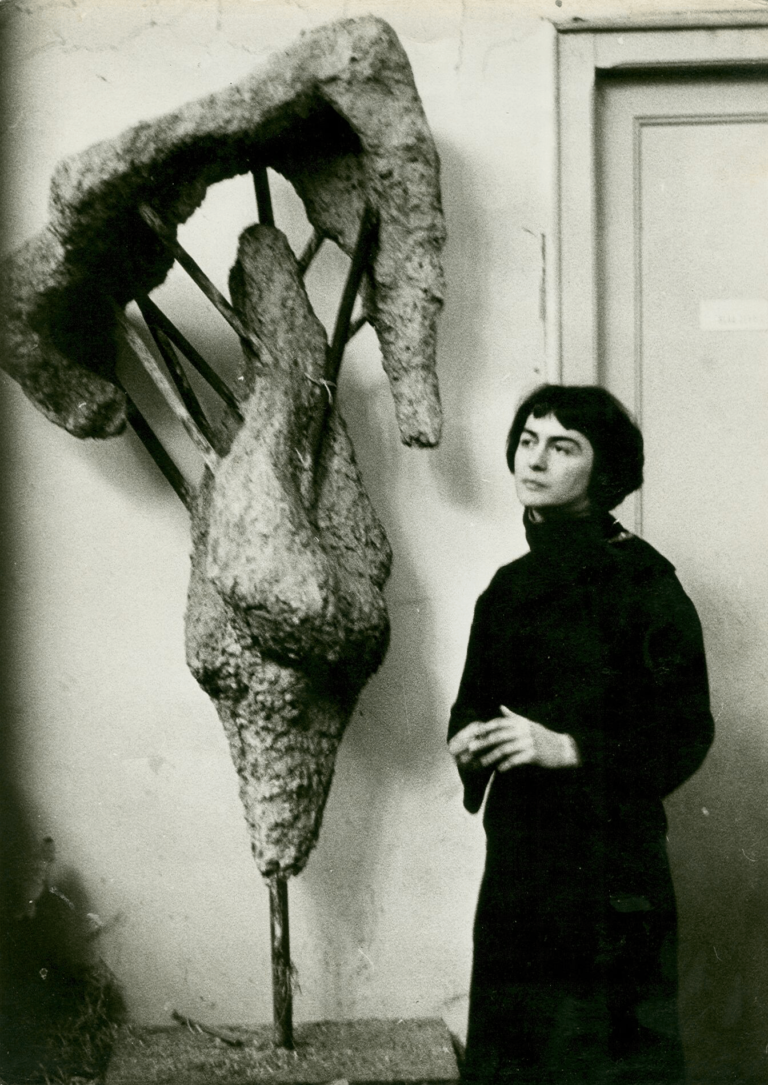 – born on September 29, 1922 in Belgrade. She graduated from the Academy of Music, in the class of professor Ćiril Ličar in 1946 and received her master's degree at the Sculpture department of the Academy of Fine Arts under professor Sreten Stojanović in 1948. She also studied Art History at the Faculty of Philosophy in Belgrade. Her work has been displayed at numerous exhibitions in the country and abroad. She was an artist-in-residence in various cities around the world: Prague, Budapest, Sofia, London, Paris, Venice and New York. She is the winner of numerous local and international awards for sculpture. Her works are kept in numerous museums and private collections in the country and around the world. She was a member of ULUS (The Association of Fine Artists of Serbia), SULUJ (The Association of Fine Artists of Yugoslavia) and SASA (Serbian Academy of Sciences and Arts). She died in 2014 in Belgrade.
To the artist who at one time initiated the project Fine Arts Dictionary (SASA), I present the Proposal for a Micro-Dictionary of Olga Jevrić's Sculpture, arranged on the basis of her statements in various newspaper and radio interviews conducted between 1957 and 2005, and republished in the monograph Olga Jevrić edited by art historian Ješa Denegri in Belgrade, 2005.
Spatiality – In my sculpture, I always tried to emphasise spatiality as an essential category of sculpture.
Nature – the greatest, inexhaustible inspiration. Endless wealth of forms – both organic and inorganic in nature – laws of construction, logic of functionality – wisdom of forms – phenomena of crystallisation, laws of growth, etc. – these were actually the most important universities, an inexhaustible source of ideas – reading, transposing, translating into the language of messages. I enjoyed going to natural history museums. I remember the excitement I felt in front of the showcase where various organs were displayed. The forms were very diverse, but at the same time somewhat related. I owe much to the wisdom of nature.
Family – I could not talk about phases – I would rather call it movements, groups or families. Families of: complementary forms – articulation of space – space in habitats – space in weaving – divergent movements – mementos – layering, enumeration – sequences – accumulation – astatic relations – stereotomy – intersections, etc.
Portrait – a concept in which the subject remains intact in its psychological truth. I wanted to make a portrait-notion.
Abstract Art – for me, it represented a breakthrough into the unknown, a space in which the shapes of imagination develop unhindered, provided that there is a creative system and a thought base. The abstract form helped me to give up the patterns I was taught and to become responsible for myself, to express those experiences, experiences and thoughts that I could not express through figuration. Abstraction led me to emphasise the language of form as an instrument of communication.
Music – a sound tissue that is projected into a type of a building system, a sound mass that functions as emotion and experiential expression. For me, music is a spatial event. Sound masses, mutually conditioning, spread through time – they establish certain meaningful interrelationships, melodic lines, they stretch through space-time while walking – rising, falling, standing still – pauses as interspatial intervals – silence – rhythm, timbre of an instrument – all of this can be inferred as a construction plan in my spatial compositions.
Form/Construction: The main three media on which my plastic expression rests are mass, space and iron bars/rods. Spatial interval is at the same time a complementary volume; the iron rod has an emphasised constructive-functional role, its position is determined by the logic of the physical efficiency of the carrier; masses in their completely independent movements and forms achieve unity through the cooperation of space and the iron bar.
Art Informel: My sculpture exists as a structured event in space. Therefore, it is the ultimate opposite of Informel. In the texts by critics who connect my work with Informel, you will come across, upon further reading, that they mention the mathematical accuracy of the found relationships. Informel does not recognize the concept of structure as a building principle. If my work needs to be connected with something – both methodologically and conceptually – we can speak of structuralism and dialectics.
Mat(t)er(ial): Cement as a building material and iron as a prefabricated form allowed me to realise composite units – assemblages – to build form by layering, to change it as needed until it fulfils the intended task. My matter is strong, harsh, lacklustre, maybe even repulsive – I found these properties, such an expressive bearing capacity in cement and iron…
Intersections: The theme of crossing is polyvalent both as an artistic problem and as a semantic determinant. As an artistic problem, it offers rich possibilities of formative expression – on the content side, it is multi-layered and multi-faceted. Crossing presupposes both permeation and agreement and collision and clashing – arrival and departure. Energies add up, concentrate… mix, repel, diverge, separate. Intersections are those hubs where distances flow into and from which one embarks… places of confrontation, compression, divergence… One could talk about it a lot… We live in times of intersections – the crossing of energy charges of all kinds. Perhaps that factor led me to this topic, which is very present in my earliest works – especially in the project for the monument in Jajinci.
Proposals for Monuments: I am interested in the problem of monuments – as a problem of our time. The time of collective tragedy and individual destinies cut deeply into the youth of my generation, it lived in us as an unavoidable content that could be expressed primarily as a memorial object – a symbol. That theme appeared as a need from within, as a creative and ethical duty, as a need to leave a trace of one consciousness about and in time… I have not implemented any of my Proposals for Monuments. Those titles are actually virtual – a fiction that evokes the sense of a specific event and happening in space – the historical circumstances in which we lived. Although – a certain number of works under this title were conceived for certain specific locations, for competitions in which I took part – Jajinci, Bubanj, Avala, Gnjilane. It was my understanding – a monument is a secularised temple. It assumes the existence of external and internal structure. The outer one has the function of a sign – an appeal – the inner one – a space of gathering, contemplation, separation from the everyday, focusing on those values that point to respect for the shadows of those who disappeared in the name of those values.
A hand-sized memorial: None of my memorials were bult, they all remained hand-sized… maybe because I did not make a compromise to express such humane content in the form of conventional, banal standards.
Small formats were created as models for larger sculptures. With the format, the "right of citizenship" is realised. Many pieces are deprived of that right. Working conditions, space, resources… I was unable to accomplish my visions… Circumstances determined the material and format. Form and format are conditioned. When the form grows – gravel turns into rock, the model grows into a construction. The format also has a new meaning. Richard Serra – one of today's most important artists would never have been as important had the format of his projects remained hand-sized.
Local environment: My work was created in our environment – it survived outside of it. That may sound absurd – but it is true. I do not believe that in any other environment I would have achieved my work as it is. When I said that my work survived outside that environment – I was referring to the deafness of that environment against my efforts to convey my experience of a historical moment – through a symbol – without narration, without pathos, without explicitness, without banality.
Cultural influence: Henry Moore's exhibition in Belgrade in 1955 could not figure as any groundbreaking event for me. Simply because, at that time, I was in Paris. It seems to me that some shifts in our sculpture are attributed to that event a little too much. Even before this exhibition, signs of opening to a more liberated language of expression appeared in our sculpture. I organised my first solo exhibition in 1957. I discovered the elements of construction empirically. Thanks to that exhibition, my works were selected to represent Yugoslav art at the 29th Venice Biennale in 1958, along with four other authors (Hegedušić, Stupica, Murtić, Drago Tršar; p 82).
Art and society: I would like art to have its place in society – for the results of an individual's creative activities to become a general value that strengthens the place of a community on a wider scale, to establish a dialogue with the (art)work as a part of one's own consciousness, which, in this way gets refined, enriched, spiritualized, gets referred to higher, deeper contents of life.
Advice to a young artist: To do what she believes in. To believe in what she is doing. There is no true creativity without identification1.
Text is written by Jelena Vesić (2022)
1Olga Jevrić, Complementary forms, bronze, 121,5 x 89 x 52 cm, 1956/57. Courtesy of the Museum of Contemporary Art in Belgrade.
– je rođena 29.septembra 1922. godine u Beogradu. Završila je muzičku akademiju u klasi profesora Ćirila Ličara 1946. i magistrirala na Vajarskom odseku Akademije likovnih umetnosti u klasi profesora Sretena Stojanovića 19489. Studirala je i istoriju umetnosti na filozofskom fakultetu u Beogradu. Izlaže na brojnim izložbama u zemlji i inostranstvu. Studijski boravi u različitim gradovima sveta: od Praga, Budimpešte i Sofije, do Londona, Pariza, Venecije i Njujorka. Dobitnica je brojnih lokalnih i međunarodnih nagrada za skulpturu. Njeni radovi su deo brojnih muzejskih i privatnih kolekcija u zemlji i svetu. Članica je ULUS-a, SLUJ-a i SANU. Umrla je 2014 u Beogradu.
Umetnici koja je svojevremeno pokrenula projekat Rečnika pojmova iz oblasti likovnih umetnosti (SANU) poklanjam Predlog za mikro-rečnik skulpture Olge Jevrić, priređen na osnovu njenih izjava u različitim novinskim i radijskim intervjuima vođenim između 1957 i 2005, i re-objavljenim u monografiji Olga Jevrić koju je priredio istoričar umetnosti Ješa Denegri, Beograd, 2005.
Prostornost – U svojoj skulpturi uvek sam težila da naglasim prostornost kao bitnu kategoriju skulpture.
Priroda – najveća, nepresušna inspiracija. Beskrajno bogatstvo oblika – kako organske tako i neorganske prirode – zakoni gradnje, logika funkcionalnosti – mudrost oblika – fenomeni kristalizacije, zakoni rasta itd. – to su bili zapravo najznačajniji univerziteti, neiscrpni izvor ideja – čitanja, transponovanja, prevođenja na jezik poruka. Rado sam odlazila u muzeje istorije prirode. Pamtim ono uzbuđenje koje sam osetila pred vitrinom u kojoj su bili izloženi razni organi. Oblici su bili veoma raznovrsni, ali istovremeno u nečemu srodni. Dugujem mnogo mudrosti prirode.
Porodica. Ne bih mogla govoriti o fazama – pre bih to nazvala pomeranjima, skupinama ili porodicama. Porodice: komplementarnih formi – artikulacije prostora – prostora u staništima – prostora u tkanju – divergentnih kretanja – mementa – naslojavanja, nabrajanja – nizova – akumulcija – astatičnih relacija – stereotomija – ukrštanja itd.
Portret – pojam u kome je subjekt ostao neoštećen u svojoj psihološkoj istini.
Želela sam da napravim portret-pojam.
Apstraktna umetnost predstavljala je za mene prodor u nepoznato, prostor u kome se oblici mašte nesputano razvijaju, pod uslovom da postoji tvorački sistem i misaona podloga. Apstraktna forma mi je pomogla da se odreknem naučenih šema i da postanem odgovorna sebi, da iskažem one doživljaje, iskustva i misaona kretanja koja ne bih mogla da iskažem putem figuracije. Apstrakcija me je uputila na naglašavanje govora forme kao instrumenta saopštavanja.
Muzika – zvučno tkivo koje se projektuje u oblik sistema gradnje, zvučna masa u funkciji emocije i doživljajnog iskaza. Muzika je za mene prostorni događaj. Zvučne mase se prostiru kroz vreme u međusobnoj uslovljenosti – ostvaruju određene sadržajne međuodnose, melodijske linije, protežu se kroz prostor-vreme u hodu – usponu, padu, stajanju – pauze kao međuprostorni intervali – tišina – ritam, boje instrumenta – sve se to može doslutiti kao projekt gradnje u mojim prostornim kompozicijama.
Forma/Konstrukcija: Osnovna tri medija na kojima počiva moj plastički izraz su masa, prostor i gvozdene šipke. Prostorni interval je istovremeno komplementarni volumen; gvozdena šipka ima naglašenu konstruktivno-funkcionalnu ulogu, njenu poziciju određuje logika fizičke efikasnosti nosača; mase u svojim potpuno nezavisnim kretanjima i oblicima ostvaruju jedinstvo kroz sadejstvo prostora i gvozdene šipke.
Enformel: Moja skulptura postoji kao strukturirani događaj u prostoru. Samim tim ona je krajnja suprotnost enformelu. U tekstovima kritičara koji povezuju moj rad sa enformelom naići ćete nešto dalje da pominju matematičku tačnost nađenih odnosa. Enformel ne poznaje pojam strukture kao princip gradnje. Ako moj rad s nečim treba povezati – i metodološki i idejno – mogu se naći dodiri sa strukturalizmom i dijalektikom.
Materija(l): Cement kao građevinski materijal i gvožđe kao prefabrikovan oblik dozvolili su mi da realizujem kompozitne jedinice – skupove – da gradim oblik taloženjem slojeva, da ga menjam po potrebi sve dok ne ispuni namenjeni zadatak. Moja materija je opora, surova, bez sjaja, možda i odbojna – ta svojstva, takvu izražajnu nosivost našla sam u cementu i gvožđu …
Ukrštanje: Tema ukrštanja je i kao likovni problem i kao semantička odrednica polivalentna. Kao likovni problem pruža bogate mogućnosti oblikovnog iskaza – sa sadržajne strane je višeslojna i mnogoznačna. Ukrštanje pretpostavlja i prožimanje i saglasje i sudaranje i sukobljavanje – i stizanje i odlaženje. Energije se sabiraju, koncentrišu … mešaju, potiru, razilaze, razdvajaju. Raskrsnice su ona čvorišna mesta u koja se daljine ulivaju i sa kojih se otiskuje … mesta sučeljavanja, sažimanja, razmimoilaženja … Moglo bi se o tome mnogo govoriti … Živimo u vremenima raskršća – ukrštanja energetskih naboja svake vrste. Možda me je i taj faktor naveo na ovu temu, veoma prisutnu u mojim najranijim radovima – posebno u projektu za spomenik u Jajincima .
Predlozi za spomenike: Interesuje me problem spomenika kao problem našeg vremena. Vreme kolektivne tragedije i pojedinačnih sudbina zaparalo je mladost moje generacije duboko, živelo je u nama kao nezaobilazan sadržaj koji se mogao iskazati prevashodno kao memorijalni objekt – simbol. Ta tema se pojavila kao unutrašnja potreba, kao stvaralačko i etičko zaduženje, kao potreba da se ostavi beleg jedne svesti o i u vremenu …
Nisam realizovala nijedan od svojih Predloga za spomenike. Ti naslovi su zapravo virtuelni – fikcija koja priziva primisao na specifičan događaj i događanje u prostoru – na istorijske prilike u kojima smo živeli. Mada – izvestan broj radova pod ovim naslovom zamišljen je za određene konkretne lokacije, kroz konkurse u kojima sam uzela učešće – Jajinci, Bubanj, Avala, Gnjilane. Po mom shvatanju spomenik je sekularizovan hram. Pretpostavlja postojanje spoljašnje i unutrašnje strukture. Spoljašnja ima funkciju znaka – priziva – unutrašnja – prostor sabiranja, kontemplacije, izdvajanja iz svakidašnjice usredsređivanja na one vrednosti koje upućuju na poštovanje seni nestalih u ime tih vrednosti.
Memorijal u meri šake: Nije izveden nijedan od mojih memorijala, svi su ostali u meri moje šake … možda i zato što nisam pristajala da takve humane sadržaje iskažem u obliku konvencionalnih banalnih standarda.
Mali formati nastajali su kao modeli za veće skulpture. Sa formatom se ostvaruje «pravo građanstva». Mnogi komadi su lišeni tog prava. Uslovi rada, prostor, sredstva … nije mi uspelo da svoje vizije ostvarim … Objektivne prilike određivale su materijal i format. Forma i format se uslovljavaju. Kad oblik raste – šljunak se pretvara u stenu, maketa narasta u građevinu. Format nosi i novo značenje. Richard Serra – jedan od danas najznačajnijih umetnika nikad ne bi to bio da je format njegovih projekata ostao u meri šake.
Lokalna sredina: Moj rad je nastao u našoj sredini – opstajao je van nje. To zvuči možda apsurdno – ali tako je. Ne verujem da bih u nekoj drugoj sredini ostvarila svoje delo ovakvo kakvo je. Kad sam rekla da je moj rad opstajao van sredine – mislila sam na gluvoću te sredine spram mojih nastojanja da prenesem svoj doživljaj istorijskog trenutka – kroz znamen – bez naracije, bez patetike, bez eksplicitnosti, bez banalnosti.
Kulturni uticaj: Izložba H. Mura u Beogradu 1955. nije za mene mogla značiti nikakav prelomni događaj. Jednostavno, u to vreme sam boravila u Parizu. Čini mi se da se za taj događaj previše vezuju neka pomeranja u našoj skulpturi. I pre ove izložbe u našoj skulpturi su se pojavili znaci otvaranja slobodnijem jeziku izražavanja. Prvu samostalnu izložbu priredila sam 1957. godine. Empirijskim putem otkrila sam elemente gradnje. Zahvaljujući toj izložbi moji radovi su bili odabrani da uz još četiri autora (Hegedušić, Stupica, Murtić, Drago Tršar) predstavljaju jugoslovensku umetnost na XXIX bijenalu u Veneciji 1958. (str 82)
Umetnost i društvo: Volela bih da umetnost dobije svoje mesto u društvu – da rezultati stvaralačkih aktivnosti pojedinca postanu opšta vrednost koja učvršćuje mesto jedne zajednice u širim razmerama, da se uspostavi dijalog sa delom kao delom sopstvene svesti koja se tim putem oplemenjuje, bogati, oduhovljava, upućuje na više, dublje sadržaje života.
Savet mladoj umetnici: Da radi ono u šta veruje. Da veruje u ono što radi. Nema istinskog stvaralaštva bez identifikacije1.
Tekst je napisala Jelena Vesić (2022).
1Olga Jevrić, Komplementarne forme, bronza, 121,5 x 89 x 52 cm, 1956/57. Ljubaznošću Muzeja savremene umetnosti u Beogradu.