Magdalena N. Kwiatkowska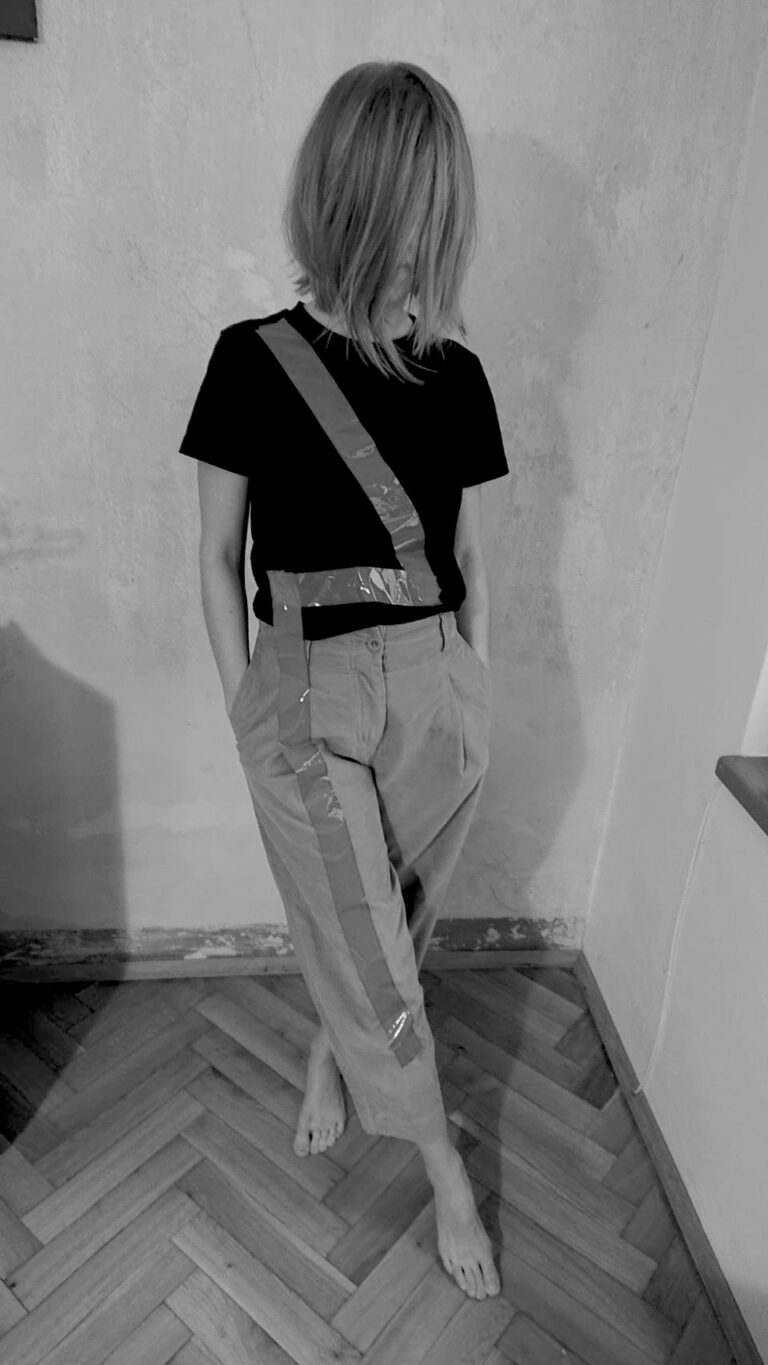 – born 1978 – studied industrial design at a technical university in her native Poland. In 2001 she began her studies at the Academy of Fine Arts, Prague, from which she graduated and eventually earned her PhD. From the start, her work involved creating objects and installations, often interwoven with active and performative forms of presentation. Here she expressed her interest in the stuff of daily life, the absurdity of ordinary activities and the conceptual content found in culinary and DIY home-repair instructions. She is currently involved in social-participatory projects in which she explores the feasibility of disrupting the special position held by artists by way of ordinary acts of cooperation.
You think you're an artist?
I'm a white, non-Romany, non-trans woman with an academic education. Without a certain socio-economic background, I would not be able to do what I do. In the society in which I live and work, I have it much easier than others. I hold certain privileges and these imply a superior position. I try to reflect upon this and not forget it. At the same time, I feel subordinate to the patriarchal social system. I am aware of my participation in the omnipresent patriarchal structures. I work with all this and many more concepts.
In my teenage years, I identified more with boys. I behaved rudely in compensation for my devalued position due to gender stereotypes. Now I support the disruption of polarities such as woman-man or masculine-feminine, and I notice a whole spectrum of inequalities that influence a gap in status between male and female artists. My feeling that only highly resilient, confident individuals, bearing social capital and able to function in patriarchal structures, can become successful artists, is consistently confirmed.
At the same time, my emancipation from the patriarchal cycle of acknowledgment doesn't bother me as much as the reality that if by any chance I do get to speak, it is difficult to know how to react, because from childhood on, I carry the limiting experience of being a woman who is not taken seriously. A number of initiatives and current institutions attempt to make systematic changes and create fair environments that are safe and accessible to everyone. At the same time, visiting a gallery or museum remains an inaccessible privilege for many. It is still important, in my opinion, to broach the question of what real measures cultural and social institutions can implement. Beyond claims of protection and care, there should be a true effort to ascertain who needs what kind of help. It is not enough to have good intentions. It is necessary to want to act, not only theoretically but practically, on a daily basis.
The designation "artist" scares me. I suffer from impostor syndrome, manifesting in my expectation that I will be asked questions I am incapable of answering. When I studied at the technical university in Poland, being an artist meant being a Bohemian genius. It was considered an unattainable goal, and people reacted with disdain: "You think you're an artist?" When I came to the Czech Republic, I found out that the term was used more freely. Even students speak of themselves as artists. I ascribe it to a derivative of the verb "umět" (to be capable). Every person knows how to do something and therefore can label themselves an artist.
When I think about it, my close friends have always been my greatest inspiration. People have always interested me more than their work. I liked the Polish art group Azorro and the Slovak artists Anetta Mona Chisa and Lucie Tkáčová, because they seemed like friends. They were able to be rude and make fun of the art world. Duchamp's afternoon billiard-playing would have interested me. He said that he was overcome by incredible laziness, and even though he would like to go work in his atelier, he preferred to breathe and live. My favorite works were Mierle Laderman Ukeles's washing the museum steps and Julita Wójcik's peeling potatoes. These projects attracted me in terms of what is hidden in the simplicity of everyday gestures. Only later did I connect them with criticism toward institutions and drew attention to the phenomena of exclusion and invisible work and care.
In my work, I use everyday objects and I am inspired by situations and experiences related to daily life1. My 2014 project Sick Leave focused on the decontextualization of not quite ordinary activities. The Slovak artist František Demeter invited me as a guest on his exhibition at Galerie SPZ2. I agreed even though exhibitions horrify me. I tried to find a way to make sure I didn't show up, and I remembered the successful efforts of kids who manage to avoid going to school, so I decided to use their strategies for getting ill quickly: stand shirtless on the balcony with frozen meat on my chest, lick all the door handles in the flat, stick my wet head into the freezer… This is just a short list of the recommendations I collected. Yet I didn't get sick. I had to fake illness at the doctor's office so he could grant me confirmation of sick leave, and I then presented this at the gallery.
I am currently interested in the topic of replacing the "artistic expert" with the role of mediator. I wonder how to undermine the hegemonic demands upon and position of the artist, and whether such an effort is doomed to failure. I think about how to create new networks of relationships and coexistence and how to critically reflect upon the gaps between the ranks of the social majority and minority. I ask myself and those around me how we can minimize alienation and how to draw attention to various conflicting experiences, knowledge and types of rationality. I aim to achieve a type of cooperation not based on superiority and abuse, if that is at all possible today. I deal with the idea of ​​dissolving authorship and inequality in the relations between artist, participant, and co-participant. I considered these topics in the collective project Magdalena's Laundry, created in cooperation with women (LGBT+ homeless people) and other socially excluded people3 that I met in the organization Jako doma4. The laundry was originally meant to be a platform for dealing with social isolation through open meetings between members of socially at-risk groups, artists, and residents of a selected locality. It was created and led by those whose voices are marginalized and rarely heard. The end of the artistic residency did not stop the project, and the unexpected arrival of the global pandemic had a concrete impact on its future life. We decided to reconceptualize the project, turning it into a mobile laundry.
I see the significance of participatory projects in the fact that I don't have to work solely with artists. In the laundry, among other things, we tried to create an environment for mutual functioning, devise mechanisms for better conflict resolution, and we learned ways of collective decision making. Mainly, however, it was important for us to enjoy the time together and have a good feeling from doing something together. Cooperation with people who have are stripped of their privileges motivated me to greater engagement in political events and civic activism. I clearly saw that I have the possibility to make my voice heard, but I don't use it. That's why now our laundry team has been organizing demonstrations at the Polish embassy denouncing the human rights violations against women and people with unwanted pregnancies. It is critical that the whole collective and I learn skills that will enable us to find a path to emancipation and self awareness.
This text was written in cooperation with Kristýna Péčová and Klára Ambrůzová (2021).
Kristýna Péčová – born 1993 – is an art historian and curator. She focuses mainly on the art of the 20th and 21st centuries, in which she likes to break down the boundaries between so-called higher and lower, fine and applied arts. She is currently working at the Department of Fine Arts of the Academy of Arts, Architecture and Design in Prague and she is preparing the next edition of the International Symposium of Ceramics in Bechyně.
1See: www.magdalenakwiatkowska.blogspot.com.
2See: www.galeriespz.com.
3See: www.iniproject.org/prostor/archiv/2020/magdalenina-pradelna.
4See: www.jakodoma.org/o-nas/.
– narozena 1978, studovala průmyslový design na Technické univerzitě v rodném Polsku. V roce 2001 nastoupila na Akademii výtvarných umění v Praze, kde diplomovala a tamtéž později získala titul PhD. Její praxe zpočátku zahrnovala tvorbu objektů a instalací, často se prolínajících s akčními a performativními formami prezentace. V nich se projevovalo její zaujetí žitou každodenností, absurditou obyčejných činností i konceptuálními obsahy nalezenými v kulinářských a kutilských návodech. Aktuálně se zabývá sociálně-participativními projekty, ve kterých zkoumá možnosti narušení výjimečného postavení umělkyň a umělců skrze obyčejný akt spolupráce.
Ty si o sobě myslíš, že jsi umělec?
Jsem bílá, ne transgender žena, gádžovka s akademickým vzděláním. Bez určitého sociálně-ekonomického zázemí bych nemohla dělat to, co dělám. Ve společnosti, v níž žiji a pracuji, to mám mnohem snazší než někteří jiní. Mám v ní určitá privilegia a z nich vyplývající nadřazené postavení. Snažím se to reflektovat a nezapomínat na to. Současně cítím podřízenost patriarchálnímu nastavení této společnosti. Vnímám svou zapletenost do všudypřítomných patriarchálních struktur. To vše řeším a spoustu dalších věcí k tomu.
Během dospívání jsem se více identifikovala s kluky. Chovala jsem se hrubě, abych kompenzovala svou znevýhodněnou pozici danou genderovými stereotypy. Dnes podporuji narušování polarit typu žena–muž či mužský–ženský a všímám si celého spektra nerovností, z nichž vznikají rozdíly mezi postavením umělkyň a umělců. Stále se mi potvrzuje pocit, že úspěšnými umělci se stávají jen psychicky odolní, sebevědomí jedinci s dobrým sociálním kapitálem, kteří se umí pohybovat v patriarchálních strukturách. Zároveň mě osobně moje vyloučení z patriarchálního oběhu uznání netrápí tolik jako skutečnost, že když náhodou dostanete slovo, je obtížné reagovat, protože si sebou od dětství nesete omezující zkušenost nebýt jako žena brána vážně. Řada iniciativ a současných institucí se snaží o systémové změny a vytváření férového prostředí, které by bylo bezpečné a přístupné všem. Zároveň je ale návštěva galerie nebo muzea pro mnoho lidí dosud nedostupným privilegiem. Podle mého názoru je stále namístě pokládat si otázku, jaká skutečná opatření mohou v této věci kulturní a společenské instituce přijmout. Za všemi prohlášeními o starosti a péči by měl být cit a reálná snaha rozpoznat, kdy někdo s něčím potřebuje pomoc. Mít dobré úmysly není vše – je třeba chtít, a to nejen na bázi teorie, ale fakticky a denně.
Oslovení "umělkyně" mi nahání strach. Trpím imposter syndromem, který se projevuje tak, že čekám otázky, na které nebudu schopna odpovědět. Za mých studií na technické univerzitě v Polsku byl "umělec" považován za bohémského génia. Takové oslovení se bralo jako nedosažitelná meta a zacházelo se s ním pohrdavě: Ty si o sobě myslíš, že jsi umělec nebo co? Když jsem přijela do Česka, zjistila jsem, že tady se to slovo používá volněji. I studenti a studentky tak o sobě mluvili. Přisoudila jsem to odvození od slovesa umět. Každý člověk něco umí a každý tak může říct, že je umělcem.
Když se zamyslím, nejvíce mne vždy inspirovali blízcí kamarádi a kamarádky. Člověk mě zajímal víc než jeho práce. Měla jsem ráda polskou uměleckou skupinu Azorro a slovenské umělkyně Anetu Mona Chisu s Lucií Tkáčovou, protože mi připadali jak parta kamarádů. Dovedli být drzí a dělat si srandu z uměleckého prostředí. Zajímalo mě také Duchampovo odpolední hraní kulečníku. Tvrdil, že ho přemáhá neskutečná lenost a ačkoli by rád šel do ateliéru a tvořil, bude raději prostě dýchat a žít. Mým oblíbeným dílem bylo umývání schodů muzea Mierle Laderman Ukeles, nebo škrábání brambor Julitou Wójcik. Tyto práce mě přitahovaly něčím, co se skrývá v jednoduchosti každodenního gesta. Teprve později jsem si je spojila s institucionální kritikou a s upozorňováním na fenomény vyloučení, neviditelné práce i péče.
Ve své tvorbě používám předměty denní potřeby, inspiruji se situacemi a zkušenostmi souvisejícími s každodenností1. Na dekontextualizaci ne zcela všedních činností pak byla postavena moje práce z roku 2014 nazvaná Neschopenka. Slovenský umělec František Demeter mě pozval jako hostku své výstavy v Galerii SPZ2. Souhlasila jsem navzdory tomu, že ve mně vernisáže vzbuzují hrůzu. Snažila jsem se najít způsob, jak vůbec nepřijít, a vybavila jsem si úsilí dětí, díky kterému se dokáží vyhnout školní docházce. Rozhodla jsem se vyzkoušet jejich metody, jak náhle onemocnět: stát bez trička na balkoně s mraženým masem na hrudi, olízat všechny kliky v bytě, strčit mokrou hlavu do mrazáku… To je jen malý výčet ze všech mnou sesbíraných doporučení. Onemocnět se mi nepodařilo. Musela jsem předstírat nemoc u lékaře, který mi vystavil potvrzení o pracovní neschopnosti a to jsem potom v galerii prezentovala.
V současné době se zajímám o téma nahrazení "uměleckého odborníka" rolí prostředníka. Kladu si otázky, jak podkopávat hegemonické požadavky i postavení umělce a jestli je taková snaha předem odsouzena k neúspěchu. Přemýšlím o tom, jak vytvářet sítě nových vztahů i soužití a kriticky reflektovat mezery mezi majoritními a minoritními vrstvami společnosti. Ptám se sama sebe i svého okolí, jak minimalizovat odcizenost a jak upozornit na různé protichůdné zkušenosti, znalosti a typy racionality. Snažím se dosáhnout typu spolupráce, která by nebyla založena na nadřazenosti a zneužívání, je-li to dnes vůbec možné. Zabývám se myšlenkou rozpouštění autorství a nerovnosti ve vztazích umělec – účastník – spoluúčastník. Dané úvahy jsem řešila v kolektivním projektu Magdalenina prádelna, který vznikl ve spolupráci se ženami (LGBT+ osobami) bez domova a dalšími společensky vyloučenými lidmi3. Poznala jsem je v organizaci Jako doma4. Prádelna byla od počátku zamýšlena jako platforma pro překonávání společenské izolace otevřeným setkáváním lidí v sociální tísni s umělkyněmi, umělci a obyvateli vybrané lokality. Vytvářeli a vedli ji ti, jejichž hlas je společensky upozaďován a není běžně slyšet. S koncem umělecké rezidence projekt neskončil a nečekaný příchod celosvětové pandemie měl konkrétní dopad na jeho další život. Rozhodli jsme se projekt pojmout nově: změnit ho v pojízdnou prádelnu.
Význam participačních projektů vidím v tom, že nemusím pracovat jen s umělci. V prádelně jsme se mimo jiné snažili vytvořit prostředí pro vzájemné fungování, vymyslet mechanismy, jak lépe řešit konflikty, a učili jsme se způsobům, jak kolektivně rozhodovat. Hlavně nám ale šlo o to užít si společné chvíle a mít dobrý pocit z toho, že děláme věci spolu. Spolupráce s lidmi zbavených privilegií mne také motivovala k větší angažovanosti ve věcech politických a záležitostech občanského aktivismu. Jasně jsem si uvědomila, že mám možnost demonstrace svého hlasu, ale nevyužívám ji. Proto nyní spolu s týmem prádelny organizujeme protesty pod polskou ambasádou proti porušování práv žen i lidí, kteří nechtěně otěhotní. Pro mě a celý náš kolektiv je zásadní vybavit se dovednostmi, které nám umožní nalézt cestu k emancipaci a sebeuvědomění.
Text vznikl ve spolupráci s Kristýnou Péčovou a Klárou Ambrůzovou (2021).
Kristýna Péčová – narozena 1993 – je historička umění a kurátorka. Věnuje se především umění 20. a 21. století, v němž ráda nabourává zažité hranice mezi tzv. vyšším a nižším, volným a užitým uměním. Aktuálně působí na Katedře volného umění Vysoké školy uměleckoprůmyslové v Praze a chystá příští ročník Mezinárodního sympozia keramiky v Bechyni.
1Viz: www.magdalenakwiatkowska.blogspot.com.
2Viz: www.galeriespz.com.
3Viz: www.iniproject.org/prostor/archiv/2020/magdalenina-pradelna.
4Viz: www.jakodoma.org/o-nas/.