Luca Lovász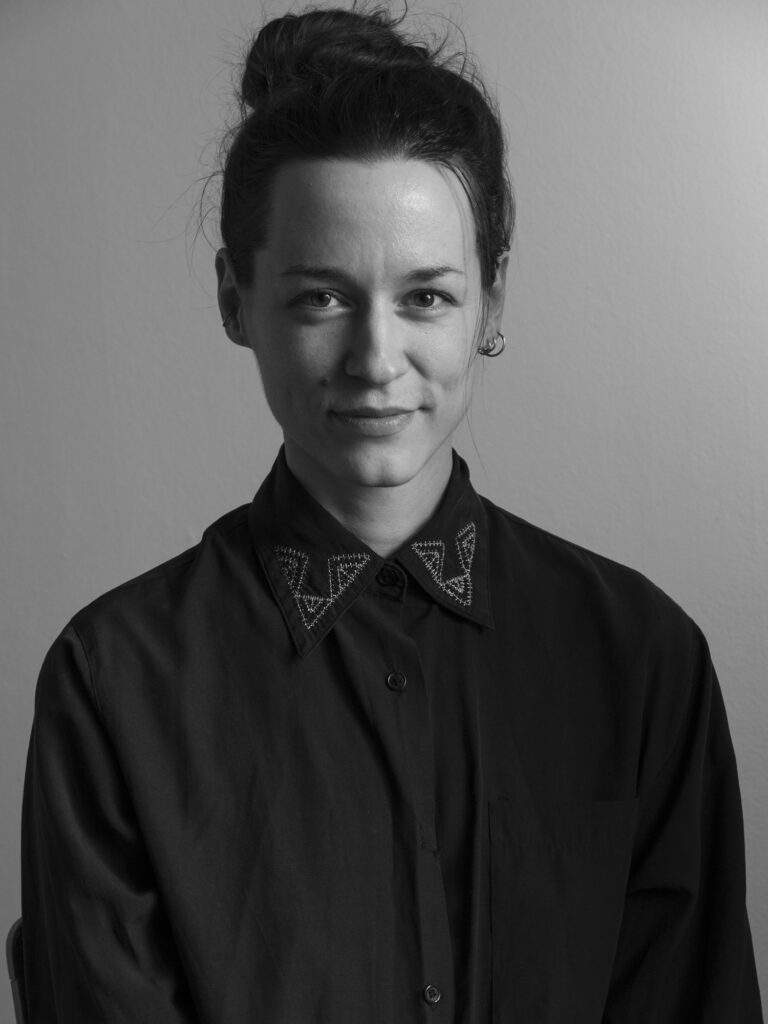 – born 1991 in Csongrád – studied at the Painting Department of the Hungarian University of Fine Arts between 2016 and 2021. Her artistic practice being experimental, she uses a wide range of mediums, from sculpture and installation to painting and 3D technology. In her work, she deals with various aspects of food, its symbolic significance, as well as with different food-related traditions and issues that can be associated with them, such as cultural differences, the search for identity, global problems, or personal experiences. Luca Lovász lives and works in Budapest.
From the beginning, I have combined fine arts with different aspects of eating. I have been dealing with flavours, recipes, diets, habits and eating cultures in recent years. Food appears in all my works, sometimes as a symbol, sometimes as a central issue, and always has an extra meaning. I play with everyday feelings, movements, habits and tastes known to everyone, I am inspired and motivated by the free associations that my works provoke in viewers.
In my extensive research on food artists I discovered that the contemporary scene is usually composed of women. I feel like 'woman art' has a kind of negative tone to it and I've always been reluctant to fall into that category. Activities and chores gendered as typically 'female' are raising children, cooking or embroidering, weaving, etc., so artists working with such topics or mediums can easily be labelled. I was surprised to find so few male food artists. During my research, it became apparent that food has always been part, a central theme of art – from Dutch still life painting to futurism. In my view, eating is basically a gender-neutral topic, but cultural and social pressures put layers of clichés on it, and developed many ingrained assumptions (a woman has to cook well, an almost feminine duty, a task in the household that is her responsibility, while star chefs in leading positions are mostly men).
Accepting or rather living my own biological gender and how this relates to the development my art has left me thinking. I have been dealing with food art from the beginning, which also led me to study obsessive behaviours related to eating disorders, eating diaries, food. Although eating disorders are more common in women, the ideal body image is only one of the cause behind anorexia, bulimia etc., which are generally triggered by deep fears, anxieties and traumas. Layer by layer, this became a huge material, and when I started to translate it into art, I was looking for neutral visuals, elements that could be recognized regardless of gender1. The androgynous character is quite central in my life and
in terms of its ethical value, I do not agree with the gender separation of male and female artworks. What counts as 'feminine' or what is 'masculine' in fine arts. At one time, after seeing such works, I violently tried to strip down and make my works very neutral, austere, like for my banana-multiplier project, for example2.
Motivated by free experimentation and constant curiosity, I also look for diversity in visual formulations and technical solutions. I primarily think conceptually, but I also experiment with representing sensory impressions and feelings.
I like to combine different techniques, experiment with them. I've worked with a wide variety of materials before and for making objects, I used gypsum and agar-agar, one of my favourite ingredients of food industry. I have a specific way to look at food, I like to use it as an ingredient in my practice, as my extruded corn sculptures show it. This approach always raises interesting questions about conservation, restoration, or the concept of an art object at all. Mixing organic components with artificial one is inspiring for me, this is how I integrated germinating vegetables in my installation or realized one of my works, the gypsum-moulded root system. I find the various characteristics of plants – growth, decay and expansion – exciting34.
I am particularly interested in the relationship between space and the flat surface. Drawings are a constitutive part of my installations, and I deal a lot with space in my paintings. The preludes to my 3D images were a sense of closure and lack of real space (studio) that forced me somehow into virtual space. These images are also technical collaborations in which the construction of an installation, sculpture and digital techniques meet contemporary painterly trends. These works reflect our very colourful yet very depressing world, and are observations of our present without solutions or statements. Eating as a rite, a design, diets moulded into plastic, edible artefacts, inedible fruits. Emptiness, advertisements, brands, multiplication, virtual reality. They form a world where unlikely, plastic food and objects come to life, and questions are formulated in the neon-coloured, floating empty space. These images are characterized by shapes and colours characterize. They are not abstract images, every element is identifiable, yet everything is a lie. Colourful, depressing, artificial, crowded and distressingly empty. Food – traditional pastries or artificial flavour enhancers, avant-garde diets and contemporary eating trends – also appears as important symbol in them567.
I carry this depressing falsehood into painting as well, using the visual features of Far Eastern pop culture. The over-perfected, over-beautified world of manga and anime is also fascinating to me. In addition to perfect, meticulously crafted meals referring to food design, the unlikely beauty of anime characters (both male and female) carries a strong critique of our fake world today, where design permeates everything891011.
I think that in a good work of art, the 'gender identical' character or the gender of the artist is absolutely unimportant. I don't like to deal specifically with feminist topics or put the issues of feminism at the center of my art. I rather think that being a powerful and distinctive, characterful, intelligent artist is already a feminist act in itself.
The final version of the statement was edited in collaboration with art historian Róna Kopeczky (2021).
Róna Kopeczky – born 1983 – a curator and art historian based in Budapest. She worked as a curator for international art in Ludwig Museum Budapest between 2006 and 2015, where she mostly focussed on the site- and situation specific practices of young and mid-career artists from the Central Eastern European region. In 2015, she joined acb Gallery in Budapest as artistic director, and also actively contributes to the publishing activity of acb Research Lab, with a focus on forgotten, neglected or ignored oeuvres of the Hungarian neo-avant-garde art. She participated in the organization of the first OFF-Biennále Budapest that took place in 2015 and was member of the curatorial team for its second edition held in Fall 2017. She is the co-founder of Easttopics, a platform and hub dedicated to contemporary art of Central Eastern Europe that is based in Budapest. She is also the curator of the next edition of the Tallinn Print Triennial, scheduled to open in early 2022 in Tallinn, Estonia. She completed her PhD in Art History in 2013 at Sorbonne University.
1Image: Luca Lovász and Petra Petró, 100g 370kcal 6,5g fat 65g carbohydrate 8,5g protein, 2017, installation, extruded corn, saliva, dimensions variable. Courtesy of the artist.
2Image: Luca Lovász, #4765, 2018, polyurethane foam, wire, dimensions variable. Courtesy of the artist.
3Image: Luca Lovász, Growing with nature - what does it mean?, 2018, mixed media, Salgo shelf, banana box, objects made of gypsum and polyurethane foam, painting, thermal paper, fax paper, glasses, water, light, time, dimensions variable. Courtesy of the artist.
4Image: Luca Lovász, Growing with nature - what does it mean?, 2018, mixed media, Salgo shelf, banana box, objects made of gypsum and polyurethane foam, painting, thermal paper, fax paper, glasses, water, light, time, dimensions variable. Courtesy of the artist.
5Image: Luca Lovász, Futuristic nightmare (the power of the carbohydrates, 2020, rendered CGI, giclée print, 70 x 100 cm. Courtesy of the artist.
6Image: Luca Lovász, Futuristic nightmare (the power of the carbohydrates, 2020, rendered CGI, giclée print, 70 x 100 cm. Courtesy of the artist.
7Image: Luca Lovász, Buddha bowl, 100% #vegan & #glutenfree Suitable to any diets, soybean sprouts, synthetic resin glazed baked tofu, glass noodle, almond milk, clear transparent plexi, ice cube, synthetic beeswax, 2020, rendered CGI, 70 x 70 cm. Courtesy of the artist.
8Image: Luca Lovász, Apples, 2020, acrylic on plywood, 70 x 100 cm. Courtesy of the artist.
9Image: Luca Lovász, Breakfast in the studio, 2020, digital drawings. Courtesy of the artist.
10Image: Luca Lovász, How to get rid of an unwanted feeling, 2020, acrylic on plywood, 100x140 cm. Courtesy of the artist.
11Image: Luca Lovász, Takeout (too much spicy food sits on your stomach), 2020, giclée print, 70 x 100 cm. Courtesy of the artist.
– szül. 1991, Csongrád – 2016 és 2021 között a Magyar Képzőművészeti Egyetem festő tanszékén tanult. Művészeti praxisa kifejezetten kísérletezőnek mondható, mediális használata a szobrászattól, installációtól kezdve a festészeten keresztül egészen a 3D technikáig terjed. Munkáiban az ételek különféle aspektusával, szimbolikus jelentőségével foglalkozik, valamint a különböző étkezési kultúrákkal, és a hozzájuk társítható kérdéskörökhöz, mint a kulturális különbségek, az identitáskeresés, globális problémák vagy személyes élmények. Lovász Luca Budapesten él és dolgozik.
A képzőművészetet kezdetektől az étkezés különböző aspektusaival fontam össze. Ízek, receptek, étrendek, szokások, étkezési kultúrák foglalkoztattak az elmúlt években. Az ételek minden munkámban megjelennek, hol szimbólumként, hol központi kérdéskörként, és mindig többlet jelentéssel bírnak. Mindennapi érzetekkel, mindenki által ismert mozdulatokkal, szokásokkal és ízekkel játszom, a befogadóktól kapott szabad asszociáció inspirál és motivál.
Sokat kutattam food-artistokat, és általában a jelenkori szcénán nőket találtam. Úgy érzem, a 'nő-művészetnek' van egyfajta negatív hangvétele és mindig is ódzkodtam ettől a kategóriától. A tipikusan 'női' munkáknak jelölt tevékenységek a gyereknevelés, főzés vagy hímzés, szövés stb., így az ilyen témákkal vagy médiumokkal dolgozó művészeket könnyen érheti címkézés. Számomra meglepő̋, hogy kevés, ételekkel foglalkozó művészt találtam, aki férfi. A food art kutatásaimnál nyilvánvalóvá vált, hogy az étel mindig is a művészet része volt és folytonos központi témát szolgáltatott – holland csendélet festészet, futurizmus. Meglátásom szerint az étkezés alapvetően egy gendersemleges téma, azonban a kulturális és társadalmi nyomás rengeteg közhelyet társított a fogalomhoz, és rengeteg berögzülés jár mellé (egy nőnek muszáj jól főznie, szinte női kötelesség, sokkal inkább ráháruló feladat a háztartásban, ellenben a vezető̋ pozícióban levő̋ sztárséfek már legtöbb esetben férfiak).
Saját biológiai nemem elfogadása vagy inkább megélése, és a művészetem kialakulásának kérdése gondolkodóba ejtett. Kezdetektől foglalkoztat a food art, sokat foglalkoztam az étkezési zavarokkal, étkezési naplókkal, ételekkel kapcsolatos obszesszív viselkedésekkel. Az étkezési zavarok bár gyakoribbak nőknél, az anorexia, bulimia stb. okai közül az ideális testkép csupán egy, és általában mélyebben megbújó félelmek, szorongás, traumák váltják ki. Nagyon sok minden rétegződött egymásra és amikor elkezdtem ezeket átültetni művészetbe, törekedtem a semleges vizuálra, nemtől függetlenül felismerhető̋ dolgokra1. Az androgün jelleg nálam sokszor előfordul, a művek esztétikai értékét tekintve nem értek egyet a férfi és női munkák nem szerinti szétválasztásával. Mi számít 'nőiesnek', vagy mi az, ami a képzőművészetben 'férfias'. Egy időben, ezen munkák után szinte erőszakosan próbáltam lecsupaszítani és nagyon semlegessé, rideggé tenni a munkáim, mint pl. A banán-sokszorosító projektemnél2.
Szabad kísérletezés és az állandó kíváncsiság motivál, a megoldások és a technikai kivitelek tekintetében is a sokszínűségre törekszem. Elsősorban konceptuálisan gondolkodom, emellett szenzuális benyomások és érzetek megjelenítésével is kísérletezem.
Szeretem ötvözni a különféle technikákat, kísérletezni velük. A legkülönbözőbb anyagokkal dolgoztam már, objektkészítéshez a gipsz és az agar-agar, egy élelmiszeripari alapanyag a kedvenceim. Sajátosan tekintek az ételekre, szívesen használom fel őket összetevőként egy műtárgyhoz, mint például az extrudált kukorica- szobraim. Ezek mindig érdekes kérdéseket is felvetnek a konzerválásról, a restaurálásról vagy egyáltalán, a műtárgy fogalmáról. Az organikus dolgok keveredése a mesterségessel inspiráló számomra, így kaptak helyet csírázó zöldségek installációmban, és így született meg az egyik műtárgyam is, a gipszbe öntött gyökérzet. Izgalmasnak találom a növények különböző̋ jellegzetességeit, mint a növekedés, pusztulás, és a térhódítás34.
A tér és a sík felület kapcsolata különösen érdekel. Az installációimban helyet kapnak rajzok, a képeimben pedig nagyon foglalkoztat a tér. A 3D képeim előzményé egyfajta bezártság érzet volt, a valódi tér (műterem) hiánya, így a kényszer vezérelt a virtuális térbe. Ezek a képek technikai kollaborációk is, az installáció építés, szobrászat és a digitális technikák találkoznak kortárs festészeti tendenciákkal. Ezekben a munkákban képet adok nagyon színes és nagyon nyomasztó világunkról, megfigyelések a jelenünkről, megoldások vagy kijelentések nélkül. Étkezés, mint rítus, design, mint műanyagba öntött étrendek, ehető̋ műtárgyak, ehetetlen gyümölcsök. Üresség, reklámok, márkák, sokszorosítás, virtuális valóság. Egy olyan világot alkotnak, ahol a minden tekintetben valószínűtlen és műanyag ételek, tárgyak önálló életre kelnek, a neon színű̋, lebegő̋ üres térben kérdések fogalmazódnak meg. Valószínűtlen formák és színek jellemzik ezeket a képeket. Nem absztrakt képek, mindent felismerünk és mégis minden hazugság. Nagyon színes és nagyon nyomasztó, mesterséges, zsúfolt és szorongatóan üres. Az ételek itt is fontos szimbólumokként jelennek meg, hagyományos cukrászsütemények vagy mesterséges ízfokozók, avantgárd étrendek és kortárs étkezési szokások567.
Ezt a nyomasztó hamisságot viszem tovább a festészetben is, a távol-keleti popkultúra vizuális jellemzőit használva. Számomra a manga és anime túltökéletesített, túlszépített világa az, ami igazán érdekes. A food-designra reflektáló, tökéletes, aprólékosan kidolgozott ételek mellett az anime szereplők (mind férfi, mind női) valószínűtlen szépsége egy erős kritikát hordoz a mai hamis világunkról, ahol mindent átitat a design891011.
Azt gondolom, egy jó művészeti munkában a lehető̋ legkevésbé fontos, hogy mennyire 'genderazonos', vagy mi a neme az alkotónak. Kifejezetten feminista témákkal nem szeretek foglalkozni, vagy a feminizmus kérdéseit a művészetem középpontjába tenni. Inkább úgy gondolom, erőteljes és sajátos, karakteres, intelligens művésznek lenni már önmagában feminista.
A statement Lovász Luca és Kopeczky Róna művészettörténész együttműködésében jött létre (2021).
Kopeczky Róna – szül. 1983 – kurátor, művészettörténész, Budapesten él. 2006 és 2015 között a budapesti Ludwig Múzeum nemzetközi művészetért felelős kurátoraként dolgozott, ahol elsősorban a közép-kelet-európai régió fiatal és középgenerációs képzőművészeinek hely- és helyzetspecifikus művészeti gyakorlatával foglalkozott. 2015-től a budapesti acb Galéria művészeti vezetőjeként dolgozik, és a magyar neoavantgárd művészet elfeledett, elhanyagolt életműveinek kutatásával az acb Research Lab publikációs tevékenységéhez is aktívan hozzájárul. 2015 elején csatlakozott az első OFF-Biennále Budapest csapatához, és tagja volt a 2017 őszén megrendelésre kerülő második OFF-Biennále Budapest kurátori csapatának. A közép- és kelet európai kortárs művészeti szcénára fókuszáló Easttopics platform/hub társalapítója és társvezetője. Jelenleg a következő, 18. Tallinni Print Triennále kurátoraként is dolgozik. PhD fokozatát a Sorbonne Egyetemen szerezte 2013-ban.
1Kép: Lovász Luca és Petró Petra, 100g 370kcal 6,5g zsír, 65g szénhidrát 8,5g fehérje, 2017, installáció, extrudált kukorica, nyál, változó méret. A művész jóvoltából.
2Kép: Lovász Luca, #4765, 2017, purhab, drót, változó méret. A művész jóvoltából.
3Kép: Lovász Luca, Growing with nature - what does it mean?, 2018, vegyes technika, Salgó polc, banános láda, objektek gipszből és purhabból, festmény, hőpapír, faxpapír, üvegek, víz, fény, idő, változó méret. A művész jóvoltából.
4Kép: Lovász Luca, Growing with nature - what does it mean?, 2018, vegyes technika, Salgó polc, banános láda, objektek gipszből és purhabból, festmény, hőpapír, faxpapír, üvegek, víz, fény, idő, változó méret. A művész jóvoltából.
5Kép: Lovász Luca, Fagyasztott péksütemények l., 2019, renderelt CGI. A művész jóvoltából.
6Kép: Lovász Luca, Futurista rémálom (a szénhidrát hatalma), 2020, renderelt CGI, giclée print, 70 x 100 cm. A művész jóvoltából.
7Kép: Lovász Luca, Buddha-tál, 100% #vegán & #gluténmentes Minden étrendbe beilleszthető, szójababcsíra, sült tofu műgyanta glazúrral, üvegtészta, mandulatej, áttetsző plexilapok, jégkocka, szintetikus méhviasz, 2020, renderelt CGI, giclée print, 70x70 cm. A művész jóvoltából.
8Kép: Lovász Luca, Almák, 2020, akril, farostlemez, 70 x 100 cm. A művész jóvoltából.
9Kép: Lovász Luca, Reggeli a műteremben, 2020, digitális rajz. A művész jóvoltából.
10Kép: Lovász Luca, How to get rid of an unwanted feeling, 2020, akril, farostlemez, 100 x 140 cm. A művész jóvoltából.
11Kép: Lovász Luca, Házhozszállítás (A túl sok fűszeres étel megfekszi a gyomrot, 2020, giclée print, 70 x 100 cm. A művész jóvoltából.