Alije Vokshi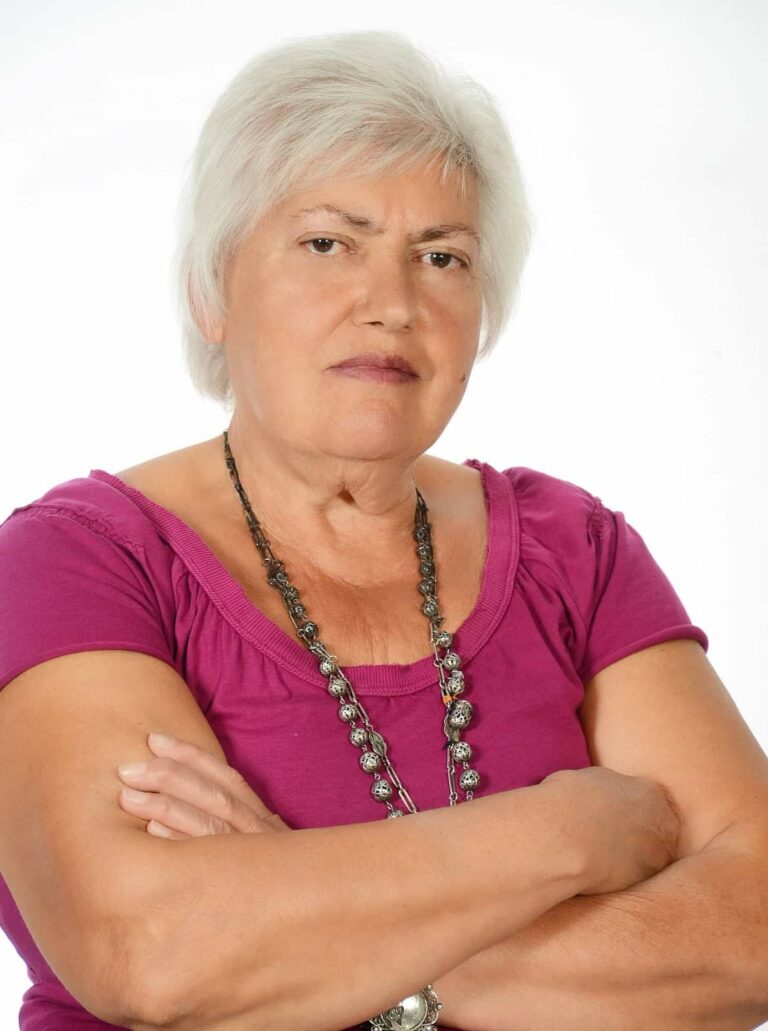 – born in 1945 in Prishtina, died in 2022 – was an academic painter. Vokshi is most renowned for her expressionist portraits. She is the first woman in Kosovo to take up painting as a profession. In 1968, she graduated from the Painting Department, in the class of Nedeljko Gvozdenović, at the Academy of Figurative Arts in Belgrade, Serbia. In the same year, she became a member of the Association of Figurative Arts of Kosovo. In 1978, Vokshi spent an academic year at the Académie de la Grande Chaumière in the class of Yves Brayer, Paris, France. Three years later, in 1981, she received her master's degree from the Academy of Figurative Arts in Belgrade. From 1974 to 2015, Vokshi taught painting at the Department of Graphic Design at the University of Prishtina. Vokshi's works can be found in the collection of the National Gallery of Kosovo and the National Gallery of Art of Albania.
I went to Pedagogical High School for two years. Then my professor saw that I was painting very well, he was from Montenegro, and he told me, "You should definitely go to Belgrade to continue your studies because you are painting so well, your portraits…" and I went to Belgrade. When I went to Belgrade to take the entrance exam… we worked for one week with colors, drawing, with… and in the end, I passed the exam. It was a big joy for me. All the professors came to me and asked, "But your paintings…" One of them was a painting professor there, she asked me, "You have something very special, keep it up, you are painting very well." Another professor from Belgrade, Zoran Petrović, complimented my portraits, they really motivated me. I was very happy when I passed the entrance exam. It was a great joy for me.
I wasn't even thinking about going to Belgrade, but my professor, he was the reason I went. My mother said, "There is no way you are going there, you have to stay here and get married. Look, all your friends are married already," but my father supported me by saying, "You have to go and that's it!" I did five years of studies. Two years here in Prishtina, three there in Belgrade, five in total. At the beginning of my studies, I had no loan from the government or scholarship. So it was a little difficult. My father always worked, we were four children. He didn't know what to spend his money on first, to educate us or… the salaries, the income back then were very low. There were difficulties in the beginning, but after getting a scholarship, and a government loan, things got better. I could buy canvases and paint, I could buy drapery, I could buy everything.
Usually, we used the city bus to go to the center from campus. In the center of Belgrade was Hotel Moscow. Near that hotel, I saw a woman of Roma nationality dressed in their traditional costume. They had something special that I liked and asked the lady, "Would you like to come and sit for us at the Faculty of Arts?" She accepted and I took her with me to painting class as an art model. A friend of mine and a colleague said, "You shouldn't have done this! The professor doesn't like anyone interfering in his work, in his syllabus. He only wants us to do still life." But it turned out that it was a good idea to bring an art model and in the end when everybody finished their portraits, the professor was impressed by my initiative. On that occasion, I was evaluated with an excellent grade.1
After finishing my studies in 1968, I came back to Prishtina, and a professor from the Teaching School, Engjëll Berisha said, "We have an open call, we need a painting teacher." I applied and got accepted. I started working in the Teaching School in 1969. There I worked a lot with students. My students were really good, even nowadays when they see me they are all like, "Professor, professor!" They are fantastic, they are really good. I worked there for a while. Then I started at the Academy of Arts, and I continued working there. During the school year 1969 – 1970, while working in the Teaching School I produced many works and opened an exhibition in the foyer of the People's National Theater. I had several exhibitions in the foyer of the Theater and this was to me… many, many, many good things happened to me in the Teaching School, as well as when I came to the Academy with my students. My students also helped me a lot with the conversations we had. Now all of my students are professors at the Academy of Arts.
So I started painting in the studio, I would paint… I would take my art models to the studio. Once I saw an old man from the village, a villager with a horse carriage. It was so interesting to me, and I thought that was a good subject to paint. I asked him, "Can you come to my studio, I want to do a portrait of you?" "Yes." He agreed to come with me in the studio, though he was very tired. He wore a white plis (a traditional white conic hat). His plis was drenched in sweat and was no longer white. I painted his plis with a darker color, not pure white, because it wasn't white due to the hard work and sweat.2 Most of the people liked it… and it was very interesting. At the exhibition opening, a visitor said to me, "This is very interesting, I can see that he is a hardworking man just by looking at his big hands, that…" To this day, it still remains one of my favorite portraits and I have it in my private collection. That one is not for sale nor will I give it as a gift.
Portraits were for me, portraits. Yes, portraits and only portraits. Back when I was studying at the High Pedagogical School, the professors instructed me, "Do portraits because you do them very well." I want to single out my mother's portrait, where I decided to draw bigger hands, her palm of her hand. I wanted to point out that she was a hardworking woman, a diligent woman, who with her bare hands, out of nothing created many great and beautiful things for us children. 34
As my art practice evolved I wanted to go outside the walls of my studio and out into nature, and have the art model as the main object of study. Life-drawing in nature. I used to do lots of life-drawings and what I liked most was drawing art models in movement. The art model in movement intrigued me the most, not just the static aspect of it. The lines in these life-drawings, almost all of them moved diagonally. In this series, the art models were never real. They were imaginary. They were in my head and as such, I painted them on canvas.
Then in 1977, there was an open call to specialize, because back then we would go to specialize. I applied and got accepted to go to Paris, I left my children… I left my late husband, doctor Bylbyl Shehu. He was a pediatrician, and two of my daughters, Arta, was six years old. I left her at the time when she had just started school and the other girl, Visare, was four years old. I think that no Albanian woman did this, it was not in our tradition to go and leave your children and husband, but I went. And I went there, my brother instructed me and showed me the way because he was previously in Paris and he knew, because he finished Film Editing in Paris.
My favorite writer is Emil Zola. In one of his novels, In the Paradise of Women, he describes a family when they first see Paris: "A woman with two children, with a brother and a sister went to Paris from the village after the death of their father, and they went to their paternal uncle's and when they entered Paris, when they entered Paris, those centers, they were in awe…" When I read that I identified with it when I went for the first time in Paris. All those things, those streets, when I read that novel, it felt like it was talking about me because the same thing happened to me, my brother sent me there, and I looked… wow… That novel was really interesting, because the same thing happened to me, just like in Zola's novel In the Paradise of Women.
During the 1999 Kosovo War, we remained here, my late husband and I. Our daughter went to North Macedonia together with everyone else. The nights were very difficult, and I remember that only the moon provided us with some light, at a time when there was no electricity. My mind was very active. I made a painting with a single brush stroke on the canvas. I tried to express the feelings that I was having about the war that I was experiencing.5 During the war, I saw on television a massacred corpse. That image is buried deep in my memory. It was terrible. Later, after the war, I decided to paint that image. The massacred man had a broken arm and was left out of the composition. That image resurfaced very suddenly and I painted that arm with a single brush stroke, but this time that arm was strong and powerful, and it showed the pride and pain that our people felt during the war.
The artist statement was largely based on an oral history interview conducted with Alije Vokshi on July 4, 2014, by Jeta Rexha, and published on www.oralhistorykosovo.org; and a radio interview conducted by Flora Durmishi published in Alije Vokshi's exhibition catalog held at the Gallery of the Ministry of Culture – Qafa in 2018. The artist statement has been sent for confirmation and approved by the artist's daughter, Visare Shehu Selimaj.
1Alije Vokshi, A Portrait of an Old Woman, 1966, Period after studies.
2Alije Vokshi, A Portrait of an Old Man, 1970, Period after studies.
3Alije Vokshi, A Portrait of Old Woman, 1972, Period after studies.
4Portrait of an Old Woman, 1972, Oil on Canvas, Period after studies.
5Alije Vokshi, The Reçak Massacre (massacred man), Period of war, 1999-2007.
— e lindur më 1945 në Prishtinë, vdiq në vitin 2022 — ajo ishte piktore akademike. Vokshi njihet për pikturat e saj ekspresioniste. Ajo është ndër gratë e para në Kosovë që u mor me pikturë në mënyrë profesionale. Në vitin 1968, ajo diplomoi nga Departamenti i Pikturës, në klasën e Nedeljko Gvozdenović, në Akademinë e Arteve Figurative në Beograd, Serbi. Në po të njëjtin vit, ajo u anëtarsua në Shoqatën e Artistëve Figurativ të Kosovës. Në vitin 1978, Vokshi kaloi një vit akademik në Académie de la Grande Chaumière në klasën e Yves Brayer, në Paris, Francë. Tre vite më vonë, më 1981, ajo magjistroi në Akademinë e Arteve Figurative në Beograd. Nga viti 1974 deri 2015, Vokshi ishte profesoreshë e pikturës në Departamentin e Dizajnit Grafik në Univerzitetin e Prishtinës. Veprat e Vokshit janë pjesë e koleksionit të Galerisë Kombëtare të Kosovës dhe Galerisë së Arteve të Shqipërisë.
Fillimisht unë vijova Shkollën e Lartë Pedagogjike për dy vite. Më pas profesori im pa që po pikturoja shumë mirë, ai ishte i Malit të Zi, ai më tha, "Ti duhesh të shkosh patjetër në Beograd t'i vazhdosh studimet sepse shumë mirë je duke punuar, portretet tua…" dhe shkova në Beograd. Në Beograd iu nënshtrova provimit pranues… një javë kemi punuar me ngjyra, vizatim… në fund e dhashë provimin. Atëherë ky ka qenë një gëzim shumë i madh për mua. Të gjithë profesorët u afruan tek unë dhe më pyetën, "Po këto pikturat e tua…" Njëra ishte profesoreshë e pikturës atje, ajo më pyeti, "Ju keni diçka të veçantë, ruajeni këtë, jeni duke pikturuar shumë mirë". Edhe një profesor tjetër i Beogradit, Zoran Petrović, i lavdëroi portretet e mia dhe më dhanë një motivim. Me të vërtetë u gëzova shumë kur e dhashë provimin pranues. Kam përjetuar një gëzim të madh.
Unë as nuk e mendoja të shkoja në Beograd, por profesori, ai ka qenë shkaktar që unë të shkoja atje. Nëna ime tha, "Nuk ka asnjë mënyrë që ti të shkosh atje, do të qëndrosh këtu dhe të martohesh. Shiko, të gjitha shoqet t'u kanë martu," po babai më lëshoi. Ai tha, "Veç me shku!" Kështu i bëra pesë vite studime atje. Dy këtu në Prishtinë dhe tre në Beograd, pesë në total. Në fillim të studimeve s'kam pasur as kredi, as bursë. Ka qenë vështirë pak. Babai im gjithnjë ka punuar, ne ishim katër fëmijë. Nuk dinte se në çfarë të i shpenzojë paratë e tij, të na shkollojë a… atëherë rrogat kanë qenë, të ardhurat shumë të vogla. Në fillim kam pasur vështirësi, mandej kur veç e mora edhe bursën, stipendionin, edhe kredinë, atëherë shumë mirë kam kaluar. Kisha mundësi të bleja ngjyra, pëlhurë, gjithçka.
Me nji autobus shkonim prej qytetit të studentëve në qendër. Në qendër të Beogradit është Hotel Moskva. Aty unë e kam parë nji jevge të veshur me rrobat e tyre tradicionale. Mua më pëlqenin shumë ato sepse ishin karakteristike, edhe e pyta, "A po kishe me ardhë me mua në Fakultet?" Me autobus duhej të shkohej deri në Topčider, prej nji autobusi në autobusin tjetër. Ajo pranoi dhe e mora atë me veti në Fakultetin e Arteve. Kur shoqja ime po më thotë, "Çka ki bo? S'ka dëshirë profesori me iu përzi në punë, në planprogramin e tij. Ai ka dëshirë që ne të punojmë vetëm natyra të qeta". Mirëpo, në fund kur është përfunduar portreti të gjithë kanë qenë shumë të kënaqur. Kështu edhe mua profesori ma dha notën e shkëlqyeshme.1
Kur erdha këtu në Prishtinë në vitin 1968, një profesor i Shkollës Normale, Engjëll Berisha më tha, "Është shpallur konkursi, kemi nevojë për nji piktore". Edhe unë konkurova edhe u pranova. Në vitin 1969 fillova të punojë në Shkollën Normale. Aty punova shumë me studentë. Shumë të mirë i kam pasur studentët, edhe sot kur më shohin, "Profesoreshë, profesoreshë!" Fantastik janë, shumë janë të mirë. Aty punova për një kohë. Më pas kalova në Akademinë e Arteve dhe aty vazhdova të punojë. Gjatë kohës që punova në Shkollën Normale, gjatë viti akademik 1969-1970 e hapa një ekspozitë në foajenë e Teatrit Krahinor. Shumë ekspozita kam pasur në foaje të Teatrit dhe kjo… shumë, shumë, shumë gjëra të mira më kanë ndodhë sa kam qenë në Shkollën Normale, por edhe këtu kur erdha në fakultet me studentë. Studentët më kanë ndihmuar shumë përmes bisedave që kishim. Tash të gjithë ata studentë të cilëve ju kam dhënë mësim janë profesorë në Akademi.
Kështu fillova të pikturoj në atelie, pikturoja… në atelie i merrja modelet. Njëherë takova nji fshatar, ka qenë me këto kerret me kuaj. Ishte shumë interesant për mua edhe dhe ishte subjekt të cilin dëshiroja ta pikturoja edhe i thashë, "A po vjen për me të pikturu në atelie?" "Po". Ai pranoi të vinte në atelie, edhe pse ishte shumë, shumë i lodhur. Një plis i cili kishte marrë ngjyrë nga puna e rëndë dhe djersa.2 Nuk ishte më i bardhë. Atë plisin e kam pikturuar me ngjyrë më të mbylltë, jo të bardhë të pastër, por prej punës që ka punu. Shumë interesant kjo i ka pëlqyer shumicës. Në ekspozitën që e kam pasur një vizitor më tha, "E kjo shumë interesant, po shifet që është me këto durtë e mëdhaja punëtore që ka…" Sot e asaj ditë ai mbetet portreti im më i dashur dhe ende e kam në koleksionin tim privat. Atë nuk e kam në shitje dhe e nuk e fali.
Portreti ka qenë për mu, portreti. Po, vetëm portreti, portretet. Më vonë më kanë udhëzuar edhe profesorët këtu të Shkollës së Lartë Pedagogjike, "Puno portrete se shumë mirë je t'u punu". Dua ta veçoj edhe portretin e nënës sime. Aty për aty vendosa që asaj t'ia pikturoj duart më të mëdha, shuplakat e dorës. Ideja ime ishte të vë në dukje faktin se ajo ka qenë një grua shumë punëtore, një grua e zellshme, e cila me ato dy duar nga asgjëja, ka arritur të krijojë shumë gjëra të mëdha dhe të bukura për neve fëmijët.34
Me zhvillimin e praktikës sime artistike fillova të dal jashtë mureve të ateliesë, të dal në natyrë dhe si objekt kryesor studimi e kisha aktin. Aktin në natyrë. Bëja vizatime të shumta dhe ajo që më pëlqente ishte modelimi i aktit në lëvizje. Më intrigonte lëvizja e aktit, jo vetëm pjesa statike e tij. Thuajse të gjitha vijat në këto vizatime lëviznin në diagonale. Në këtë cikël modeli nuk ka ekzistuar. Ato modele ishin imagjinare. Ishin në kokën time dhe si të tilla unë i hidhja në pëlhurë.
Më pas në vitin 1977 është hapur konkursi për specializim, se përpara shkojshin në specializim. Unë konkurova dhe shkova në Paris, i lashë fëmijët… e lashë bashkëshortin tim të ndjerë doktor Bylbyl Shehun. Ai ka qenë pediatër, dhe dy vajzat e mia Artën gjashtë vjeçare. Atë e lashë në një moment kur ka filluar të shkojë në shkollë, dhe vajzën tjetër Visaren katër vjeçare. Unë mendoj se kështu asnjë grua shqiptare s'ka vepruar, nuk ka qenë zakonshme me shku dhe me i lanë fëmijët dhe burrin, por unë shkova. Atje shkova bashkë vëllau tim, ai më dërgoi pasi që kishte qenë më përpara atje. Ai ka studjuar montazhën në Paris edhe i dinte këto gjëra. 
Emile Zola ishte autori im i preferuar. Në njërën nga librat e tij, "Në parajsën e femrave" ai përshkruan një familje që sheh Parisin për herë të parë: "Vajza me dy fëmijë, me një vëlla edhe me nji motër dorë për dore kanë ardhur në Paris prej një fshati pasi që ju vdes babai, edhe vijnë te axha këtu edhe kur kanë hy, në hyrje të Parisit, ato qendra, janë hutu, jonë…" Edhe të gjitha ato gjëra, ato rrugë, kur e kam lexuar atë unë kam menduar se unë jom në atë libër. Njëjtë mua vëllau im më ka dërguar në Paris atëherë, edhe po e shiqoja Parisin… uau… shumë më është dukur interesant ai roman, se edhe mu më ka ndodhë ashtu njëjtë siç e ka shkruar Zola në atë roman, "Në parajsën e femrave".
Gjatë luftës së vitit 1999 në Kosovë, ne mbetëm këtu në shtëpi, unë dhe bashkëshorti im i ndjerë. Vajza shkoi në Maqedoni të Veriut atëherë kur shkuan të gjithë. Netët ishin shumë të rënda, dhe më kujtohet që shpesh vetë hëna na ndriçonte duke zëvendësuar energjinë elektrike. Nënvetëdija ime sikur punonte. Bëra një pikturë me një potez mbi pëlhurë. Unë paraqitja ndjenjat që i kisha mbi luftën të cilën po e përjetoja.5 Gjatë luftës pashë në televizor një njeri të masakruar. Ajo pamje më mbeti thellë në kujtesë. Ishte e tmerrshme. Më vonë, pas luftës, vendosa të pikturoja atë pamje. Njeriut të masaktruar i kishte mbetur krahu, por këtë herë ai krah ishte aq i fortë, aq i fuqishëm, sa tregonte tërë krenarinë dhe dhimbjen e popullit tonë gjatë asaj lufte.
Një pjesë e madhe e deklaratës artistike është bazuar në intervistën e historisë gojore me Alije Vokshin e realizuar më 4 korrik, 2014 nga Jeta Rexha dhe e publikuar në www.oralhistorykosovo.org; dhe nga radio intervista e realizuar nga Flora Durmishi e publikuar në katalogun e ekspozitës së Alije Vokshit që u mbajt në Galerinë e Ministrisë së Kulturës – Qafa në vitin 2018. Deklarata artistike është dërguar për konfirmim dhe aprovuar nga vajza e piktorës së ndjerë, Visare Shehu Selimaj.
1Alije Vokshi, Portreti i plakës, 1966, Periudha pas studimeve.
2Alije Vokshi, Portreti i plakut, 1972, Periudha pas studimeve.
3Alije Vokshi, Portreti i plakës, 1972, Periudha pas studimeve.
4Portreti i plakës, 1972, vaj në pëlhurë, Periudha pas studimeve.
5Alije Vokshi, Masakra e Reçakut (njeriu i masakruar), Periudha e luftës, 1999-2007.