Lilla Szász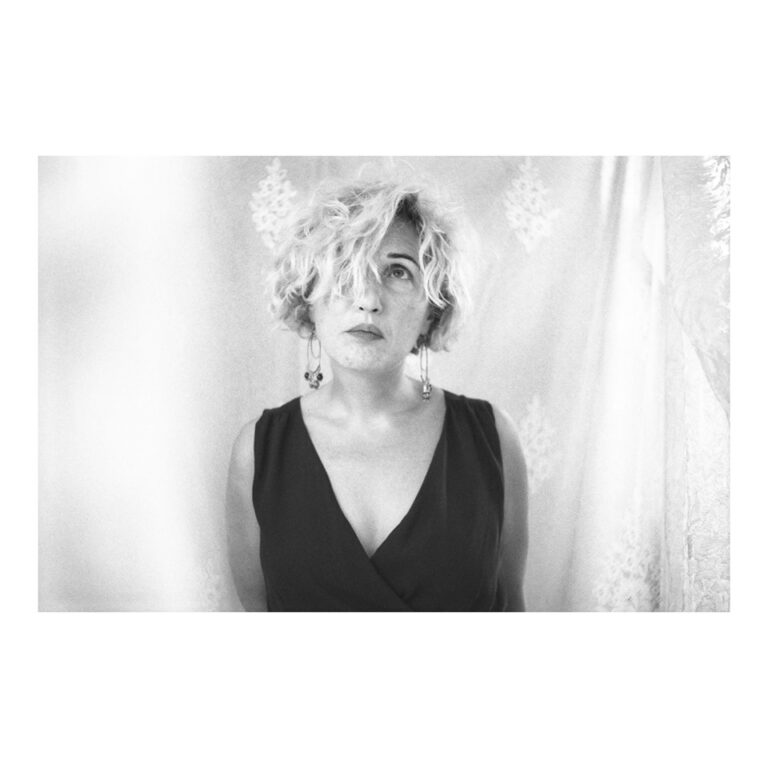 – born 1977 in Budapest, lives and works in Lisbon and Budapest. Her sensitive, diary-like series of photos explores social taboos and different forms of otherness. Her works portray human vulnerability and give an insight into the lives of marginalized social groups, prostitutes, young criminals living in institutions, or even an HIV-positive elderly woman. Her projects have been exhibited at the Photo España in Madrid, the National Gallery in Warsaw and the Fotohof in Salzburg, among others. In 2018 and 2019, she conducted researches in Lisbon and New York as a Fellow of the Asylum Arts Grant.

Portrait of the artist by Csaba Aknay
As my father was a diplomat, I lived in different countries as a child. Because of this, the boundaries of home have always been vague. I was never connected to nations, but rather to people, which also determines my artistic work. In recent years, I have been living in two places at the same time: I commute between Budapest and Lisbon. As a result of this, my art practice focuses on identity, human relationships, and how certain communities work.
I usually think in stories through which I can tell some kind of universal experience. These stories, that I typically find by keeping my eyes constantly open, often flow into each other. In my latest exhibition and book named "Histories of Love"1, I took over the work entitled The Dance of Glasses2 from my previous project on the life of an HIV-positive woman3. The images tell the story of Márta, the protagonist of the photo series, who at the age of 52 and eight months – at the same age when her husband died of AIDS – opened a bottle of champagne and toasted her dead love.
I usually start the work by reading: I first delve into the topic that I am interested in, and when I acquire enough knowledge, I visit the experts in the field or those I want to work with on the project. I've always been attracted to reality, to situations that are shaped by life, so I'm especially inspired by documentaries or books that tell true stories. In addition to contemporary American literature, I have recently been greatly influenced by the writings of Elena Ferrante, and in fiction my favourites are Tolstoy, Gogol, Dostoevsky, and Truman Capote.
The most important thing for me in a work is to be true and also visually well-articulated. I'm less focused on making a picture perfect, on the contrary, I like mistakes because they bring the composition to life. Many times, the theme of the photo series also orientates the way it will be displayed. In my work entitled Greetings from My New Home4 in which I dealt with Portuguese citizens repatriated from Portuguese colonies in Africa, the personal stories of people forced to leave their homes. A lot of information I gathered came from postcards, so it was obvious that I would also be exhibiting the images in this format5. The point for me has always been to be able to work with people and create a performance together that is our common reality. It is a sensitive process in which we interact with each other. My works also comprise the souls, personalities and thoughts of those whom I deal with in the project or those who are involved in its realization.
Not a day goes by without me making art. I usually work on several materials at the same time, at least two of my projects do develop in parallel. When I'm in Lisbon, I go out to the ocean every day because the closeness of water replenishes me and allows me to immerse in my thoughts. I live a pretty disciplined life, this keeps me going. In addition to my artistic practice, I teach English and Russian. I do many things because I don't like financial insecurity. The worst feeling would be if I couldn't do art because I don't have the money for it. On the other hand, I never considered art as a way to make a living because I insist on keeping my freedom. For this reason, and due to the current political climate, it has been years since I did not apply for Hungarian state support, or did not exhibit in any public institution.
A friend of mine once said that if you don't like your country, move someplace else. This seems really simple these days, but I have mixed feelings about it: although I feel much more liberated in Portugal, I still miss the art scene of Hungary, my friends, Budapest and the Hungarian language. Although I feel that people are prejudiced in Lisbon too, there is a social filter that impedes them to go beyond a certain point. There are sentences that simply cannot be said. I strongly disagree with the actions taken against the LGBTQ and all other minorities now in Hungary. I want to live in a world where everyone can love who they want, should they be HIV positive6 or of any sexual orientation7. I also follow this ethos in my work: I consider myself primarily a human being and not a woman. I have questions and I try to answer them in art.
The statement was written in collaboration with curator Andrea Soós (2020).
1Image: Lilla Szász, Histories of Love, 2009-2018, colour negative, giclée print, 50 x 70 cm. Courtesy of the artist and Inda Gallery, Budapest.
2Image: Lilla Szász, The Dance of Glasses, 2015,  lambda print, 12 pcs, 13 x 13 cm each. Courtesy of the artist and Inda Gallery, Budapest.
3Image: Lilla Szász, detail from the film Positive, 2015. Courtesy of the artist.
4Image: Lilla Szász, Greetings From My New Home, 2018-2020, colour negative, lambda print, 9 x 13 cm. Courtesy of the artist and Inda Gallery, Budapest.
5Image: Lilla Szász, Greetings From My New Home, 2018-2020, colour negative, lambda print, 9 x 13 cm. Courtesy of the artist and Inda Gallery, Budapest.
6Image: Lilla Szász, detail from the film Positive, 2015. Courtesy of the artist. 
7Image: Lilla Szász, Mama Zsolti Goes to Heaven, 2008-2010, colour negative, analogue development, 50 x 50 cm. Courtesy of the artist and Inda Gallery, Budapest.
– szül. 1977, Budapest – Lisszabonban és Budapesten él és dolgozik. Érzékeny, naplószerű fotósorozatai a társadalmi tabukat és a másság különböző formáit vizsgálják. Munkáiban az emberi sérülékenységet jeleníti meg: fotóin marginalizált társadalmi csoportok, prostituáltak, intézetben élő, fiatal bűnőzők vagy akár egy HIV pozitív idős nő életébe nyerhetünk betekintést. Projektjeit többek között a madridi Photo España, a varsói Nemzeti Galéria valamint a salzburgi Fotohof kiállításain mutatták be. 2018-ban és 2019-ben az Asylum Arts Grant ösztöndíjas művészeként kutatott Lisszabonban és New York-ban.

A művész portréját készítette: Aknay Csaba
Gyerekkoromtól kezdve sokáig külföldön éltem, mivel édesapám diplomata volt. Emiatt mindig is elmosódtak az otthon határai. Sosem nemzetekhez, hanem inkább emberekhez kapcsolódtam, ami a művészeti munkásságomat is meghatározza. Az elmúlt években kétlaki életet alakítottam ki: Budapest és Lisszabon között ingázom. Ebből adódóan művészeti gyakorlatomban az identitás, az emberi viszonyok érdekelnek, és az, hogy hogyan működnek bizonyos közösségek.
Történetekben gondolkozom, amelyek révén valamilyen univerzális tapasztalatot mesélhetek el. Ezek a történetek, amik jellemzően úgy találnak meg, hogy folyamatosan nyitva tartom a szemem, gyakran egymásba folynak. A legújabb, "Szerelem történetek"1 című kiállításomba és könyvembe a korábbi, egy HIV pozitív nő életét feldolgozó projektemből2 vettem át A poharak tánca3 című munkát. A képek azt mesélik el, amikor Márta, a fotósorozat főszereplője 52 éves és nyolc hónapos korában – épp annyi idősen, ahány évesen férje AIDS-ben elhunyt – kinyitott egy üveg pezsgőt és koccintott az életére halott szerelmével.
A munkát általában olvasással kezdem: először beleásom magam abba a kérdésbe, ami izgatni kezd, majd amikor már elég tudással rendelkezem, akkor felkeresem a téma szakértőit vagy azokat, akikkel szeretnék együttműködni a projektben. Engem mindig is vonzott a valóság, azok a helyzetek, amelyeket az élet alakít, ezért különösen inspirálnak a dokumentumfilmek vagy az olyan könyvek, amik igaz történetekről szólnak. A kortárs amerikai irodalom mellett mostanában Elena Ferrante írásai voltak nagy hatással rám, a szépirodalomban pedig a kedvenceim Tolsztoj, Gogol, Dosztojevszkij és Truman Capote.
Egy anyagban számomra az a legfontosabb, hogy igaz legyen és emellett vizuálisan is jól megfogalmazott. Már kevésbé összpontosítok arra, hogy egy kép tökéletes legyen, éppen ellenkezően, szeretem a hibákat, mert ezek élővé teszik a kompozíciót. Sokszor a fotósorozat témája is alakítja a megjelenítést. Az Üdvözlet új otthonomból4című munkámban, ahol az afrikai portugál gyarmatokról visszatelepített portugál állampolgárokkal, az otthonukat elhagyni kényszerült emberek személyes történeteivel foglalkoztam. Sok információt képeslapokról gyűjtöttem össze, ezért egyértelmű volt, hogy a képeket is ebben a formátumban fogom kiállítani5. Mindig is az volt a lényeg, hogy emberekkel dolgozhassak és együtt létrehozzunk egy performanszot, ami a közös valóságunk. Ez egy érzékeny folyamat, amely során kölcsönösen hatunk egymásra. A munkáimban azoknak a lelke, személyisége, gondolatai is benne vannak, akikről szól a projekt, vagy akik részt vesznek a megvalósításban.
Nem telik el úgy egy napom, hogy ne foglalkoznék művészettel. Általában egyszerre több anyagon is dolgozom, legalább két projektem szokott párhuzamosan alakulni. Amikor Lisszabonban vagyok, minden nap kimegyek az óceánhoz, mert a víz közelsége feltölt és el tudok mélyedni a gondolataimban. Elég fegyelmezett életet élek, ez tud megtartani. A művészeti praxisom mellett angolt és oroszt tanítok. Igyekszem több lábon állni, nem szeretem az anyagi bizonytalanságot. A legrosszabb érzés az lenne, ha amiatt nem tudnék alkotni, mert nincs rá pénzem. A művészetre viszont sosem tekintettem úgy, mint ami a megélhetésemet biztosítja, mert ragaszkodom a szabadságomhoz. Emiatt, és a jelenlegi politikai klíma miatt már évek óta nem pályázom magyar állami támogatásra és nem állítok ki állami intézményben.
Egy barátom fogalmazta meg egyszer, hogy ha nem tetszik az országod, válts. Ez manapság tényleg egyszerűnek tűnik, bennem azonban van egy kettősség: bár sokkal felszabadultabbnak érzem magam Portugáliában, mégis hiányzik Magyarországról a művészeti közeg, a barátaim, Budapest és a magyar nyelv. Bár Lisszabonban is érzékelem, hogy sokszor előítéletesek az emberek, van egy társadalmi szűrő, amin nem mennek át bizonyos dolgok. Vannak mondatok, amik egyszerűen nem hangozhatnak el. Ami most Magyarországon zajlik az LMBTQ és minden egyéb kisebbség elleni fellépést illetően, azt kifejezetten visszautasítom. Olyan világban szeretnék élni, ahol mindenki azt szeretheti, akit akar, legyen az az ember HIV pozitív6 vagy akármilyen szexualitású7. Ezt a szellemiséget követem a munkámban is: elsősorban embernek tartom magam és nem nőnek. Kérdéseim vannak, amelyekre a művészetben igyekszem megtalálni a válaszokat.
Az artist statement Szász Lilla és Soós Andrea együttműködésében jött létre (2020).
1kép: Szász Lilla, Szerelem történetek, 2009-2018, színes negatív, giclée nagyítás, 50 x 70 cm. A művész és az Inda Galéria jóvoltából.
2kép: Szász Lilla, részlet a Pozitív című filmből, 2015. A művész jóvoltából.
3kép: Szász Lilla, A poharak tánca, 2015, lambda print, 12 db, 13 x 13 cm egyenként. A művész és az Inda Galéria jóvoltából.
4kép: Szász Lilla, Üdvözlet új otthonomból, 2018-2020, színes negatív, lambda print, 9x13 cm. A művész és az Inda Galéria jóvoltából.
5kép: Szász Lilla, Üdvözlet új otthonomból, 2018-2020, színes negatív, lambda print, 9x13 cm. A művész és az Inda Galéria jóvoltából.
6kép: Szász Lilla, részlet a Pozitív című filmből, 2015. A művész jóvoltából. 
7kép: Szász Lilla, Zsolti mama mennybe megy, 2008-2010, színes negatív, analóg nagyítás, 50 x 50 cm. A művész és az Inda Galéria jóvoltából.