Kateřina Šedá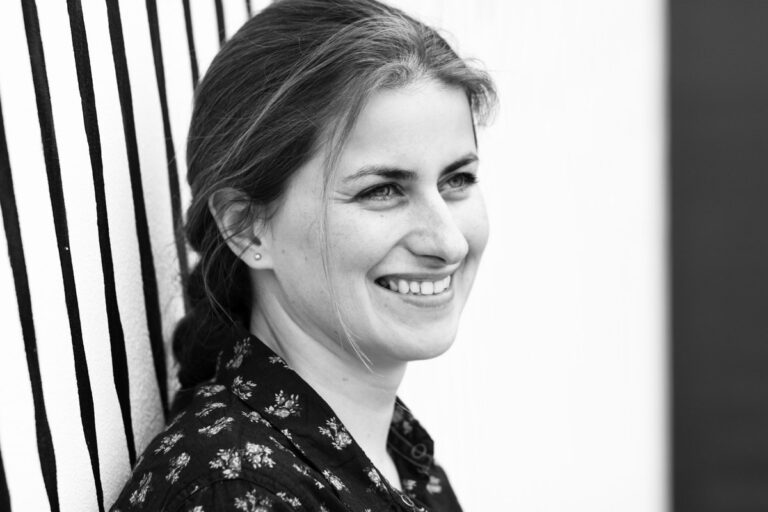 – born 1977. Kateřina Šedá is a czech artist whose work utilizes social architecture. Between 1999 and 2005, she studied in Prague at the Academy of Fine Arts with Professor Vladimír Kokolia. In her work, Šedá focuses on socially engaged events, often employing dozens or hundreds of people who have nothing to do with art. These events take place primarily in village centers or on city streets. The purpose of experimenting with interpersonal relationships is to bring those involved out of their stereotypes or social isolation. Šedá tries to induce lasting changes in the participants' behavior by means of their own (elicited) activity and by finding new uses for everyday resources.
I engage primarily with the question of how to turn an obstacle between people into a vehicle of connection that can bring them closer to each other. In addition, my way of working is to have the inhabitants themselves take part in the transformation, which is always a demanding process, as in principle it calls up a lot of conflicts. People often find themselves in situations that they don't understand. My task is to patiently explain the point of the matter and to become a kind of a guide to their transformation. Their criticism or insults often have no relation to me or to the meaning of a specific action, but are projections of their own problems, previous conflicts or unfulfilled ambitions. For me, however, it is essential to stay firm, not give in to the pressure of negation and not to yield to such attitudes. It's a complicated process with a different path of development in each setting, but it has paid off many times – the strongest opponents have eventually become the most enthusiastic fans.
In my opinion, an artist's main role is to teach society how to see things that are not usually visible. Each artist does so using completely individual means, and to this day I still do not understand the ongoing disputes concerning the degree of importance of different types of expression. At the end of the day, it doesn't matter whether you are a painter, sculptor or activist, whether you use a brush or the principle of participation. What matters is how convincingly you are able to pass on your worldview to others and thus enrich theirs.
I am most interested in daily life, human behavior and the barriers that prevent people from communicating clearly and reaching agreement. I have basically used this way of working (identifying barriers between people) since my childhood, when I did my first actions, but I couldn't name it precisely. Gradually, I began to notice that what links my individual projects is my attempt to transform barriers into bridges. Sometimes the barrier takes the form of a fence, at other times it may be a sentence repeated continually. People usually come together on the basis of common ideas, interests and friends, but I do it the other way around. For example, when I was organizing The Biggest Czechoslovak Date, I was looking for a problem that prevented people from finding new relationships – I was not seeking for a fun activity they might do together1. As the "unresolved past" turned out to be the biggest drawback, I introduced the participants to one another through their previous relationships. In this way, I managed to connect those who would have never met otherwise2.

It's difficult to choose which of my works is most representative of me, because each of my projects has something specific and involves a different aspect of my work. Perhaps I might speak of my first major event THERE IS NOTHING THERE in 2003, in which I involved all (315) of the inhabitants of the Ponětovice village, without knowing a single one of them. I distributed a questionnaire to the inhabitants3. Its results showed that most families spent their Saturdays doing similar activities. My second finding was that the villagers harbored a certain skepticism: they thought that all the important things took place in cities (when talking about their village, they would say "there's nothing here"). My task was to put their everyday life on display. Based on the questionnaire, I formulated an obligatory program for Saturday, 5 May 2003 – a Schedule for a Day4. I tried to convince all of the Ponětovice inhabitants to follow it. So everyone got up out of bed, went shopping (everyone bought the same thing at a symbolic, sponsored price), swept their walkways, had a lunch of tomato sauce and dumplings, went out to have a beer, and then all turned out their lights at the same time. This simple game helped show people that big things could happen in a small town too: you just have to do them together. The success of the event kick-started me as a student and gave me the courage to continue in that direction.
Research is absolutely essential in my work and I use it every time. This introductory phase of creative work often takes me quite a long time, sometimes up to a year. From the outside, my idea may seem banal, but there is usually a long and complicated path to the final project. The road is always full of mistakes and shortcuts with dead ends, but when I find a solution, I no longer doubt it. There is no space for that, because the subsequent implementation is usually quite demanding from the production point of view, and in the field I have to be convincing. If I were in doubt, I would hardly manage to complete large-scale projects.
My research often includes introductory communication with the local people, and this is a specific chapter. Most of the time, I try to do this phase myself, because I am convinced that no one else can respond immediately to the criticism and reproach that sometimes appear. It is an exhausting process and there really aren't many people who would enjoy constantly entering conflicts in the field. On the other hand, I have had to compromise a lot over time, whether in places where I addressed huge groups of people (25,000) and it was impossible for me to knock on every door myself, or where I don't speak the language. In those cases, the translator is always the key person, not just for quality translation, but he or she must also be socially competent. In such places, I sometimes have a connection – it may be a local activist, sometimes an eager official or a curator – who helps me address the community in their language under my leadership5.
In my private life, I have so far been lucky with strong women (my mother, grandmother, and I have two daughters) and principled men (my father, my husband), so I didn't deal with inequality much as a child. Gradually, I began to notice it during my studies, but then I was lucky to have great teachers and as a student I did not feel any inferiority. It was only after graduation that I began to see unequal positions and power pressure. However, I am not one of the artists who set this as the main subject of their work, as I have always been much more involved with subjects like the aging of the population, mutual care and a closed society.
I believe that the epidemic has further added to the importance of these subjects. People have suddenly found out how difficult it is to spend entire days with their families, because we are used to living our single lives at work, in offices, at schools, and we don't get together until the evening. In addition, the reality of elderly people's pastime was brutally exposed: they were wandering the shops in the pandemic so that they would not have to stay home alone. It has become even more obvious that there are very few joint activities that would satisfy all of the generations, that there is not much talk about meeting all expectations. In my opinion, once culture is enlivened again, that is where we need to focus our attention. In school assignments, yearly school projects, calls for grants and public competitions. In bachelor, diploma and doctoral theses as well as in practice.
Inequalities between female and male artists are certainly significant. For women, it is especially difficult to combine family life and raising children with their own work. On the other hand, the opportunity and ability to give birth to a child is a gift, and I would not like to claim it as an obstacle that I have to overcome in my life. I often feel that I have to work three times more than men to manage raising my children without regret, and at the same time for my work not to become something decorative. But that's just the way it is and I am grateful for the chance to do it.
This text was written by Kateřina Šedá in collaboration with Jolanta Nowaczyk (2021).
1Image: Kateřina Šedá, The Greatest Czechoslovak Dating Event, 2018. Courtesy of the artist.
2Image: Kateřina Šedá, The Greatest Czechoslovak Dating Event, 2018. Courtesy of the artist.
3Image: Kateřina Šedá, There Is Nothing There, film still, 2003. Courtesy of the artist.
4Image: Kateřina Šedá, There Is Nothing There, film still, 2003. Courtesy of the artist.
5Image: Kateřina Šedá, Over and Over, photo, 2008. Courtesy of the artist.

– ronarodila se v roce ku 1977. Je česká umělkyně, jejíž tvorba využívá sociální architekturu. V letech 1999 až 2005 studovala v Praze na Akademii výtvarných umění u profesora Vladimíra Kokolie. Šedá se ve své práci zaměřuje na společensky angažované události, často využívajících desítky nebo stovky lidí, kteří nemají s uměním nic společného. Tyto události se konají především v centrech vesnic nebo v ulicích měst. Účelem experimentování s mezilidskými vztahy je vyvést účastníky z jejich stereotypů nebo sociální izolace. Šedá se pokouší vyvolat trvalé změny v chování účastníků pomocí své vlastní (vyvolané) aktivity a hledáním nového využití každodenních zdrojů.
Zabývám se především otázkou, jak přeměnit překážku mezi lidmi na prostředek spojení, který je může přiblížit k sobě. Kromě toho je součástí práce, aby se samotní obyvatelé podíleli na transformaci, což je vždy náročný proces, protože v zásadě vyvolává mnoho konfliktů. Lidé se často dostávají do situací, kterým nerozumí. Mým úkolem je trpělivě vysvětlit podstatu věci a stát se jakýmsi průvodcem jejich transformace. Jejich kritika nebo urážky často nemají žádný vztah ke mně ani k smyslu konkrétní akce, ale jsou projekcí jejich vlastních problémů, předchozích konfliktů nebo nenaplněných ambicí. Pro mě je však zásadní zůstat pevná / silná, nepoddávat se tlaku negace a nepoddávat se těmto postojům. Je to komplikovaný proces s odlišnou cestou vývoje v každém prostředí, ale mnohokrát se vyplatil – nejsilnější oponenti se nakonec stali nadšenými fanoušky.
Podle mého názoru je hlavní rolí umělce naučit společnost vidět věci, které obvykle nejsou vidět. Každý umělec tak činí pomocí zcela individuálních prostředků a dodnes nerozumím probíhajícím sporům ohledně míry důležitosti různých typů výrazu. Na konci dne nezáleží na tom, zda jste malíř, sochař nebo aktivista, zda používáte štětec nebo princip účasti. Důležité je, jak přesvědčivě jste schopni prodat svůj světonázor ostatním a tím obohatit jejich.
Nejvíc mě zajímá každodenní život, lidské chování a bariéry, které brání lidem v jasné komunikaci a dosažení dohody. Tento způsob práce (identifikace překážek mezi lidmi) jsem v podstatě používala od dětství, kdy jsem dělala své první akce, ale nedokázala jsem to přesně pojmenovat. Postupně jsem si začala všímat, že to, co spojuje mé jednotlivé projekty, je můj pokus přeměnit bariéry na mosty. Bariéra má někdy podobu plotu, jindy to může být neustále opakovaná věta. Lidé se obvykle scházejí na základě společných nápadů, zájmů a přátel, ale já to dělám naopak. Například když jsem organizovala Největší československé rande, hledala jsem problém, který lidem bránil v hledání nových vztahů – nehledala jsem zábavnou aktivitu, kterou by mohli společně dělat1. Jelikož se "nevyřešená minulost" ukázala jako největší nevýhoda, seznámila jsem účastníky navzájem prostřednictvím svých předchozích vztahů. Tímto způsobem se mi podařilo spojit ty, kteří by se jinak nikdy nesetkali2.

Je těžké vybrat, která z mých prací je pro mě nejreprezentativnější, protože každý z mých projektů má něco konkrétního a zahrnuje jiný aspekt mé práce. Možná bych mohla hovořit o své první velké události NIC TAM NENÍ v roce 2003, do které jsem zapojila všechny (315) obyvatele obce Ponětovice, aniž bych znala jediného z nich3. Rozeslala jsem obyvatelům dotazník. Jeho výsledky ukázaly, že většina rodin trávila soboty podobnými aktivitami. Mým druhým zjištěním bylo, že vesničané chovali určitou skepsi: mysleli si, že všechny důležité věci se odehrávají ve městech (když mluví o jejich vesnici, řeknou "tady nic není"). Mým úkolem bylo ukázat jejich každodenní život. Na základě dotazníku jsem vytvořila povinný program na sobotu 5. května 2003 – rozpis na jeden den4. Snažila jsem se přesvědčit všechny obyvatele Ponětovic, aby se jimi řídili. Takže všichni vstali z postele, šli nakupovat (všichni si koupili to samé za symbolickou, sponzorovanou cenu), zametli chodníky, dali si k obědu rajskou omáčku s knedlíkem,, šli si dát pivo a pak šli všichni ve stejnou dobu spát. Tato jednoduchá hra pomohla lidem ukázat, že i v malém městě se mohou stát velké věci: musíte je dělat společně. Úspěch akce mě jako studentku nastartovala dodal mi odvahu pokračovat tímto směrem.
Výzkum je v mé práci naprosto zásadní a používám ho pokaždé. Tato úvodní fáze tvůrčí práce mi často trvá poměrně dlouho, někdy až rok. Z vnější strany se můj nápad může zdát banální, ale ke konečnému projektu obvykle vede dlouhá a komplikovaná cesta. Cesta je vždy plná chyb a zkratek se slepými uličkami, ale když najdu řešení, už o něm nepochybuji. Není na to prostor, protože následná implementace je z výrobního hlediska obvykle dost náročná a v terénu musím být přesvědčivá. Kdybych měla pochybnosti, těžko by se mi podařilo dokončit rozsáhlé projekty.
Můj výzkum často zahrnuje úvodní komunikaci s místními lidmi, což je specifická kapitola. Většinu času se snažím tuto fázi udělat sama, protože jsem přesvědčena, že nikdo jiný nemůže okamžitě reagovat na kritiku a výčitky, které se někdy objeví. Je to vyčerpávající proces a opravdu není mnoho lidí, kteří by rádi neustále vstupovali do konfliktů v terénu. Na druhou stranu jsem v průběhu času musela hodně dělat kompromisy, ať už na místech, kde jsem oslovila obrovské skupiny lidí (25 000) a bylo pro mě nemožné zaklepat na každé dveře sama, nebo tam, kde neovládám jazyk . V takových případech je překladatel vždy klíčovou osobou, nejen pro kvalitní překlad, ale musí být také sociálně kompetentní. Na takových místech mám někdy spojku / – může to být místní aktivista, někdy dychtivý úředník nebo kurátor – který mi pod mým vedením pomáhá oslovovat komunitu v jejich jazyce5.
V soukromém životě jsem měla dosud štěstí na silné ženy (moje matka, babička, a já mám dvě dcery ) a zásadové muže (můj otec, můj manžel), takže jsem se s nerovností jako dítě příliš nezabývala. Postupně jsem si toho začala všímat už během studia, ale pak jsem měla štěstí na skvělé učitele a jako studentka jsem necítila žádnou podřadnost. Teprve po promoci jsem začala vidět nerovné polohy a tlak síly. Nejsem však jednou z umělkyň, které si to nastavily jako hlavní předmět své práce, protože jsem se vždy mnohem více zabývala tématy, jako je stárnutí populace, vzájemná péče a uzavřená společnost.
Věřím, že epidemie zvýšila význam těchto témat. Lidé najednou zjistili, jak těžké je trávit celé dny se svými rodinami, protože jsme zvyklí žít svůj svobodný život v práci, v kancelářích, ve školách a scházíme se až večer. Realita zábavy starších lidí byla navíc brutálně odhalena: putovali po obchodech v pandemii, aby nemuseli zůstat doma sami. Ještě více se ukázalo, že existuje jen velmi málo společných aktivit, které by uspokojily všechny generace, že se příliš nemluví o splnění všech očekávání. Na to je třeba až se znovu oživí kultura podle mého názoru zaměřit naši pozornost. V rámci školních úkolů, ročních školních projektů, výzev k udělení grantu a veřejných soutěží. V bakalářských, diplomových a doktorských pracích i v praxi.
Nerovnosti mezi umělci a umělkyněmi jsou jistě významné. Pro ženy je obzvláště obtížné spojit rodinný život a výchovu dětí s vlastní prací. Na druhé straně je příležitost a schopnost porodit dítě darem a nerada bych ji prohlašovala za překážku, kterou musím v životě překonat. Často mám pocit, že musím pracovat třikrát více než muži, abych zvládla výchovu svých dětí bez lítosti a zároveň, aby se moje práce nestala něčím ozdobným. Ale tak to prostě je a jsem vděčná za příležitost to udělat.

Tento text napsala Kateřina Šedá ve spolupráci s Jolantou Nowaczyk (2021).
1Obrázek: Kateřina Šedá, Největší československé rande, 2018. S laskavým svolením umělkyně.
2Obrázek: Kateřina Šedá, Největší československé rande, 2018. S laskavým svolením umělkyně.
3Obrázek: Kateřina Šedá, Nic tam není, film, 2003. S laskavým svolením umělkyně
4Obrázek: Kateřina Šedá, Nic tam není, film, 2003. S laskavým svolením umělkyně
5Obrázek: Kateřina Šedá, Furt dokola, fotka, 2008. S laskavým svolením umělkyně.