Éva Magyarósi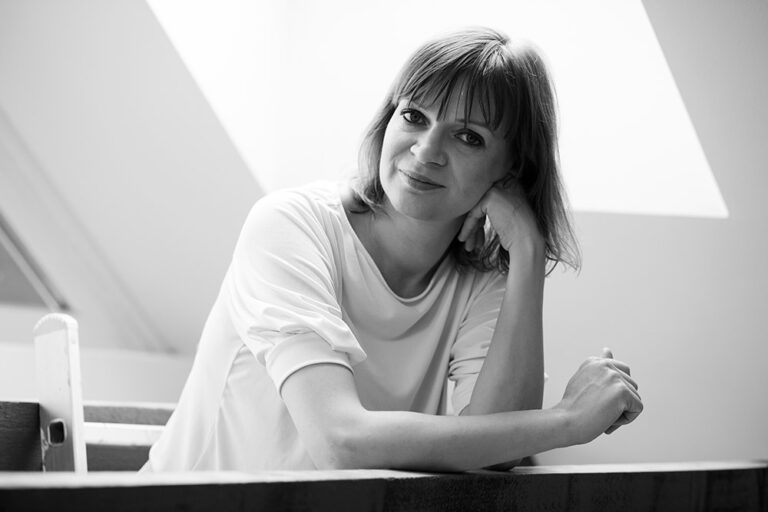 – born 1981 – is a contemporary visual artist with a special sensitivity towards social problems. Her works are characterised by a new, experimental combination of media art, classic graphic and painting techniques. She is also known for creating collage films, pencil drawings, photographs, public installations, as well as theatre and film sets. Her first book of poetry was published when she was a teenager; writing stories in a script-like manner – which she combines with a peculiar visual world – continues to serve as a starting point for her art. When drawing, she thinks of an object as a single frame within a motion picture – as part of a film, an element of a story, which is based on the artist's own narration. In her works, she tells tales about the hidden corners of a woman's soul; in presenting her multilayered stories of strange dreams and situations she has experienced in real life, she explores loneliness, emotions and the body.
Personal storytelling is a part of my life. I am interested in the secret desires that are concealed in our bodies and souls like blind spots, and in experiencing intimacy. I often feel that my everyday existence runs along two parallel courses, whose directions are sometimes the same, sometimes the opposite. This ambivalent energy also drives me in my work as an artist.
Being a mother of four, I must stand my ground as a symbol of stability, while art, to me, is about something entirely different: I could compare it to a delicately thin sheet of ice that could break under me at any moment, only to be dragged under by the currents into infinite darkness.
What do I mean by that? Lately, my method for creating art has changed. If I were to leave my activities to the flow of everyday life, I would have no chance whatsoever at doing any creative work: four children are, in themselves, four entirely separate worlds, which I want to nurture full-heartedly, as much as possible. At the same time, there is also my own private world with my own inner experiences, which weighs heavily on me. It is as if my existence simultaneously took place on two separate islands where dogs were howling at one another out of fear. My concerns as an artist may not bear any relevance to those around me – even if the stories I use to create my art are, indeed, personal. My way of reconciling this situation is to interpret my everyday life as an act of art, since my personal stories, too, originate from his domain. Perhaps the hardest part is that this state of affairs also affects my children; they sense what is going on. Luckily, they are showing interest in my work and understand a lot of things. I find it spiritually fortifying to think: we have chosen one another.
Telling stories about ourselves in which the characters are, indeed, very real, is an immense responsibility. It is precisely this duality, however, that the symbiotic form of creation – on which I continue to base my work – originates from. First, I write the stories – without which the rest of my internal work process cannot begin to take shape. My stories start out with real, personal experiences, which I then combine with fictional, abstract elements. These, in turn, create micro-events which will fuel later creative phases. Instead of unfolding in a linear fashion, my stories always follow the trajectory – the oscillating ebb and flow – of the mind. To me, it is like a great game: you can never know what part of the story is real and what is made up. This is my way of experiencing the kind of artistic freedom that leads to the flow state.
My creative work process contains several stops and detours, which are just as important to me as the final aesthetic outcome. Consequently, I often include drawings, installations and other experimental pieces in my artwork.
The racket of everyday life seemingly draws my attention away from making art. Lately, I have been doing a great deal of the work in my head: I have been writing texts, making drawings and pasting subsequent script images one after the other. By the time I sit down in front of the computer or a piece of paper, what follows is an intensive sequence of actions and rapid decision making. I use all my free time for creating art. I often work at night. This seems to suit me well, probably because an artist doesn't 'start' and 'finish'; a new work of art can emerge at any point in the work process. I find this approach rather liberating.
If I am honest, it is, indeed, exciting to see and experience works of art, exhibitions and final products, but I find the path leading there much more important, as it facilitates my development; it allows me to understand, interpret and perceive the phenomena that surround me. This is perhaps my own course for learning, where the search paths are adjusted to fit me; this is where my own focus is most optimally actualised. For art, too, is 'only' research work; in this respect, its process is no different from anything else.
For my exhibitions and stage sets, I most often create space installations, which incorporate animations, sculptures, drawings and texts. My works question the situation of humanity in an age when we are not only faced with the challenges of climate change and the continuous trampling of women's rights, but one of the greatest intellectual and emotional crises in human history. Each of my animations is an inner journey on the borderlands of dreams and fantasy.
My own world is in perpetual motion, it contains no terminal states; the works emerge suddenly. There is much uncertainty and fear; there are incongruent trains of thoughts, contradictions. As soon as I say something, I begin to get the sense that it may no longer be true. In this way, my films are not concrete either; there are overly broad gestures, as well as simpler and more complicated characters that disappear in the foggy scenery as suddenly as they appeared. They offer many open paths, through which anyone can enter my life. Through my works, I ultimately would like to create a space where viewers also have a lot of room to move, and, next to my own thoughts, others can breathe and let their imagination roam. In my own generation, I increasingly see the birth of a certain type of woman who lays ever greater claims for herself – in a positive sense, of course. It may be that this, too, is a generation's power move to ensure its own security so that nothing is lost: so that we may keep our families as well as our identities both as private persons and as artists. Juggling multiple things is an exciting – and difficult – challenge.
And what is the outcome? That depends on many things123456.
The statement was written in collaboration with curator Fruzsina Kigyós (2021).
1Image: Éva Magyarósi, Either of the Mountains, 2018, plaster, paper, wood, acrylic, dimensions variable. Courtesy of the artist and Erika Deák Gallery, Budapest.
2Image: Éva Magyarósi, Leporinum, 2018, paper, graphite, acrylic, graphite powder, crayons, dimensions variable. Courtesy of the artist and Erika Deák Gallery, Budapest.
3Image: Éva Magyarósi, Isabelle with Her Feathers, 2020, mould-made paper, graphite, 36 x 35 cm. Courtesy of the artist and Erika Deák Gallery, Budapest. 
4Image: Éva Magyarósi, The Tear, Animated scene from Tundra, 2018, paper, graphite, 30 x 40 cm. Courtesy of the artist and Erika Deák Gallery, Budapest.
5Image: Éva Magyarósi, Wintery Gardens, 2017, paper, graphite drawing with digital intervention, animation, 1920 x 1080 px. Courtesy of the artist and Erika Deák Gallery, Budapest.
6Image: Éva Magyarósi, Garden of Auras, 2016, animation, 1920 x 1080 px. Courtesy of the artist and Erika Deák Gallery, Budapest.
– szül. 1981 – a társadalmi problémákra különösen érzékeny kortárs képzőművész, akinek munkáira a médiaművészet, valamint a klasszikus grafikai és festészeti eljárások új, kísérleti összekötése jellemző. Nevéhez kollázsfilmek, ceruzarajzok, fotók, köztéri installációk és színházi, filmes díszletmunkák is fűződnek. Tinédzser korában jelent meg első verseskötete, s művészetének mai napig kiindulópontja a történetek forgatókönyvszerű megírása melyet karakteres képi világgal kever. Amikor rajzol, egy mozgókép filmkockájaként gondol a tárgyra, egy film részeként, egy történet elemeként, melynek kiinduló alapanyaga a művész saját elbeszélése. Alkotásaiban a női lélek rejtekeiről, a magányról, a testről, az érzelmekről mesél, furcsa álmok és megélt szituációk többszólamú történeteit mutatva be.
A személyes történetmesélés életem része. A testünkben lelkünkben vakfoltként megbúvó titkos vágyak, a legmélyebb intimitás megtapasztalása foglalkoztat. Sokszor érzem úgy, hogy létem a hétköznapokban két egymással párhuzamos pályán halad egyirányban vagy pedig éppen ellentétesen. Ez az ambivalens energia hajt művészeti feladataimban is.
Négygyermekes édesanyaként a stabilitás szimbólumaként kell helyt állnom, miközben a művészet számomra pont valami másról szól: illékonyan vékony jégfelülethez tudnám hasonlítani, ami bármikor beszakadhat alattam, hogy aztán a vízhullámok magukkal rántsanak a végtelen sötétségbe.
Mire is gondolok valójában? Az utóbbi időben megváltozott a művészeti munkamódszerem. Ha a hétköznapok folyására bíznám a tevékenységemet, szinte esélyem se volna semmilyen alkotómunkát végezni, hiszen a négy gyermek már önmagában legalább négy világ, aminek gondozását teljes szívvel szeretném végezni, annyira jól, amennyire ez lehetséges. Mindezek mellett ott van a saját világom is, a saját belső megéléseimmel, ami hatalmas csomagként nehezül a gerincemre. Olyan, mintha a létem két szigeten zajlana és rajta a kutyák egymást csaholnák félelmükben. Hiszen az, ami rám tartozik művészként nem biztos, hogy vonatkozik a körülöttem lévőkre is, noha tényleg a személyes történetek azok, amikből építkezek. Az egész helyzetet azzal oldom fel, hogy magát, a hétköznapi életemet is művészi tettként értelmezem, hiszem a személyes történeteim is ezekből az ügyekből erednek. Talán ami a legnehezebb az egészben az, hogy ez az állapot a gyerekeimre is kihat, érzékelik. Szerencsére érdeklődőek és sok mindent meg is értenek. Spirituálisan is erősít a gondolat: egymást választottuk.
Történeteket mesélni saját magunkról, úgy, hogy a benne szereplő karakterek nagyon is valósak, őrületesen nagy felelősség. Ám pont ebből a kettősségből alakult ki az a szimbiotikus alkotói forma, ami mind a mai napig alapul szolgál munkámhoz. Először is történeteket írok, amíg ez nincs meg, addig a többi munkafolyamat sem tud igazán elkezdődni bennem. Elbeszéléseim valódi, személyes élményekkel indulnak, melyeket aztán fiktív, absztrakt beillesztésekkel kombinálok. Ezek pedig mikrotörténéseket hoznak létre, amik a későbbi kreatív fázisokat is táplálják. A történetek sosem lineárisan bontakoznak ki, hanem inkább a tudat vonalvezetését, kilengéseit rögzítik. Számomra magát a nagybetűs játékot jelenti az, hogy történeteimben sosem tudhatjuk igazán mi a valódi, és mi a mese. Így tudom megélni azt a fajta művészi szabadságot is, ami az igazi flow élményt jelenti.
A munkám folyamata sok megállót, kitérőt tartalmaz, melyek éppen annyira fontosak számomra, mint a végső esztétikai eredmény. Emiatt aztán rajzokat, installációkat és más, kísérleti műalkotásokat is belefoglalok egy-egy alkotásomba.
A hétköznapok zsivalya látszólag elveszi a figyelmet az alkotói munkától. Az utóbbi időben rengeteget dolgozok gondolatban. Előre megírom a szövegeket, fejben megrajzolom a rajzaimat, forgatókönyv képeket illesztek egymás után. Amikor a számítógép vagy a papír elé ülök, az végül is már egy nagyon intenzív, gyors döntésekkel végigvezetett cselekedet. Minden szabadidőmet arra használom, hogy a művészetemet csinálhassam. Nagyon sokat dolgozok éjszaka. Valószínűleg azért tud ez nálam megoldásként működni, mert a művész nem elkezd, és nem abbahagy, így a munkafolyamat állapotában bármikor megszülethet egy újabb műalkotás. Számomra ez a hozzáállás nagyon felszabadító tud lenni.
Ha őszinte akarok lenni, nagyon izgalmas műtárgyakat, kiállításokat, végeredményeket látni / megtapasztalni, de magát az odáig vezető utat sokkal fontosabbnak tartom. Hiszen ez az az út, amiben fejlődni tudok, megérteni, értelmezni, érezni a körülöttem lévő jelenségeket. Ez talán nem is más, mint a saját tanfolyamom, amiben a keresési útvonalak hozzám vannak igazítva, ebben érvényesül a legideálisabban a saját fókuszom. A művészet is "csak" egy kutatómunka, ilyen szempontból nem különlegesebb folyamat, mint bármi más.
Kiállításaimon, színházi díszleteimben leggyakrabban térinstallációkat készítek, amik animációs filmeket, szobrokat, rajzokat és szövegeket foglalnak magukba. Műveim egy olyan időszakban kérdőjelezik meg az emberiség helyzetét, amikor a klímaváltozás kihívásaival, a nők jogainak folyamatos eltiprásával kell szembe néznünk, miközben az emberiség történelmének legsúlyosabb értelmi, érzelmi válságával is szembesülünk. Animációs műveim szinte mindegyike egy belső utazás az álom és a fantázia határmezsgyéjére, de részben a realisztikus álom és fantáziavilágba is.
A saját világom folyamatos mozgásban van, nincsenek benne végső állapotok, a műalkotások pedig egyszer csak megtörténnek. Sok benne a bizonytalanság, a félelem, az egymást megkérdőjelező gondolatsor, az ellentmondás. Abban a pillanatban, ha kimondok valamit, úgy érzem, talán már nem is igaz. Így aztán a filmjeim sem konkrétak, sok benne az elnagyolt gesztus, az egyszerűbb, és bonyolultabb karakterek, akik ahogy érkeznek, úgy tűnnek azonnal el a ködös látványokban. Sok bennük a nyitott ösvény, amin keresztül bárki beléphet az életembe. A munkáimmal végül is egy olyan teret szeretnék megteremteni, amiben a néző is nagy mozgástérrel bír, és a saját gondolataim mellett a másik is levegőhöz jut, megmozgatja a képzeletét. Saját generációmban egyre inkább megtapasztalom annak a nőtípusnak a megszületését, aki éppen ezért egyre többet követel saját magának, persze a szó jó értelmében. Lehet, hogy ez is csak egy generáció biztonsági játszmája, hogy semmi se vesszen el: se a család, se a magán- vagy a művészi identitásunk. Több dolgot tartani a kezünkben izgalmas kihívás, és nagyon nehéz is.
És hogy mi a vége? Az nagyon sok mindenen múlik123456.
A statement Magyarósi Éva és Kigyós Fruzsina kurátor együttműködésében jött létre (2021).
1Kép: Magyarósi Éva, A hegyek egyike, 2018, gipsz, papír, fa, akril, változó méretek. A művész és a Deák Erika galéria jóvoltából.
2Kép: Magyarósi Éva, Leporinum, 2018, papír, grafit, akril, grafitpor, színesceruza, változó méretek. A művész és a Deák Erika galéria jóvoltából.
3Kép: Magyarósi Éva, Izabella a tollaival, 2020, merített papír, grafit, 36 x 35 cm. A művész és a Deák Erika galéria jóvoltából.
4Kép: Éva Magyarósi, A könny, Tundra animációs film jelenete, 2018, papír, grafit, 30 x 40 cm. A művész és a Deák Erika galéria jóvoltából.
5Kép: Éva Magyarósi, Télikertek, 2017, papír, grafit rajz digitális beavatkozással, animációval, 1920 x 1080 px. A művész és a Deák Erika galéria jóvoltából.
6Kép: Éva Magyarósi, Aurák kertje, 2016, digitális animáció, 1920 x 1080 px. A művész és a Deák Erika galéria jóvoltából.