Emila Medková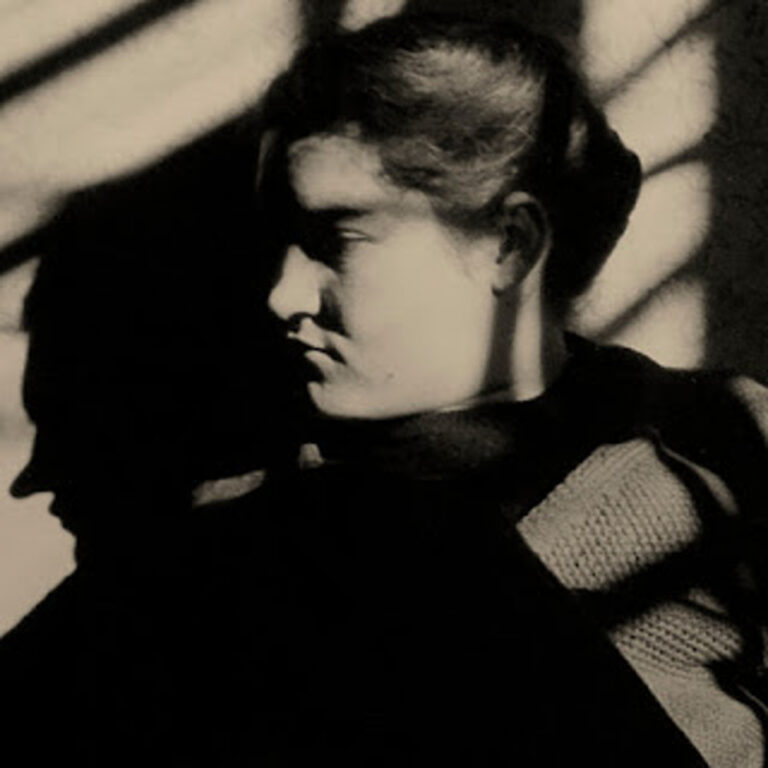 – born in 1928, died in 1980. She was a prominent Czech photographer. She attended the State Graphic School in the Smíchov district of Prague but had to interrupt her studies there because she was employed in the German production company Prag-Film A. G. in the Barrandov Studios during the World War II. She finished her studies after the war ended. In 1948, she met her live-long partner Mikuláš Medek. She lived and worked among the artists from the second generation of Czech surrealism. She had her first solo exhibition in 1960. Her exhibition in 1965 was her last one for a long time. After her husband died in 1974, she re-established contacts with the surrealist group around the theorist and art historian Vratislav Effenberg. She was preparing the exhibition Sféra snu (Dream sphere) in the Sovinec Castle with them, but it was banned.
At first, I was more of an only child who did not spend time with children until I started attending a kindergarten. I have no recollection of children there; I remember only teachers. I have no memories of adults around me. I think I hated my little brother. I was mad for a very long time as my mommy was gone because of him for so long. I was not able to deal with it and I might have even been hurting him. I respected my father and did everything he told me to do. My mother and other relatives blend together in my memories. She was a dressmaker. She was making some shirts all the time, and the father was unemployed. I wanted to have my own sewing machine so much. After waiting for so long, I got my very own children sewing machine from the Singer Company. Right after I got it, I sewed through my finger, became scared of it, and never touched it again.
As a child, I loved the Danish fairy tale The Red Shoes and the Czech book Král Myška a princ Junák the most. I cannot remember anything else. I was looking for these two books for whole other childhood when I was finally able to read but I did not find them anywhere. However, I have one of the illustrations burned into my memory. There was a hollow space shaped like a dome in a crag and a shiny dragon eye atop in the middle. When it was open, it was day, when it was closed, it was night. Besides the eye, there was a dragon claw stuck in an arch. When the dragon got angry, it swinged its claw which terrified all locals. I had dreams about the illustration for all my childhood. I wanted the adults to read me the fairy tale over and over because I probably enjoyed that pleasant feeling of being scared.
I began attending a primary school in the town of Vysoké Mýto where my grandmother lived. I remember wearing a beautiful velvet dress with a pinafore when the grandma walked me to school. I love to think about the beginning of my first school year. I had no troubles learning. My grandma treated me with incredible care. I still reminisce over long walks, promenade concerts in a park on Sundays and my grandfather with his hedgehog. I enjoyed my time there very much.
I have not created anything for three years [since 1971]. Disease and death overwhelmed me. But I was not wasting my time. In 1975, I picked up the threads of my old kind of imagination which is based on the same thing I have always proceeded from. Here you can see, for example, a photography from the same year, which always evokes a picture by Enrico Baj, in my point of view.
The last time I exhibited in Prague was in 1965 when my monography was released by Odeon, too. […] I could not care less; I have no desire to exhibit or publish. I am completely free and independent in this aspect because I do not care for it. My free expression is not my livelihood, which is why I feel no division between what is commercial and artistic. I did not begin to focus on photography in times of unity when I could have turned my praxis into my livelihood.
If there is no secret behind the photography and if its reality has no other plan, it is empty. It is not about describing objects or a head, or a face written into another object. It is about what it evokes. The detail is of importance to me. The outline in the city is the architecture, the outline in the landscape creates a landscape photography, and the experience is gone. The production is not about erotic excitement, but it is quite similar. If I see an object worth depicting, I take several photos of it while being impassively excited, full of big concerns, holding my breath with my heart beating and great expectations that the photograph will come out the way I want it. If I do not feel this way, I can hardly take a photograph which I would find relatable.
I take the words "bugbear, creature, beast" out of their regular contexts – these are affectionate names of my closest ones which we use among my family members regularly. For example, M. M. [Mikuláš Medek, husband of Emila Medková]: "A creature who wants to live lovely – Vr. Eff. [Vratislav Effenberger]."
My dreams are my greatest privacy. I can either tell someone about them or keep them to myself. I appreciate every single one of them, even those cruellest ones which make me wake up screaming with that slowly subsiding feeling that it was fortunately only a dream. But there are dreams on the other side of the spectrum, too, which I do not want to wake up from so they could continue. Sometimes, I write my dreams down, other times, I repeat them to myself, but it is an experience every single time.
The Mexican desert. The sun is burning, huge dark green cacti are all over the desert casting black shadows. I am walking across the desert as if I am on a walk somewhere and I am starting to be scared. It feels that someone is hiding behind the cacti. From time to time, I think I see a naked hand or a head without a face behind another cactus. Finally, I see a whole figure. It is naked and holding some strange tools.
Every time I am passing a cactus, I am getting faster until I am gradually running. But the desert is never-ending, and the cacti are staying firmly on their spots. When I become completely desperate, Mikuláš [Medek] catches my hand and takes me back.
The dream is colourful.
The statemenet by Emila Medková was sewn together from her replies in interviews, surveys, and dreams which were published in her monography (MEDKOVÁ, Emila, SRP, Karel a BYDŽOVSKÁ, Lenka. Emila Medková. Prague: KANT, 2001).
The text was created in collaboration with Eva Skopalová (2021).
1Image: Emila Medková, Strašidlo (Bugbear), 1978, Moravian Gallery in Brno, see: https://sbirky.moravska-galerie.cz/dielo/CZE:MG.MG_9809.
2Image: Emila Medková, Kraky (Cracks), 1962, Moravian Gallery in Brno, see: 
https://sbirky.moravska-galerie.cz/dielo/CZE:MG.MG_13597
.
3Image: Emila Medková, Vodopád vlasů (Hairfall), 1949-1982?, Moravian Gallery in Brno, see: https://sbirky.moravska-galerie.cz/dielo/CZE:MG.MG_12471.
4Image: Emila Medková, Zvíře dle Enrica Baje (Beast according to Enrico Baj), 1976, Moravian Gallery in Brno, see: https://sbirky.moravska-galerie.cz/dielo/CZE:MG.MG_15083.
5Image: Emila Medková, Bleší trh (Flea market from the Paris cycle), 1966, Moravian Gallery in Brno, see: https://sbirky.moravska-galerie.cz/dielo/CZE:MG.MG_10440.
– narodila se v roce 1928, zemřela v roce 1985. Byla přední českou fotografkou. Vystudovala Státní grafickou školu v Praze na Smíchově, jejíž studium musela přerušit, jelikož byla totálně nasazena v Prag-Film A. G. na Barrandově v Praze. Po konci války studia dokončila. V roce 1948 potkala svého životního partnera Mikuláše Medka. Žila a tvořila mezi umělci druhé generace českého surrealismu. V roce 1960 měla svou první samostatnou výstavu, a v roce 1965 na dlouho poslední. Po smrti manžela v roce 1974 obnovila kontakt se Surrealistickou skupinou kolem teoretika a historika umění Vratislava Effenbergera, se kterou v roce 1983 připravovala výstavu Sféra snu na hradě Sovinec, která byla zakázána.
Byla jsem zatím spíš jedináček, mezi děti jsem nepřišla, až v mateřské školce. Vůbec si na ně nevzpomínám, jen na učitelky. Na dospělé nemám žádné vzpomínky. Myslím, že jsem svého bratra nesnášela. Dlouho jsem se zlobila, že maminka byla pro něj tak dlouho pryč a nemohla jsem se s ním smířit, snad jsem mu i ubližovala. Před otcem jsem měla respekt, poslechla jsem ho na slovo. Matka a ostatní příbuzní mi splývají s dalšími dospělými. Moje matka byla švadlena. Stále šila nějaké košile – otec byl bez zaměstnání. Moc jsem toužila mít taky šicí stroj – po dlouhém čekání jsem dostala dětský Singrův šicí stroj. Hned zkraje jsem si důkladně prošila prst – začala jsem se ho bát a už jsem se ho nedotkla.
Nejraději jsem měla [jako dítě] severskou pohádku Modré střevíčky a knížku Král Myška a princ Junák. Na jiné si nepamatuju. Po těchto dvou knížkách jsem se sháněla celé další dětství, když jsem už uměla číst, ale nikdy jsem je už neviděla. Jedna ilustrace mi utkvěla v paměti dodnes. Prostor ve skále ve tvaru kupole – nahoře uprostřed zářilo dračí oko – to byl den, když se oko zavřelo, byla noc. Kromě oka ovládalo ještě prostor dračí klepeto, které bylo zaklíněné v klenbě. Když se drak rozhněval, kýval klepetem na všechny strany a udržoval tak všechny obyvatele ve strachu. Zdávalo se mi o tom celé dětství. Asi pro ten příjemný pocit strachu jsem chtěla, aby mi tuto pohádku četli znovu a znovu.
Do školy jsem začala chodit ve Vysokém Mýtě u babičky. Pamatuju se na krásné sametové šaty a zástěrku a cesty do školy s babičkou. Na začátek školy si ráda vzpomínám. Nedělala mi vůbec potíže. Babička se mi ohromně věnovala, dodnes vzpomínám na veliké procházky, na nedělní promenádní koncerty v parku a na dědečka s ježkem. Bylo mi tam moc dobře.
Neudělala jsem nic tři roky [od 1971]. Byla tu nemoc a smrt Ale to nebyl žádný ztrátový čas. Navázala jsem v roce 1975 na svůj starý druh imaginace a vycházím, z čeho jsem vždy vycházela. Tady je ku příkladu fotografie z toho roku, která ve mně vždycky navozuje představu obrazu Enrica Baje.
(Vystavovala jsem) v Praze naposledy v roce 1965, v témže roce vyšla moje monografie v Odeonu. (…) Mně to vůbec nevadí, nemám potřebu vystavovat ani publikovat. V tomto ohledu jsem naprosto svobodná a nezávislá, poněvadž na tom nelpím. Svou volnou tvorbou se neživím, a tak necítím žádný rozštěp u sebe mezi tím, co je komerční, a co je umělecké; nenastoupila jsem do fotografie ve chvíli jednoty, kdy bych ze své tvorby mohla být dokonce živa.
Není-li ve fotografii tajemství a nemá-li její realita druhý plán, nastává prázdno. Nejde o popis předmětů, nejde ani o popis hlavy, tváře vepsané do jiného předmětu, jde o to, co se evokuje. Ne, [detail] je pro mne významný. Celek v městě je architektura, celek v krajině dává krajinářskou fotografii, a zážitek je pryč. Není to erotické vzrušení [co se projevuje v tvorbě], ale něco velmi podobného – vidím-li nějaký objekt hodný zpracování, fotografuji ho několikrát, pochopitelně v chladně vzrušeném stavu, s velkými obavami, bušícím srdcem a zatajeným dechem a velkou nadějí, že věc vyjde tak, jak si představuji. Bez tohoto pocitu těžko udělám fotografii, ke které bych měla vztah.
Slova "strašidlo, příšera, obluda" vyjímám – jsou to láskyplná oslovení nejbližších, běžně v naší rodině používaná. Příklad obraz M. M. [Mikuláše Medka, manžela Emily Medkové]: "Příšera, která chce žít líbezně – Vr. Eff. [Vratislav Effenberger]."
Sen je pro mne největší možné soukromí. Mohu ho sdělit, když chci, a také utajit. Vážím si každého, i toho nejkrutějšího, z kterého se probouzím s řevem a pomalu doznívajícím pocitem, že to byl naštěstí jen sen. Ale jsou i sny opačné, kdy se bráním probuzení, aby mohly pokračovat. Někdy si sen zapíšu, někdy si ho jen opakuji, ale každý je pro mě zážitkem.
Mexická poušť. Slunce pálí, obrovské tmavě zelené kaktusy, roztroušené po poušti, vrhají černé stíny. Jdu tou pouští, jako bych byla někde na procházce, ale začínám mít strach. Zdá se mi, že za kaktusy se někdo ukrývá. Občas mám pocit, že vidím nahou ruku, za dalším kaktusem zase hlavu bez tváře, konečně vidím celou postavu: je nahá a drží nějaké podivné nástroje.
Kdykoli nějaký kaktus míjím, mimoděk zrychlím krok, nakonec už běžím. Ovšem poušť je nedozírná a kaktusy stojí pevně na svých místech. Když už propadám naprostému zoufalství, chytá mě Mikuláš [Medek] za ruku a odvádí mě zpátky.
Sen je barevný.
Výpověď Emily Medkové byla sešita z odpovědí v rozhovorech, anketách a snech, jež byly publikovány v autorčině monografii (MEDKOVÁ, Emila, SRP, Karel a BYDŽOVSKÁ, Lenka. Emila Medková. Praha: KANT, 2001).
Text vznikl ve spolupráci s Evou Skopalovou (2021).
1Image: Emila Medková, Strašidlo, 1978, Moravská galerie v Brně, zdroj: https://sbirky.moravska-galerie.cz/dielo/CZE:MG.MG_9809.

2Image: Emila Medková, Kraky, 1962, Moravská galerie v Brně, zdroj. https://sbirky.moravska-galerie.cz/dielo/CZE:MG.MG_13597.

3Image: Emila Medková, Vodopád vlasů, 1949-1982?, Moravská galerie v Brně, zdroj: https://sbirky.moravska-galerie.cz/dielo/CZE:MG.MG_12471.

4Emila Medková, Zvíře dle Enrica Baye, 1976, Moravská galerie v Brně, zdroj: https://sbirky.moravska-galerie.cz/dielo/CZE:MG.MG_15083.

5Emila Medková, Bleší trh (z cyklu Paříž), 1966, Moravská galerie v Brně, zdroj: https://sbirky.moravska-galerie.cz/dielo/CZE:MG.MG_10440.