Dorota Podlaska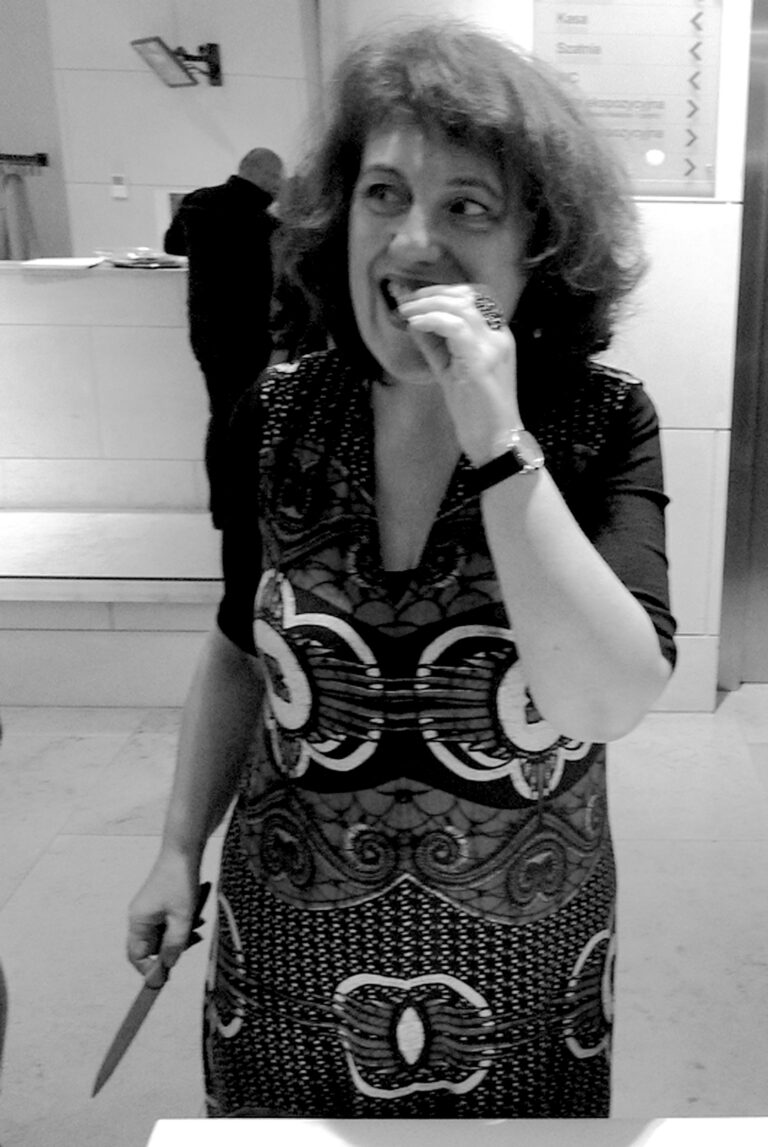 – born in 1966. Obtained a diploma in painting in 1989 at the Faculty of Fine Arts of Mikołaj Kopernik University in Toruń. During her studies, she was associated with the art groups Naprzód and Yach-Film. In 1993-2003, she created the Pressure Tower in Bydgoszcz. Currently lives and works in Warsaw. Her works usually deal with topics concerning the private sphere of life. Narrativity is an important thread in her work, and figurative painting is her main medium – she often arranges small paintings and objects into installations. She also creates photographic documentations, actions, interventions in space, designs books and publications.
The key question for me is, do I identify with my art? My artistic practice is as much a creation as it is a way of solving certain existential problems. The institutional dimension of art as a power game, the politics of visibility and the mechanism of a success-driven career are of little interest to me. I regret the fact that I do not make a living from my art, that patching up financial holes with various odd jobs distracts me from making art – my addiction.
I am interested in people, their emotions and relationships. My main medium is figurative painting, but I am always looking for new forms of expression depending on the subject of my work. Content and story are most important to me. I have a strong narrative instinct, which is why my paintings are arranged in series, files and archives which I arrange into installations. Sometimes the paintings also form comics strips, like Love Stories1, and at other times into a cinematic melodramatic plot. However, my works are always created from the point of view of a woman and they often refer to the social roles ascribed to her. I also track down the stereotypes imposed by popular culture and the influence they have on our way of behaving, thinking and expectations. This is how I created works in the convention of melodramatic fiction from the series I cry at the cinema.2
Sometimes art is self-therapy. After years, I returned to personal themes in a series of works called Splinter3, in which I revise my own biography and mythologise family relations so that they have a universal dimension. I am a good observer and react to present events – for example in the watercolour series The Loneliness Virus4 I portray my Mum's loneliness, which I had the opportunity to observe up close for two months during the lockdown5.
Another important factor for me is the encounter. I don't address my art to large crowds, I want to tell and listen to individual stories. My work is not addressed to an abstract audience, but to a concrete interlocutor. I have made many projects in collaboration with others. Contrary to appearances of openness and sociability, I am an introvert – I need to feel safe meeting people. Art gives this security, an excuse to draw others into my 'bubble'. This is now called participatory art.
Creating a series of Alphabet Boards6 was carried out in close cooperation with foreigners living in Poland. The interviewees chose any words to describe things, people, tastes, feelings or places – all related to the subject of leaving one's own country and finding oneself in a new reality. The result is a collage of personal words and images that are incomprehensible to the audience, showing the situation of an emigrant who, like a child, has to learn anew to understand not only language, but also gestures, expressions, sense of humour, rules of coexistence.
Inspired by friendships with foreigners, I have also devoted many works to Vietnamese emigrants, the phenomenon of Viet-Town, and Jarmark Europa at the now-defunct 10th-Anniversary Stadium in Warsaw. I strongly believe in the therapeutic power of art, and this is what I have done in my action Cure for Longing7. I played the role of a bazaar vendor with a trolley. However, instead of snacks and warming drinks, I offered the buyers and customers (Vietnamese, Polish, Ukrainian, African and others) ointments and elixirs which I produced myself to cure their ills: homesickness, loneliness, a stubbly face, having to pay racketeering charges, or to help them fulfil their dreams of prosperity in business or legalisation of stay. I believe that the social role of an artist is like a drop that slowly drills the stone. We may not be able to influence politics or the economy with our actions, but we can open the eyes and minds of several people around us, and break down the barriers that divide us. The artist can be a tube through which others communicate their truths, and at the same time an attentive listener.
Many works have been inspired by my travels. I have always been most interested in everyday life in other countries. Sometimes I have been able to penetrate local communities, for example in the work Happy News from Seoksu Market8 – when, together with the Korean artist Jooyoung Lee, I published a newspaper, a bit of a gossip, about the life and workers of a traditional Korean market. The idea was to bring merchants and customers together, to make their contacts less anonymous.
Artists cannot change the world with art, but they can organise a meeting. A way to break down barriers is to feast and cook together. I often organise actions around the table and culinary workshops. My art wants to be close to life, and the most important thing in life is food. It is a source of strong emotions, vivid memories, the beginning of friendships. It is beautiful. Thanks to projects connected with food, I have a chance to add another sense to the perception of art – taste. After all, we use it every day! Food also raises questions of consumption, of breaking eating habits, of the sick relationship between pleasure and the remorse to which consumers are constantly exposed. The plate has become an ideological battleground. The work Tasty, healthy chocolates9, where I embedded insect bodies in handmade chocolate pralines is an expression of the painful ambiguity of what we desire – pleasure and disgust.
Finally, since my art stems from my private life but addresses socially important issues, I would like to ask: "Can an artist be fat?" I am currently painting a series that tells the story of a body under the oppression of exacting standards of beauty and the obligatory slim figure. The clinch between the pleasure of available, immoderate consumption and the punishment and rejection that obese people face.
The text was written in collaboration with Anna Ciabach (2020).
1Image: Dorota Podlaska, from the series: Love Stories, 1998 – 2001, object - library catalogue cabinet, wood, cardboard, gouache. Courtesy of the artist.
2Image: Dorota Podlaska, from the series: I cry at the movies, 2000, acrylic on cardboard. Courtesy of the artist.
3Image: Dorota Podlaska, from the series: Splinter, 2018 – 2020, acrylic on canvas, for more works from this series see. http://tugaleria.pl/project/podlaska-2020-prace. Courtesy of the artist.
4Image: Dorota Podlaska, Virus of Loneliness, 2020, series, watercolour on paper, see: http://odaart.pl/oda_przestrzenzamknieta/wirtualna-wystawa/#2. Courtesy of the artist.
5COVID-19 pandemic restrictions introduced in Poland and worldwide in spring 2020.
6Image: Dorota Podlaska, Alphabet Boards, 2011 – 2013, cycle of 7 works, collage, print on photographic paper glued on PVC. Courtesy of the artist.
7Image: Dorota Podlaska, Cure for longing, 2009, performance, Stadion Dziesięciolecia, Warsaw. Courtesy of the artist.
8Image: Dorota Podlaska, Happy News from Seoksu Market, 2010, action in public space, collage, prints on paper. Courtesy of the artist.
9Image: Dorota Podlaska, Tasty, healthy chocolates, 2006 – 2018, object, insects, wax, cocoa, sugar, natural and artificial dyes. Courtesy of the artist.
– urodzona w 1966. Dyplom z malarstwa w 1989 roku na Wydziale Sztuk Pięknych Uniwersytetu Mikołaja Kopernika w Toruniu. W czasie studiów związana z grupami artystycznymi Naprzód i Yach-Film. W latach 1993–2003 tworzyła bydgoską Wieżę Ciśnień.
Obecnie mieszka i pracuje w Warszawie. Jej prace podejmują najczęściej tematy dotyczące prywatnej sfery życia. Ważnym wątkiem jej twórczości jest narracyjność, a głównym medium malarstwo figuratywne – często niewielkich rozmiarów obrazy i obiekty aranżuje w instalacje. Tworzy też fotograficzne dokumentacje, akcje, interwencje w przestrzeniach, projektuje książki i wydawnictwa.
Kluczowe jest dla mnie pytanie, czy utożsamiam się z moją sztuką? Moja praktyka artystyczna jest w równej mierze twórczością, co sposobem na rozwiązanie pewnych egzystencjalnych problemów. Instytucjonalny wymiar sztuki, pojęty jako gra władzy, polityka widzialności i mechanizm obliczonej na sukces kariery niewiele mnie interesują. Boleję nad tym, że nie utrzymuję się z twórczości, łatanie dziur finansowych różnymi dziwnymi zajęciami odrywa mnie od robienia sztuki – mojego nałogu.
Interesują mnie ludzie, ich emocje, relacje. Moim głównym medium jest malarstwo figuratywne, ale szukam ciągle nowych form wyrazu w zależności od tematu pracy. Treść i opowieść są dla mnie najważniejsze. Mam silny instynkt narracyjny, dlatego obrazy układają się w cykle, kartoteki i archiwa, które aranżuję w instalacje. Czasami obrazy układają się też w komiks, jak Historie miłosne1, a innym razem w kinową melodramatyczną fabułę. Zawsze jednak moje prace powstają z punktu widzenia kobiety i często odnoszą się do przypisanych jej ról społecznych. Tropię również stereotypy narzucane przez kulturę popularną i wpływ, jaki mają na nasz sposób zachowania, myślenia, oczekiwania. Tak powstały prace w konwencji melodramatycznej fabularnej fikcji z cyklu Płaczę w kinie.2
Niekiedy sztuka jest autoterapią. Po latach wróciłam do osobistych wątków w cyklu prac Zadra3, w których dokonuję rewizji własnej biografii, mitologizuję rodzinne relacje, aby miały wymiar uniwersalny. Jestem dobrą obserwatorką i reaguję na teraźniejsze wydarzenia – np. w cyklu akwarel Wirus samotności4 portretuję samotność mojej Mamy, która miałam okazję obserwować z bliska przez dwa miesiące lockdownu5.
Innym ważnym czynnikiem jest dla mnie spotkanie. Nie adresuję swojej sztuki do szerokich tłumów, pragnę opowiadać i wysłuchiwać indywidualnych opowieści. Adresatem mojej twórczości jest nie abstrakcyjna publiczność, lecz konkretny rozmówca. Wiele projektów zrobiłam we współpracy z innymi. Wbrew pozorom otwartości i towarzyskości jestem introwertyczką – muszę się czuć bezpiecznie spotykając się z ludźmi. Sztuka daje takie bezpieczeństwo, pretekst do wciągnięcia innych w moją "bańkę". Teraz się na to mówi sztuka partycypacyjna.
Tworzenie serii Tablice do nauki alfabetów6 odbyło się przy ścisłej współpracy z cudzoziemcami mieszkającymi w Polsce. Rozmówcy wybierali dowolne słowa określające rzeczy, ludzi, smaki, uczucia czy miejsca – wszystkie związane z tematem opuszczenia własnego kraju i odnalezienia się w nowej rzeczywistości. W rezultacie powstały kolaże składające się z osobistych, niezrozumiałych dla widzów słów i obrazów, a zarazem pokazujące sytuację emigrantki/emigranta, który na nowo musi nauczyć się, jak dziecko, rozumienia nie tylko języka, ale gestów, min, poczucia humoru, zasad współistnienia.
Zainspirowana przyjaźniami z obcokrajowcami poświęciłam też wiele prac emigrantom wietnamskim, fenomenowi Viet-Town i Jarmarku Europa na nieistniejącym już Stadionie Dziesięciolecia w Warszawie. Gorąco wierzę w terapeutyczną moc sztuki i takie działanie podjęłam w akcji Lekarstwo na tęsknotę7. Wcieliłam się w bazarową sprzedawczynię z wózkiem. Jednak zamiast przekąsek i rozgrzewających napojów oferowałam kupcom i kliento (wietnamskim, polskim, ukraińskim, afrykańskim i innym) wyprodukowane przez siebie maści i eliksiry na gnębiące ich bolączki: tęsknotę za domem i rodzinnym krajem, samotność, zaciętą twarz, opłacanie haraczy lub też mające dopomóc w spełnieniu marzeń o pomyślności w interesach czy legalizacji pobytu. Wierzę, że społeczna rola artysty jest jak kropla, która powoli drąży kamień. Być może naszymi działaniami nie wpłyniemy na politykę, ekonomię, ale jesteśmy w stanie otworzyć oczy i umysły kilku osób w naszym otoczeniu, przełamać dzielące nas bariery. Artysta może być tubą, przez którą inni przekazują swoje prawdy, a za razem uważnym słuchaczem.
Wiele prac zainspirowane było moimi podróżami. Zawsze najbardziej interesowało mnie życie codzienne w innych krajach. Czasami udawało mi się mocno przeniknąć do lokalnych społeczności, np. w pracy Happy News from Seoksu Market8 – wydałam wtedy wraz z koreańską artystką Jooyoung Lee, gazetkę, trochę plotkarską, o życiu i pracownikach tradycyjnego koreańskiego targowiska. Ideą jaka mi przyświecała było zbliżenie kupców i klientów, uczynienie ich kontaktów mniej anonimowymi.
Artyści nie zmienią sztuką świata, ale mogą zorganizować spotkanie. Sposobem na przełamanie barier jest wspólne biesiadowania i gotowanie. Często organizuję akcje wokół stołu i kulinarne warsztaty. Moja sztuka chce być blisko życia, a najważniejsze w życiu jest jedzenie. Jest ono źródłem silnych emocji, wyrazistych wspomnień, początkiem przyjaźni. Jest piękne. Dzięki projektom związanym z jedzeniem mam szansę dołożyć do odbioru sztuki jeszcze jeden zmysł – smaku. Przecież używamy go codziennie! Z jedzeniem wiążą się też zagadnienia konsumpcji, przełamywania nawyków żywieniowych, chorej relacji między przyjemnością a wyrzutami sumienia, na jakie narażeni są bez przerwy konsumenci. Talerz stał się polem bitwy ideologicznej. Praca Czekoladki smaczne, zdrowe9, gdzie zatopiłam ciała owadów w ręcznie robione czekoladowe praliny jest wyrazem bolesnej dwuznaczności tego czego pożądamy – przyjemności i obrzydzenia.
Na końcu, ponieważ moje sztuka wynika z mojego życia prywatnego, ale odnoszę się w niej do problemów ważnych społecznie, chciałabym zapytać: "Czy artystka może być gruba?" Maluję obecnie cykl opowiadający o ciele w opresji wyśrubowanych norm piękna i obowiązkowo szczupłej sylwetki. Klinczu pomiędzy przyjemnością dostępnej, nieumiarkowanej konsumpcji a karą i odrzuceniem, jakie spotykają otyłe osoby.
Tekst powstał we współpracy z Anną Ciabach (2020).
1Zdjęcie: Dorota Podlaska, Historie Miłosne, 1998 – 2001, cykl, obiekt - biblioteczna szafka katalogowa, drewno, tektura, gwasz. Dzięki uprzejmości artystki.
2Zdjęcie: Dorota Podlaska, Płaczę w kinie, 2000, cykl, akryl na tekturze. Dzięki uprzejmości artystki.
3Zdjęcie: Dorota Podlaska, Zadra, 2018 – 2020, cykl, akryl na płótnie, zob. http://tugaleria.pl/project/podlaska-2020-prace. Dzięki uprzejmości artystki.
4Zdjęcie: Dorota Podlaska, z cyklu: Wirus samotności, 2020, akwarela na papierze, więcej z tej serii na: http://odaart.pl/oda_przestrzenzamknieta/wirtualna-wystawa/#2. Dzięki uprzejmości artystki.
5Restrykcje związane z pandemią COVID-19 wprowadzone w Polsce i na świecie wiosną 2020.
6Zdjęcie: Dorota Podlaska, Tablice do nauki alfabetów, 2011 – 2013, cykl 7 prac, kolaż, wydruk na papierze fotograficznym naklejony na pcv. Dzięki uprzejmości artystki.
7Zdjęcie: Dorota Podlaska, Lekarstwo na tęsknotę, 2009, performance, Stadion Dziesięciolecia, Warszawa. Dzięki uprzejmości artystki.
8Zdjęcie: Dorota Podlaska, Happy News from Seoksu Market, 2010, akcja w przestrzeniu publicznej, kolaż, wydruki na papierze. Dzięki uprzejmości artystki.
9Zdjęcie: Dorota Podlaska, Czekoladki smaczne, zdrowe, 2006 – 2018, obiekt, insekty, wosk, kakao, cukier, naturalne i sztuczne barwniki. Dzięki uprzejmości artystki.