Anna Kutera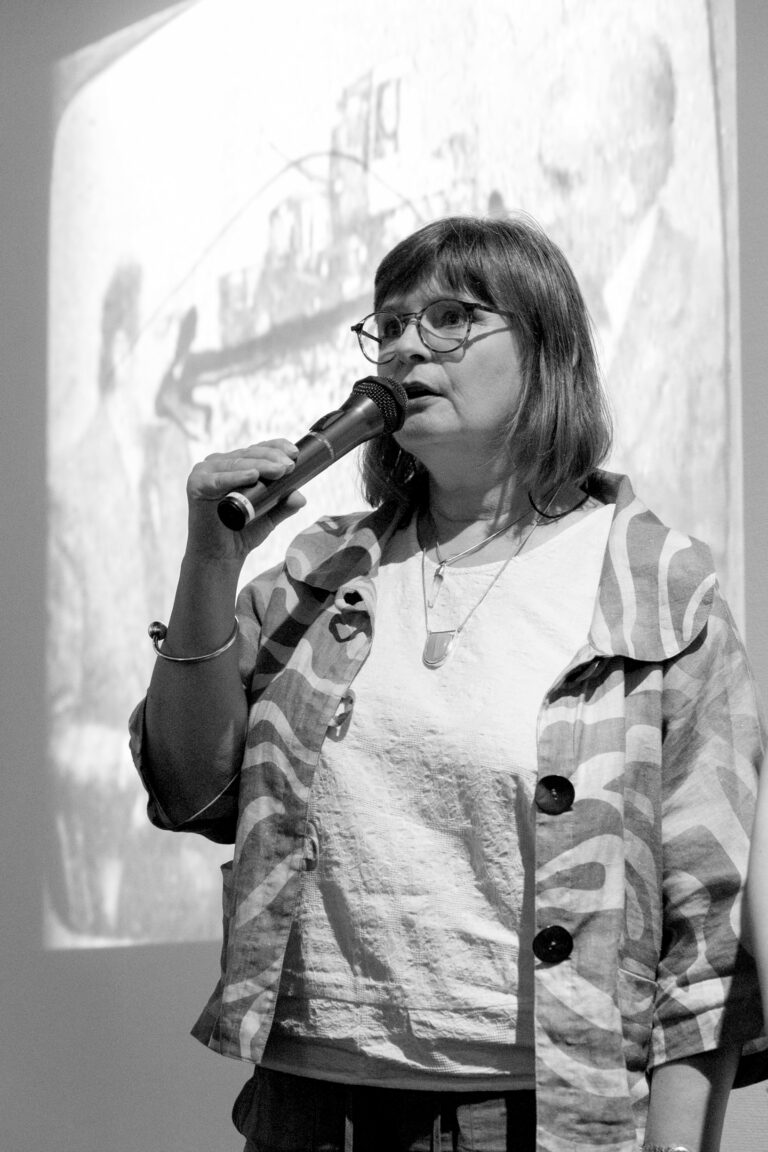 – born 1952. Multimedia artist. In the 70s she combined artistic work with the activity of animator of Wrocław artistic environment, where she graduated from high school of art and State Higher School of Fine Arts. Since 1975 she has been co-creating the international movement of contextual art. Over the years she has worked producing series, touching on the problems of the surrounding reality. She has participated in many solo and group exhibitions in Poland and abroad.
DIALOGUE WITH REALITY
The last years of school were difficult for me in terms of choosing my future direction. My father gave advice that went against my nature, but my mother suggested that I devote my life to nurturing my passions instead of increasing my wealth. I decided to attend an art high school – I followed my heart1.
During my studies at the State Higher School of Fine Arts, I learned about the LAW OF KARMA, whose life basis is self-education, work, patience, and sincerity, with no room for accounting for sins. Then I understood the sense and direction of my daily tasks. Since 1975 I do not invent anything, I am close to reality. Previously, I practiced docu-creation, made gestures and manipulations as a part of university classes. Everyday experiences, observations of surroundings and events are my initial matter and inspiration to search for answers. These reflections become objects of art. The artist differs from others in that s/he SEES more and deeper2.
My work is a DIALOGUE with reality34. I realize an extensive series of stimulated situations, where the starting point are real, fictional or arranged events of everyday reality interpreted in the context of art. I also willingly enter into dialogue with world art5678.
I realized that it was important to study one theme consistently until it was exhausted, which allows you to create a context for your identity. Hence, since 1975 I have been pursuing thematic cycles. The first one, The Morphology of New Reality, is an artistic interpretation of the behaviour of a seven-year-old boy – transferred by means of a conceptual style from the real world into the world of visual art9.
I don't want to impose my views on anyone. I try to point out and reveal something worth noticing and thinking about. My art is for those who want to look with my eye on surrounding reality10.
I work in a Catholic school and this is also where I find inspiration for my own artistic reflections. After the death of my husband and partner, Romuald, I miss him very much and I miss the physical closeness with the man I love. Life is one, and in this sequence of unity there is a multitude of important elements11.
I have never manifested my femininity in art, and it has never interfered with my professional endeavors. The feminist features of my works certainly result only from organic dependencies and the specificity of the feminine – more sensitive to social aspects – point of view, (e.g. in the series Stimulated Situations12131415). Today there are many more women than men involved in art, which bodes well for freedom, pluralism, and equality.
The passing of time, the threads of family histories of my16 and from my circle of friends was the basis for the series Genetic Contexts (2009). In it, I evoked a family: a boy, my model from 1975, and his daughter Marta – the girl's life, visionarily designed by me, was revealed as a child's tragic fate in the cynical, brutal world of adults.
My generation in Poland has so far managed to live safely, without any direct threats… Therefore, I find the dangers of this world in the toxic content emitted by mass-media (Post Mass-media series (2010)).
The political and social events of the last few years are terrifying. Their multitude at the moment does not allow me to focus on an individual comment, a form of expression. I believe that only a total social voice can prevent an economic, social and world-view catastrophe, which is what I want to engage in as a human being – an artist. The authorities strive for a sharp confrontation by subordinating all [public] organs, limiting the rights of minorities and treating them inhumanely. Paradoxically, this is facilitated by the coronavirus pandemic.
And here is my reflection on national identity: I was born and raised in Poland, I have Polish citizenship, but Polish-German origin. In 1968, as a result of an anti-Semitic campaign, we said goodbye to our colleagues leaving for Israel and America with their families. My reaction to the socio-political situations of the 1960s and 1970s were the following productions: Dog Affair (1977), On Fire and Concrete (1977), At the Railroad Crossing (1978), Haircuts (1978), Remanent (1980), It's Squarely (1980). The xenophobia of those in power is again, increasingly loudly manifested.
I once wrote that the real symptom of exercising freedom is the ability to choose where to live1718. Romuald and I have created for ourselves a wonderful oasis – a studio-house in the midst of nature: plants19, birds, insects20, animals and rural quiet where I can concentrate on my work. I would not like to leave here, but isn't …emigration coming up…
Text created in collaboration with Anna Kowalska (2020).
1Image: Anna Kutera, Dialogue, 1973, 16mm film. Courtesy of the artist.
2Image: Anna Kutera, Monologue, 1981 performance, video. Courtesy of the artist.
3Image: Anna Kutera, Remanent, 1980, a set of black and white photo and text boards. Courtesy of the artist.
4Image: Anna Kutera, It is squarely, 1980 photographs. Courtesy of the artist.
5Image: Anna Kutera, Archaeological Position, 1984. Courtesy of the artist.
6Image: Anna Kutera, Three Graces, 1985. Courtesy of the artist.
7Image: Anna Kutera,  Conversation of Three Paintings, 1985. Courtesy of the artist.
8
9Image: Anna Kutera, Morphology of New Reality, 1975, series of photographic sets. Courtesy of the artist.
10Image: Anna Kutera, The Shortest Film in the World, 1975, photography. Courtesy of the artist.
11Image: Anna Kutera, Feminist Painting, 1973, set of photographs. Courtesy of the artist.
12Image: Anna Kutera, Hairstyles, 1978 – 79, 4 photographic boards with inscription. Courtesy of the artist.
13Image: Anna Kutera, Dog Affair, 1977, set of charts, series "Stimulated Situations", 21 sets. Courtesy of the artist.
14Image: series "Stimulated Situations", 1976-1990, set of photographs. Photo courtesy of the artist.
15Image: Anna Kutera, Undressed Session,  1978, set of photographs. Courtesy of the artist.
16In the case of my family, history had a dramatic influence on its fate and kept repeating itself. Starting from 1934 - death of my German grandfather – an anti-fascist in Dachau; through 1945  – cruel death of my German grandmother at the hands of Soviet soldiers; 1946/50 – SB (Służba Bezpieczeństwa - Security Service) harassment of family members; 1967 - emigration of Jewish friends; emigration of friends and closest family after the martial law in 1980.
17Image: Anna Kutera, The Genetic Contexts, from 2009, series. Courtesy of the artist.
18Image: Anna Kutera, X.Y,O, 1972, set of photographs. Courtesy of the artist.
19Image: Anna Kutera, Protected Spheres, 1984, installation. Courtesy of the artist.
20Image: Anna Kutera, Insect house, 2007-2008, media kit. Courtesy of the artist.
– urodzona w 1952. Artystka multimedialna. W latach 70. łączyła pracę artystyczną z działalnością animatorki wrocławskiego środowiska artystycznego, gdzie ukończyła liceum plastyczne oraz PWSSP. Od 1975 roku współtworzy międzynarodowy ruch sztuki kontekstualnej. Przez lata twórczości pracuje w ramach cykli, poruszając problemy otaczającej nas rzeczywistości. Uczestniczka wielu wystaw indywidualnych i zbiorowych w kraju oraz za granicą.
DIALOG Z RZECZYWISTOŚCIĄ
Ostatnie lata szkoły były dla mnie trudne pod względem wyboru dalszego kierunku nauki. Ojciec dawał porady niezgodne z moją naturą, jednak mama sugerowała, bym poświęciła życie na pielęgnowanie pasji, zamiast na powiększanie majątku. Zdecydowałam się na naukę w liceum plastycznym – poszłam za głosem serca1.
Na studiach w PWSSP poznałam PRAWO KARMY, którego podstawą życiową jest samokształcenie, praca, cierpliwość i szczerość, nie ma w nim miejsca na rozliczanie grzechów. Wówczas zrozumiałam sens oraz kierunek swoich codziennych zadań. Od 1975 roku niczego nie wymyślam, jestem blisko rzeczywistości. Wcześniej uprawiałam autokreację dokamerową, wykonywałam gesty i manipulacje w ramach zajęć na uczelni. Codzienne doświadczenia, obserwacje otoczenia i wydarzeń są moją wyjściową materią i inspiracją do szukania odpowiedzi. Refleksje te stają się obiektami sztuki. Artysta tym różni się od innych, że WIDZI więcej i głębiej2.
Moja praca to DIALOG z rzeczywistością34. Realizuję obszerny cykl Sytuacje stymulowane, gdzie bazą wyjściową są prawdziwe, fikcyjne lub aranżowane wydarzenia rzeczywistości potocznej interpretowane w kontekście sztuki. Chętnie wchodzę również w dialog ze sztuką światową5678.
Zrozumiałam, że ważne jest konsekwentne studiowanie jednego tematu aż do jego wyczerpania, co pozwala na stworzenie kontekstu dla swojej tożsamości. Stąd od 1975 roku realizuję cykle tematyczne. Pierwszy – Morfologia Nowej Rzeczywistości, jest artystyczną interpretacją zachowań siedmioletniego chłopca – przeniesioną za pomocą konceptualnej stylistyki ze świata realnego do świata sztuki wizualnej9.
Nie chcę nikomu narzucać moich poglądów. Staram się wskazać, ujawnić coś godnego zauważenia i zastanowienia się. Moja sztuka jest dla tych, którzy chcą spojrzeć moim okiem na otaczającą nas rzeczywistość10.
Na co dzień pracuję w szkole katolickiej i tu też znajduję inspirację do własnych rozważań artystycznych. Po śmierci Romualda – męża i partnera – bardzo doskwiera mi tęsknota i brak fizycznej bliskości z kochanym człowiekiem. Życie jest jedno, a w tym ciągu jedności jest wielość doniosłych elementów11.
Nigdy w sztuce nie manifestowałam swojej kobiecości, a ona nie kolidowała z przedsięwzięciami zawodowymi. Cechy feministyczne moich prac na pewno wynikają jedynie z organicznych zależności i specyfiki kobiecego – bardziej wrażliwego na aspekty społeczne – punktu widzenia, (np. w cyklu Sytuacje stymulowane12131415). Dzisiaj w sztukę zaangażowanych jest o wiele więcej kobiet niż mężczyzn, co rokuje wolnością, pluralizmem i równouprawnieniem.
Upływający czas, wątki historii rodzinnych moich16 i z kręgu przyjaciół były kanwą do cyklu Genetyczne konteksty (od 2009). Przywołałam w nim rodzinę: chłopca, mojego modela z 1975 roku, oraz jego córkę, Martę – wizjonersko zaprojektowane przeze mnie życie dziewczynki objawiło się jako tragiczny los dziecka w cynicznym, brutalnym świecie dorosłych.
Mojemu pokoleniu w Polsce udaje się jak na razie żyć bezpiecznie, bez bezpośrednich zagrożeń… Dlatego niebezpieczeństwa tego świata znajduję w toksycznych treściach emitowanych przez mass-media (cykl Post Mass-media (2010)).
Wydarzenia polityczno-społeczne ostatnich kilku lat są przerażające. Ich natłok w tej chwili nie pozwala mi się skupić nad indywidualnym komentarzem, formą wyrazu. Uważam, że tylko totalny głos społeczny może zapobiec katastrofie ekonomicznej, społecznej, światopoglądowej, w który pragnę się włączyć jako człowiek – artystka. Władza dąży do ostrej konfrontacji podporządkowując sobie wszystkie organy, ograniczając prawa mniejszości i niehumanitarnie je traktując. Paradoksalnie, sprzyja temu pandemia koronawirusa.
I tu moja refleksja na temat tożsamości narodowej: urodziłam i wychowałam się w Polsce, mam obywatelstwo polskie, ale pochodzenie polsko-niemieckie. W 1968 roku w wyniku antysemickiej nagonki żegnaliśmy naszych kolegów wyjeżdżających z rodzinami do Izraela i Ameryki. Moją reakcją to na sytuacje społeczno-polityczne lat 60. i 70. były realizacje: Psia afera (1977), Na ogniu i betonie (1977), Na przejeździe kolejowym (1978), Fryzury (1978), Remanent (1980), Jest kwadratowo? (1980). Ksenofobia rządzących jest znowu, coraz głośniej manifestowana.
Kiedyś pisałam, że prawdziwym objawem funkcjonowania wolności jest możliwość wyboru miejsca zamieszkania1718. Stworzyliśmy sobie z Romualdem cudowną oazę – domek-pracownię pośród natury: roślinności19, ptaków, owadów20, zwierząt i wiejskiej ciszy, gdzie mogę się skupić nad pracą. Nie chciałabym stąd wyjeżdżać, ale czy nie szykuje się …emigracja…
Tekst powstał we współpracy z Anną Kowalską (2020).
1Zdjęcie: Anna Kutera, Dialog, 1973, film 16 mm. Dzięki uprzejmości artystki.
2Zdjęcie: Anna Kutera, Monolog, 1981,  performance, wideo. Dzięki uprzejmości artystki.
3Zdjęcie: Anna Kutera, Remanent, 1980 zestaw czarno-białych plansz fotograficzno-tekstowych. Dzięki uprzejmości artystki.
4Zdjęcie:  Anna Kutera, Jest kwadratowo, 1980, fotografie. Dzięki uprzejmości artystki.
5Zdjęcie: Anna Kutera, Stanowisko Archeologiczne, 1984. Dzięki uprzejmości artystki.
6Zdjęcie: Anna Kutera, Trzy gracje, 1985. Dzięki uprzejmości artystki.
7Zdjęcie: Anna Kutera, Rozmowa trzech obrazów, 1985. Dzięki uprzejmości artystki.
8
9Zdjęcie: Anna Kutera, Morfologia nowej rzeczywistości, 1975, cykl zestawów fotografii. Dzięki uprzejmości artystki.
10Zdjęcie: Anna Kutera, Najkrótszy film Świata, 1975, fotografia. Dzięki uprzejmości artystki.
11Zdjęcie: Anna Kutera, Malarstwo feministyczne, 1973, zestaw fotografii. Dzięki uprzejmości artystki.
12Zdjęcie: Anna Kutera, Fryzury, 1978 – 79, cztery plansze fotograficzne inskrypcją.Dzięki uprzejmości artystki.
13Zdjęcie:  Anna Kutera, Psia afera, 1977, zestaw plansz (21). Dzięki uprzejmości artystki.
14Zdjęcie: Anna Kutera, Sytuacje stymulowane, 1976 – 1990, cykl zestawów. Dzięki uprzejmości artystki.
15Zdjęcie: Anna Kutera, Sesja rozbierana, 1978, zestaw fotografii. Dzięki uprzejmości artystki.
16W przypadku mojej rodziny historia miała dramatyczny wpływ na losy i wciąż się powtarzała. Począwszy od 1934 roku - śmierć dziadka Niemca - antyfaszysty w Dachau; przez lata 1945 – okrutna śmierć babki Niemki z rąk żołnierzy radzieckich; 1946/50 – SB szykanuje członków rodziny; 1967 rok – emigracja przyjaciół Żydów; emigracja przyjaciół i najbliższej rodziny po stanie wojennym w 1980 roku.
17Zdjęcie: Anna Kutera, Genetyczne konteksty, cykl, od 2009. Dzięki uprzejmości artystki.
18Zdjęcie: Anna Kutera, X.Y,O, 1972, zestaw fotografii, 1972. Dzięki uprzejmości artystki.
19Zdjęcie:  Anna Kutera, Sfery chronione, 1984, instalacja. Dzięki uprzejmości artystki.
20Zdjęcie: Anna Kutera, Dom owadów, 2007-2008, zestaw multimedialny. Dzięki uprzejmości artystki.