OPEN CALL for female artists from: Albania, Kosovo, Serbia, the Czech Republic, Hungary, Poland and Slovakia
OPEN CALL for female artists from: Albania, Kosovo, Serbia, the Czech Republic, Hungary, Poland and Slovakia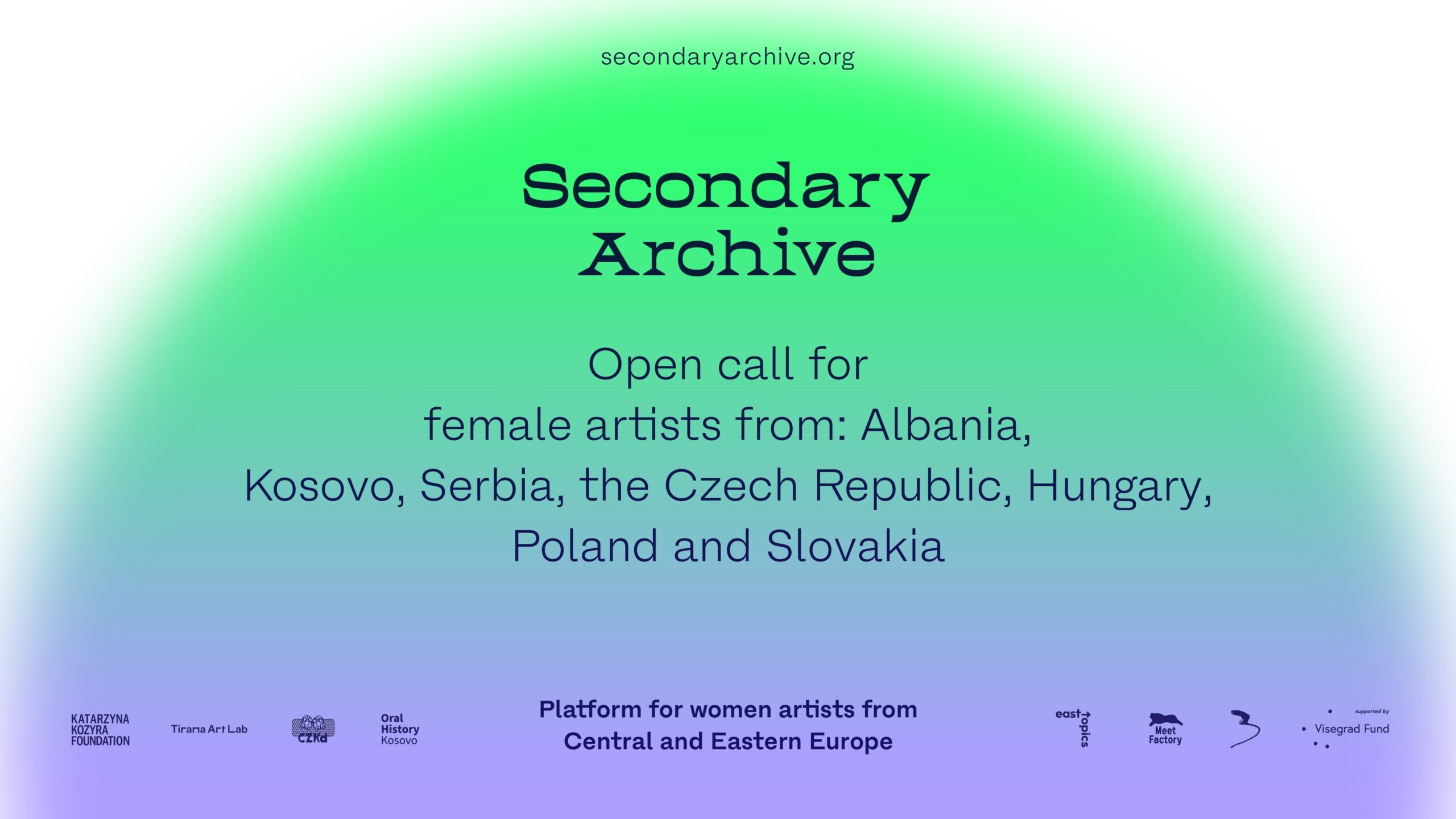 Katarzyna Kozyra Foundation (Poland) and the partners are pleased to invite women artists at the start of their careers to participate in an Open Call for Secondary Archive – an online archive of Central and Eastern European women artists. The platform serves as an international source of information about female art from this region. It does so by collecting personal (artistic) statements from three generations of women: those who were active before 1990; the generation who started their art practice right after the fall of the Communist regime; and the youngest artists, born after 1990. So far, the Secondary Archive has gathered statements from the Czech Republic, Hungary, Poland and Slovakia as well as Belarus and Ukraine.
The open call is organised for emerging, and early career female artists to present their voices and perspective. Selected candidates will be invited to write an artist's statement in cooperation with the project curators. The result of this work will be published on the Archive's website. Additionally, the jury will select one artist from each country (Albania, Kosovo and Serbia) whose vision and art practice will be encouraged with a cash grant of 500 euros. As for Visegrád Four, the jury will select one artist whose vision and art practice will be encouraged with a cash grant of 500 euros.
Who can participate: Female artists of all visual arts disciplines from Serbia, Kosovo, Albania or V4 countries who were born after December 31, 1987.
Submission rules: Artists interested in participating should send both English and their native language versions of the following documents in one PDF file (20 MB max.):
1) CV
2) Portfolio (For video, please add the links and passwords, if needed)
Send to: hello@secondaryarchive.org
Subject line: Secondary Archive Open Call. Albania / Kosovo / Serbia / Czech Republic / Hungary / Poland / Slovakia (please indicate your country)

Deadline: 1.09.2022
We encourage artists to submit portfolios as early as possible, as the jury will start reviewing and studying submissions as soon as they arrive.
For questions and additional information please write to hello@secondaryarchive.org
The selection process:
16 finalists from Albania, Serbia and Kosovo will be selected from among the submissions received.The Jury of Albania will select 5 artists. The jury of Serbia will select 8 artists. The Jury of Kosovo will select 3 artists. The Jury of V4 will select one artist.
Selected finalists will be announced on September 8, 2022. The final decision on the grant awards will be announced by October 30, 2022.
Project partners: Tirana Art Lab (Albania), Ambasada Kultury (Belarus/Lithuania/Germany), MeetFactory (Czech Republic), Easttopics (Hungary), Oral History Initiative (Kosovo), Center for Cultural Decontamination (Serbia), björnsonova (Slovakia), Artsvit Gallery (Ukraine).
The project is co-financed by the Governments of the Czech Republic, Hungary, Poland and Slovakia through Visegrad Grants from International Visegrad Fund. The mission of the fund is to advance ideas for sustainable regional cooperation in Central Europe.
Visegrad Fund: www.visegradfund.org