Zsuzsi Ujj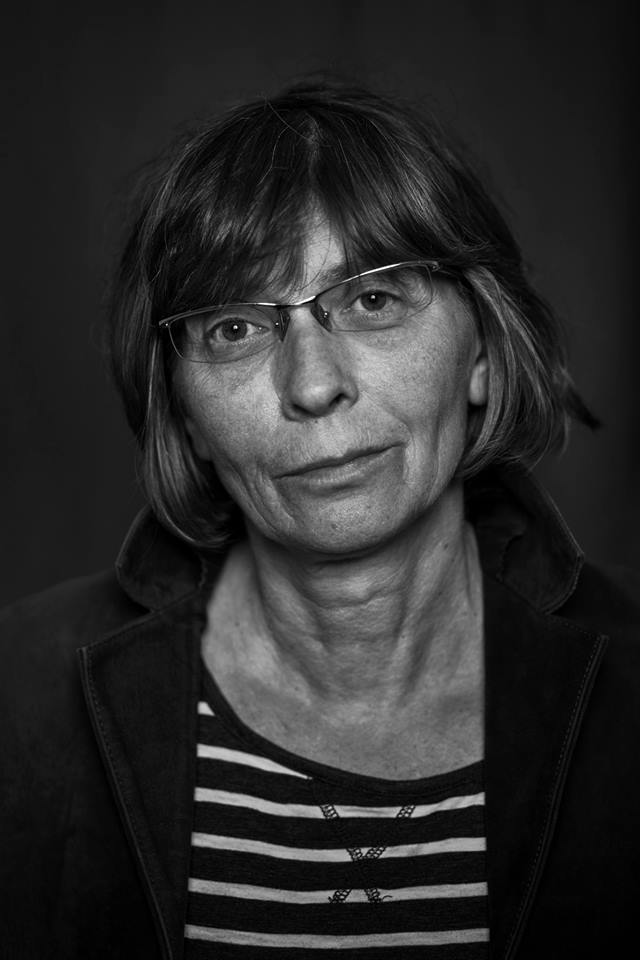 – born in 1959, Veszprém – is a photographer, performer, poet, songwriter, singer and a unique figure of Hungarian underground culture. The set photographs (photo performances) taken between 1985 and 1991 in which the artist uses her own, often painted body, express a special female and human life experience and confront stereotypical female roles. Her poems and melancholic-ironic lyrics create a visual repertoire that equals her photographs and – resulting from her work at the Béla Balázs Studio, the most important forum for experimental filming in the late eighties – often have a cinematographic effect. Her first exhibitions at Liget Gallery were accompanied by concerts, creating an unparalleled unity of image and text. Since 1991, Zsuzsi Ujj has been the singer of the Csókolom band and also performs in duo with composer-pianist Kristóf Darvas. The discovery of her work began in the late 2000s, resulting in her participation in such prestigious international exhibitions as "Gender Check" at MUMOK Vienna (2011), or "Bigger Splash: Painting after Performance Art" at Tate Modern (2012).
/missionart.hu/en/artists/ujj-zsuzsi/
For me, the same problems, the same tensions are present in music, writing, and visual arts, with the difference that it is not the brush, but the microphone or the paper that are the means of expression. My pictures are about the same thing as my poems and my lyrics. I am always inspired by the things I encounter in my own life. These are mostly very personal topics: man-woman relationship, death, questions of transience, fundamental problems of human existence. I also love personal content in the work of others, as this is what makes creations authentic. Literature, especially poetry and film are very important starting points for me, as well as cinema, where I go to very often.
When I started taking photos – it lasted a short time, 7 years only – my love was dealing with photography and there were a lot of photographers around me. During this time (1985-86) I discovered the works of Tibor Hajas, whose ideas and performances were photo-documented by János Vető, and seeing their works I realized that it is possible to use the camera in a different way than what I had seen beforehand. It may not have been consciously, but I realized that I can express myself more directly and provocatively through this1. I am an emotional being, and the most obvious was to use my own body234, but if I were a man, I would still have used my own male body. I never learnt the professional part of photography. Initially, I received help from Tibor Várnagy and later István Halas in this. At first I didn't have a camera either. I scribbled something on paper, made notes in which I briefly described what I wanted to see in the picture. When I gathered the right amount of material to work on, I borrowed a camera, tripods, and lamps. I arranged the space – the corner of a condominium apartment – and locked myself up for several days. I used a self-timer. If this was not feasible, I asked either my ex-husband, Öcsi, or István Halas to expose. I always thought in more pictures. It was my method. It is in 1989 that John P. Jacob first spoke about my pictures in a gender context, a concept that was absolutely not known in Hungary at that time. My friend Tibor Várnagy exhibited my works at the Liget Gallery, my immediate environment was helpful and supportive, but overall few people knew me at the time. I figure on each photograph, and I still stand by them today. I had planned my last series of photos5 for a long time, but nowhere could I find enough space to realize them. I finally took them in a photo camp in Kaposvár. I felt like I was closing something with them while I didn't want to decide to close anything. These pictures represent me walking around, and the circle means unfinished completion to me.
I sold the camera I bought in the meantime and bought a microphone for the price. I had written songs before, but at that moment I completely switched to another material and continued my work, not with photo, but this time with music6. In 1992, I was a founder of the Csókolom Band. My songs composed our repertoire. I work with the material that allows me better to grasp what is inside me. At the same time, I consider the period I was engaged with photography somewhat closed, and I wouldn't even experiment now: it would only be worth doing so if I could surpass myself. In my case of course, this is mainly a thing of the past, because presently neither do I write, nor do I take photos. I have been living in Veszprém for 5-6 years now to take care of my father. If they call me to play music, I go and I rehearse. I care about what's going on in the world, I go to demonstrations regularly, and when I'm in Budapest, I often go to the cinema.
From a social point of view, I have not really dealt with female art or the situation of women, but when extreme things happen, an artist has to show that he or she is not an outsider and is committed in some direction. In such cases, it is impossible to differentiate whether it is as an artist or as a citizen that someone stands up for important things to them, and for me, being an artist is an identity, not a job in the first place. It is also possible to express oneself independently, it is not necessary to politicize directly in order to make the direction in which the author is committed apparent in the work. This, on the other hand, is not determined by the current power, but by superior values, moral aspects. I also see my lyrics in pictures. When I take my photos, I think in Hungarian, and this is the only way in which I live my national identity. This is what language offers to me, especially the use of language at the highest possible level.
The most important for me is to experience living, vivid, loving human relationships. That is why playing music and singing is slightly more important to me. It is an opportunity – in a physical sense as well – to relive, experience or express differently the feelings that inhabit me.
The statement was written in collaboration with art historian Kata Balázs (2020).
1Image: Zsuzsi Ujj, Throne, 1986, 24x36 mm black and white negative, multiple developments. Courtesy of the artist and acb Gallery, Budapest.
2Image: Zsuzsi Ujj, With a broom, 1986, silver gelatin, 30 x 40 cm. Courtesy of the artist and acb Gallery, Budapest.
3Image: Zsuzsi Ujj, Wedding, 1986, lambda print, 100 x 70 cm. Courtesy of the artist and acb Gallery, Budapest.
4Image: Zsuzsi Ujj, Trio of Esztergom, 1990, cut film, 8,5 x 18,5 cm. Courtesy of the artist and acb Gallery, Budapest.
5Image: Zsuzsi Ujj, In Circle I-IV, 1991,  silver gelatin, 130 x 180 cm. Courtesy of the artist and acb Gallery, Budapest.
6See: https://www.youtube.com/watch?v=clDZUzZwv0M&ab_channel=Cs%C3%B3kolom-Topic
Dunántúli Sláger[Transdanubian Hit], Csókolom Band, from the album entitled 2020-1831 (lyrics: Zsuzsi Ujj, music: Tom Waits: Yesterday Is Here).
– szül. 1959, Veszprém – fotós, performer, költő, dalszerző, énekes, a magyar underground kultúra egyedülálló alakja. 1985 és 1991 között készült beállított, az alkotó saját, gyakran befestett testét használó fotóiban (fotóperformanszaiban) különleges női és emberi létélményt szólaltat meg, és női szereplehetőségeket mutat meg. Versei, melankolikus-ironikus dalszövegei fotográfiáival egyenrangú képi világot hoznak létre, és – összefüggésben azzal, hogy az alkotó a kísérleti filmezés legfontosabb fóruma, a Balázs Béla Stúdió kötelékében dolgozott a nyolcvanas évek végén, maga is foglalkozva mozgóképes alkotások létrehozásával– gyakran filmszerű hatást mutatnak. Első, Liget Galériában rendezett kiállításait koncertek kísérték, a kép és a szöveg páratlan egységét hozva létre. Ujj Zsuzsi 1991-től a Csókolom énekesnője, illetve duóban Darvas Kristóf zeneszerző-zongoristával lép fel. Munkásságának felfedezése a 2000-es évek végén kezdődött, olyan rangos nemzetközi szerepléseket eredményezve, mint a bécsi MUMOK Gender Check c. kiállítására (2011), vagy a Tate Modern Bigger Splash: Painting after Performance Art c. tárlatára (2012) való meghívás.
/missionart.hu/en/artists/ujj-zsuzsi/
A zenében, az írásban és a vizuális művészetben számomra ugyanaz a problémakör, ugyanazok a feszülések vannak jelen, csak nem ecset, hanem mikrofon vagy papír a kifejezőeszköz. Ugyanarról szólnak a képeim, amiről a verseim és a dalszövegeim. Mindig azok a dolgok inspirálnak, amelyekkel a saját életemben találkozom. Ezek leginkább nagyon személyes témák: a férfi-nő kapcsolat, a halál, a mulandóság kérdései, az emberi létezés alapvető problémái. Mások munkáiban is szeretem a személyességet, ettől lesznek az alkotások hitelesek a számomra. Nagyon fontos kiindulópontot jelent az irodalom, különösen a költészet és a filmművészet, a mozi, ahova nagyon gyakran járok.
Amikor elkezdtem fotókat készíteni – ez rövid ideig, 7 évig tartott –, a szerelmem fotóval foglalkozott, és sok fotós volt körülöttem. Ebben az időben (1985-86) találkoztam Hajas Tibor munkáival, akinek az elképzeléseit és előadásait Vető János dokumentálta fotótechnikával, az ő munkáikat látva rájöttem, hogy a fényképezőgépet máshogy is lehet használni, mint ahogy addig azt láttam. Nem biztos, hogy tudatosan, de felismertem, hogy ezen keresztül kifejezhetem magam direktebben és provokatívabban1. Emocionális lény vagyok, és a legkézenfekvőbb az volt, hogy a saját testemet használjam234, de ha férfi lennék, akkor is a saját férfi testemet használtam volna. Soha nem tanultam meg a fotótechnika szakmai részét. Ebben eleinte Várnagy Tibor, később Halas István sokat segített. Eleinte fényképezőgépem sem volt. Kis cédulákat, jegyzeteket készítettem, amiben röviden leírtam, hogy mit szeretnék látni a képen. Ha megfelelő mennyiségű anyag összegyűlt, akkor kölcsönkértem fényképezőgépet, állványokat, és lámpákat. Berendeztem a teret – egy lakótelepi lakás sarka – és többnapra bezárkóztam. Önkioldót használtam. Ha ez nem volt kivitelezhető, megkértem vagy a volt férjemet, Öcsit, vagy Halas Istvánt, hogy exponáljon. Mindig több képben gondolkodtam. Ez volt a módszerem. John P. Jacob beszélt először a képeimről gender-összefüggésben 1989-ben, ami akkoriban még egyáltalán nem volt ismert fogalom Magyarországon. Várnagy Tibor barátom kiállította a munkáimat a Liget Galériában, és a közvetlen környezetem segítő és támogató volt, de összességében kevesen ismertek abban az időszakban. Minden képen én vagyok, és mindet tudom vállalni ma is. Az utolsó képsort5, amit hosszú ideig tervezgettem, de sehol sem volt elegendő tér a létrehozásukhoz, végül egy kaposvári fotóstáborban készítettem. Úgy éreztem, hogy lezárok velük valamit, miközben nem akartam elhatározni, hogy bármit is lezárok. Körben járkálok ezeken a képeken, és a kör számomra a befejezetlen befejezettséget jelenti.
A menet közben vásárolt fényképezőgépemet eladtam, és mikrofont vásároltam az árából. Azelőtt is írtam dalokat, de akkor teljesen átálltam egy másik anyagra, és folytattam a munkám, csak nem fotóval, hanem zenével6. 1992-ben alapítója voltam a Csókolom zenekarnak. Repertoárunkat az én dalaim adták. Azzal az anyaggal kell dolgozni, amivel jobban meg tudom ragadni azt, ami éppen bennem van. Ugyanakkor valamennyire mégis lezártnak tekintem a fotózást, és kísérletbe sem fognék most: csak akkor lenne érdemes, ha felül tudnám múlni magamat. Az esetemben persze ez nagyrészt múlt idő, mert most se nem írok, se nem készítek fotókat. 5-6 éve Veszprémben élek, ahol édesapámról gondoskodom. Ha hívnak zenélni, akkor megyek, és eljárok próbálni. Érdekel, ami a világban zajlik, rendszeresen eljárok tüntetésekre, és ha Budapesten vagyok, gyakran megyek moziba.
Társadalmi szempontból nem foglalkoztam a női művészettel vagy a nők helyzetével, de ha szélsőséges dolgok történnek, egy művésznek meg kell mutatnia, hogy nem kívülálló, és valamilyen irányba elkötelezett. Ilyenkor nem választható külön, hogy valaki művészként vagy állampolgárként áll-e ki a számára fontos dolgok mellett, pedig számomra az alkotói lét identitás, nem elsősorban munka. Függetlenként is meg lehet nyilvánulni, nem kell direkten politizálni ahhoz, hogy egy munkában megjelenjen, hogy milyen irányba elkötelezett valaki, de ezt nem az aktuális hatalom határozza meg, hanem feljebbvaló értékek, erkölcsi szempontok. Én a dalszövegeimet is képekben látom. Amikor a képeim készülnek, akkor is magyarul gondolkodom, csak ebben élem meg a nemzeti identitásomat. A nyelv hordozza ezt a számomra, különösen a nyelv minél magasabb színvonalú használata.
A legfontosabb számomra az élő, eleven, szeretetteljes emberi kapcsolatok megélése. Ezért is lehet egy hajszállal fontosabb számomra a zenélés, az éneklés. Ott van lehetőség – fizikai értelemben is – újra átélni, vagy akár másképp átélni, kifejezni azokat az érzéseket, amik feszítenek.
A statement Ujj Zsuzsi és Balázs Kata művészettörténész együttműködésében jött létre (2020).
1Kép: Ujj Zsuzsi, Trónusos, 1986, 24x36 mm fekete-fehér negatív, több nagyítás. A művész és az acb galéria jóvoltából.
2Kép: Ujj Zsuzsi, Seprűs, 1986, ezüst zselatin, 30 x 40 cm. A művész és az acb galéria jóvoltából.
3Kép: Ujj Zsuzsi,Esküvős, 1986, lambda print, 100 x 70 cm. A művész és az acb galéria jóvoltából.
4Kép: Ujj Zsuzsi, Esztergomi hármas, 1990, síkfilm, 8,5 x 18,5 cm. A művész és az acb galéria jóvoltából.
5Kép: Ujj Zsuzsi, Körbe I-IV., 1991, zselatinos ezüst, 130 x 180 cm. A művész és az acb galéria jóvoltából.
6lásd: https://www.youtube.com/watch?v=clDZUzZwv0M&ab_channel=Cs%C3%B3kolom-Topic
Dunántúli Sláger, Csókolom zenekar, 2020-1831 c. lemez (szöveg: Ujj Zsuzsi, zene: Tom Waits: Yesterday Is Here).