Jitka & Květa Válová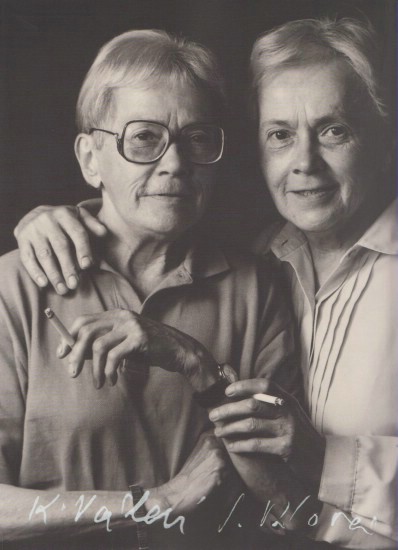 Jitka Válová – born in 1922, died in 2011; and Květa Válová – born in 1922, died in 2011 both studied at the Academy of Arts, Architecture, and Design in Prague right after the end of the Second World War in the studio of Emil Filla. Although they lived very close lives, their work differed starkly. Jitka Válová devoted herself to depictions of fragile figures, into which she incorporated an aura of monumentality. She was interested in the innermost human feelings and emotions. Thus she became one of the most prominent painters of the so-called New Figuration in the Czech painting tradition (alongside painters such as Adriena Šimotová or Věra Janoušková). On the other hand, the figures of Květa Válová were colossal and heavy, reminiscent of boulders or the formation of rocks. Květa Válová conducted research on the connection between man and nature. In 1954, both artists became members of the Trasa collective, but their art practices remained in the seclusion of their studio in the city of Kladno until the 1990s.
And what should I say about myself? I don't think that I am any different from the others. I am a painter, and that is what I wanted to be from an early age. We have been painting ever since we could hold a pencil in our hands. I am so used to Květa — we may be two bodies but we are of one soul. When I talk about Květa, I talk about myself. Our souls had already been fused together and when she took a half, she took the merged one. I lost a half and even though there is a little bit of Květa left, it is not enough. When we were still together, we had this enormous soul. Both of us actually lived two lives. Each our own and our sister's. If we wanted something, we both wanted the same. We had the same opinion regarding everything. I miss Květa so much — when she died, I was just useless. Květa and I promised each other that when we die, we won't haunt each other. And now I'm quite sorry because I would be happy to be haunted by her. But she is already entirely somewhere else. Květa died a beautiful death. We were having chicken for dinner. After the last bite, she leaned back and closed her eyes1.

When we were young girls, there were many boys around us but they were only our friends. As they say, many things get ignited during puberty but when it came to us they did not. I liked boys but only as one would like a pretty flower or a tree. When I was older, I would fall in love but fortunately, it was always platonic. When Květa and I were 17 or 18, we said to ourselves that we would never get married because we didn't really care about having a family. A man would bother us and we would have to be separated, and that we wouldn't want at any cost. And we kept this promise. We were lucky — nobody wanted us anyway.

While we were studying at the Academy of Arts, Architecture, and Design in Prague, it was good. But when we graduated, our mother provided for us even though she had CZK 450 a month. We started selling in 1980 when we were already 60. What we did was not very profitable. Our father died when we were four and our dear mother was an angel. Květa and I were twins but we had two more sisters. Our mother always let us do whatever we wanted. She would have taken up painting when she got old but we never allowed it. And for that, I am very sorry. A young person can be so insensitive. She had an extraordinary sensitivity and she could always tell whether a painting was good. Her eyesight had gotten worse, especially her nearsightedness. When we hung a painting on the wall, she certainly couldn't see what was in it but she had this strange intuition that allowed her to feel the painting. It was infallible2.
My sister and I studied in the Studio of Monumental Painting of Emil Filla at the Academy of Arts, Architecture, and Design in Prague. Filla was an excellent pedagogue. He was a cultured and a noble man and he treated us accordingly — he never tore anyone down, although there were also professors who would. During the war, Květa and I were deployed in the metalworking plant Poldi in the city of Kladno. We liked this environment, so we would go there to draw. There we came to realise what we would like to do — I liked the metal rollers and Květa would go to the forge to observe the machines. We would even go to the mines. Čestmír Kafka used to say that we were a lost generation. We couldn't go anywhere, no one knew us and our work had no response. That depressed us. Nobody knew anything about us. The only exhibition we had was at the Václav Špála Gallery in 1966. At that time, everyone was making abstract art but Květa and I painted figuratively. So all the attention somehow passed us by. Then we had a large exhibition in Cheb and Ostrov nad Ohří. However, we did not relate much to what we made for these. We produced mountains of sketches. I still thought that I still couldn't do anything and that once I made something proper, I would keep it. Everything has to come from within. It cannot be superficial for it would is visible. One must be truthful and one must be true to oneself3.
Painting has a personal meaning for me. I gave up many things but I gave up what I did not really care about, which is not much of a sacrifice. So I had more time to paint. Freedom and rules that demand a certain discipline. Without rules, one cannot do anything but neither can they without freedom — plus and minus, the contrasts. I believe that the whole universe is founded on this principle, and so are we. As they say, without evil, we would never know good. Květa and I had exactly the same approach to life, nature, the universe — we tended to personify everything. Květa created the series called The Elements — wind, stones, and especially fire. While creating the fire, she felt like fire. While creating the wind, she felt like the wind. Květa was so close to nature that she was an element herself. Man was enough for me, so what Květa saw in the stones I bestowed upon the figures. I wanted them to contain the fire, to be as solid as a rock. I enjoyed movement, the clash of energies — and that could be expressed through a figure very well. What I am interested in is the inner life of a person. I have the ability to transport myself into another person's situation and experiencing them. Thus I can pass on an experience that I myself have never had. When I envision these figures, I try to imagine what drives them and how they bear the burden of some situation. I perceive nature as a living whole so my figures also resemble plant stalks. I have always been interested in this clash of energies. So I devised wrestlers, wrestling man-to-man — which came to be this inner struggle that one has with oneself. Essentially I do not work with what I can see but with what I feel. I cannot fully articulate this through words but a painting does not have just one meaning. It is living its life independently of me4.
Květa and I did not receive much praise during our lifetime, only now towards old age. This annoys me because the recognition that we have received has referred to what used to be. I do not think that I deserve it so it hasn't brought me much joy. I find it ridiculous when someone says that they paint for humanity as a whole. I don't paint for other people. I paint for myself. When I paint, I suffer because I am trying to do something that is beyond my capabilities. But I do like to suffer since it provides a purpose. I enjoy the silence, but when I am working, inside I am far from silent. I don't know what it is, probably my soul — she would like to sing, but I cannot. I sing by painting56.
Jitka Válová's testimonies were composed by Eva Skopalová.
1Image: Květa Válová, Man and Stone, 1982, monotype print on paper, 67 x 97 cm, source: Marie Bergmanová: Jitka and Květa Válovy, Pecka Gallery, National Gallery, 2002. Courtesy of the National Gallery in Prague. See: artlist.cz/dila/clovek-a-kamen-i-iv-5151/
2Image: Květa Válová, People and Steelworks, 1973, monotype on paper, 64 x 88 cm, source: reproduction from the book Marie Bergmanová: Jitka and Květa Válovy, Pecka Gallery, National Gallery, 2002. Courtesy of the National Gallery in Prague. See: artlist.cz/dila/lide-a-hute-5069/
3Image: Květa Válová, One More Vacancy Left, 1969, 140 x 180 cm, oil on canvas, source: Marie Bergmanová: Jitka and Květa Válová, Pecka Gallery, National Gallery, 2002. Courtesy of the National Gallery in Prague. See: artlist.cz/dila/jeste-jedno-misto-prazne-5152/ 
4Image: Jitka Válová, Wrestlers, 1958, monotype and watercolor on paper, 68 x 32, source: Reproduction from the book Marie Bergmanová: Jitka and Květa Válovy, Pecka Gallery, National Gallery, 2002. Courtesy of the National Gallery in Prague. See: artlist.cz/dila/zapasnici-5061/
5Image: Jitka Válová, Boundaries of The Border of Surpassability I, 1968, dry-point, 21 x 19,5 cm, source: GalerieArt, Chrudim. Courtesy of the National Gallery in Prague. See: galerieart.cz, artlist.cz/dila/hranice-neprekrocitelnosti-i-5075/
6Image: Jitka Válová, Sketch for a Calvary, 1995, drawing and tempera on paper, 104 x 75, 5 cm, source: Reproduction from the book Marie Bergmanová: Jitka and Květa Válovy, Pecka Gallery, National Gallery, 2002. Courtesy of the National Gallery in Prague. See: artlist.cz/dila/skica-ke-kalvarii-5066/
Jitka Válová – narodila se v 1922, zemřela v 2011; a Květa Válová – narodila se v 1922, zemřela v 2011 – studovaly na Vysoké škole uměleckoprůmyslové hned po druhé světové válce v ateliéru Emila Filly. Ačkoli prožily život ve velmi těsné blízkosti, jejich tvorba je odlišná. Jitka Válová se věnovala křehkým figurám, jimiž dodávala auru monumentálnosti. Zajímaly jí nejniternější lidské city a pocity, je proto jednou z nejvýraznějších malířek tzv. Nové figurace v české malbě (po boku Adrieny Šimotové či Věry Janouškové). Figury Květy Válové jsou masivní a hmotné, které nabývají podoby balvanů a skal. Květa Válová zkoumala sounáležitost člověka a přírody. V roce 1954 se staly obě umělkyně členkami skupiny Trasa, ale jejich tvorba až do devadesátých let zůstávala v ústraní jejich kladenského ateliéru.
A co mám o sobě říct? Nemyslím si, že bych byla něco jiného než ti druzí. Jsem malířka, a to jsem chtěla od malička. My jsme malovaly od doby, kdy jsme udržely tužku v ruce. Já jsem zvyklá na Květu, my jsme byly sice dvě těla, ale jedna duše. Když mluvím o Květě, tak mluvím o sobě. Naše duše už byly smíchané, když ona si vzala polovinu, vzala si tu smíchanou. Já jsem přišla o polovinu, a z té Květiny taky trochu zůstalo, ale je to málo. Když jsme byly pořád spolu, tak jsme měly tu duši velkou. My jsme vlastně žily dva životy. Svůj a sestry. Když jsme něco chtěly, tak obě stejně. Na vše jsme měly stejný názor. Velmi se mi po Květě stýská, když zemřela, tak jsem pak k ničemu nebyla. My jsme si s Květou řekly, že až umřeme, tak se nebudeme strašit. A teď mě to docela mrzí, já bych se docela nechala od ní strašit. Ale ona už je někde úplně jinde. Květa měla krásnou smrt, večeřely jsme kuře. Po posledním soustě se opřela a zavřela oči1.
Jako mladé holky jsme měly hodně kluků za kamarády, ale jen jako kamarády. Jak se říká, že se v pubertě zapalují lýtka, tak nám se nezapalovaly. Mě se líbí kluci asi tak jako hezká kytka nebo strom. Když jsem byla starší, tak jsem se zamilovala, ale naštěstí vždycky platonicky. Když nám s Květou bylo 17 nebo 18, tak jsme si řekly, že se nikdy vdávat nebudeme, protože o rodinu nestojíme. Ten chlap by nám vadil a my bychom se rozdělily, a to bychom za žádnou cenu nechtěly. A taky jsme to dodržely, ale měly jsme štěstí – on nás nikdo nechtěl.
Když jsme byly na UMPRUM, tak to bylo dobré, ale když jsme vystudovaly, tak nás živila maminka, ona měla 450 Kč měsíčně. My jsme začaly prodávat v roce 1980, to už nám bylo 60. To, co jsme dělaly my, moc nešlo na odbyt. Tatínek zemřel, když nám byly čtyři roky, maminka byla anděl. My s Květou jsme dvojčata, ale máme ještě dvě další sestry. Maminka nám vždycky dovolila, co jsme chtěly. Maminka by byla ke stáru malovala, ale my jsme ji nikdy nenechaly. To mě velmi mrzí. Když je člověk mladý, tak je tak necitlivý. Ona měla neobyčejný cit, poznala bezpečně, když byl obraz dobrý. Už špatně viděla, a především na dálku, když jsme pověsily obraz na zeď, určitě nemohla vidět, co na obraze je, ale měla takový zvláštní cit a z toho obrazu to vycítila. Bylo to neomylné2.
Se sestrou jsme chodily na UMPRUM k Emilu Fillovy, do ateliéru monumentální malby. Filla byl vynikající pedagog, jednak byl noblesní, a jednak se tak choval i k nám – nikdy nikoho nestrhal, někteří profesoři to ale uměli. Během války jsme byly s Květou totálně nasazené v Poldovce na Kladně. Ale nám se to prostředí líbilo, tak jsme tam pak chodily kreslit. Tam jsme si uvědomily, jak budeme dělat – mě se líbili valcíři a Květa se ráda chodila dívat do kovárny na stroje. Jezdily jsme také do dolů. Čestmír Kafka říkával, že jsme ztracená generace. Nikam jsme nemohli, nikdo nás neznal, naše práce neměla žádnou odezvu. To nás deprimovalo. O nás nikdo nic nevěděl. Měly jsme jedinou výstavu ve Špálově galerii v roce 1966. To se tenkrát dělalo abstraktní umění, a my jsme s Květou dělaly figuru. Tak ta pozornost nás nějak minula. Pak jsme měly velkou výstavu v Chebu a v Ostrově nad Ohří. K tomu, co jsme udělaly, jsme neměly moc vztah. Nadělaly jsme hory skic. Já si pořád myslela, že stále nic neumím a že až jednou něco udělám, tak si to schovám. Všechno musí jít ze mě, nesmí to být povrchní, jinak je to na tom vidět. Člověk musí být pravdivý, musí být k sobě pravdivý3.
Malování má pro mě osobní význam. Lecčehos jsem se vzdala, ale vzdala jsem se toho, o co jsem nestála, to není žádná oběť. Ale tím více jsem měla čas na to malování. Svoboda i řehole. Bez řehole člověk nic neudělá, bez svobody také ne – plus a mínus, kontrasty. Já myslím, že na tom je založený celý vesmír a my taky. Jak se říká, nebýt zla, nepoznáme nikdy dobro. My jsme měly s Květou úplně stejný vztah k životu, přírodě, vesmíru – všechno jsme personifikovaly. Květa třeba vytvořila cyklus Živly – vítr, kameny, hlavně oheň, když dělala oheň, tak se cítila ohněm, když vítr, tak větrem. Květa byla takový živel, měla blízko k přírodě. Mě stačil člověk, to, co Květa viděla v kamenech, tím jsem obdarovávala ty figury. Chtěla jsem, aby měly v sobě oheň, nebo byly pevné jako skála. Mě bavil pohyb, střet energií – a to se dalo nejlépe vyjádřit figurou. Hlavně mě zajímá vnitřní život člověka, dovedu se vžít do cizích situací a prožívat je. Dovedu tak předat zážitek, který jsem nikdy neprožila. Když začnu vytvářet figury, chci představit to, čím žijí, jak snášejí ty situace. Moje figury také připomínají stvoly rostlin, beru totiž celou přírodu jako živou. Střet energií mě vždycky zajímal. Tak jsem dělala zápasníky, zápas člověka s člověkem – a pak je to takový vnitřní zápas sám se sebou. V podstatě nedělám to, co vidím, ale to, co cítím. Obraz nemá jen jeden význam, nedokážu to formulovat slovy. Obraz žije svůj život nezávisle na mě4.
S Květou jsme za život moc pochval neshrábly, až teď ke stáru. Ale už mě to štve, protože ty pocty, kterých se nám dostalo, je za to, co bylo dřív. A já myslím, že si to nezasloužím, proto jsem z toho žádnou velkou radost nikdy neměla. Když někdo říká, že maluje pro lidstvo, je to tak smíchu. Nemaluji pro lidi, pro sebe maluji. Když maluji, tak dost trpím, protože se snažím o to, na co nemám. Ale ráda trpím, to je vlastně účel. Mám ráda ticho, ale když pracuji tak v sobě ticho nemám. Nevím, co to je, asi duše – ona by zpívala, ale já zpívat neumím. Zpívám malováním56.
Výpovědi Jitky Válové seskládala Eva Skopalová.
1Obrázek: Květa Válová, Člověk a kámen, 1982, monotyp, 67 x 97 cm, zdroj: Marie Bergmanová: Jitka a Květa Válovy, Galerie Pecka, Národní galerie, 2002. S laskavým svolením Národní galerie v Praze. Viz: artlist.cz/dila/clovek-a-kamen-i-iv-5151/
2Obrázek: Květa Válová, Lidé a hutě, 1973, monotyp, 64 x 88 cm, zdroj: Repro z knihy Marie Bergmanová: Jitka a Květa Válovy, Galerie Pecka, Národní galerie, 2002. S laskavým svolením Národní galerie v Praze. Viz: artlist.cz/dila/lide-a-hute-5069/
3Obrázek: Květa Válová, Ještě jedno místo prázdné, 1969, 140 x 180 cm, olej na plátně, zdroj: Marie Bergmanová: Jitka a Květa Válovy, Galerie Pecka, Národní galerie, 2002. S laskavým svolením Národní galerie v Praze. Viz: artlist.cz/dila/jeste-jedno-misto-prazne-5152/
4Obrázek: Jitka Válová, Zápasníci, 1958, monotyp, 68 x 32, zdroj: Repro z knihy Marie Bergmanová: Jitka a Květa Válovy, Galerie Pecka, Národní galerie, 2002. S laskavým svolením Národní galerie v Praze. Viz: artlist.cz/dila/zapasnici-5061/
5Obrázek: Jitka Válová, Hranice nepřekročitelnosti I, 1968, suchá jehla, 21 x 19,5 cm, zdroj: GalerieArt, Chrudim. S laskavým svolením Národní galerie v Praze. Viz: galerieart.cz, artlist.cz/dila/hranice-neprekrocitelnosti-i-5075/
6Obrázek: Jitka Válová, Skica ke Kalvárii, 1995, kresba a tempera na papíře, 104 x 75, 5 cm, zdroj: Repro z knihy Marie Bergmanová: Jitka a Květa Válovy, Galerie Pecka, Národní galerie, 2002. S laskavým svolením Národní galerie v Praze. Viz: artlist.cz/dila/skica-ke-kalvarii-5066/